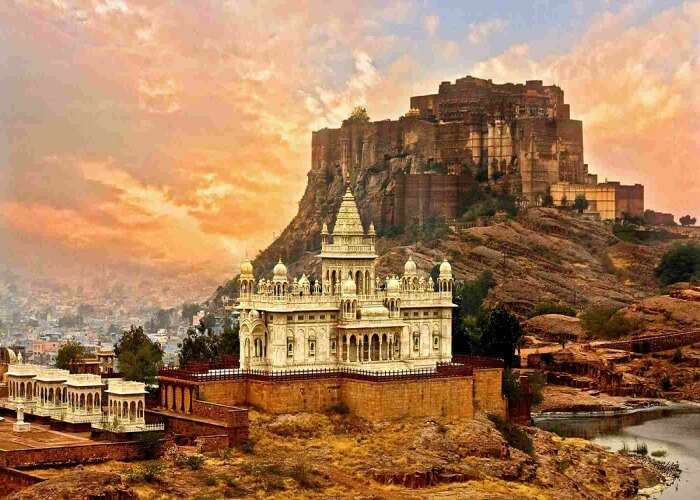 Embellished with innumerable imprints of chivalry, architectural prowess, and natural beauty, Jodhpur tourist places invite you to behold the charisma of the past. Founded in 1459 A.D. by Rao Jodha, the city treats its tourists with the grandeur of the past by offering them several options for sightseeing in Jodhpur.
If you are passionate about enjoying a sneak peek into the bygone era, visit Jodhpur. Amongst much-preferred places to visit in Jodhpur are palaces, forts, shrines, museums, and gardens that articulate the erstwhile excellence. Here, we present you the top 5 tourist places in Jodhpur that speak leaps and bounds about this magnificent jewel to the crown of Rajasthan.
6 Best Places To Visit In Jodhpur
Jodhpur, the Blue City of India, is an amazing place for a holiday in Rajasthan. Here of the some of the best places to visit in Jodhpur:
Mehrangarh Fort
Jaswant Thada
Umaid Bhavan Palace
Mandore Gardens
Osian Temples
Rao Jodha Desert Rock Park
1. Mehrangarh Fort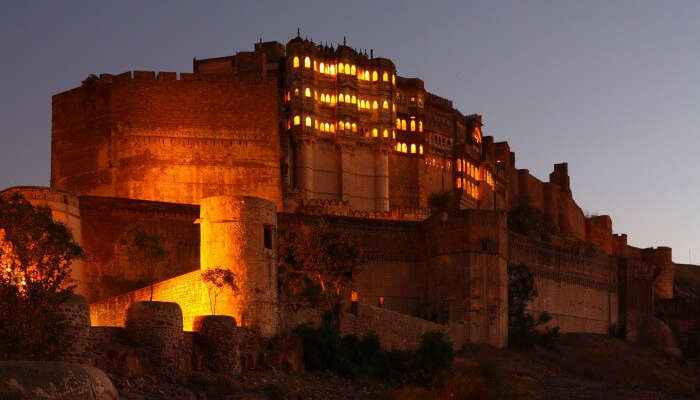 Built around 1460 A.D. by Rao Jodha, Mehrangarh Fort is listed among the most magnificent hill forts of Rajasthan. No wonder, it is one of the best places to visit in Jodhpur, Rajasthan. Standing almost 100 feet above the city skyline, the fort is built so flawlessly that you won't be able to make out where the hill ends and the walls begin. Unbeatable and impressive, this grandeur in red sandstone is wrapped in an eccentric beauty. Needless to say, when travelers look forward to the most remarkable tourist attractions in Jodhpur, this fort is the foremost choice.
It's huge, thick walls surprise you with grand palaces inside that are ornamented with intricate carvings. The colossal structure also boasts of a museum that displays fascinating and precious artworks of great historical value. It also invites you to an experience of a lifetime with its several cultural festivals such as the annual Rajasthan International Folk Festival in October and the World Sufi Spirit Festival in February. So, while making your list of Jodhpur tourist attractions, missing out on this splendor in stone is a No-No.
Entry fee:
International Tourists (Includes the Audio) – INR 600 per person
Domestic Tourists – INR 70 per person
Opening hours: Sunday to Saturday – 9:00 hours –17:00 hours
Fast fact: Mehrangarh Fort is a popular site for movies' set. It was one of the locations to shoot the movie – The Dark Knight Rises, released in June 2012.
---
Rajasthan Holiday Packages On TravelTriangle
Explore Rajasthan, the land of Maharajas. Experience its royal cultural heritage, luxurious hotels, camel safaris, pristine lakes, and magnificent forts and palaces. Cover the best of Jaipur, Udaipur, Jodhpur, Jaisalmer, Pushkar and Ranthambhore at best prices with TravelTriangle.
---
2. Jaswant Thada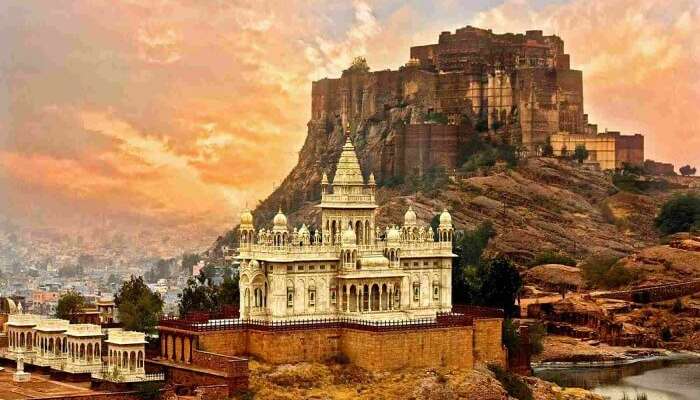 Your Mehrangarh visit is coupled by a trip to Jaswant Thada. As both the monuments are at a stone's throw, these are tourist places to visit in Jodhpur in one day. Standing adjacent to Mehrangarh Fort, this is a cluster of majestic cenotaphs in white marble. Built in 1899 A.D. in memory of Maharaja Jaswant Singh II, the main cenotaph of these holds portraits of various Rathore rulers. While visiting places in Jodhpur, at this place, you will feel tranquility all around. Also, you will realize that it is more of a temple where deceased rulers are worshipped.
Also known as Taj Mahal of Marwar, carvings of this monument are beautifully intricate. A spectacular multi-level garden, a pond, and exquisitely carved gazebos manifold its charm. Visit it on a sunny day to behold it beauty in full bloom. When it is kissed by sun rays, the extremely thin marble sheets, of which it is made up, glow golden. Make a wish here. Locals believe that the monument grants your wishes.
Entry fee:
International Tourists (Includes the audio) – INR 30 per person
Domestic Tourists – INR 15 per person
Opening hours: Sunday to Saturday – 9:00 hours –17:00 hours
Fast Fact: The Trivia
The Pond of the Gods at Jaswant Thada, is known to be the traditional cremation ground for the Jodhpur royals.
Must Read: Mehrangarh Fort in Jodhpur: A Spectacle Of Magnificence And Grandeur
3. Umaid Bhavan Palace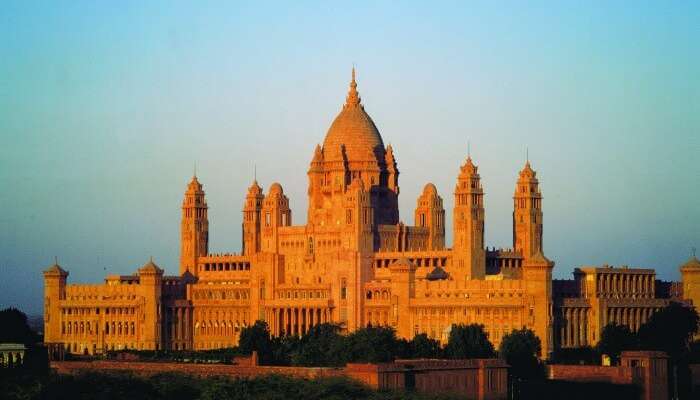 Umaid Bhavan Palace is one of the visit places in Jodhpur when it comes to witnessing the luxurious side of the city. Step into scrumptious luxury at Umaid Bhavan Palace – a celebrated destination when it comes to famous places in Jodhpur. Among the largest private residences on the globe, this palace is named after Maharaja Umaid Singh, grandfather of the current owner Gaj Singh. Crowned with several features that make it an exquisite structure, the palace has 347 rooms and a part of it is operated by Taj Group of Hotels.
This palace holds a prominent position among places to see in Jodhpur. A museum is also housed in a part of this magnificent structure. Don't miss to see its galleries housing various regal items, one gallery dedicated to display a variety of an item. For instance, a gallery showcases a host of royal clocks, and one of those display royal vintage cars. Make sure, you visit the grandeur spread in every nook and corner of this palace.
Entry fee:
Umaid Bhawan Palace: International Tourists – INR 50 per person / Domestic Tourists – INR 25
Umaid Bhawan Palace Museum: International Tourists – INR 100 / Domestic Tourists- INR 30 (per adult), INR 10 (per child)
Opening hours:
Umaid Bhawan Palace – Sunday to Saturday – 9:00 hours –17:00 hours
Umaid Bhawan Palace Museum- Monday to Saturday- 10:00 hours –17:00 hours (approx.)
Fast Fact: Story time
Once upon a time Jodhpur, erstwhile Marwar was hit by famine in 1920s. People approached Maharaja Umaid Singh for help. To provide employment to people, he generously commissioned a new palace. The venture resulted in helping people survive the tough time and emerged as a symbol of hope in times of trouble. Thus, the palace was built for a noble cause.
Suggested Read: Get The Rajasthani Bohemia On! 10 Amazing Shopping Places In Jaipur To Explore In 2019!
---
Planning your holiday in Rajasthan but confused about what to do? These Rajasthan travel stories help you find your best trip ever!
Real travel stories. Real stays. Handy tips to help you make the right choice.
---
4. Mandore Gardens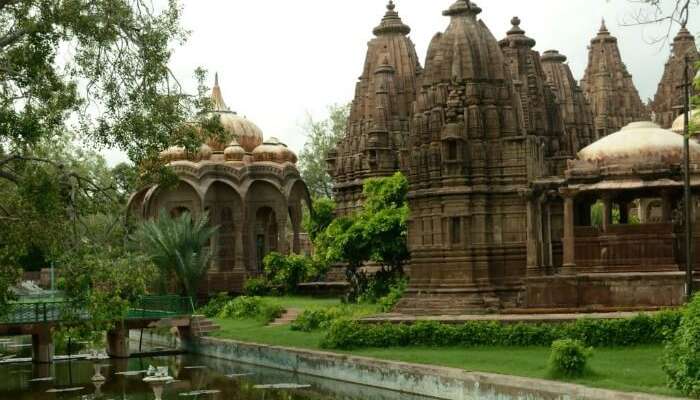 Mandore Gardens is one of the most beautiful places to visit in Jodhpur city. Jodhpur sightseeing is incomplete without visiting these gardens. Brimming with cenotaphs, old temples, and several other Madore Garden is another wonderful destination to take you for a trip back in time. The hall of heroes, dedicated to Rajput folk heroes and several deities, stands close to the cenotaphs. Their statues are carved in stone and flamboyant. The Shrine of the Three Hundred Million Gods is another attraction of this garden. Climb up the hill to have a look at the ruined city of Mandore with its old palace. And, beware of langur monkeys in this garden. They play around in hordes.
Entry fee: Free
Opening hours:
Garden: Sunday to Saturday – 8:00 hours to 20:00 hours
Museum: Saturday to Thursday – 9:00 hours –18:00 hours
Fast fact: Did you notice? Mandore Garden is not just a garden but a complete all-in-one package for ardent tourists? Yes, it is. Amidst serene garden setting, it offers you an opportunity to explore breathtaking memorials, an artistic temple, and a host of langur monkeys at play (just in case, you want some fun element added to your visit).
Suggested Read: 10 Best Hotels In Jodhpur: Heritage, Luxury, & Budget Stays
5. Osian Temples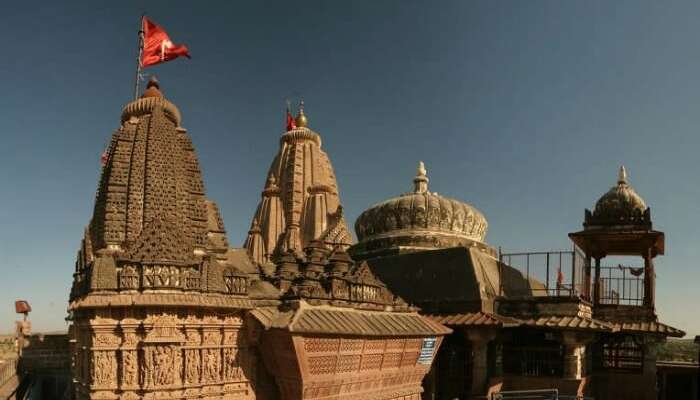 Another on the list of places to visit in Jodhpur and around is Osian. This destination awaits you at a distance of 65 km from Jodhpur in the ancient desert town of Osian. Baptized as Osian Temples, these 15 beautifully sculpted Hindu and Jain temples invite you. Hailing from the 7th and 8th centuries, these sacred places prove the architectural proficiency of ancient India. Make sure that you visit Sun Temple here with other famous places in Jodhpur as it is the oldest of all.
Entry fee: N.A
Opening hours: From early morning to evening
Fast fact: Enclosed within golden sand dunes and small villages, Osian offers the perfect setting to enjoy camel safari in the desert. Don't miss out on this fun-filled trip.
Suggested Read: 7 Things To Do In Jodhpur That Should Instantly Get Added To Your Travel Bucket List
6. Rao Jodha Desert Rock Park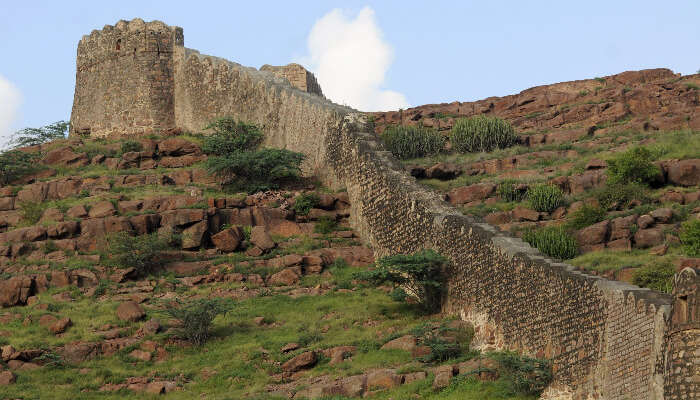 Spread over 72 hectares of land, the Rao Jodha Desert Rock Park in Jodhpur is a park near the Mehrangarh Fort. The park was created in 2006 to restore the ecology of a rocky area and encourage the greenery around it. The Park features more than 80 different plant species from the popular Thar Desert. Rao Jodha Desert Rock Park is one of the most peaceful places to visit in Jodhpur. Take a stroll through the park and enjoy the rawness of desert vegetation.
Entry fee:
INR 30 per adult
INR 10 per student
Opening hours: Sunday to Saturday – 9:00 hours to 17:25 hours
Fast fact: The park sits on an outcrop of a volcanic rock which is in the form of vertical columns. This unique characteristic of sight has won it the title of National Geological Monument.
Further Read: 16 Places To Visit In Rajasthan: Get A Glimpse Of Rajputana Splendor In 2019!
In a nutshell, the city leaves you awestruck with its architectural wonders that have stood the test of time. Fascinated by its magnetism? What are you thinking about? Plan a trip to Jodhpur, pack your bags and set off for a weekend escape in the charm of the centuries' old beauties.
Frequently Asked Questions About Places To Visit In Jodhpur
Q. Is Jodhpur worth visiting?
A. The blue city of Rajasthan, Jodhpur is adorned with stunning forts, impeccable gardens, and eminent temples. If you are a traveler who has an interest in getting acquainted with the history and culture of all the marvelous cities spread throughout the world, then Jodhpur is undoubtedly worth visiting. Innumerable tourist places and the beauty of the city will make your vacation a memorable one.
Q. What is Jodhpur famous for?
A. Jodhpur is famous for its rich history, grand forts, astounding temples, and enticing shopping markets. The city is also famous as the Blue city as its buildings were painted blue to denote that the buildings belonged to the Brahmins.
Q. How many days should I spend in Jodhpur?
A. Jodhpur has a lot of forts and historical attractions that you should definitely visit on your vacation. You must plan a 3 or 4 days trip as there are a lot of ravishing places to visit in Jodhpur that you shouldn't miss out on your vacation.
Q. What should I buy from Jodhpur?
A. Jodhpur has terrific markets from which you can buy amazing things like Tie and Dye Sarees, Leather shoes, Handicraft items, and traditional spices.
Q. Which is the best area to stay in Jodhpur?
A. The most popular area to stay in Jodhpur is the Clock Tower as all the luxurious hotels are located in this area. The Clock Tower has a remarkable location as all the major tourist attractions are also located near it. If you want to stay at a place which is located in the heart of the city and is in close proximity to the famous forts and restaurants, then Clock Tower is an ideal choice for you.
Q. Is it safe to travel to Jodhpur?
A. Yes, it is safe to travel to Jodhpur.
Q. What is the best time to visit Jodhpur?
A. The best time to visit Jodhpur is in the winter season as the weather is pleasant and you can easily explore all the forts and temples without sweating and getting tanned.
Q. Why is Jodhpur called the Blue City?
A. Jodhpur is called the Blue City as a lot of buildings in the city are blue in color. It is believed that the Brahmins colored the building in blue color as the buildings belonged to them
---
Looking To Book A Holiday Package?
Book memorable holidays on TravelTriangle with 650+ verified travel agents for 65+ domestic and international destinations.
---
Comments
comments