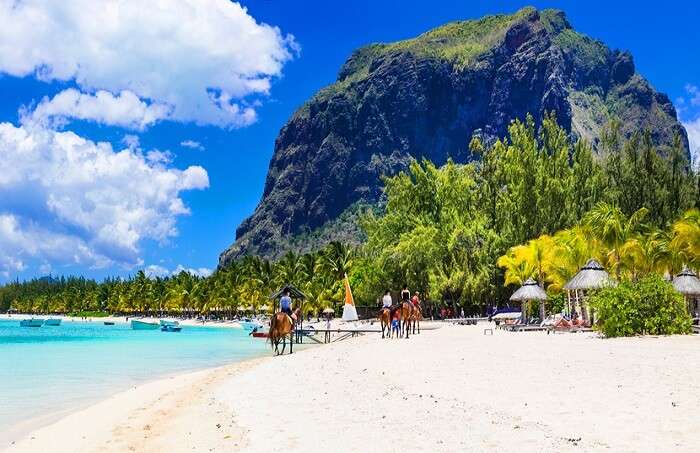 If we had to choose one out of the most surreal areas to have found a place on Earth it will surely be Le Morne Brabant area of Mauritius. The exact location of this place is basically described as the south-western tip of the island that forms the Le Morne peninsula under perfect geographical conditions to build one of the best sites that nature has ever created. Its popularity has traveled the world and people come down here to experience the magic for real! The mountain in the area, listed as a prestigious UNESCO World Heritage Site, Le Morne Brabant Mauritius is no short of magic, if not a fictitious painting.
The area of attraction is the peninsular formation of the land with a 556 meters high basaltic standing guard against natural calamities. A lagoon surrounds most of the mountain which has some of the most intense caves alongside its steep slopes. After being closed for public visitation for years, we are extremely ecstatic to say that is reopened its doors to visitors in 2016. If you are willing to experience existential significance in the form of unadulterated natural beauty, read on.
About Le Morne Brabant Mauritius
The Le Morne Brabant history dates back to years ago when it stood as a boundary of social privileges from the underrated ones. The sad history of slavery in Mauritius has had its dark times, but Le Morne Brabant Mountain stood head and shoulders above its neighboring terrain as a symbol of freedom, acceptance and, equality. A fortress, in other words, this mountain provided shelter for all those slaves who escaped the leash of social hostility.
All in all, it is not just the natural beauty of the place that is hauntingly beautiful but it's symbolic significance that speaks about justified standards of self-independence and anti-oppressive ideals. There is certain wisdom to this place that has captured the hearts of so many across the globe. The history of Le Morne Brabant is so vivacious that its saga continues to inspire thousands of individuals to this day. The sense of self-pride is so pure and strong that it makes the place brimming with dignity.
Must Read: Looking For Water Villas In Mauritius? Constance Le Prince Maurice Is A Dream-Come-True!
Le Morne Brabant History
Mauritius goes back in time where cultural blend took over commercial success of being. As a result, various races belonging to different socio-economic ladder lived and survived under one strict rule of reform, respect.
The impactful past has made this place even more profound in its interests as hundreds of men and women lived under harsh conditions only to escape tyranny. However, things end tragically. After the Slavery Abolition Act was passed in 1843, a group of men consisting of soldiers and police officers arrived at La Morne to break the news. But since the trust was broken over many years, these men, before realizing the purpose of the visit, ended their lives fearing more incoming persecution. These events may have turned their pages into book stories, but it will always remain as a reigning benchmark of humanity.
Suggested Read: 10 Best Temples In Mauritius That'll Help You Uncover The Marvelous Secrets Of The Country
Best Time To Visit Le Morne Brabant Mauritius
If you are looking to visit Le Morne, the best time would be between October and April during the humid nut rainy seasons. It is hot though but not intolerable hot. There are occasional cyclones in January and February though. Of course, always do your researches before you plan. The generic winter season is between May and September during which the temperature is still hot, but the incoming winds make for extremely comfortable weather conditions.
Suggested Read: A 7 Day Magical Honeymoon In Mauritius
Places To Stay At Le Morne Brabant Mauritius
There are many affordable as well as luxury options to look out for around this place. Look around for hotels in the Le Morne region itself, and you will definitely score a good deal. Among them, Hotel Riu Le Morne is highly recommended for its excellent services.
Suggested Read: Honeymoon In Mauritius: Enticing Things To Do And Must Experiences For Every Couple!
Best Things To Do At Le Morne Brabant Mauritius
So, while you're out and about in this gorgeous land of Mauritius, take a look at some of the best things to do around to have a fun-packed vacation with your loved ones here!
1. The Hike
Apart from going in and out of this surreal dream, the activity for which people mostly visit this place is to do the Le Morne Brabant hike. It is a 3.5 km long trail and takes about 3-4 hours to finish it through and back to base. Exotic plants and trees with lush green vegetation thronging the entire mountain are what the immediate view has to offer. One may hire a certified guide before embarking on the hike. However, if you are confident enough, it is entirely possible to finish the hike on your own as the trail goes up to the summit.
The ethereal caves along the entire trail used to be the hideout locations of the refugees who lived here. Through self-exploration and intermediate difficulties of a mountain hike, reaching the summit is a moment of accomplishment in itself. The spectacular view from the top is unparalleled to everything that you have achieved so far in life.
Suggested Read: Romance Aboard A Catamaran Cruise On Your Mauritius Honeymoon For Memories Of A Lifetime
2. Underwater Waterfall
Near the coast of the edge of the island, lies the enormous lagoon that creates something transcendental. The Le Morne Brabant underwater waterfall is a dramatic sight that makes us believe in a waterfall illusion right in the middle of the ocean! There is a slit on the ocean floor that makes us create this image in our head but nevertheless, it is something mystical.
Although this can be viewed from the shore or the top of the mountain, the option that provides the clearest and specific view is from a helicopter over the Le Morne Brabant Waterfall. The pleasure is watching the Le Morne Brabant Mauritius Waterfall is nearly indescribable, and all it requires is for us to feel it inside. The experience will probably be one of the best of your life, and you will return home with more wisdom than you ever thought you would acquire in life.
How to reach Le Morne Brabant Mauritius
There are direct or connecting flights to Mauritius from many countries across the world. From there on, one can book a direct car to Le Morne Brabant Mauritius and spend some of the best time of their lives there.
Further Read: Feeling The Tropical Love On A 4N 5D Honeymoon In Mauritius
Did this get you excited too? Plan your trip to Mauritius with TravelTriangle for a mesmerising vacay in this lovely peninsula offering absolute bliss for calming your soul!
---
Looking To Book An International Holiday?
Book memorable holidays on TravelTriangle with 650+ verified travel agents for 65+ domestic and international destinations.
---