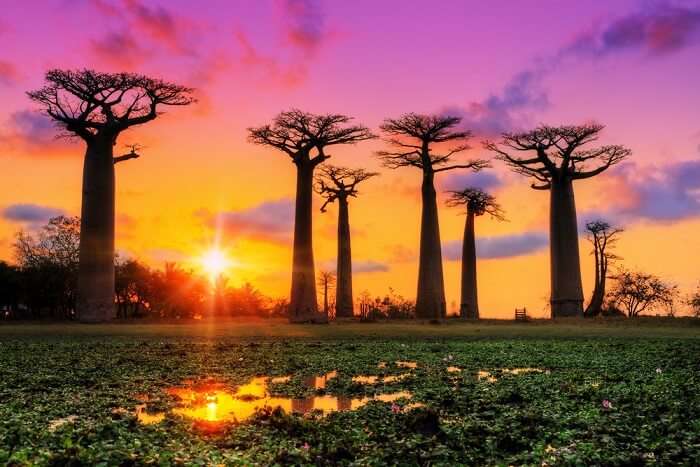 If you have seen the famous Hollywood movie, you need no introduction to the exquisite Madagascar Island. The island paradise is known for its rare wildlife, alien landscapes, and virgin coastline. Located in the Indian Ocean, the fourth largest island is a perfect destination for honeymooners, nature lovers, and thrill seekers. Famous for the wide-eyed lemurs, eccentric baobab trees, and vanilla farming, Madagascar Island throws wonderful surprises to your way. Stumble upon the great adventures and experiences in Madagascar with the help of this extensive Madagascar Island Guide.
Madagascar Information
Madagascar location: The island Indian Ocean lies on the southeast coast of Africa close to Mozambique.
Madagascar Island size: The fourth largest island in the world is 587,713 square kilometer in size.
Madagascar Island tourism: The vast island treasures thousand of species of animals and birds most of which are endemic. The geography of Madagascar island is an intense kaleidoscope on the earth. From tropical beaches to thick rainforests to deserts, you will find everything in Madagascar. This is why it is a heartthrob of outdoor enthusiasts. The location of Madagascar Island is also one factor that contributes towards attracting travelers to this place.
Madagascar Island Map
Best Time To Visit Madagascar Island
July to September is considered to be the prime months of tourism in Madagascar. The Madagascar Island weather and temperature starts to mellow from July and gets sunny as September approaches. The sun is warm, there are lesser downpours, and there are higher chances of spotting wildlife since they move out of their habitat in summers. Even though Madagascar can be visited all throughout the year, avoid the months from December to May when the cyclone cycle prevails.
The average temperature in July: 15°C
The average temperature in September: 24°C
Must Read: 17 Things To Do In Madagascar In 2022 That You Won't Get To Do Anywhere Else
Ideal Duration For A Madagascar Island Vacation
Image Source
Not just an island, Madagascar is an experience in itself. There is plenty to see and do on Madagascar Island that you would at least need a week to cover most of the places, if not all. However, it also depends upon your budget because Madagascar can be a wee-bit expensive. But you would not require more than 2 weeks to have it all.
How to reach Madagascar Island
Antananarivo Airport in Madagascar has direct flights from Johannesburg, Paris, Nairobi, and Bangkok only. Air France, Air Madagascar, Corsair, Kenya Airways, and South African Airlines provide flight services to Madagascar. You can compare the prices of all these airlines and choose a connecting flight as per your convenience.
Getting around in Madagascar
Getting around in Madagascar is pretty expensive and arduous because of the poor infrastructure in the country.
Safari: The best way to get around places is by joining the organized tours and safaris. A 14-day tour will cost you around $3000 (INR 1,95,000)
Private vehicle: In case you don't want to join a tour, you can hire a private vehicle with a driver. It will cost you around $50 (INR 3,250) per day.
Places To Visit In Madagascar Island
A trip to these awe-inspiring places to visit in Madagascar Island will make your vacation an unforgettable experience. The landforms, the flora and fauna, the wildlife and everything that falls within is a customized package by nature.
1. Tsingy National Park
Suggested Read: 14 Reasons Why Madagascar Honeymoon Is The Ultimate Dose Of Romance
Your eyes won't believe what you see in Tsingy National Park but you gotta believe it. The whole park is flanked by a staggering range of limestones spikes which feels so extraterrestrial. Most region of the park is impenetrable where the rare species of birds and animals thrive. Enjoy walking tiptoe in the World UNESCO Heritage Site where you get the exhilarating views of gushing waterfalls, lemurs, and untouched forests from the highest point in the park.
Location: Melaky region, northwest Madagascar
Entry fee: INR 600 per person for a day
Suggested: Venture on a 3-day hike inside the park and camp at the extraordinary sites where you can witness the rare wildlife.
2. Avenue Of The Baobabs
Have you ever seen a tree inverted upside down? This will be your first thought when you look at the Baobab Trees which are found only on the African continent. The century-old trees line up the dirt road between Morondava and Belon'i Tsiribihina in the Menabe region of western Madagascar. The shadow of the sacred trees looks more pronounced and dramatic during the sunset and sunrise.
Location: RT 8, Morondava 619, Madagascar
Entry fee: None
Tip: The best time to visit this park is during the sunrise and sunset. The trees are considered sacred here. So, don't take photos of the trees without asking the locals.
---
Planning your holiday but confused about where to go? These travel stories help you find your best trip ever!
Real travel stories. Real stays. Handy tips to help you make the right choice.
---
3. Isalo National Park
Suggested Read: 15 Best Things To Do In Sentosa To Make The Most Of The Island Paradise
Known for its jigsaw ridges and dazzling topography, the landscapes of Isalo National Park will leave you dumbstruck. Sculpted gradually over the years by air and water, the park features natural pools, canyons, wildlife and more. Explore the hiking trails which go through the rainforests rich with abundant flora and fauna. It is one of the best places to witness the alien landscapes of Madagascar Island.
Location: Ihorombe, Madagascar
Entry Fee: INR 500
Suggested: Hike all the way to Cascade des Nymphes, the black and blue pools and have a rewarding bath in the pool.
4. Ile Sainte Marie
Also known as Nosy Boraha, Ile Sainte Marie is one of the popular tourist attractions on the east coast of Madagascar. The narrow granitic island is famous for its turquoise blue waters, sea-turtles, and thatched villages. The 17th-century shipwrecks and a cemetery marked with skulls and bones will leave you imagining a pirate life. It is highly possible you might stumble upon a treasure chest. There is a lot of room for exploration on this sizeable offbeat Madagascar Island.
Location: East coast of Madagascar
Suggested: if you are visiting the island in July, attend the Whale Festival which is a huge event here.
5. Royal Hill Of Ambohimanga
Suggested Read: 10 Best Things To Do In Africa For The Traveler Who Wants It All

Once the home of the Royal family in Madagascar, Royal Hill of Ambohimanga is revered as the fort of great sanctity by Malagasy people. The hill is an ensemble of a fort, burial ground, and sacred places. Why you should visit this fort in Ambohimanga is because of its unique architecture and the panoramic views of the city that you get from the top of the fort. Once you have visited the fort, stop by the 'Digue Markets' which are famous for its artisan wooden crafts and souvenirs created by Malagasy people.
Location: 23 km North of Antananarivo, Antananarivo 101, Madagascar
Entry Fee: None
Things To Do In Madagascar Island
In case you are wondering what all can you do on your holiday in Madagascr, here is a list of top exciting things you should not miss.
1. Nosy Be – Dive With Whale Sharks
In case you didn't know Nosy Be is one of the rare places on earth where you can swim along the whale sharks. The oceans of Madagascar Island are bestowed with exotic corals and vivid aquatic life. If you are not a braveheart, you can enjoy the fascinating spectacle of the humpback whales when they make their annual migration to Baie d'Antongil for breeding. If you have only seen whales spouting on Nat Geo or Discovery channel, it is time you experience this beautiful thing for real.
Best time: August- September
Cost: INR 7,500 for diving(equipment included);
INR 2,000 per person for whale watching,
Time to spend: 2-4 hours
2. Sailing
Suggested Read: Maldives Vs Seychelles For Honeymoon: Where Would You Like To Go?
One of the best ways to explore the pristine coastline of Madagascar Island is sailing on the turquoise blue waters of the ocean. Madagascar has numerous virgin islands with undulating beauty under its hat. Head out on a boat with a skipper and a cook to enjoy the sea breeze as it runs through your hair. The magnificent views of the ocean as seen from the boat are beyond comparison. Turn your sea adventure up a notch by camping in solitary white beaches. Nosy Mamoko and the islands of Ramada are popular sailing destinations around the island of Nosy Be.
Cost: Starting from INR 6,300 per day
Time duration: 4-6 days
3. Virgin Ankarana Caves – Explore!
Madagascar – the island of marvels, is a land full of surprises one of which is its numerous unexplored caves. Burrow through the limestone caves which run from Cap d'Ambre to Onhilay near Tulear and discover the treasure clandestine in these undiscovered chambers. The scientists have found fossils and bones of lemur as old as a thousand years. There might be unpleasant inhabitants like crocodiles in some of these caves. Only Anohibe and Ankarana Caves are open for the visitors which showcase fascinating galleries formed of stalactites and stalagmites hanging down like a fabric.
Location: Ankarana National Park
Best time: April to October
Time to spend: 3-4 hours
4. Wildlife Tours
Suggested Read:
Seychelles Island: All You Need To Know About This Gem Of The Indian Ocean

Madagascar Island is not just famous for wide-eyed lemurs. Thanks to a wonderful mix of tropical, arid, temperate climates, the island is a home to a wide variety of exotic animals and birds, some of which made it to the famous Hollywood movie named after the island. Join a wildlife tour in any of the national parks and spot as many Madagascar Island animals as you can.
Best time: April to October
Time to spend: 5-6 hours
5. Madagascar Island Safaris
There is so much to experience on this fascinating island- tropical beaches, exotic wildlife, virgin islands, and unique culture. You wouldn't want to miss out on anything, would you? The best way to avoid FOMO is by hopping on any of the Madagascar Island Safaris. From cultural experiences to wildlife tour to island hopping, there is a motley of safari you can choose from depending upon your budget and duration. Book any of the island safari, sit back, and enjoy Madagascar Island in the best way possible.
How to book: You can book an online package in advance through Madagascar travel website. Many resorts also offer a bouquet of safaris to their guests.
Madagascar Island Resorts
Pamper yourself with luxury and amazing stay experience at these lavish resorts in Madagascar during your holiday in Africa.
1. Carlton Madagascar
Suggested Read: South Africa Honeymoon Guide: For An Absolutely Romantic And Adventure-Fueled Affair!

Carlton Madagascar offers boundless luxury and comfort during your stay on the Island. Its lavish suites are synonymous with space, light, and comfort. With a plush pool, casino, and a night club, the hotel know how to keep its guests entertained 24*7. As far as your gourmet desires are concerned, Carlton has got you covered with a wonderful bistro which serves international cuisines made with local flavor.
Address: Rue Pierre Stibbe- Anosy 959, Antananarivo 101, Madagascar
Tariff: INR 11,000 onwards
TripAdvisor Rating: 4/5
Website | Review
2. Princesse Bora Lodge And Spa
If you wish to have a Madagascar beach holiday, stay at Princesse Bora Lodge & Spa. The beach villa on Nosy Boraha Island ushers its guests with soothing Jungle spa and infinity pools. Along with a comfortable stay, the place offers you to become part of multiple experiences be it whale watching or exploring Cocobay Island. You will wish for nothing more at their luxurious villas and lodges.
Address: Ravoraha, 515 Sainte Marie, Madagascar
Tariff: INR 9,522 – INR 17,615
TripAdvisor Rating: 4.5/5
3. Vanila Hotel And Spa
Suggested Read: 15 Best Hotels In Cape Town: The Finest In Luxury, Views, And Sophistication

Have the ultimate Madagascar experience in the African-style rooms and suites at Vanila Spa & Hotel. The architecture of the hotel has been constructed with local material which goes well with landscape of the island. Enjoy the views of the beach and the tropical gardens right from the room's window. Pamper and rejuvenate your senses with their soothing spa.
Address: Route de L'Ouest, Ambaro 207, Madagascar
Tariff: INR 7,695 onwards
TripAdvisor Rating: 4.5/5
Madagascar Island Restaurants
While Madagascar is about scenic beauty, it is also about the authenticity of it cuisine which you will ge to try at these famous restaurants on the island.
1. La Varangue, Antananarivo
La Varangue is one of the famous restaurants in the city known for its delectable European cuisine. It is amazing to see how local ingredients are whipped into Michelin-star worthy meals at this fine dining restaurant. While the food fills your stomach and soul, the interiors fill your heart with its charming antique interiors and beautiful garden.
Address: Antananarivo 101, Madagascar
Must try: Zebu steak cooked in smoked lard
Price for one: INR 4,500
2. Mad Zebu
Suggested Read: 10 Restaurants In Bora Bora To Sample The Best Seafood And Soak In The Sunsets

Located on the way to Tsingy National Park, Mad Zebu serves the best gourmet cuisine in the region. Despite being located in an uncharming, dusty town, the flavours and taste of this place lure people to dine at this fusion restaurant. Treat yourself to exquisite gourmet dishes from their creative menu
Address: En face du marché, Belo-sur-Tsiribihina 609, Madagascar
Must try: Fish Filet, Homemade Ice cream
Price for one: ₹ 816 – ₹ 2,381
3. The Pily Pily Restaurant, Nosy Be
Located on a cliff, The Pily Pily Restaurant is where you can savor the best seafood on the Madagascar Island. The intimate ambiance and exquisite location make it one of the best places to have a romantic meal with your partner. Don't blame it on the tipsy drinks if you observe ocean changing colors because it does. Their seafood buffet is highly recommended by visitors.
Address: Plage de Andilana Beach, Nosy Be 111, Madagascar
Must try: Seafood buffet
Price for one: INR 3,500 – INR 5,000
Madagascar Island Facts
Image Source
Here are some intriguing facts about this island, some of which will surely blow your mind through the roof!
The Madagascar Island is the world's fourth largest island spanning a total area of about 226,917 square miles!
It was discovered and colonized by humans only in 500 AD.
It is home to some of the most wonderful World Heritage Sites, including the Royal Hill of Ambohimanga, the Tsingy de Bemaraha Strict Nature Reserve, and the rainforests of the Atsinanana, all of which are amazing natural wonders in themselves!
It is an undeniable heaven for wildlife enthusiasts and birdwatchers, according to Conservation International.
The world's weirdest creatures live in this biodiversity hotspot, like the giraffe-necked weevil, aye-aye lemurs, and Malagasy giant rats. Over 90% of Madagascar Island animals are found nowhere else on Earth
This island used to be a favorite spot of pirates for laying low owing to the isolated coves and absence of European colonies. In fact, many pirates were buried right here in the island's cemetery.
As weird as it may sound, but men and women in Madagascar wear the same clothes, known as the Lamba!
It has just recently abolished the death penalty after Congo, Gabon, and Togo.
Moraingy, a form of bare-knuckle fist-fighting combat sport, is the national sport of Madagascar!
Tips For The Travelers Visiting Madagascar Island
Communication is a major problem in Madagascar as the natives don't speak English. Though French is quite spoken around on the island.
Though Madagascar has a Malagasy Ariary Currency, Euros are widely accepted here. US dollars can easily be exchanged.
Be aware of the taboos. Malagasy people are very superstitious. You never know what might offend them.
Do not forget to tip at restaurants, cafes, and national parks. The locals thrive on tourism in Madagascar.
Even though Madagascar is the safest of most African countries, heading out late in the night is not advised.
Typhoid and malaria is prevalent in the rural areas. So, be careful.
Further Read: 10 Reasons Why You Should Spend Your Next Family Vacation In East Africa
For those who relish nature and adventure, there is so much to discover on the Madagascar Island on your trip to Africa. The charm and beauty of the island are beyond your imagination that you ought to see it for yourself. Embark on a beautiful journey and have an unforgettable holiday experience on this island paradise.
Disclaimer: TravelTriangle claims no credit for images featured on our blog site unless otherwise noted. All visual content is copyrighted to its respectful owners. We try to link back to original sources whenever possible. If you own the rights to any of the images, and do not wish them to appear on TravelTriangle, please contact us and they will be promptly removed. We believe in providing proper attribution to the original author, artist or photographer.
Frequently Asked Questions about Madagascar Island
Have doubts? See if these common queries about this island help you solve them:
Is Madagascar part of Africa or Asia?
Madagascar is a part of Africa.
Are there any islands near Madagascar?
There are many Islands near Madagascar Island including, Nosy Boraha, Nosy Ambariovato, Tsarabanjina, Sakatia Island, etc.
Is Madagascar inhabited?
Many a time it is asked, "Do people live in Madagascar?" Well, yes. Madagascar is very much inhabited by various ethnic groups of Malayo-Indonesian, mixed African and Malayo-Indonesian, and Arab ancestry.
Do people of Madagascar speak French?
The majority of the French population in Madagascar Island speak French as their first language.
Who does Madagascar belong to?
Madagascar is an independent nation off the coast of East Africa. Olivier Mahafaly Solonandrasana was the Prime Minister of Madagascar till 2018 before he announced his resignation.
Is Madagascar a rich or poor country?
On the downside, Madagascar happens to be the poorest countries in the world.
---
Looking To Book A Holiday Package?
Book memorable holidays on TravelTriangle with 650+ verified travel agents for 65+ domestic and international destinations.
---