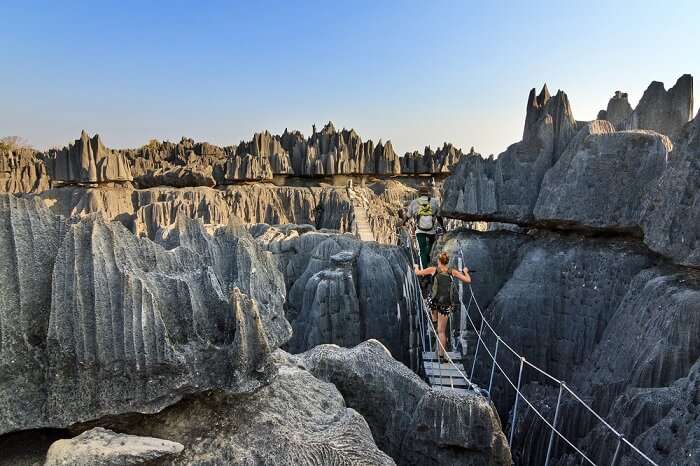 Madagascar is one place on the earth where you will never get short of the breathtaking experiences. The paradise island offers a plethora of things to do in Madagascar for nature admirers and adventure seekers. From hopping islands to exploring hiking trails to watching the whales breathing, each one of the experiences in Madagascar is fun-filled and authentic. The fourth-largest island in the world will leave you with a lifetime of memories and experiences.
Top 17 Things To Do In Madagascar
If you have been wondering what to do in Madagascar Island, here are the things you should strike off the list to have the most fulfilling experience on the paradise island. We've shortlisted 17 fun things to do in Madagascar which every traveler must indulge into at least once.
1.Nosy Be – Swim With Sharks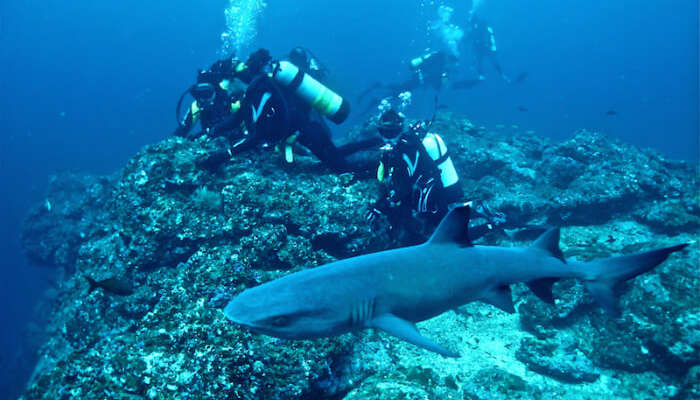 If you consider yourself a daredevil, then diving with the whale sharks in the deep blue waters of Nosy Be will pique your interest. Madagascan Reefs are among the rare places on earth where you will get to swim along the whale sharks, manta rays, and stingrays. The depths of the Indian Ocean treasure fish of variegated colors and coral reefs of indefinite shapes. This is truly one of the exciting and unique things to do in Madagascar and you ought not to miss it.
Location: Nosy Be, Madagascar
Cost: INR 7500 per person inclusive of equipment
Must Read: 15 Reasons Why Madagascar Honeymoon Is The Ultimate Dose Of Romance

---
Looking To Book An International Holiday?
Book memorable holidays on TravelTriangle with 650+ verified travel agents for 65+ domestic and international destinations.
---
2. La Corniche – Take A Stroll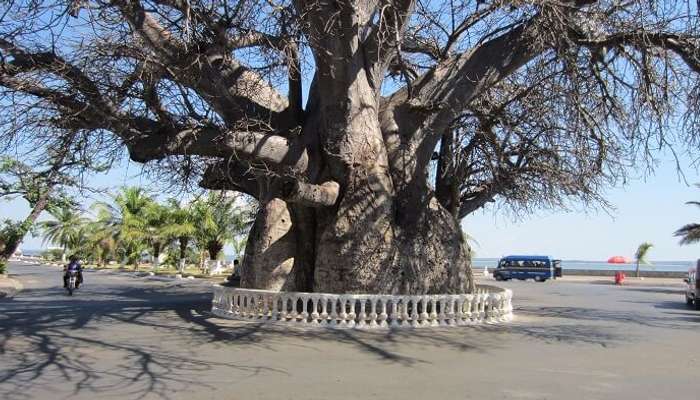 Mahajanga in Madagascar is all about the picturesque La Corniche. The beautiful promenade along the beach is lined up with the palm trees and street food carts. Taking a stroll under the shade of palm trees in the evening is counted among the best things to do in Madagascar. Soak in the goodness of sun and feel the freshness of sea breeze brushing your skin while you nibble on the local Malagasy delicacies from the food carts. This is one of the most amazing things to do in Madagascar for all age types.
Location: North Coast of Madagascar
Entry Fee: None
3. Crocodile Farm – Visit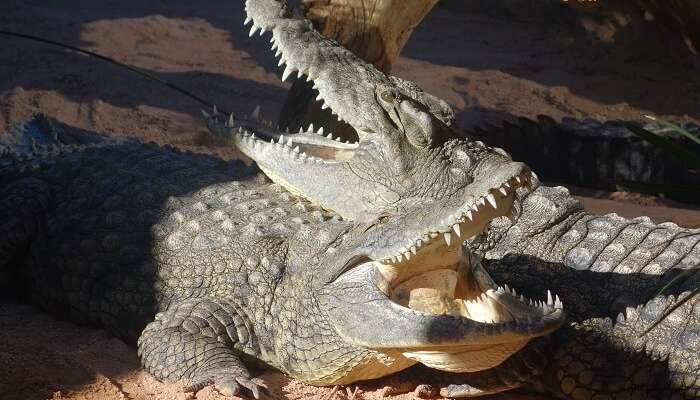 This is one of the most amazing things to do in Madagascar. A surprising little gem in Antananarivo, Croc Farm is one of the most visited parks in Madagascar. Apart from the amphibian giants, you can also spot lemurs, chameleons, and toucans. The private park breeds crocodiles and sells goods made with crocodile skin. If you think you can stomach bizarre foods, then trying the crocodile meat burger could be one of the craziest things to do in Madagascar.
Location: Antananarivo, Madagascar
Entry Fee: INR 600
Suggested Read: 10 Best Things To Do In Sentosa To Make The Most Of The Island Paradise

4. Ile Sainte Marie – Whale Watching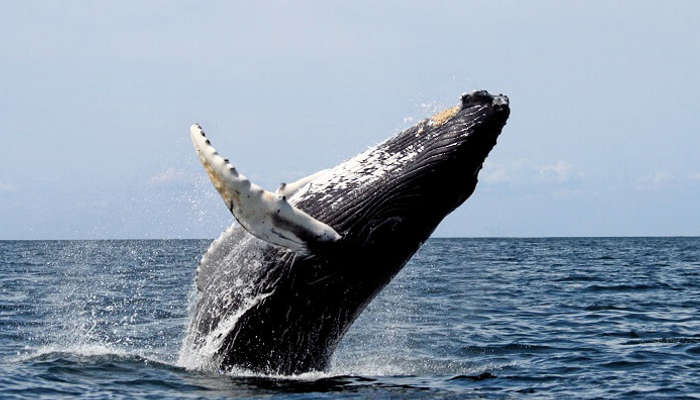 If you have never seen a whale spouting in the sea, you wouldn't know what a wonderful thing it is to witness. It is counted among the amazing things to do in Madagascar. Embark on the boat to witness the humpback whales who migrate all the way from the South Pole to Sainte Marie channels for breeding and calving. Witnessing a legion of the giant aquatic creatures in one place is a magnificent sight and definitely one of the interesting best things to do in Madagascar.
Location: Ile Sainte Marie, East Coast of Madagascar
Price: INR 2,000
5. Andanoka – Paragliding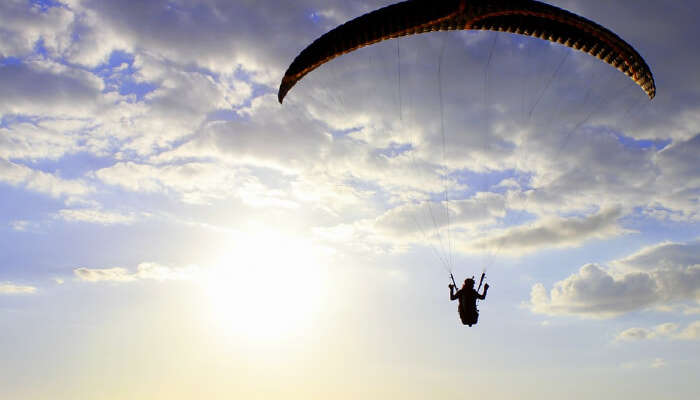 If you thought there was no scope of having a paragliding adventure in Madagascar, you couldn't be more wrong. Paragliding in Madagascar should be on your list of best things to do in Madagascar as it provides the terrific views of the Malagasy landscapes. The granite cliffs of Tsaranoro near Andonaka Village in Madagascar pose a great site for paragliding. The moment you look down the gorgeous valley below, you realize that jumping off the Tsaranoro cliff was the best decision of your life.
Location: Camp Catta, Village Andanoka, Madagascar
Suggested Read: 11 Cool And Unusual Things To Do In Russia That You've Never Heard Before!
6. Madagascar – Island Hopping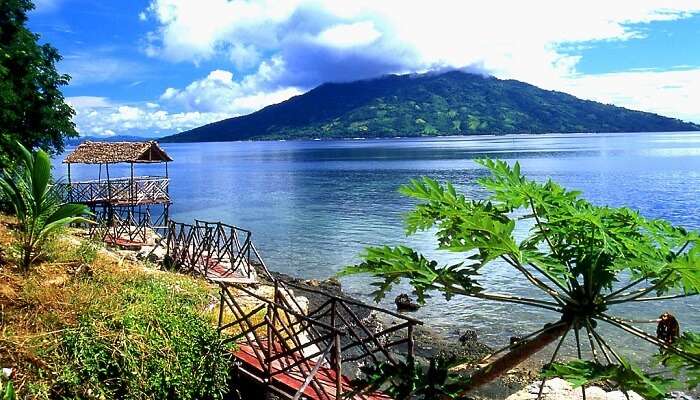 Thanks to the long coastline of Madagascar Island, it has numerous drop-dead gorgeous islands under its hat. If you want to have the best of this tropical paradise, one of the best things to do in Madagascar is island hopping. Not only you get to enjoy the pristine views of the islands but also get a closer look at the Malagasy culture. Sail out on the catamaran and visit the far-flung virgin islands of Madagascar where you can snorkel, dive, and walk on the deserted white beaches.
Price: INR 123,900 for a 7-day trip
---
Planning your holiday but confused about where to go? These travel stories help you find your best trip ever!
Real travel stories. Real stays. Handy tips to help you make the right choice.
---
7. Tsingy National Park – Hiking
Known for its eerie limestone spikes, Tsingy National Park also conceals exquisite hiking trails from the adventure enthusiasts and nature lovers. One of the best things to do in Madagascar for adventure enthusiasts and nature lovers is to explore its deep canyons, gorges, lush forests and unlock the most captivating campsites in the park. Spend enough time with rare and indigenous wildlife like the wild-eyed lemurs, which are the prime inhabitants of this park. You will highly regret if you don't visit the wildlife park in Madagascar and experience one of the most amazing things to do in Madagascar.
Suggested Read: Top 10 Things To Do In Indonesia For An Unforgettable Holiday Experience!

8. Ankarana National Park – Caving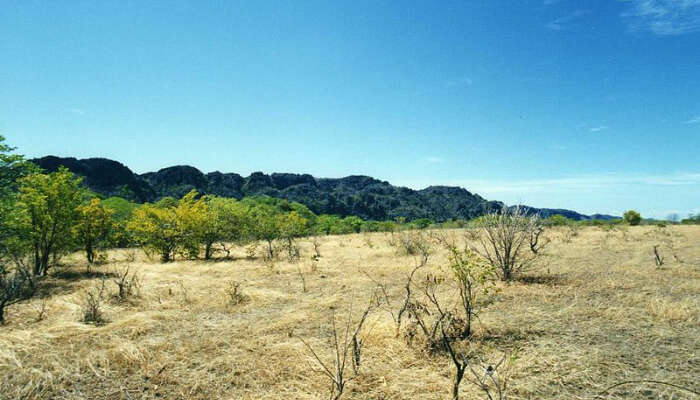 If you are starting to think there is no more room left for adventure and exploration in Madagascar, let the caves of Ankarana stupefy you. The limestone caves are a storehouse of fossils which are millions of years old. These caves even have a network of underground rivers where the wild predators aka crocodiles swim. The stalagmites and stalactites formations on the ceilings appear magnificent and out worldly. Burrowing through these mesmerizing caves seems like one of the exciting things to do in Madagascar island.
Location: Ankarana National Park
Entry fee: INR 550
9. Madagascar – Wildlife Tour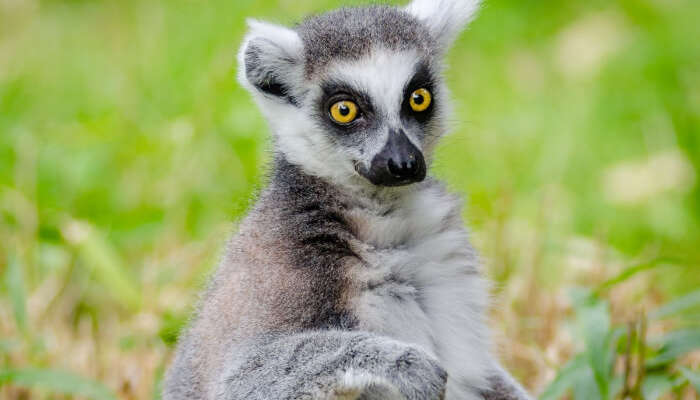 Madagascar is blessed with a bountiful variety of flora and fauna. In fact, many of the species of animals and birds are found nowhere else but here. This explains the numerous wildlife parks and reserves on the island which reveal the most unique and rare wildlife on the earth. This is why it kind of makes it one of the most essential things to do in Madagascar island. Trek through its lush forests and paddle the canoe through the rivers to stumble upon the dancing lemurs and howling mongoose.
Price: INR 229,249 for 14 days
Suggested Read: Madagascar Island: The Land Of Alien Landscapes, Virgin Islands, & Unique Wildlife
10. Fort Dauphin – Road Trip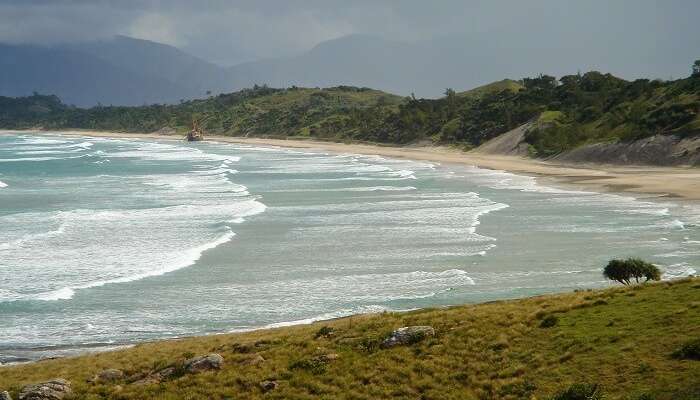 Imagine driving on the road that runs along the blue sea and your hair being blown by the ocean breeze. If you can imagine doing something like this in Madagascar while having fun, Fort Dauphin is just the place for you. Pictured on the back of 5000 Malagasy Ariary note, the picturesque landscape of Fort Dauphin will bind you in a spell. Sunbathing at Libanona Beach and visiting the ruins of Fort Flacourt are few of the interesting things to do in Fort Dauphin, Madagascar. This is one of the best things to do in Madagascar island.
Location: Southeast coast of Madagascar
11. Amber Mountain National Park – Explore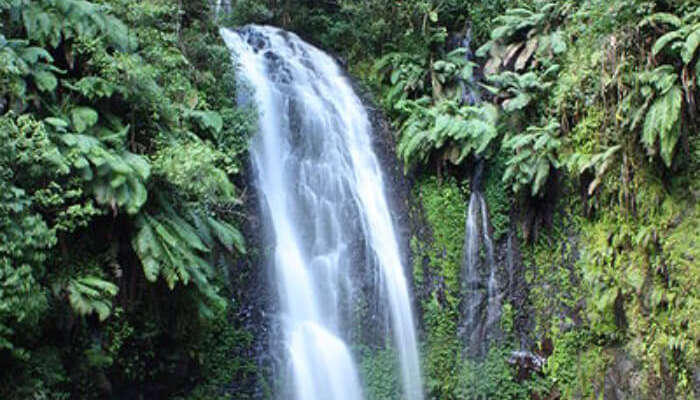 The Amber Mountain National Park is situated at the northernmost tip of Madagascar. It is 20 miles south of Diego Suarez. The huge park covers an area of more than 18,500 hectares. You can find wild animals, crater lakes and waterfalls in abundance here. It is one of the most diverse national parks you'll have ever come across in your life. You can explore the park on your own or hire a guide.
Suggested Read: 12 Things To Do In Madagascar In 2019 That You Won't Get To Do Anywhere Else
12. Analamazoatra Special Reserve – Visit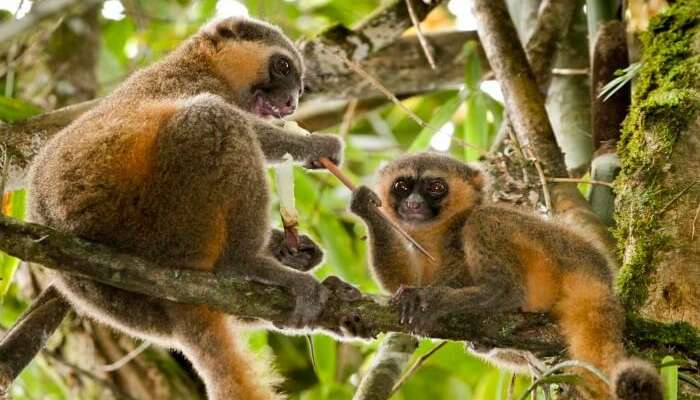 The Analamazoatra Special Reserve is a part of the Adasibe-Mantadia National Park. It is home to many wild animals and birds that are exotic to Madagascar, like lemurs. It will take you between 2 to 6 hours to see the entire reserve on foot. We strongly recommend that you do this to get an experience like no other. The best time to visit the reserve is 11 AM. You can visit early in the morning or in the twilight hour.
13. Ambohimanga – Take A Tour

Located in northern Madagascar, in the province of Antananarivo is the Ambohimanga Hill which is a UNESCO World Heritage Site. Ambohimanga Hill was once a royal city and the site for burial. It is also one of the most significant monuments of the precolonial Merina Kingdom in terms of preservation. If you are looking for cultural things to do in Madagascar then take a tour of the place on a trip to Madagascar.
Location: Ambohimanga
Entry Fee: NA
Suggested Read: Honeymoon In Africa: Top 11 Romantic Getaways For The Best And Unique Experiences!
14. Andasibe-Mantadia National Park – Spot Lemurs

Image Source
Located in eastern Madagascar, Andasibe-Mantadia National Park is a protected rainforest. The famous Analamazaotra Reserve is a part of this national park only. The national park is home to the noted indri lemur. Other than this, there is quite a variety of flora and fauna that can be found here. The park has some of the rarest orchid species and ferns. There are trails for one to explore here which make their way through the dense forest, beautiful lakes, and scenic waterfall. The entry fee for the park and the reserve is the same, and one can explore both the places together.
Location: Madagascar
Entry Fee: INR 485
15. Isalo National Park – Go Trekking

Image Source
Situated in the Ihorombe Region of Madagascar, Isalo National Park features a sandstone landscape. The town nearest to this park is Ranohira and the cities closest to it are Ihosy and Toliara. The park has natural swimming pools, which are pretty famous with the tourists. One needs to be accompanied by a guide if they are entering the national park and one can find them in the closest town of Ranohira. The national park is famous for trekking and there are several trails here which can last from a few hours to days together.
Location: Madagascar
Entry Fee: NA
16. Kimony Beach – Enjoy A Swim

Image Source
For the beach bums, one of the fun things to do in Madagascar is to head to Kimony Beach. It is a secluded stretch of sand which runs for almost 4 miles along the west coast of Madagascar. More than the beach, the way to the beach is picturesque and one can reach this sandy stretch by following a dirt road that would take one through fields and palm groves. As the beach is a deserted place, there isn't much that one can find here in terms of facilities or entertainment. It is a good place for one to enjoy a picnic, where they can get their own food and drinks.
Location: Madagascar
Entry Fee: Free
17. Lake Alaotra – Enjoy A Picnic

Situated in the northern central plateau, Lake Alaotra is the largest lake in Madagascar. The basin has marshes and shallow freshwater lakes with dense vegetation. Reaching the lake isn't very easy and one has to drive on poor roads, but once you get there, the beauty of the place is all worth the trouble. The area is rich in flora and the area is home to some endangered and rare species. It is also a fishing ground of Madagascar.
Location: Madagascar
Entry Fee: Free
Further Read: Camiguin Tourism: Come, Discover The Beautiful Treasures Of This Lesser Known Island

With plenty of things to do in Madagascar, you will hardly find a breather on this island paradise. The best part is that the list caters to every budget type. Cool, isn't it? Escape to the exquisite island and indulge in unique experiences. Plan a trip to Africa now and explore this exotic island of Madagascar. We promise you won't be disappointed. You'll have the time of your life.
Frequently Asked Questions About Things To Do In Madagascar
Q. What are the fun things to do in Madagascar?
A. Diving with whale sharks, visiting the Crocodile Farm, watching the humpback whales, paragliding and hiking are some of the fun and adventurous things to in Madagascar.
Q. How safe is it to travel in Madagascar?
A. Like any other country, there is a certain level of the crime rate that every traveler needs to be cautious of. But with some safety precautions, you can a smooth trip. Just make sure that you don't wander around in a large crowd, and make sure to keep your belongings safe.
Q. What is the culture in Madagascar?
A. The culture of Madagascar displays influences of Arabs, Indians, British, French and Chinese settlers and reflects the origins of the Malagasy people in Southeast Asia and East Africa.
---
Looking To Book A Holiday Package?
Book memorable holidays on TravelTriangle with 650+ verified travel agents for 65+ domestic and international destinations.
---
People also read:
Best things to do in Africa New year in South Africa Nelson Mandela square in South Africa
Comments
comments