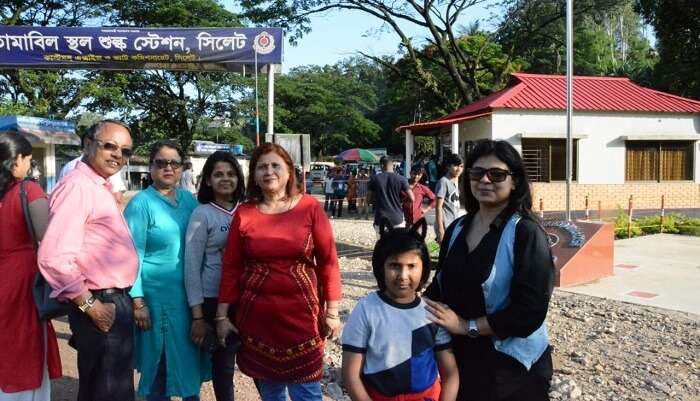 Every year I try to plan and travel to a new destination with my family, so that we can explore more and more new places, people and Culture. This year, we were actually planning for Bhutan, but had to change it to Meghalaya. There was a lot of apprehensions about incessant rain, the kind of food and other things. But to be honest, the trip turned out so good that I have decided to return to this lovely destination someday. Exploring Meghalaya with kids was one of the best experiences of my life.
Details Of Our Trip To Meghalaya With Kids
Trip Cost: INR 62,400
No. Of People: 3 Adults, 1 Child
Trip Duration: 7 Days
Inclusions: Transfers, Accommodation, Breakfast, Sightseeing, Driver, Luxury Taxes, Tolls
Exclusions: Entry Fees, Camera Fee, Water Activities, Brahmaputra Cruise
Itinerary For A Trip To Meghalaya With Kids
Day 1: Arrival in Guwahati
Day 2: Visit Kamakhaya Temple
Day 3: Visit Mawphlang Sacred Forest
Day 4: Visit Don-Bosco Church | Krangsuri Fall
Day 5: Visit Indo-Bangladesh Border
Day 6: Arrive Cherrapunjee And Visit Waterfalls
Day 7: Visit Mawsmai cave | Awrah Caves | Departure
9 Places To Visit In Meghalaya With Kids
Exploring places with so many waterfalls, mountains and forests with children may not be easy. But it is an experience worth living, as a family. Here are some of the most wonderful places that I visited in Meghalaya with kids:
1. Elephant Falls And Mawphlang Sacred Forests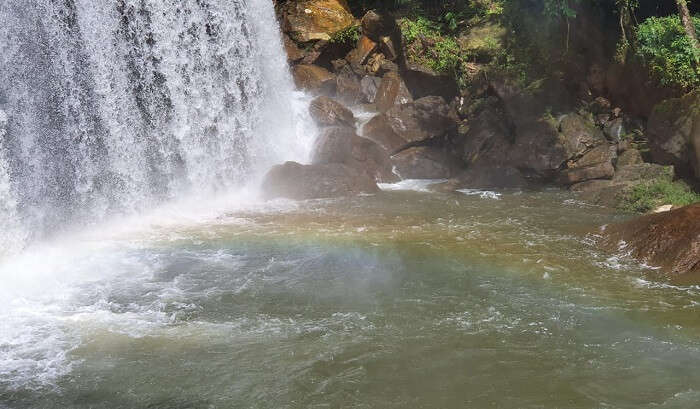 Meghalaya has many waterfalls and we were looking forward to visiting as many as we could. The very first that we saw was the Elephant Falls, which is also known as the Three Step Waterfall. Once you reach the bottom and look at the milky-water falling down, you feel highly rejuvenated. After spending some time there, we visited the Mawphlang Sacred Forests. It started with a wide open pasture land, so we couldn't understand where the forest is. But when our guide took us into the forest through an opening, it was quite an experience. Standing in the middle of a dense forest, completely away from the hustle-bustle of the city is extremely peaceful.
19 Places To Visit Near Shillong In 2022 For Experiencing Meghalaya's True Beauty!
2. Wards lake


We had reached Laitlum Canyon but had no luck to experience the beauty of this place as it started drizzling and the entire place got covered in heavy fog. So, we headed to the Wards lake, which is a popular tourist place in Meghalaya. This lake is attached to a park which makes a perfect family picnic spot. We enjoyed spending some family time here, and eating steamy momos at the cafeteria. We also went to the main market located at a walking distance from the park. Shopped for a few simple household items and bought some food from the market.
3. Krang Suri Falls


Our journey towards the Krang Suri Falls was as amazing as the place we were heading to. With so much greenery on either sides of the road, we felt highly refreshed. When we were dropped at the site of Krang Suri Falls, we could only hear the sound of falling water but couldn't find the waterfall. After enquiring, we found out that to reach the falls we needed to go down three to four hundred steps. I started the descent with a friend and my 8-year daughter. My younger daughter has always been curious to explore. Each step down was making us more eager to reach the spot. After reaching the bottom we could not take our eyes away from the falling cascades. Here, I saw a rainbow for the first time in my life, so I quickly captured the scene in my camera. The ascent seemed a little arduous but was nothing compared to the trek of Double Decker Root Bridge which I later experienced.
Breaking Records: World's Longest Sandstone Cave Just Got Discovered In Meghalaya!
4. Indo Bangladesh Border






Visiting the Indo-Bangladesh Border was an absolutely different experience for all of us. Saluting our national flag standing at the border and knowing that there's on other country just a few steps away gave us goose-bumps. We also visited the Dawki River, which is famous for its crystal clear water. A boat ride through the river took us through charming scenic landscapes.
5. Mawlynnong


Our visit to the Mawlynnong Village was an enriching experience. It is one of the cleanest places in India. We visited a beautiful tree house from where one can see Bangladesh. We took a stroll around the village and went to the Single Root Bridge. Our kids had a great time here, playing in the small cascade at the site. This is a rare experience for children who live in cities.
6. Nohkalikai Falls


The route to the Nohkalikai Falls is absolutely breathtaking. The sight of clouds covering the valley gives you a magical feeling. And like a cherry on the cake, we could also spot rainbows here and there. We were breathtaken to witness the india's tallest plunge waterfall, Nohkalikai Falls. The water drops down from a height of 1115 feet and with a very high force. The sound and the sight of the waterfall is very overwhelming. We spent some time relaxing and buying exotic spices for home from the stalls near the fall. On the way back, we also saw the famous Seven Sisters Falls.
Meghalaya Travel Tips: Remember These Essential Things Before Visiting This Beautiful State!
7. Double Decker Root Bridge


The mornings in Meghalaya start as early as 4am, which looks like 6am. My friend and I started the descent for the popular Double Decker Root Bridge. We normally think that descending stairs easier than climbing stairs. But when you descend the stairs for a long stretch yoling the pain in our calf. We had nimbu pani to quench our thirst on reaching the single root bridge u start feeling pain in your calf muscles. We continued our trail after a short nimbu-pani break. After a long walk, we reached the Double Decker Root Bridge. This place is real natural wonder and you would forget the tiredness and pain of the long hike after seeing this bridge. 
8. Danthelien Falls


I took my family members to a nearby waterfall that our driver had told us about. This beautiful cascade is called, Danthelien Falls. This place spans a wide area with breathtaking landscapes. The fall itself was quite a view. We spent some quality time sitting on the rocks with our feet in the cold water. It is a rare experience that one must definitely have with their family.
9. Masawami Caves

We visited Masawami Caves on the last day of our vacation in Meghalaya with kids. This is a limestone and sandstone cave with unique rock formations inside it. With this incredible site in Meghalaya, we bid goodbye to this wonderful destination. We are returning with unexpected and astonishing memories.
Weather In Meghalaya In June
We were traveling to Meghalaya in the month of June, which is supposed to be the summer season with rains. I had apprehensions regarding the weather and how we would manage in the rains. But luckily for me the weather was awesome. Not hot or cold or very humid, just pleasant. In fact during the entire trip, including Cherrapunjee, we met slight drizzles only two or three times, which made the experience even more memorable.
10 Best Hotels And Resorts In Shillong That Will Entice You To Explore Meghalaya!
Our Hotels In Meghalaya
Guwahati – Hotel D-Courtyard: It was fine for a transit hotel. The room was small, with good hygiene
Shillong – The Homestead B&B: It was a lovely property, efficiently managed by ladies. It would have been great if they also provided room service. Their cook was on leave, so we could not order food at the hotel. The cottage was quite big with all the amenities and along with cooking utensils for anyone who wished to cook for themselves.
Mawlynnong – Streamside Guest House: The property was small but quite good, considering the small village it is located in. It was a clean place to stay, which also served delicious breakfast. For any requirement, you would have to make a phone-call to the manager.
Cherrapunji – Saimika Resort: No words to express. Lovely property lovely location good staff and great food. With an easy access to the stream flowing in the backdrop, we enjoyed the time spent there. The Rymphang room provided to us was quite cosy. Though, there were spiders in the room, the staff helped us in getting rid of them.
Our Experience With TravelTriangle
This was the second time I booked with TravelTriangle. Earlier I had booked for the Andamans which was another story of its kind. The Meghalaya trip was a mesmerising and memorable experience. It went smoothly because of three reasons:
TravelTriangle – The support of their team made the trip turn out so well; TravelTriangle Agent – Offbeat Roads, who planned a very good itinerary. Special thanks to Mr Shashi from Offbeats, who was in touch throughout the journey, ensuring our comfort; and our driver, Mr Hasan, who was very helpful and accomodating. He was very cooperative and patient throughout the journey, even when we asked to stop for small breaks.
Tips For Traveling To Meghalaya With Kids
Visit Meghalaya without any apprehensions, you will not regret any moment you spend here
Mawlynnong is Asia's cleanest village, make sure you leave it the same way
Cherrapunji is an extremely beautiful and green place. Relax and take time. Do not rush!
Do not miss the trek to the Double Decker Living Root Bridge in Cherrapunji. The trek may be exhausting but the experience will etch a mark in your heart forever.
16 Scenic Waterfalls in Meghalaya That'll Leave Your Mesmerized In 2022!
Frequently Asked Questions About Meghalaya With Kids
What is there to shop in Meghalaya?
My wife is a shopping aficionado and even when I thought there is nothing new to buy, her eyes managed to find great things. One of the best things to shop in Meghalaya is bamboo handicrafts. We bought some souvenirs and handmade treehouse at Mawlynnong.
What should I pack to visit Meghalaya with kids in June?
There's no need to pack too many woollens if you are visiting in Meghalaya in June. But make sure that you carry umbrellas and raincoats, especially if you are travelling with kids. Waterproof shoes will be very helpful. Take light clothes as they dry quickly. Also, carry some common medicines for cold and headache. Mosquito repellent cream is a must if there are kids with you.