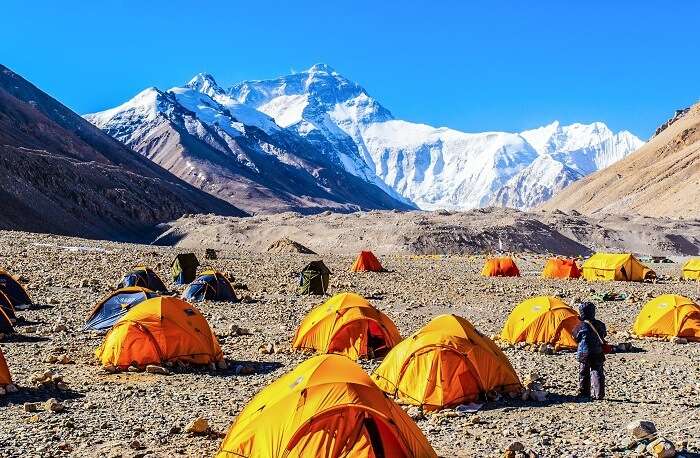 In a world where everyone is now competing to set and break world records, this pop-up restaurant being set up at the Everest Base Camp seems to be stealing the spotlight. A group of chefs is planning to set a world record for establishing and running the highest ever pop-up restaurant where they'll serve dinner at the Everest Base Camp 11,600 feet above sea level. After ex-Noma chef James Sharman's failed attempt at organizing a pop-up dinner at Everest Base Camp back in 2016, this one better be more promising.
Project Triyagyoni: About This Pop-up Restaurant
The plan is for four reputed chefs and ten diners to carry out an eight-day trek up Mount Everest for the project called "Triyagyoni". Starting in Lukla, Nepal, the trek will begin at the end of May 2018 and the group will forage for the ingredients on the way in order to make up their final seven-course meal, which may even include wine!
It won't be an easy feat to get to it! It's going to be a challenge for even the world's most audacious adventurers who'll need all their grit and power to show Earth who's boss and trek up this impossible mountain for a seven-course dinner!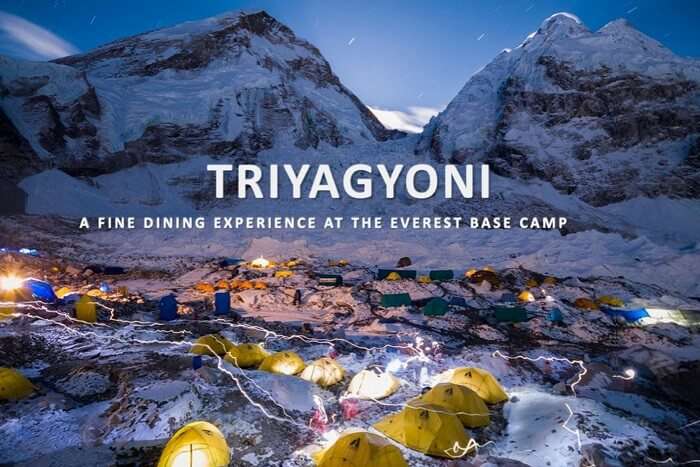 Suggested Read: Mount Everest Solo Climb To Be Banned With Immediate Effect!
"The biggest challenge, of course, will be the altitude, which will affect everything," said Sanjay Thakur, an Indian chef among the four chefs behind the pop-up project. "Flavour will be decreased, so we will be designing a menu of extraordinary dishes accordingly, where spices will have the upper hand."
The Purpose Behind Triyagyoni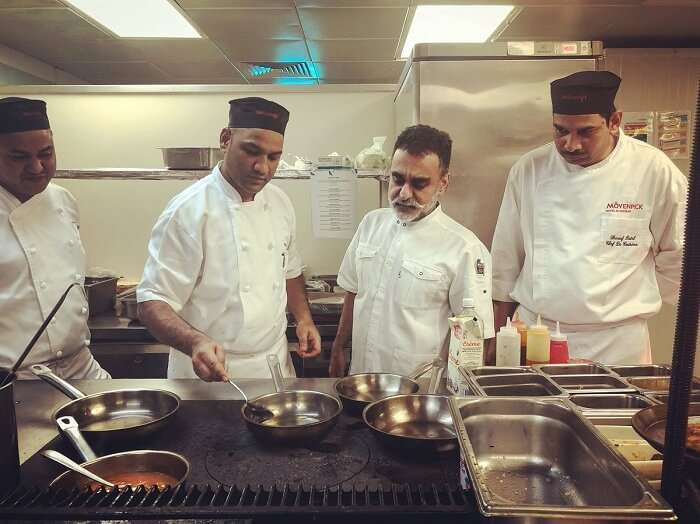 Image Source
Adventure is only one of the things this pop-up restaurant will give hikers. Triyagyoni also aims to raise awareness of sustainability issues. "The meal, furniture included, is designed to leave nothing behind on the mountain. Additionally, all the money raised will go to local charities," said Thakur.
Interested to be part of the journey and go down in history? The tickets are currently priced at $5,600 including flights, accommodations, and meals and it's one hell of a deal for an adventure where you'll be hiking for about six hours each day. But hurry, before they are all sold out!
Further Read: Everest Base Camp Trek: A Guide To A Journey Of A Lifetime
It may not be the top (the mountain rises till 29,030 feet into the air), but it will surely be an experience of a lifetime to eat cheese and Chianti up at 11,600 feet, one-third of the entire way towards the summit!
So, would you dare to embark on an endeavor such as this to taste the finest of cuisines there ever could be! Let us know in the comments below.