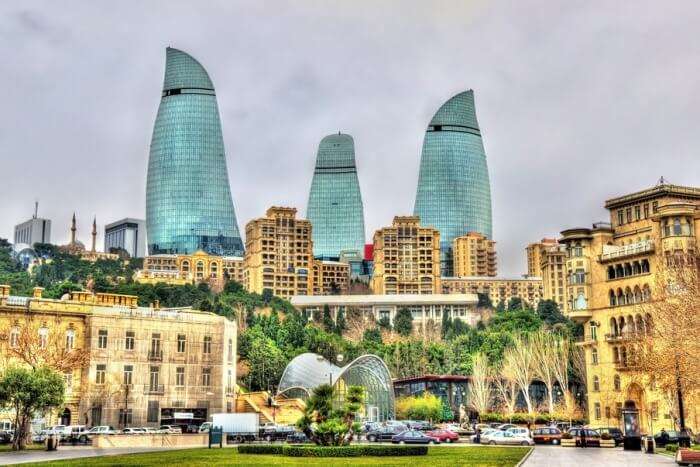 Providing a blended landscape of ancient and modern architectural marvels, Azerbaijan is the largest country established in the arms of the oil-rich Caspian Sea in the South Caucasus region. The Land of Fire is known for its heterogeneous history with Turkish, Russian, and Persian influences. And since history is one of the major features of the country, there is no dearth of museums in Azerbaijan to help you understand the antiquity of this beautiful destination.
Flourishing cosmopolitan cities, picturesque sceneries, unmatched culture, and proud architecture have led Azerbaijan to emerge as a tourist destination in the past few years. Inhabitants of the remoter areas have still kept the folk traditions alive, making Azerbaijan envelop a touch of authentic and traditional culture on one hand. On the other hand, accelerating modernization has influenced the lives of the locals. Hence, home to the first ever oil well drilled at sea, Azerbaijan being multicultural is definitely a destination for all the history fanatics out there. To help you walk through the ancient history and culture of the destination, below is a list of museums in Azerbaijan.
8 Top Museums In Azerbaijan
There are countless landmarks and museums in the country dedicated to the rich art and history of Azerbaijan. Walk through these beautiful buildings and get an insight into the multicultural antiquity of the Pearl of the Caucasus.
1. National Art Museum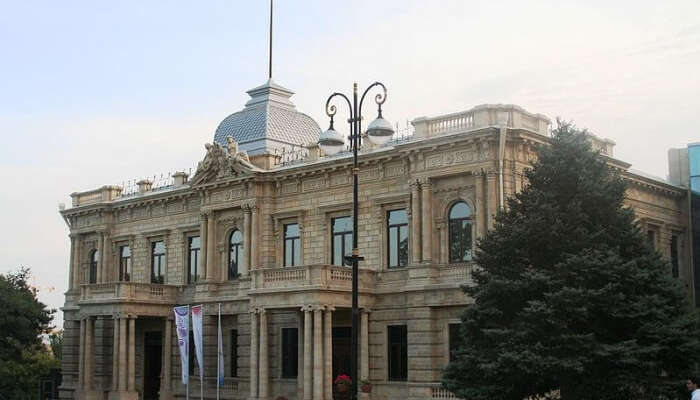 Enveloping the historical stages of the finest art from ancient times to modern times, this museum in Azerbaijan is a treasure trove that preserves the universal culture and traditional moral values of the country. Being the biggest art museum in the country, the National Art Museum of Azerbaijan reflects all types of art ranging from paintings to ornamentation and houseware to ancient outerwear.
Address: 9/11 Niyazi, Bakı
Timings: Tuesday to Sunday, from 10 am to 6 pm (Closed on Mondays)
Entry Fee: 400 INR per foreign citizen, 360 INR per person for a guided tour
Must Read: 10 Churches In Netherlands Which Offer A Glimpse Of The Ancient Structures Of Europe!
2. National Museum Of History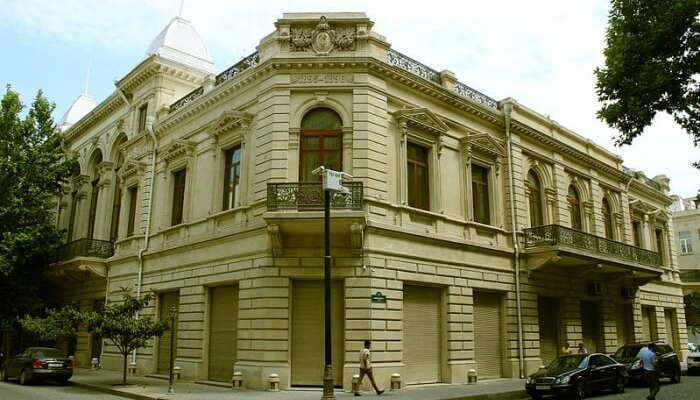 Almost a hundred years old, the National Museum Of History Of Azerbaijan reflects each and every period of the history of the Land of Fire. This museum is not only an archive but is also considered as one of the most surreal architectural landmarks of the capital city, Baku. National Museum of History blankets rare books and newspapers, and much more that have been collected since the early 19th and early 20th centuries. This beauty is a must visit of all those who are interested in the material and spiritual culture of Azerbaijan.
Address: Haji Zeynalabdin Tagiyev str., Baku
Timings: Tuesday to Sunday, from 10 am to 6 pm (Closed on Mondays)
Entry Fee: 400 INR per foreign citizen
3. Museum Of Miniature Books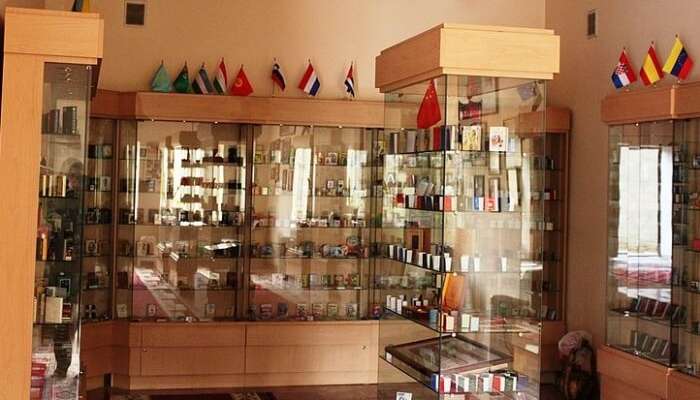 Image Source
Containing the largest number of miniature books, this museum is home to a unique collection of Zarifa Salahova, a member of the national commission of UNESCO. The oldest book in this museum dates back to the 17th century. Several tiny books, written in numerous languages, including Azeri, English, Russian can be seen on the display of this cute little museum.
Address: Icheri Sheher, Baku
Timings: From 11 am to 5 pm (Closed on Mondays and Thursdays)
Entry Fee: Free
Suggested Read: 7 Of The Best Winter Airbnbs In Europe Where You'll Enjoy A Snug Stay
4. Nizami Museum Of Azerbaijan Literature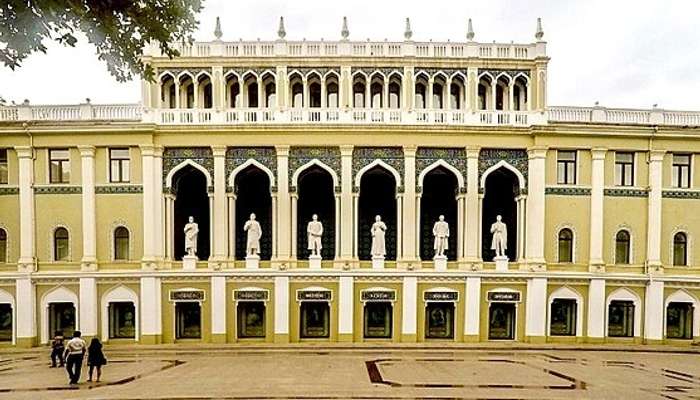 With statues of the six famous representatives of Azerbaijan literature- Fizuli, Natavan, J.Jabbarli, Vagif, M.F. Akhundov, and J. Mammadguluzade built in its entry, this museum catches the attention due to its stunning architectural style. This museum is one of the richest buildings that preserve the spiritual culture of Azerbaijan. Manuscripts, illustrations, memoirs of writers, sculptures and many more antiquities can be witnessed when visiting the Museum of Azerbaijan Literature.
Address: Istiglaliyyat, Baku
Timings: Monday to Saturday, from 11 am to 5 pm (Closed on Sundays)
Entry Fee: 400 INR
Suggested Read: 9 Lakes In Norway Worth Exploring On Your Dream Vacation To Europe
5. Museum Of Modern Art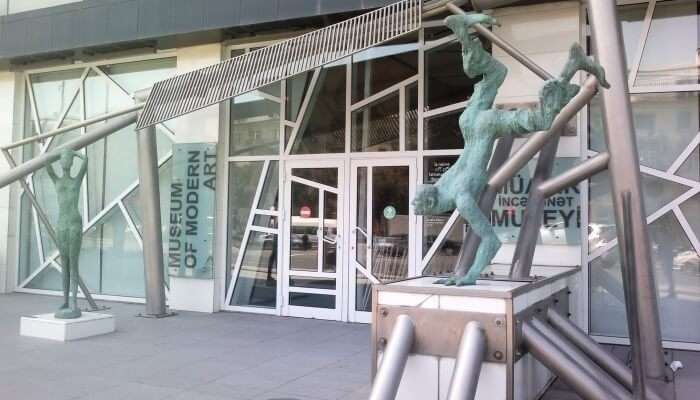 Museum of Modern Art, located in the capital city of Azerbaijan, Baku, is home to paintings and sculptors by the brightest pioneering artists of Azerbaijan along with some renowned European artists, including Pablo Picasso and Salvador Dali. The museum itself showcases contemporary architecture, with the design that allows it to be as spacious and open as possible.
Address: Yusuph Safarov, Bakı
Timings: Tuesday to Sunday, from 11 am to 8 pm (Closed on Mondays)
Entry Fee: 200 INR (Adults), 80 INR (Children)
Suggested Read: Head To San Marino Now: The Fastest Growing Travel Destination In Europe
6. Azerbaijan Carpet Museum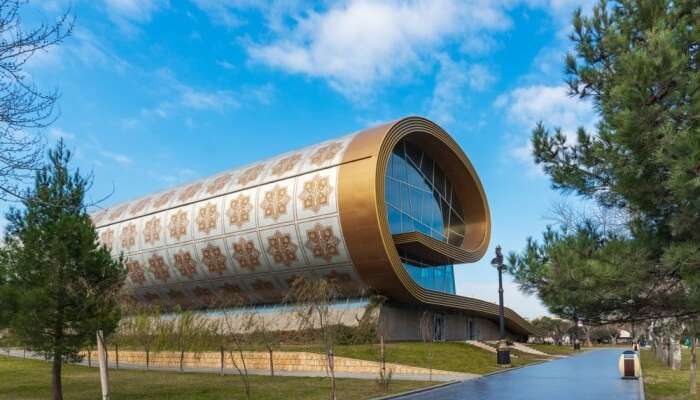 Dedicated to the art of carpet weaving, Azerbaijan Carpet Museum houses one of the major elements of the national heritage. Carpet weaving holds a special place in the history of the country because of its high aesthetic value. The museum not only stores the unique samples of carpet and carpet items but also hosts various exhibitions, symposiums, and conferences to spread awareness about the art of weaving. This museum has turned into a research training and educational center that is the storage of Azerbaijan's national culture. This one of the famous museums of Azerbaijan owing to the art and history of the country.
Address: Mikayıl Hüseynov Prospekti, Bakı
Timings: Tuesday to Sunday, from 10 am to 6 pm (Closed on Mondays)
Entry Fee: 280 INR (Adults), 120 INR (Children)
Suggested Read: 7 Villas In Germany For A Luxurious Holiday In Europe You've Always Dreamed Of
7. Stone Chronicle Museum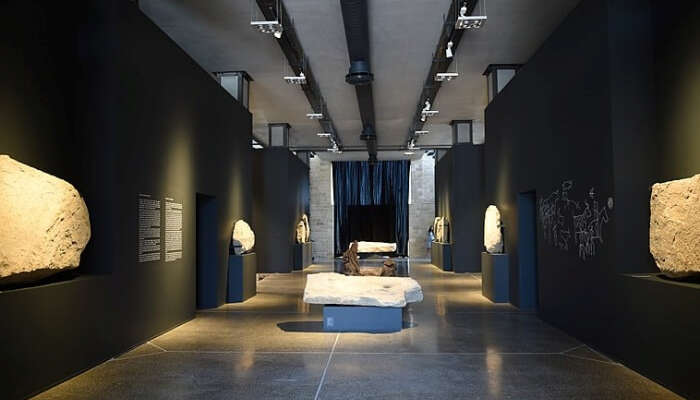 This recently opened museum envelops various types of stone plastic art. Visitors get a chance to witness the evolutionary stages of stone plastic art including ancient stones that were brought from Gobustan and Gala reserves, gravestones that date back to the middle age, different items with functional meaning and various other sculptors.
Address: Baku, Azerbaijan
Timings: N/A
Entry Fee: N/A
Suggested Read: Summer In Netherlands 2019: Know Everything About What To Do At This Little European Country!
8. Archaeological And Ethnographic Museum Complex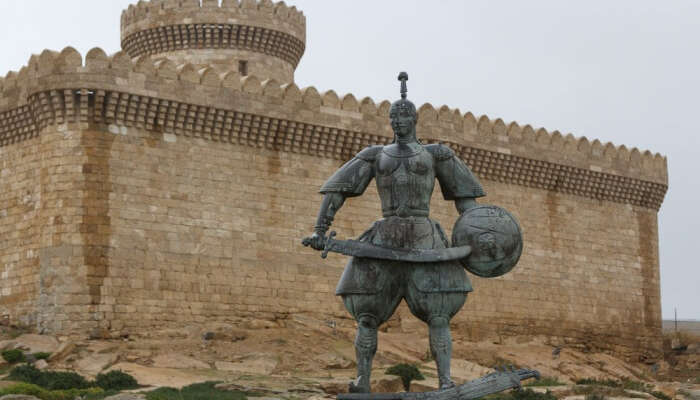 Showcasing the perfect blend of archeology and ethnography, this museum in Azerbaijan reflects the ancient traditions and lifestyles of the locals in the 19th and 20th centuries. The museum is divided into two sections with the archeology section being dedicated to the history of Azerbaijan from Stone Age to the late Middle Age, and the ethnography section to the local life and culture of ancient Azerbaijan.
Address: Baku 1000, Azerbaijan
Timings: Monday to Friday, from 10 am to 5 pm (Closed on Saturday and Sunday)
Entry Fee: N/A
Further Read: Malta Travel Guide: All You Need To Know For A Unique Yet Exotic Vacation In Europe
With these museums in Azerbaijan depicting the ancient and evolutionary history, this country is a paradise for the history fanatics. The country has transformed in various different ways over a period of time. Explore and experience the golden days of this impeccable land of architectural marvels, with the perfect blend of old and new cultural values, surreal naturescapes, and developing metropolitan country on your next trip to Azerbaijan.
People Also Read
Istanbul Museums Museums In Kazakhstan Museums In Estonia
---
Looking To Book An International Holiday?
Book memorable holidays on TravelTriangle with 650+ verified travel agents for 65+ domestic and international destinations.
---
Comments
comments