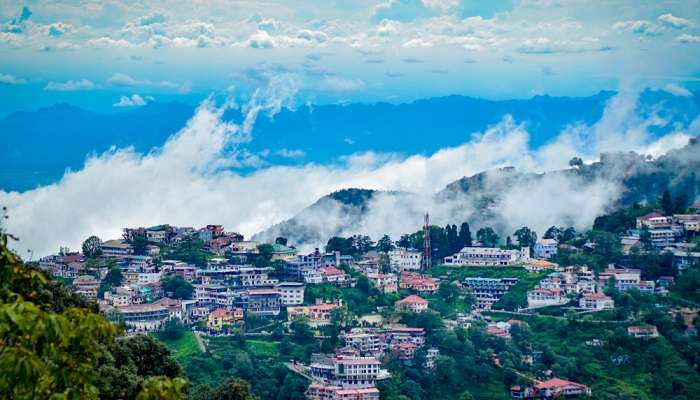 In a desperate attempt to curb pollution in their city, the locals of Mussoorie have built a 'Wall Of Hope'. Wondering what's so special about this wall? Well, it ain't like any ordinary wall. The Mussoorie Wall Of Hope has been built out of over 1,500 plastic bottles that its residents had literally picked off of streets and roads.
Mussoorie attracts armies of visitors from neighboring cities every month, so much so that it sometimes gets choked by over-tourism. But then, people hardly ever pay heed to the "save the environment" cried these days. So, in order to convey this message in a thought-provoking and beautiful way, the locals of Mussoorie came up with this unique concept to remind travelers of the litter they leave behind.
Built as a part of the Hilldaari Project, the wall of hope in Mussoorie is around 12 ft high and 1,500 ft long. The brilliant project is a brainchild of Subodh Kerkar, the founder of the Museum of Goa. The wall has been built by over 50 volunteers that are basically school and college students who stepped forward to help bring this idea to life. Seeing their tireless efforts, the village locals also joined in later to help turn this project into a success story and then spread it like wildfire.
Must Read: Orchha In The Tentative UNESCO World Heritage Sites List For The First Time Ever

Image Courtesy: Hindustan Times
For establishing this, plastic bottles of different shapes, sized, and colors have been collected from various places in Mussoorie and etched in this wall. Spectators and locals are actually admiring this new addition to the landscapes of Mussoorie, saying that the town looks even more beautiful now!
Every year during the summer vacations, half of India runs to the hills, reduce those pretty landscapes into dumping grounds, and then head back home, leaving the locals to deal with the rubbish. The environmental hazard that this humongous dump creates is beyond words.
The locals of Mussoorie have put up this enormous installation in order to bring this very issue to light and ask people to not litter when they visit this beautiful hill town. Considering the kind of menace that plastic waste has become, this move was very much needed to remind tourists to be more responsible.
Further Read: Intern At This Maldives Resort And Get A Free Two Week Vacation In The Island
So, the next time to take a vacation in Uttarakhand, make sure you visit the unique Mussoorie Wall Of Hope, take a picture, and share it with your friends and family. Oh, and don't forget to throw your waste plastic bottles and wrappers in the bin while you're there. Just saying!
Comments
comments