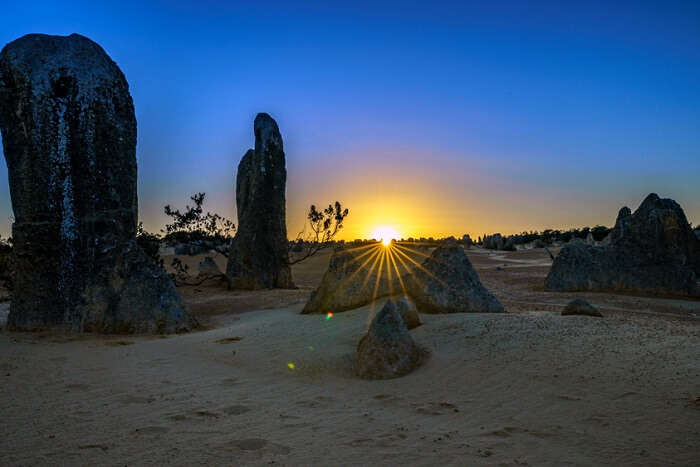 Australia is regarded as a safe haven for some of the most exquisite creations of nature. It is home to some of the most ethereal sights that a person can witness in his lifetime. One renowned jewel within the land of Australia is the Nambung National Park. Situated in the Wheatbelt region of the western end of Australia, Nambung National Park comprises of various attractions. Nambung National Park is the ideal place for anyone who wishes to find solace in the wild.
About Nambung National Park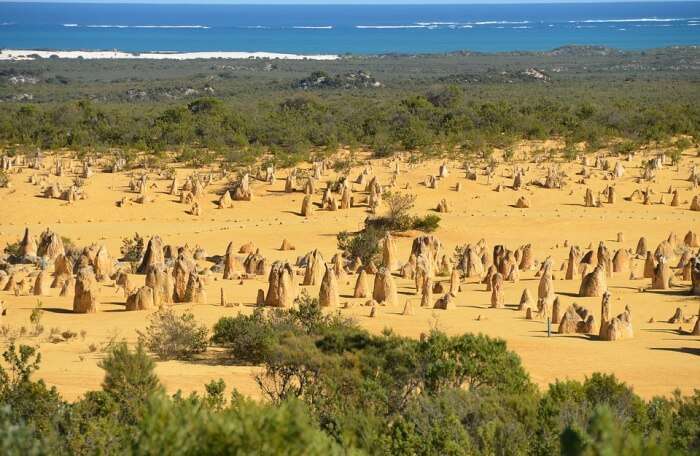 Nambung' essentially is a word derived from an indigenous Australian transcript meaning crooked or graced by the winds. It acts as a sanctuary to over 175 species of the animal kind which are further segregated into 128 bird species, eight mammals species, and 15 reptilian species. The Nambung National Park is as archaeologically significant as it is brilliant to look at.
4 Things To Do Near Nambung National Park
The popularity of Nambung National Park brings thousands of visitors to witness its surreal beauty within the exotic species of wildlife that it holds. Here is a list of activities that you can pursue here. Take a look:
1. Cervantes – Camp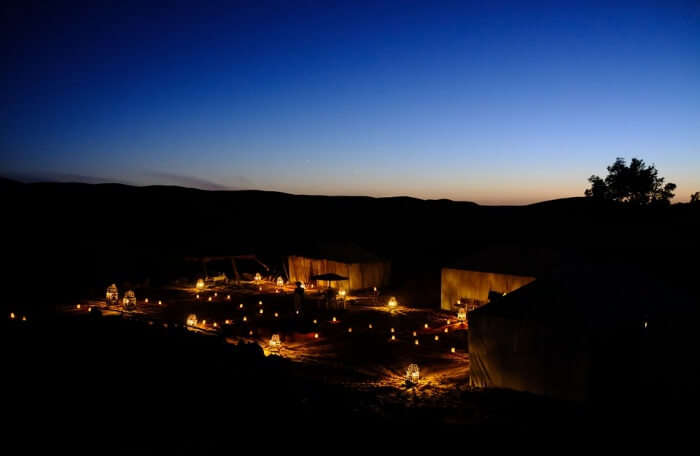 If you want to get back to mystical nature, then Nambung National Park should definitely be there in your wish list. There are around 100 campgrounds scattered in the parks with all the basic facilities such as a cleared space to live in a tent, campervan, caravan or trailer, and a no-flush toilet.
Here, in the embrace of nature, the nuances of civilization are hardly felt. One is exposed to vast stretches of open lands and a wide sky. There is no power, no data service, mobile phone or running water. However, some campgrounds come with additional facilities like rainwater tanks, gas barbecues, showers and flushing toilets which can be termed as 'luxurious' in such an environment. Few of the campgrounds have beautifully built existing buildings, sleeping shelters, although one can sleep in outbuildings and the old homestead.
Must Read: Australia Tourist Attractions: Do The Dare To Visit All These Places On Your Aussie Trip
2. Cervantes – Fishing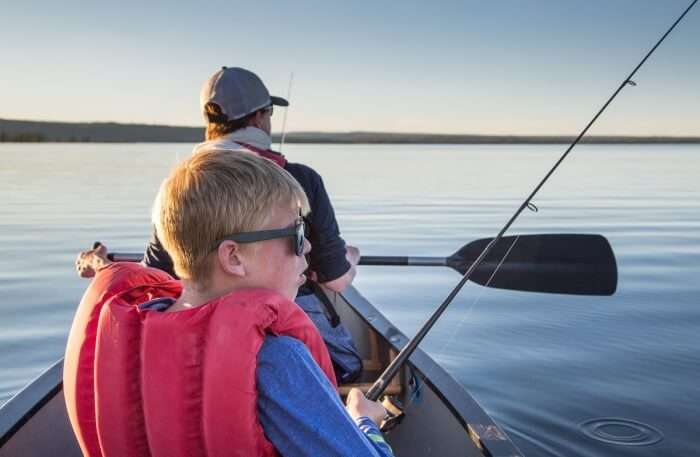 If you love fishing, then Nambung National Park will offer you perfect opportunities to catch few of the most sought after species of fishes. You just need to be ready with your fishing net and other gadgets, and you're ready to take over the blue world. You can visit Cervantes town which is an underdeveloped yet pleasant fishing village consisting of three jetties, caravan park, and rock lobster plant.
The fishing fleet of the town nearly doubles around the season of rock lobster. Like the coast spread on the town's Central West is surrounded by displays of spectacular wildflowers in the season of spring. Cervantes name comes from a whaling ship of America which wrecked off from the coast in 1844.
Suggested Read: Top Reasons To Visit Australia From India In Summers
3. Pinnacles Desert – Explore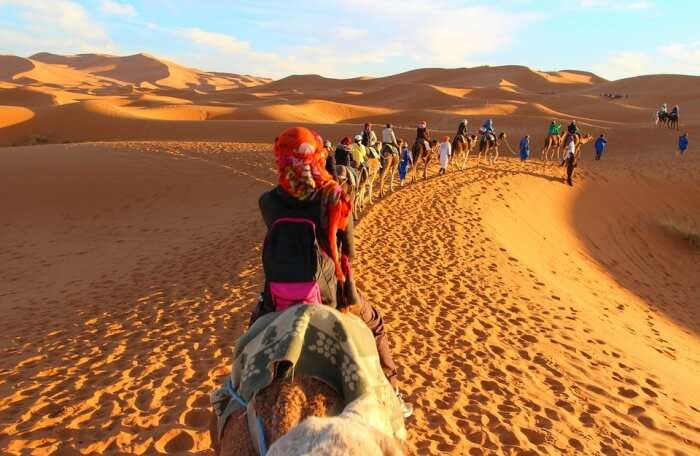 Enjoy a fully-guided tour through Pinnacles Desert which is an intriguing landscape of the limestone in the world famous Nambung National Park. Sneak in around the wonderful Discovery Center and get to know more about the pinnacles. This is an experience that shouldn't be missed!
Suggested Read: 10 Most Mysterious Places In Australia That'll Leave You Baffled & Amused At The Same Time
4. Lancelin – Stop By Sand Dunes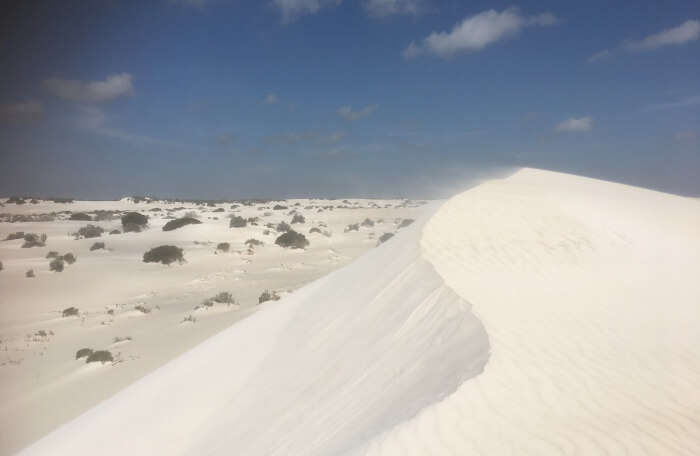 The breathtaking dunes of Lancelin are icing on the cake! Do try out the exhilarating sand boarding sport on these massively built sand hills or set yourself free to wander across the dunes for mesmerizing photos. The park is located on the blue Indian Ocean along with an idyllic stretch of the beautiful coast that takes three hours to reach to the north of Perth.
The dunes over here are scattered across the entire desert in thousands, and they together create an alien-like the scenic view. You'll be amazed to see the overall symmetry and the resembling tombstones over here. Made up of small shells these dunes had erupted over thousands of years back to an epoch when these dunes lied below the sea level.
Where To Stay Near Nambung National Park
Several places offer the ideal stay for visitors for experiencing the exquisite nature of Nambung National Park, each of which is detailed in the following. Take a look:
1. Pinnacles Edge Resort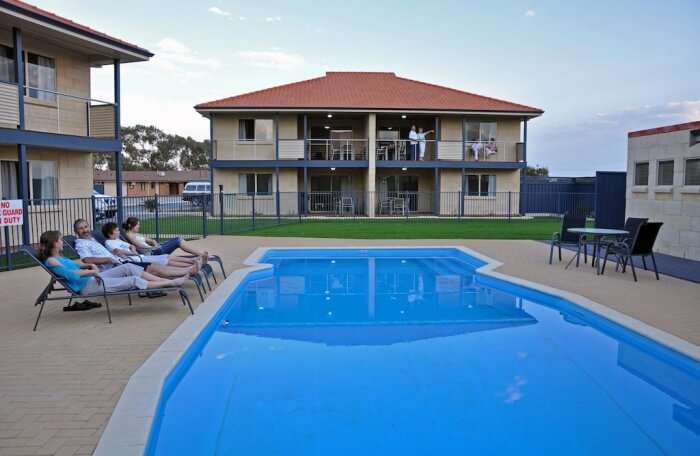 The Pinnacles Edge Resort at Australia offers its visitors the luxuries of modern utilities and features. The suites offered by the resort are modernly designed and are equipped with all necessary amenities. The resort also offers its guest with access to a swimming pool and a fitness center. It allows the visitors to experience the joy of luxuries while also being deep within the arms of nature and wildlife that surrounds the resorts.
Suggested Read: 11 National Parks In Australia For A Utopian Experience Into The Wild
2. Cervantes Pinnacles Motel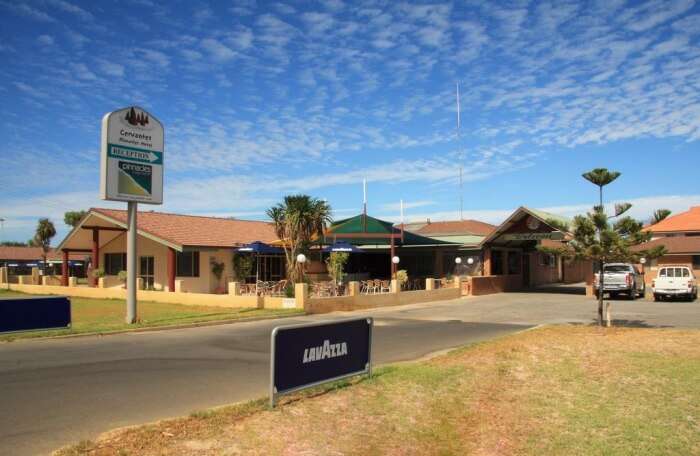 Sitting deep within the embrace of nature, the Cervantes Pinnacles Motel offers casual and affordable rooms to its visitors, all of which are equipped with modern and necessary utilities. The Motel also treats its guest with access to free wi-fi so they can stay connected to the outside world while making the most of the vibrant sights that the Nambung National Park offers.
Suggested Read: Australia Through 20 Breathtaking Pictures
3. Cervantes Holiday Homes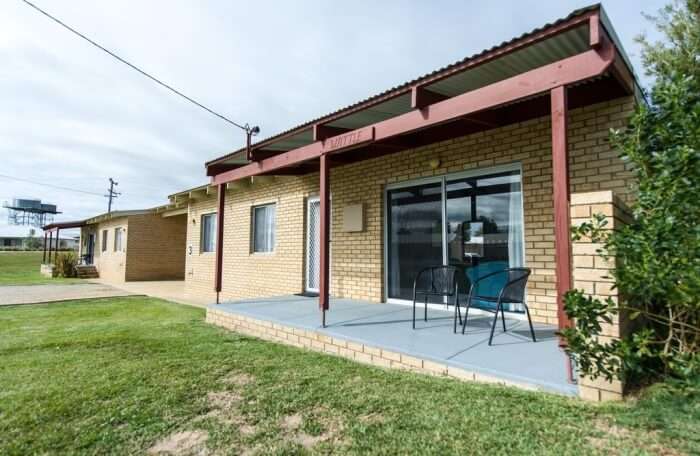 This humble hotel offers only what is needed to the visitors while maintaining quality and hospitality at affordable prices. This place is ideal for anyone who wishes for only what is necessary to make their stay an optimal one. Visitors have unrestricted access to a garden where they can soak in the morning sun and unwind after an exhausting day.
Suggested Read: Street Food In Australia: 10 Best Delicacies That Are Literally Finger Licking Good!
How To Reach Nambung National Park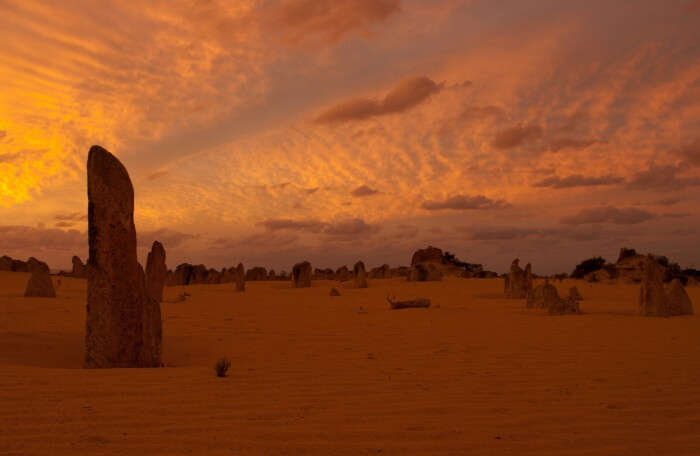 There are five airports near Nambung National Park namely Perth (PER), Geraldton (GET), Kalgoorlie (KGI), Albany (ALH) and Carnarvon (CVQ). Public transport is precarious, so the best way to reach Nambung is to hire a car in Perth at around INR 2504/- per day or hitchhike along the Coastal Highway.
Further Read: Shopping In Australia: The Answer To What And Where To Buy During Your Tour Down Under!
The Nambung National Park is a site famous for its lascivious scenic beauty which will give you the experience that would last for a lifetime! Do not forget to sling your camera in your backpack to capture pictures and frames that you will revel in for the rest of your life! Indulge in a few new experiences and stay close to nature with this trip to Australia that will give you a close view of the immensely rich glories of nature.
---
Looking To Book An International Honeymoon?
Book memorable honeymoon on TravelTriangle with 650+ verified travel agents for 65+ domestic and international destinations.
---