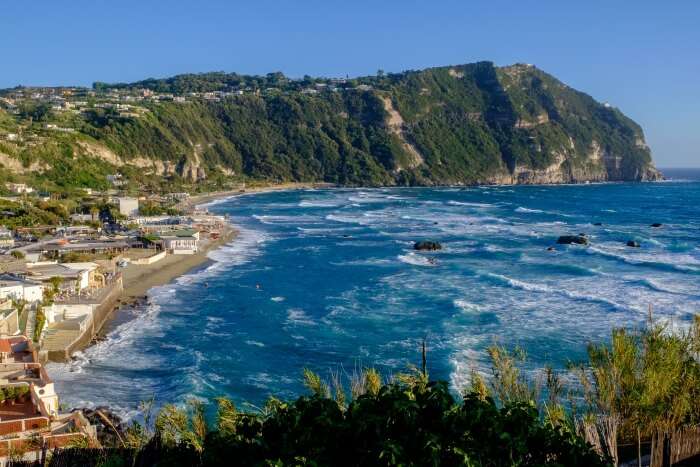 We wouldn't be exaggerating if we said that the biggest reason behind the thousands flocking to Naples each year is the architectural splendor. However, what many ignore are the stunning beaches made up of sugar-like sand that adorn the city and make a vacation in Naples a memorable time. There is an exciting variety of beaches in the city ranging from quieter ones with natural attractions to busier ones with water sports and amenities galore. We have prepared a list of the 10 best Naples beaches where you can simply plop down on the sand and have a great time.
10 Best Naples Beaches
Naples can boast of one of the most beautiful beaches in all of Italy. From sparkling white sand beaches to the ones where the sands have been tanned, here are the top beaches in Naples that are worth visiting:
Gaiola Beach
The Miseno And Miliscola Beaches
Bagno Elena
Lungomare Di Pozzuoli
Lucrino
The Scoglione Di Marechiaro
Arienzo Beach
Spiaggia Dei Pescatori
Lido Di Procida
Bacoli
1. Gaiola Beach
One of the most beautiful and popular beaches in Naples, Gaiola Beach is where your search for the best Naples beaches ends. It has been divided into two parts and the good news is that both of them are absolutely free. One of these is inside the Gaiola park and needs you to show a document while entering whereas the other one has no such restrictions. Make sure you reach there as early as you can since it gets very crowded during peak hours and finding a good spot might be tough.
Location: Discesa Gaiola, 80123 Napoli NA, Italy
How to reach: Take the Metro Line 2 in Garibaldi square towards the Mergellina station and then, take the bus 140 that will bring you in Capo Posillipo and walk to Gaiola Park.
16 Enchanting Beaches In Italy For An Unforgettable Vacation By The Ocean
2. The Miseno And Miliscola Beaches
If you are looking for a great time without burning a hole in your pocket, then the Miseno and Miliscola beaches are a perfect option. No list on Naples beach Italy can be complete without mentioning these two gems in the city. You have the option to go to the free beach or in either of the paid bathing establishments here. There are many cafes on the beach where you can head to for some refreshing cocktails and finger food. If you want to go the picnic way, you could simply spread some towels on a nice spot and relax with your friends and family.
Location: Via Miliscola, 30, 80070 Monte di Procida NA, Italy
How to reach: First, take the Cumana of Naples at Montesanto station till the Lucrino station and then take any direct bus to the beach area
3. Bagno Elena
If we had to award an imaginary medal to a beach in Naples for being a local and tourist's favorite, it would be Bagno Elena. Of the many attractions on this popular beach, the one that stands out is Palazzo Donna Anna which is one of the most known landmarks in the city. While the beach is undoubtedly beautiful, it is a little dirty so if garbage triggers your OCD you should stay away from here. This beach is always crowded, especially during peak season. Reach earlier in the day so you can catch a good spot, hire a sunbed and lounge under the umbrellas. There is only one cafe on the beach and it is outrightly expensive and if you are not in a mood to spend exorbitant amounts on food, carry some eatables with you. Accommodation options near this beach are very cheap and you should be able to book a night in an above average hotel room for INR 4000.
Location: Via Posillipo, 14, 80123 Napoli NA, Italy
How to reach: Fly to Naples international airport (NAP) and take a bus to Posillipo stop - routes # 140 or N2.
5 Best Nude Beaches In Thailand That One Cannot Afford To Miss
4. Lungomare Di Pozzuoli
One of the most popular Naples beaches Italy is Lungomare di Pozzuoli, a rocky Italian beach. Don't think about swimming here unless you're a shark. Although sunbathing is an absolute delight here and there are other attractions located in proximity to the beach such as the Roman Amphitheater and the Forum. While these attractions are a short walk away, the city center can be reached by cab or a bus. Most hotels near the beach are situated towards the western end of the coast near the ferry port. The ideal time to visit this beach is during the warmer months beginning from July till September.
Location: Via Miliscola, 80078 Pozzuoli NA, Italy
How to reach: Fly to Naples international airport and get by train to the station of Pozzuoli, Cappuccini or Gerolomini
Only For 2 Weeks In Italy, These Charming Places Should Be On Your Itinerary!
5. Lucrino
If you find yourself in Western Naples with time to spend and relax, head to Lucrino which is located in an area called Pozzuoli. If you are looking for a beach that is relatively isolated and clean, this should be the ideal option for you. An element that stands out at Lucrino are the many bays that are cut from others by the backwaters. The beach is divided into free areas and private beach clubs where you could hire sunbeds and spend time sunbathing. This area is not far from the center of Naples and accommodation is excellent in the area as well.
Location: Via Miliscola, 80078 Pozzuoli NA, Italy
How to reach: Fly to Naples international airport (NAP) and get by train to the station of Lucrino or Arco Felice
6. The Scoglione Di Marechiaro
One of the best Naples beaches if you want to go for a swim in clear blue waters, the Scoglione di Marechiaro is a must visit and you should definitely fit it somewhere in your itinerary for Naples. Grab a Naples beaches map and plan your way around the city! There is a long rock where you could place your towel or a more convenient option is to rent a sunbed from the many options in the area. While entry is completely free here, only a limited number of bathers can enter hence it is recommended that you reach on time to grab the good seats.
Location: Discesa Coroglio, 57, 80123 Napoli NA, Italy
How to reach: Take the Metro Line 2 and get off at Mergellina station and take the bus 140 to the Posillipo-Rione Primavera stop
Italian Cuisine: Top 10 Dishes That Let You Taste The Authentic Flavors Of Italy!
7. Arienzo Beach
This is undoubtedly one of the best beaches in Naples, Florida. Although it comes lower in the list, it is equally beautiful and interesting as the beaches mentioned above. There are many villages that are charming in Naples such as Positano, Praiano, Amalfi but Amalfi holds a special place in our hearts for housing the Arienzo beach. Arienzo is an undiscovered gem and is also popularly referred to as the beach of the "three hundred steps" since one has to take exactly 300 steps before reaching the beach. Similar to other beaches in the area, the beach has a free access area and a paid area with bathing facilities and you can choose according to your preference.
Location: Via Arienzo 16, 84017, Positano, Italy
How to reach: Take a SITA bus departing from the central station of Naples and Sorrento.
Snorkeling In Naples: 10 Best Sites To Spot Spectacular Reefs And Sunken Villas
8. Spiaggia Dei Pescatori
Spiaggia dei Pescatori directly translates to "Fisherman's Beach" and while only those with fishing equipment were welcomed here some years ago, it has transformed into one of the most popular Naples beaches Italy today. There are many restaurants serving delicious seafood here and with a great view and some fine lobster, one doesn't need anything else.
Location: Ischia Ponte, 80077, Isola d'Ischia, Italy
15 Things To Do In Naples – An Italian City That Lives Art
9. Lido Di Procida
One of the most popular Bay of Naples Beaches, Lido di Procida is a small island that is located along the ferry route between Naples and Ischia. The main beach here is perfect for anything that comes to your mind from sleeping and bathing to drinking and games. The footfall is very high on this beach during the summer season and hence, you should reach early for a good shady spot. The sunset here is a magnificent spectacle that you should definitely catch during your time in Naples.
Location: Lungomare Cristoforo Colombo, 6, 80079 Procida NA, Italy
10. Bacoli
This is one of the most stunning beaches in Naples and is loved by both locals and tourists. If you have heard a lot about "Are Naples beaches safe", don't worry because there is absolutely no cause of concern here. There are many beach clubs here that offer sunbeds, swimming gear, food and great tunes on rent. The inflow of crowd makes it a tough spot to swim in during summers because of the crowds and pollution of water. Accommodation near the beach is more expensive compared to other parts of the city and hence, it is advisable to stay close to Naples city center.
Location: Via Dragonara 15, 80070, Bacoli, Italy
How to reach: Fly to Naples international airport (NAP) and get by taxi staying in traffic jam. In fact, it will be better to take a train to any beach located to the north of Naples.
Haunted Places In Italy: 9 Places You Must Visit To Get A Dose Of Spook
A good time to visit these beaches is during the summer season between July and September when you can go sunbathing and swimming without any issues. Naples beaches are an undiscovered source of happiness that is waiting to be explored by passionate tourists. Book your packages from TravelTriangle and conquer the shore scene on your trip to Italy!
For our editorial codes of conduct and copyright disclaimer, please click here.
---