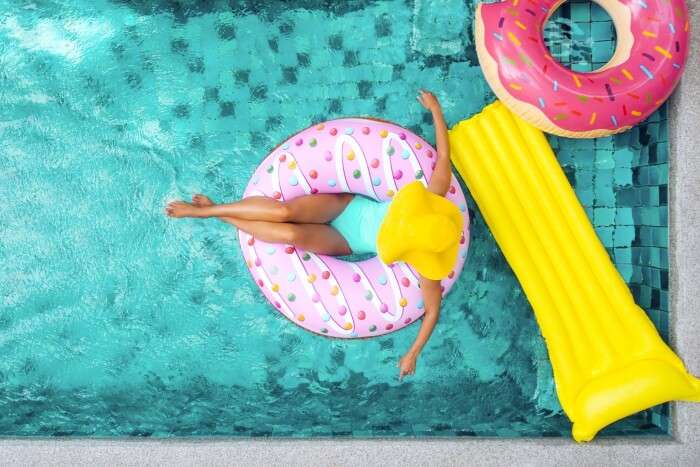 Naples is a small coastal city in Italy that anchors the legendary Mount Vesuvius. Located within a few minutes from the Pompeii ruins, Naples is known for its colourful architecture and pleasant weather. This Mediterranean town is regarded as the birthplace of the iconic dish-pizza. Naples offers a few water and amusement parks to beat the hot and humid heat, especially during the summers. This column presents a few Naples water parks one can visit to get a break from history lessons and have some fun.
8 Amazing Naples Water Parks
Naples is colourful, artistic and engulfed with glorious history. Apart from the coastal beaches and mountainous terrain,it has some family-friendly waterparks as well.
1. Acquapark Free Time

Located in East Naples, Campania, Aquapark Free Time is a popular water park in the city that offers nothing but the best rides and clean environment. It has earned its name for being one of the best water parks in Naples, Italy for its addition of semi-Olympic size swimming pool. It is definitely a swimmers paradise for those who do not like the rough sea waters. Some of the major attractions of Aquapark Free Time are the Kamikaze, Spin Bowl, Big Splash and the huge laguna. It also saves a part of the land in the park for sports activities such as Beach Volleyball and soccer. The water park has a few restaurants and cafes in its premises which sell pizzas, salads and panini sandwiches. The park is extremely family friendly as it has attractions suitable for visitors of every age.
Location: Via Ex Alleati 80014, Giugliano in Campania, Naples, Italy.
Timings: 8:00 to 18:00
Entry Fee: INR 600 per person
Must Read: Italy In December 2022: Top 6 Places That Take You Through The Best Of This Winter Paradise!
2. Valle dell'Orso

This incredible Naples water park, Italy is located in the Gulf of Naples under the watchful shadow of the Mount Vesuvius. Situated close-by to the island of Capri, the water park is surrounded by mesmerising pinewoods and the cool Mediterranean Sea breeze. It is a small waterpark with few but exciting rides suitable for every kind of visitor. The water park is kid friendly and succeeds in keeping younger kids busy with fun for a whole day.
The park has a few good restaurants and bars that serve fast food appreciated by both young and old alike. It consists of a wave pool, a few waterslides, a LEGO land and a laguna. The park also opens up to a picnic area with wooden benches scattered around for a relaxing meal taking in the charming views of the nearby Valle dell'Orso National Park.
Location: Via Giovanni XXIII 54, Torre Del Greco, Naples 80059, Italy.
Timings: 9:00 to 18:00
Entry Fee: INR 1000 per person
Suggested Read: Naples In April 2022: Discover Ancient Castles And Soak In The Italian Sun
3. Edenlandia

One of the oldest water parks in Naples, Italy that started as an entertainment park has grown largely to become the most famous theme park in Italy. The beautiful Lord Sheidon Castle and the toy train transports one to an enchanted land perfect for both kids and adults alike. It is hard to point out the major attractions here as each entertainment unit is worth trying. The water park area has a log flume ride, Mont Blanc roller coaster and Tronchi.
The amusement park is covered with numerous restaurants and pubs. Ranging from a steakhouse to a bistro, every kind of meal is available in the park. Edenlandia is one of the rare amusement parks in Italy that has longer Naples water park hours in order to allow the visitors to enjoy the various joy rides and experiences in the park.
Location: Via John Fitzgerald Kennedy 76, Naples 80125, Italy.
Timings: 9:30 to 24:00
Entry Fee: INR 2000 per person
Suggested Read: 16 Enchanting Beaches In Italy For An Unforgettable Vacation By The Ocean
4. Pareo Park

Known for being the largest water park in Southern Italy, Pareo Park boasts of hosting more than 15 water rides other than the large-sized swimming pools it holds. It also consists of an amusement park open throughout the year while the incredible Naples water parks is open only in the summer season. Apart from the garden area and the kids' activity area, the water park offers valet parking, security safe boxes and shower facility for a nominal price.
Some of the iconic attractions here are the Anaconda water slide, lazy river, family rafting, and an exciting tube ride with lights. Food stalls and cafes are scattered all throughout the water park that sell pizzas, salad, sandwiches and burgers. This water park is a perfect choice for a quick family outing in Western Naples.
Location: Via Vicinale Masseria Vecchia, Giugliano in Campania, Naples 80125, Italy.
Timings: 10:00 to 19:00
Entry Fee: INR 1000 per person
5. Ditellandia Water Park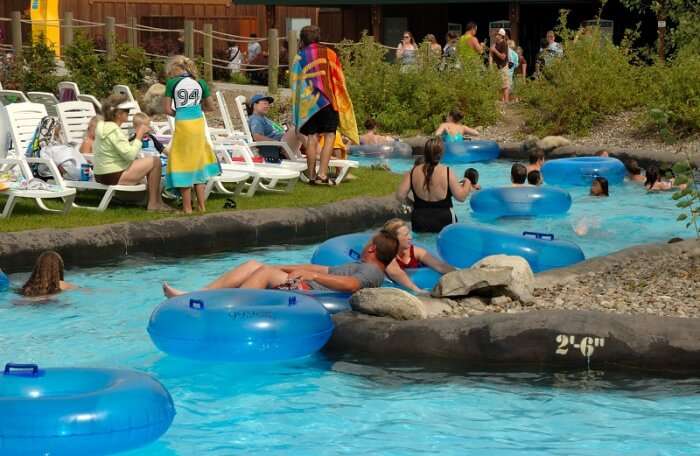 Located just half an hour away from Naples, this Naples water park reviews praise their hospitality and their efforts towards a clean and safe environment. The most amazing fact about the Ditellandia is that one can find an exclusive water park in the property meant for pets, especially dogs. The place is kids oriented and provides a mini-zoo, a carousel and a toy train to keep the younger ones busy. The sprawling gardens in the water park make for a perfect spot for picnics and barbeque. The must ride attractions here are the giant Anaconda water slide, Kamikaze and a lagoon. The aquapark comes with a lodging facility and the restaurant serves good food and drinks.
Location: Via Domitiana Sud, Mondragone 81034, Italy.
Timings: 9:00 to 20:00
Entry Fee: INR 800 per person
Suggested Read: 10 Best Hostels In Italy That Are Perfect For An Affordable Sojourn
6. Triflisco Aquapark

This small water park in Southern Italy is situated just 20 kilometres away from Naples in a beautiful subtropical area called Caserta. This aquapark is a part of a resort property that provides a relaxing atmosphere from the city's hustle and bustle. It is a good weekend getaway place from Naples and the water park is sure to help some beat the summer heat. The water park has just one ride which is the water slides. This Naples water park prices are included in the stay package and thus is free to use. The swimming pool is open for both kids and adults. The park takes care of its visitors and thus have well-trained lifeguards around the pool area. Apart from the water rides, one can even go on a picnic in the lawns or just enjoy a relaxing meal in the restaurant.
Location: Via Nazionale, Triflisco, Bellona, Italy.
Timings: 8:30 to 18:30
Suggested Read: Shopping In Italy: 6 Best Places For The Shopaholics To Indulge In An Extravaganza
7. Gloria Village

Gloria Village Aquapark provides the best family summer getaway with its large pool and the water slides. Located farther away from Campania, Gloria Village is situated in the province of Caserta which is just a 30 minutes ride from the Naples city centre. This clean and relaxing Naples water parks has limited water rides but exciting ones. The giant water slide and the lazy river are the best attractions of this place. The aqua park has a huge lagoon where one can find people sunbathing and a wave pool where kids have crazy fun. Once in a day, the wave pool gets a foam spray which just doubles the fun in the wave pool. The park has an attached restaurant that offers all kinds of meals. If one is staying in the village for a night, one can enjoy the nightlife in the park filled with music and drinks.
Location: Via del Caravaggio, Cesa, Sant' Antimo, Naples 80029, Italy.
Timings: 9:30 to 18:00
8. Waterpark Happy Days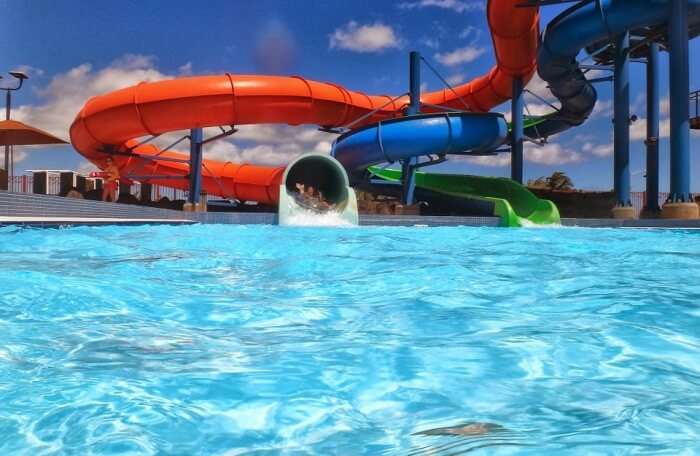 Located right about in the centre of Caserta, this waterpark is not far away from Naples. The park is a part of a resort package that attracts many tourists and locals during the summers. It is a bit bigger than the previous ones with multiple water and tube rides, wave pool, lazy river and a large lagoon. The staff are friendly and very hospitable. The restaurant offers delicious food and drinks including coffee. The Waterpark Happy Days is a good weekend distraction that will help one rejuvenate from the summer heat.
Location: Extension of Via liberta 12, Santa Maria A Vico, Naples 81028, Italy.
Timings: 9:00 to 18:00
Further Read: If You Only Have 2 Weeks In Italy, These Charming Places Should Make The Cut To Your Itinerary
Naples provides a good base for Southern Italy sightseeing. The phenomenal city is surrounded by many charming quaint little towns that are worth visiting. If one ever needs a break from all the excursion, one should head to these Naples water parks to cool off and relax from the Italian heat. Plan your trip to Italy with TravelTriangle and be a part of the incredible experience.
---
Looking To Book An International Holiday?
Book memorable holidays on TravelTriangle with 650+ verified travel agents for 65+ domestic and international destinations.
---