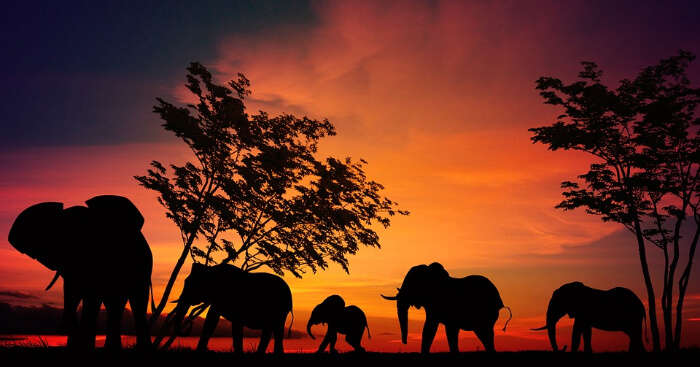 Sri Lanka has some of the most richest wildlife sanctuaries and national parks that offers the opportunity to its visitors to indulge in the most thrilling safari experiences. Sri Lanka safari is all about exploring the untamed side of life in the country. Dominated by the population of elephants, leopards, deers, boars and flamingos, there wildlife in Sri Lanka will surprise at every turn during your safari.
7 National Parks for most thrilling Sri Lanka Safari
1. Wasgamuwa National Park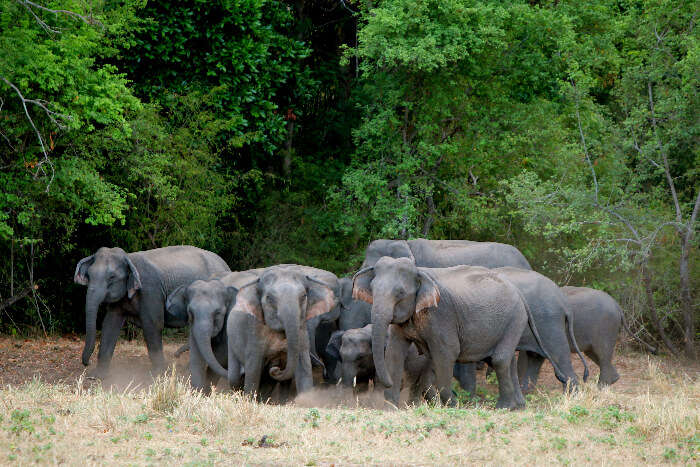 Located in the Matale and Polonnaruwa Districts of Sri Lanka, Wasgamuwa National Park offers its visitors one of the best safaris. Several times in your safari, youll come across the herds of wild Sri Lankan elephants who dominate this national park.
Animals you can spot: elephants, purple-faced langur, golden palm civet, mugger crocodile, red-faced malkoha and various bird species.
Safari prices: Stars from 2,700
Must Read: Wasgamuwa National Park: A Pocket Guide For A Fun Wildlife Encounter In Lanka
2. Udawalawe National Park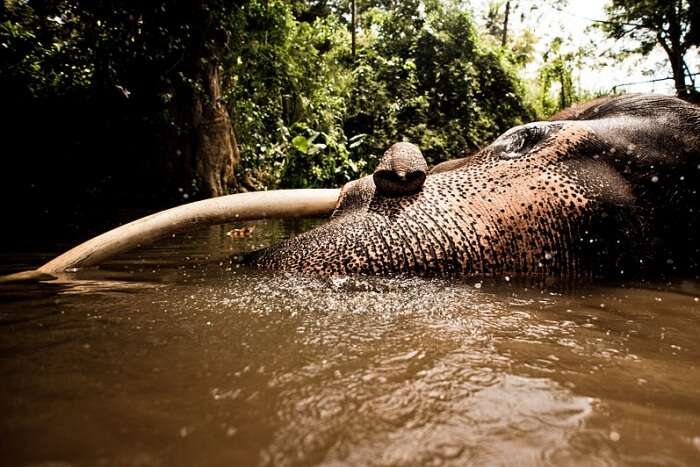 Udawalawe National Park located near the Sabaragamuwa and Uva Provinces is was created to preserve the animals affected by the developments around the Udawalawe reservoir.
Animals you can spot: water buffalo, wild boar, chital, deer, Indian hare, mongoose, foxes, bandicoots, grey langers, jackal
Safari prices: Starts from INR 2,300
Suggested Read: 10 National Parks in Sri Lanka That Bring You Face-To-Face With The Incredible Nature
3. Yala Safari Camping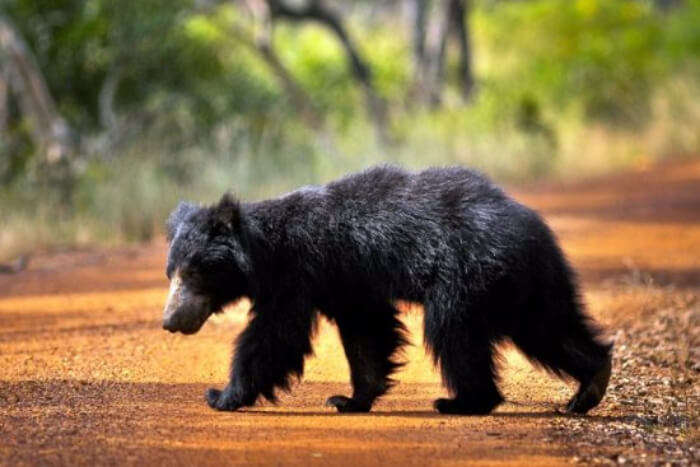 A safari into the wild at Yala Safari Camping in Sri Lanka will take you through the grasslands and thick forest where you spot various animals from the 44 species of wild mammals.
Animals you can spot: Sloth bear, leopards, sri lankan elephants and wild water buffalo
Safari prices: Starts from INR 2,000
Suggested Read: 19 Reasons Why I Would Rather Be From Sri Lanka Than Anywhere Else
4. Kaudulla National Park Jeep Safari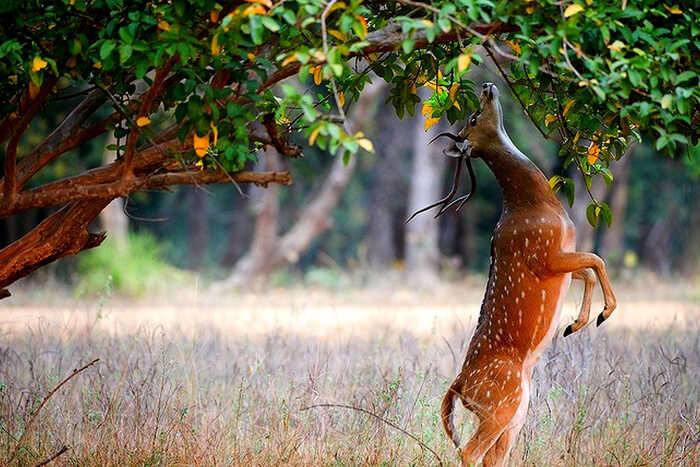 Kaudulla National Park Jeep Safari is a an experience in which you stand a chance to cross paths with many wildlife species of Sri Lanka as 24 species of mammals in Sri Lanka have been reported from here. The parks wildlife is dominated by the wild elephants, roughly 350 in number. The park also has 435 species of birds and 26 species of fishes.
Suggested Read: Top 5 Vibrant And Lively Sri Lanka Hostels For An Amazing Tropical Vacation
5. Gal Oya National Park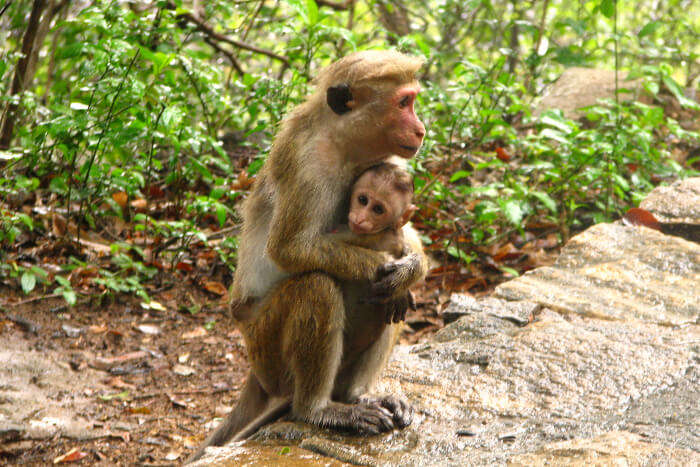 Established in 1954, Gal Oya National Park is the main catchment area for the largest reservoir in Sri Lanka, Senanayake Samudraya. The reservoir was built under the Gal Oya development project by constructing a dam on the Gal Oya at Inginiyagala in 1950. Spanning a large area, 314km away from Colombo, Gal Oya is a rich reserve for elephants.
Animals you can spot: Sri Lankan elephant, axis deer, muntjac, water buffalo, Sri Lankan sambar deer, leopard, toque monkey and wild boar. The park also has reptiles as mugger crocodile and star tortoise and a number of bird species.
Must Read: Sri Lanka In August: A Guide To Treat Yourself With The Magic Of Monsoon!
6. Minneriya National Park Safari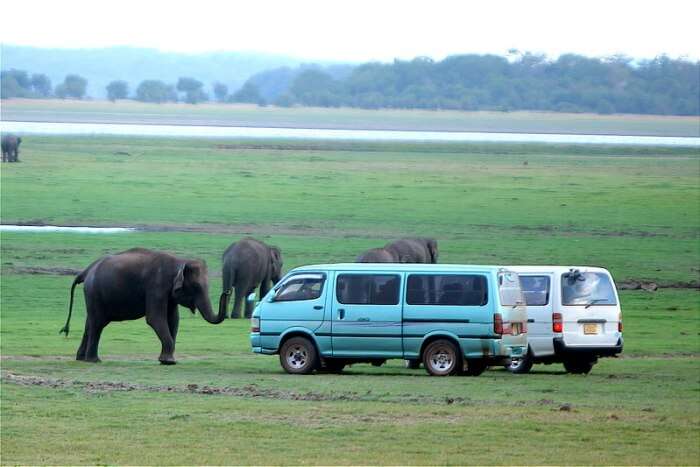 In your Minneriya National Park Safari, you will be astonished to see worlds one of the largest wild Asian elephant gathering. The safari through the grassland and along the lakes with breathtaking views of national park is a humbling experience. The abundance of wildlife in this park, including 24 species of mammals, 170 species of birdsand 25 species of reptiles, increases your chances of encountering many of these.
Animals you can spot: elephants, Leopards, Sloth Bear, Spotted Deer, Sambar Deer, Wild Buffalo, Wild Pig, Grey Langers, Purple-faced Leaf Monkey, three species of Mongoose, Porcupine and Indian Pangolin.
Safari prices: Starting at INR 5400
Suggested Read: 8 Best Homestays In Sri Lanka To Relax, Revive, And Rejuvenate At One's Own Pace
7. Bundala National Park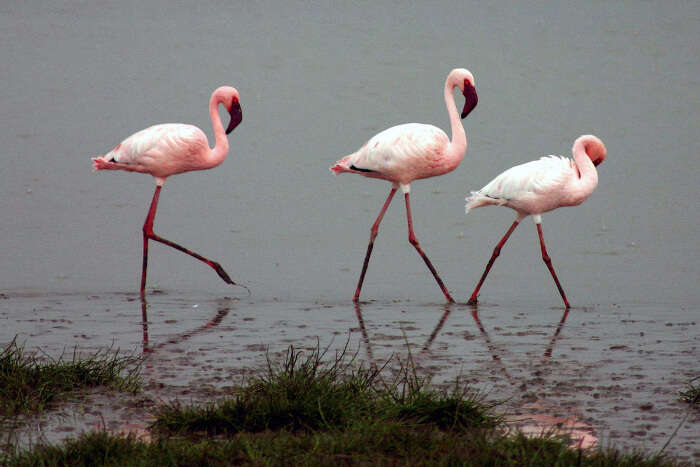 Bundala National Park is a winter resort for the migratory water birds from around the world. The national park harbours 197 species of birds. Especially the flamingos who gather here in large flocks. In 2005, Bundala National Park was designated as a biosphere reserve by UNESCO, which made it the fourth biosphere reserve in Sri Lanka.
Animals you can spot: elephants, whistling duck,Indian cormorant, large water birds, grey heron, black-headed ibis, Eurasian spoonbill, Asian openbill, painted stork, Black-necked stork, leopards, wild boar
Safari prices: INR 3,900
Further Read: 6 Majestic Villas In Sri Lanka For An Exotic Vacation In The Tropical Paradise!
Sri Lanka safari is truly an experience of a lifetime as there will be several instances when you would come face-to-face with the wild beasts. If you are enough adventurous, plan a trip to Sri Lanka and take a ravishing safari into the wild.
---
People Also Read
National Parks In Nepal Natural Park In Bhutan National Parks In Bali