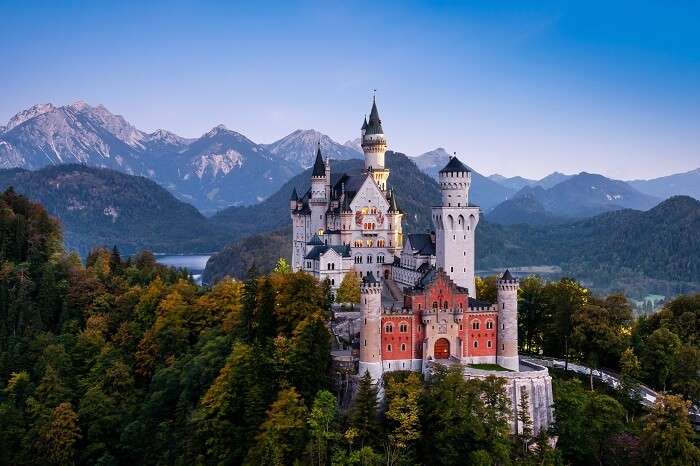 Call it an epitome of fine design, bewitching beauty or an artwork illustration from a storybook, Germany's Neuschwanstein Castle is among the few remarkable man-made creations ever. Just a sight of this legendary castle in the Bavarian Alps would hold you transfixed! Such is the castle's charisma that even Walt Disney was left awe-struck at its first glance! Now we know what led to the outline of fairy castles in his stories! ;) The outstanding retreat of King Ludwig II of Bavaria stands tall amidst the mountains and lush meadows that change colors every season.
Commissioning the dream-like castle was Ludwig's way of conferring regards to Richard Wagner – the legendary German music composer. Today, the Neuschwanstein Castle not just exhibits the tales of the king but also stands as the finest piece of attraction in Germany and entire Europe!
History of Neuschwanstein Castle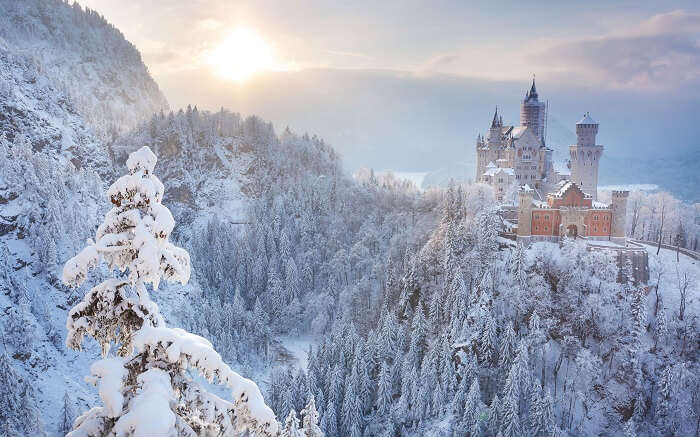 Neuschwanstein Castle translates to New Swan Stone Palace is located in one of the most scenic spots in the Bavarian Alps. Originally the castle was called as New Hohenschwangau Castle, which was a further creation of Hohenschwangau Castle where Ludwig spent his childhood. Designed by Christian Jank, the castle construction procedure started in the summer of 1868 but its cornerstone wasn't laid until 1869. The castle got commissioned by King Ludwig II two years after Austro-Prussian War.
Features & facts about Neuschwanstein Castle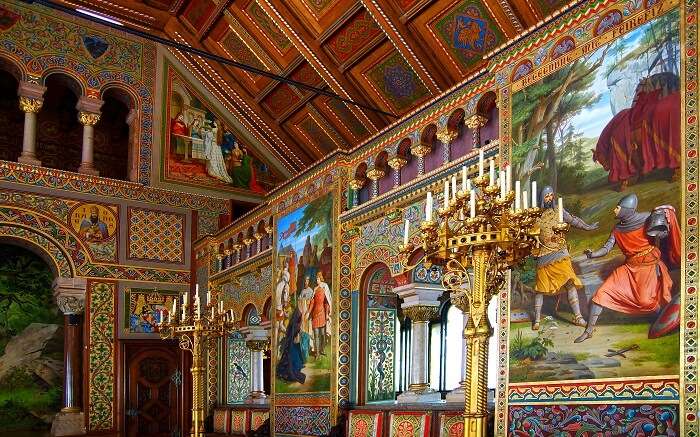 Let's start with the most prominent aspect of the castle, which is the highest tower of the castle – it stands at 213 feet. While the medieval castle looks grand and scenic from outside, it looks equally enchanting from inside. Neuschwanstein Castle interior is well equipped with state of the art facility and latest technology from the 19th century.
Image Source
Talk about the advanced interiors of the castle and you have advanced air heating system and toilets on every floor with automatic flush. The water source of the castle is believed to be the spring located 200 meters above the castle in the mountains.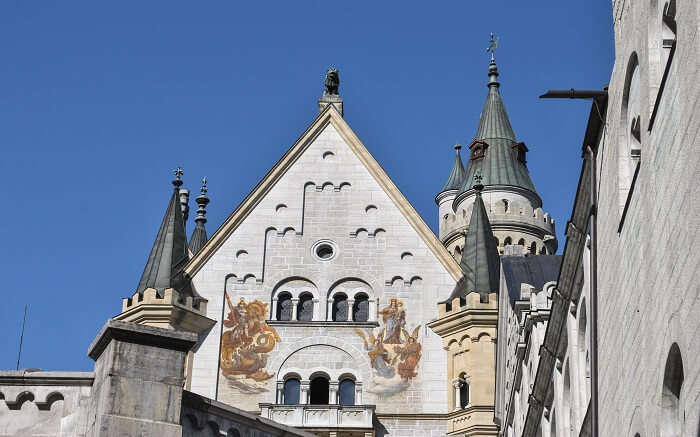 All the fascinating towers, turrets, frescoes, and throne hall, make Neuschwanstein a fascinating piece of beauty. The castle was completed until 1892 but Ludwig died mysteriously in 1886 and couldn't see the castle's final towers completed. Only after the death of the king, the castle was open to the public.
Suggested Read: Of Castles And Lakes: An Imperious Family Trip To Germany And Austria
Best time to visit Neuschwanstein Castle
Neuschwanstein Castle can be visited during any season of the year. However, May, June, September, and October is considered to be the best time to visit the place. If you want to see Neuschwanstein all covered in snow, plan a trip there in winter.
Timings: 8 am – 5 pm
Ticket fare: 13 euros per castle plus 1.8 euros for advanced reservation
How to reach Neuschwanstein Castle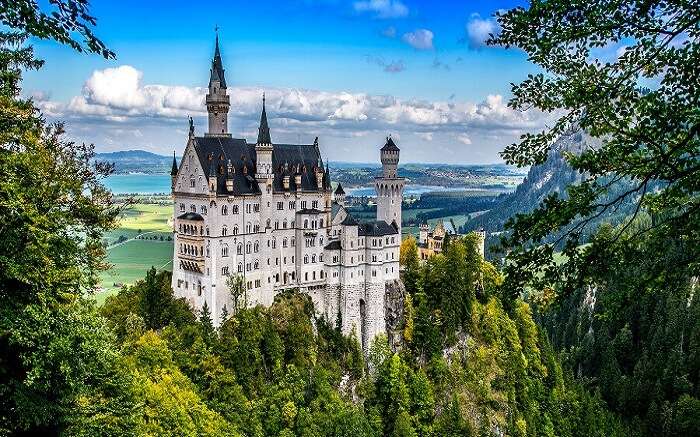 Image Source
If you are planning a day trip to Neuschwanstein, it is pretty much easy from Munich. Take a Bavarian Train to reach the nearest town Fussen. A train departs in every 2 hours and the journey takes around 2.5 hours to complete. To reach Neuschwanstein Castle you will have to reach Hohenschwangau Village. Fussen to Hohenschwangau Village is 4 km. The ticket center is located here itself. You can also opt for an organized Neuschwanstein Castle tour here.
Neuschwanstein Castle in winter
Image Source
The castle looks dreamiest during winter. With a thick snow cover all around, this place resembles a dreamlike place from fairytales and fancy stories. At the time when there are dense mist and fog after heavy snowfall, only the minarets of the castle are visible protruding out of the sea of white. Take a look at these pictures and drool over them as much as you want!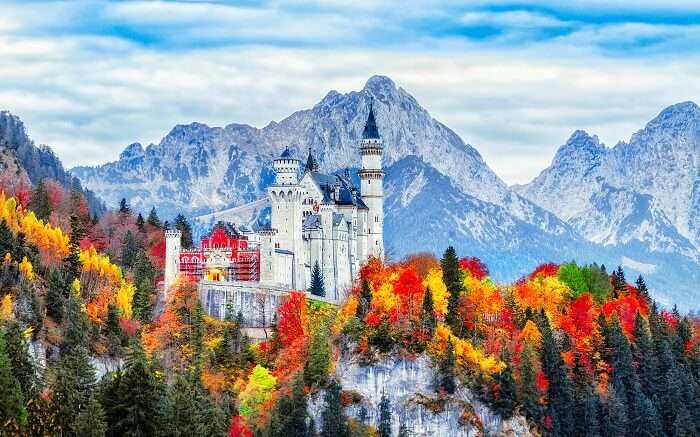 Must Read: Charming Snow Castles In The World That Are Redefining Winter Tourism!
Popular places to stay near Neuschwanstein Castle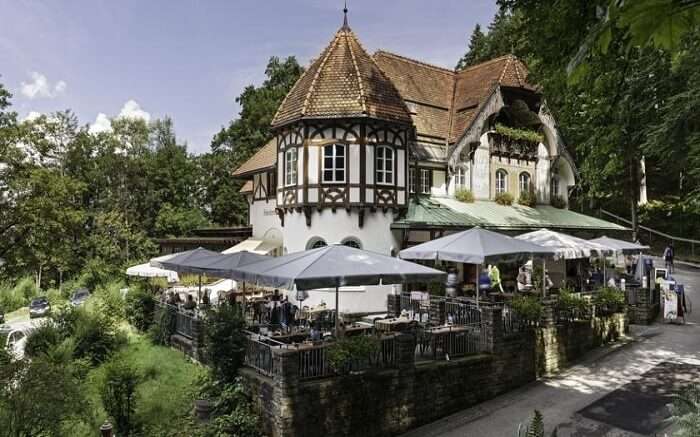 Image Source
Plan a stay at these popular hotels near Neuschwanstein Castle. They certainly are some of the most popular as well as closest to the monument.
i) Schlossrestaurant Neuschwanstein
ii) Hotel Waldmann
iii) Hotel Kleiner Konig
iv) Hotel Helmerhof
v) Hotel Maximilian
All said and discussed, the Neuschwanstein Castle is a legendary masterpiece that continues to stay awesome as you read this. Wouldn't you want to adore this stunning beauty after standing right next to it? Plan a trip now!
Further Read: 10 Castles In Germany That Look Straight Out Of A Fairytale
Comments
comments