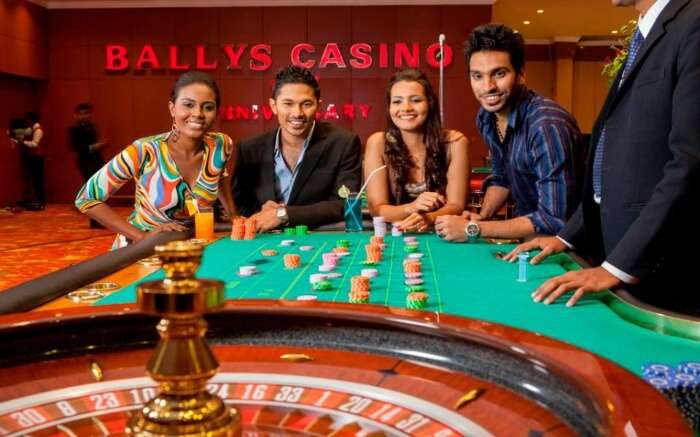 To everyone who says there is no or little nightlife in Sri Lanka, retort with images of a crazy time at their most happening nightclubs and casinos. An otherwise quiet nation, Sri Lanka has many bars, pubs, and clubs spread over various parts of the country. Just plan a bit before you freeze your Sri Lanka tour package and try to cover at least one nightlife attraction in each of your cities of stay.
Best Of Nightlife In Colombo
The buzzy capital city of this enchanting island nation is a major tourist place to enjoy the Sri Lankan nightlife. The city has many stylish restaurants, glitzy bars, chill-out pubs, and a liberal environment with friendly locals.
Being one of the most tourist friendly places, Colombo is the city for best nightlife experiences in Sri Lanka. If you're the one who likes to party till dawn, then you must indulge in the Colombo, Sri Lanka nightlife!
1. ZAZA Bar, Casa Colombo Hotel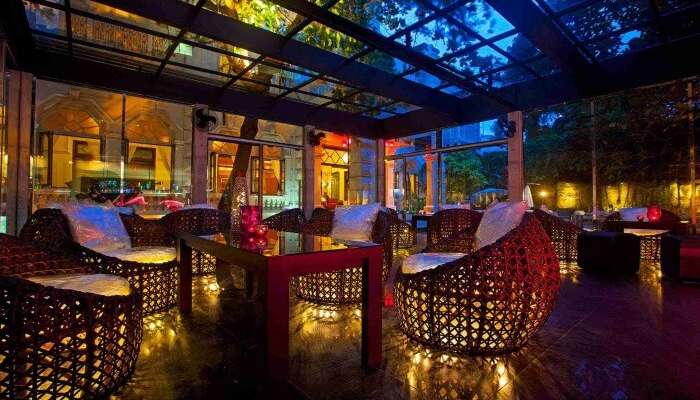 ZAZA Bar at Casa Colombo Hotel is a cool place with a chilled-out environment, and friendly staff. Well-stocked with exotic drinks, it is certainly among the best places for nightlife in Sri Lanka, especially on weekends. Extensive outdoor and indoor seating facility, a large screen for sports events, and entertaining gigs add to the charm.
Location: Casa Colombo, 231, Galle Road
Timings: 8 am to midnight
Must Read: Nightlife In Colombo Is A Party Freak's Delight
---
Sri Lanka Holiday Packages On TravelTriangle
Book your Sri Lanka trip from TravelTriangle: Inclusive of Hotels, Sightseeing, Transfers, & Meals. Best Prices Guaranteed. Get Customizable Package & Free Guidance From Destination Experts. Book Now!
---
2. Loft Lounge Bar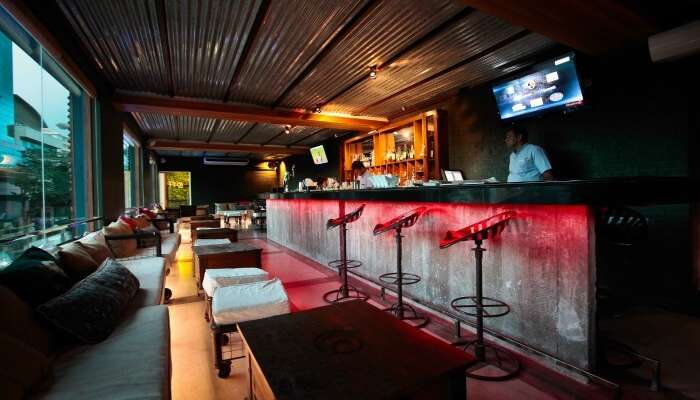 The popular Loft Lounge Bar is located on top of the Hotel Colombo Courtyard and is known to have the best nightlife in Sri Lanka. It is a chic lounge bar, with interiors done up the industrial style. The lighting is dramatic, to say the least, perfect for a night out with friends or your special one. Weekend music gigs are particularly awesome. Choose from a wide range of drinks & cuisines and treat yourself to some of the best wines, beers, and cocktails while watching the bustling city from the rooftop at one of the finest nightclubs in Sri Lanka.
Location: 32 Alfred House Ave
Timings: 5:30 pm to midnight (open till 1 am on Fridays and Saturdays)
Suggested Read: 9 Best Places to Visit in Matara For An Enriching Sri Lankan Holiday Experience In 2020
3. Barefoot Garden Cafe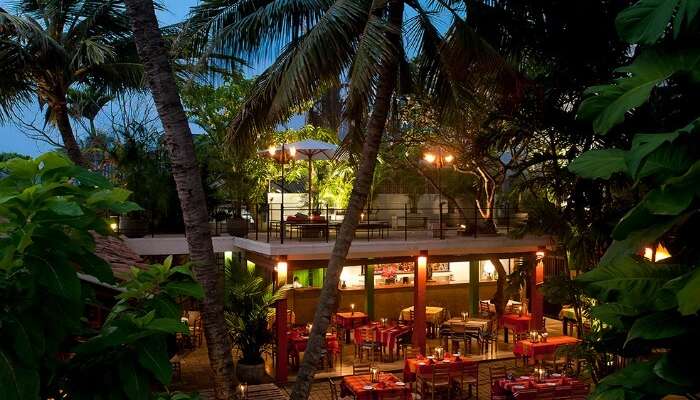 Sitting behind the Barefoot Store, the Barefoot Garden Cafe is a stylish bar that is often called an oasis of calm. Among the gems of Sri Lanka nightlife, Barefoot displays a rich menu of daily specials with a variety of wine and other drinks to choose from. Do try their delicious Black Pork Curry and Spinach Quiche.
Late evening gigs, along with Colombo Pub Quiz night (Wednesday), are key attractions of this casual and candid cafe.
Location: 704 Galle Rd, Kollupitiya
Timings: 10 am to 7 pm (Sunday: 11 am to 5 pm)
Suggested Read: Sri Lanka In August: A Guide To Treat Yourself With The Magic Of Monsoon!
4. Ballys Casino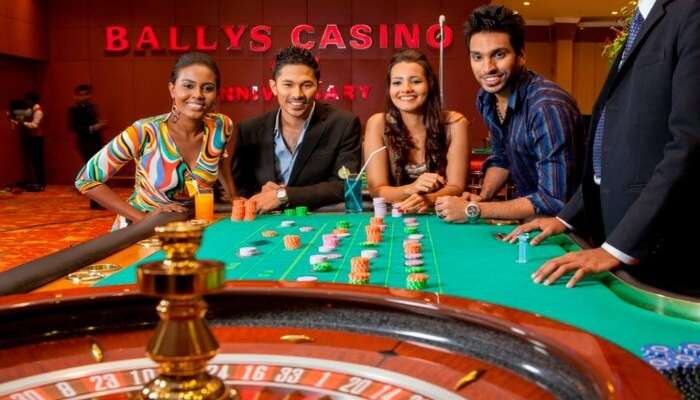 Being the largest casino and one of the best nightclubs in Sri Lanka, Ballys Casino boasts a prime location, free entry, warm hospitality, buffet dinner, and various types of table games. Going by customer reviews, some found it so enjoyable that they tell tales of spending 75% of their holiday in Colombo inside Ballys Casino only. It also has an option of availing pick & drop service for its customers.
Location: 34 D. R. Wijewardena Mawatha
Timings: 24X7
Suggested Read: Scuba Diving In Colombo: 10 Places For Witnessing The Beauty Of Marine Life Like Never Before
Nightlife Hotspots In Kandy
The second largest city in the country, in contrast to the capital city, may not be as buzzy as you expect it to be; but that doesn't take away the charm of enjoying the nightlife in this relatively quiet city.
Not much crowded, less traffic on roads, great bars and restaurants serving various types of foods and drinks – that's the best bars in Kandy for you.
5. Le Garage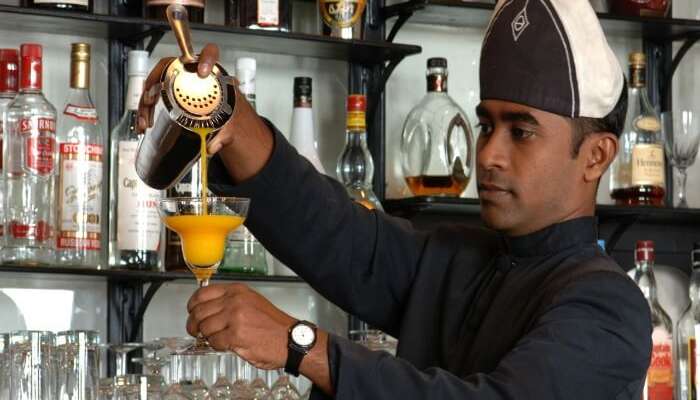 Le Garage is a famous garage-themed nightclub within the Amaya Hills Resort in the second largest city of Sri Lanka- Kandy. With silhouettes of vehicles, spare-parts used to decorate the glitzy dance floor, and wires lining its interiors, this is the night club offering the best experience of nightlife in Sri Lanka.
Location: Heerassagala Amaya Hills Resort
Timings: 9 pm to 3 am (all days)
Suggested Read: 30 Places In Sri Lanka You Must Visit In 2020
6. Old Trinitians Sports Club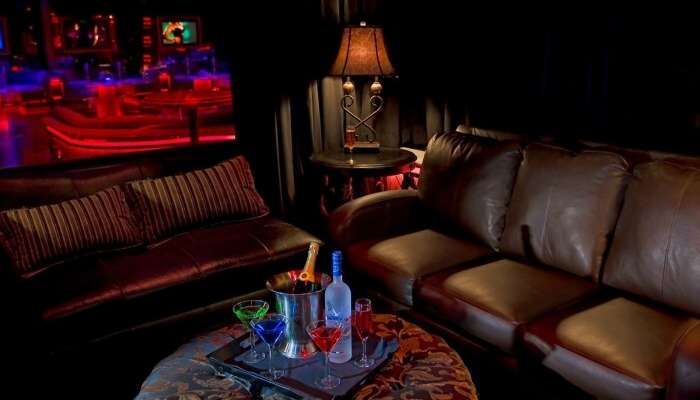 This a sports bar with an entry for members only, but by paying a small fee, you can check in too. Enjoy quality time having drinks, toothsome food as retro music plays in the background and you watch some live sport on big screens. Theres a pool table, a billiards table, and a gym which means that it nicely lives up to its theme. Say cheers to Sri Lankan nightlife, sports lovers!
Location: Adahana Maluwa Rd, Asgiriya, Kandy
Timings: 5 pm to midnight (Open only on Fridays and Saturdays)
Suggested Read: Snorkeling In Sri Lanka: 10 Spectacular Spots To Take A Dive In 2020
Best Bars & Pubs In Galle
Apart from some of the best cafes and restaurants, Galle is also a great place to revel in some unforgettable nightlife experience at vibrant bars and nightclubs that keep the city buzzing at night. This coastal town is the place to be where you can find some of the best, yet least known nightlife hotspots in Sri Lanka. The experience is bound to overshoot your expectations.
7. Koha Surf Lounge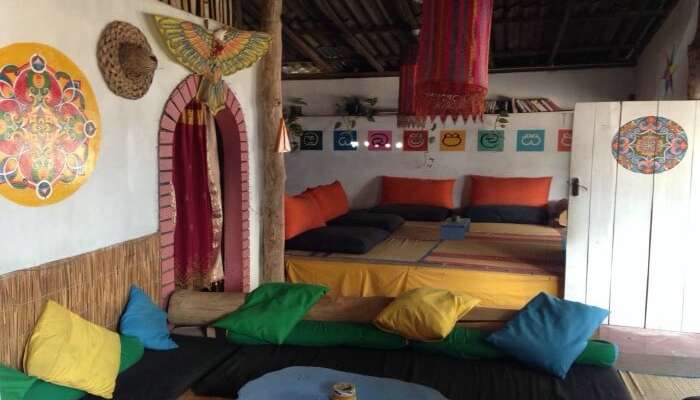 Fabulous old-fashioned seating arrangement inside and its proximity to the street place this bar amongst best places for nightlife in Sri Lanka. Located right in the middle of the town Unawatuna, Koha Surf Lounge is the place where you can relax like you are at the beach while reveling in some good traditional Sri Lankan food and chilled beer.
Location: Yaddehimulla Road, Unawatuna, Galle
Facebook | Reviews
8. Yula Beach Bar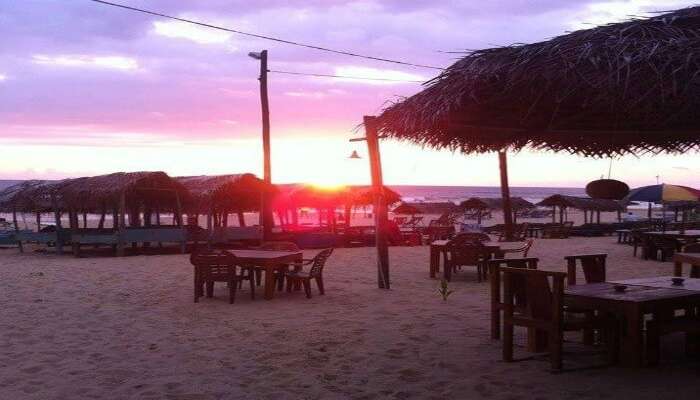 Its a popular late-night beachside bar in Galle and is known for its very relaxed and refreshing atmosphere. Enjoy sipping a chilled beer or any other drink, for that matter, as you lie down at the beach with your friends away from the noise. Visiting Yula Bar, one of the best nightclubs in Sri Lanka, means total fun at pocket-friendly prices.
Location: Asian Highway 43, Hikkaduwa
Timings: 4 pm to 3 am
Suggested Read: 15 Stunning Beaches In Sri Lanka That Will Make You Go 'Wow'!
Nightlife In Bentota
Located about 60 km south of Colombo, Bentota city is lined by trademark palm trees and a great atmosphere, less crowd and still so vibrant. Popular as a weekend getaway for many tourists, you can always find the lesser known hot spots where you can enjoy the nightlife and the lively atmosphere in this otherwise calm city.
9. Sunset Lounge Bar At The Hotel Saman Villas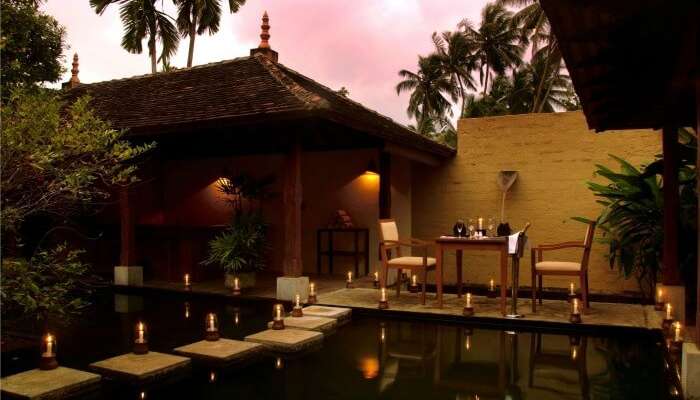 The Sunset Lounge Bar is in the Saman Villas hotel, a 4-star hotel that is about 5 km from the beach. Its actually a bar for those who would like to have drinks and enjoy with their friends or companions while avoiding a heavy crowd. So, when you are here, raise a toast while you sit beside the pool overlooking the option and listening to some good Sri Lankan or Western music and enjoy Sri Lanka nightlife.
Location: Galle Road, Aturu Villa
Reviews
10. Ceysands Disco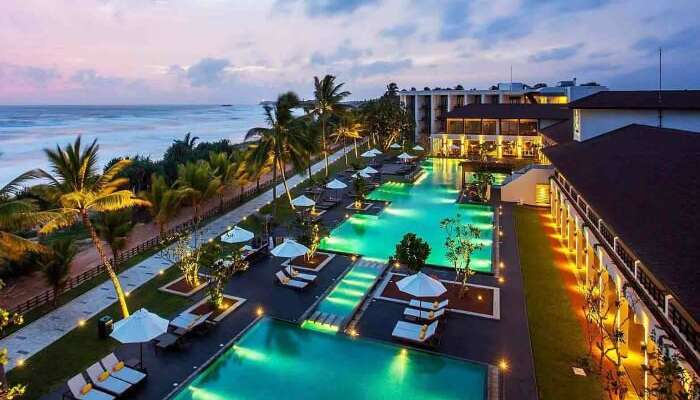 At this uniquely designed discotheque, revel in the most distinctive experience of enjoying the nightlife in Sri Lanka. With the Indian Ocean on one side and the Bentota River on the other, Ceysands Disco is a floating nightclub that offers awesome views. A part of the Centara Ceysands Resort- a beach resort in Bentota, it can be easily reached by taking a ferry.
Location: Aluthgama – Mathugama Rd
Suggested Read: 10 Romantic Beach Resorts in Sri Lanka to Melt Your Hearts Away
Hottest Clubs In Beruwala
Beruwala is a beautiful small coastal town located in southwest Sri Lanka. While the town might not be as buzzy as Colombo when it comes to nightlife, but with recent developments and the growing number of bars and restaurants, it really becomes a live wire, especially during festivals.
11. Grain Bar & Lounge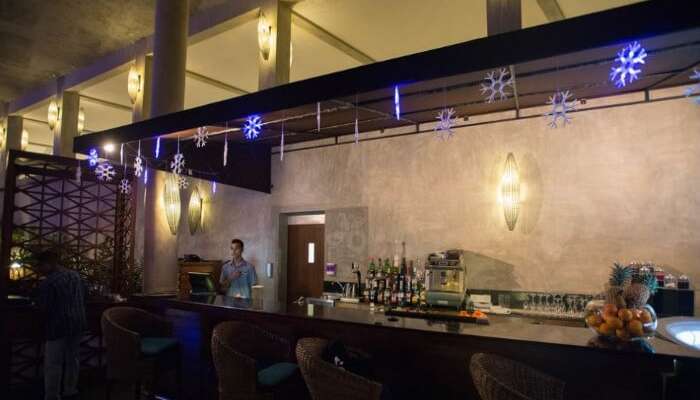 Looking for the best nightlife area in Sri Lanka- This one is located at the perfect spot. Sitting at the top of Cinnamon Bay Resort in Beruwala, Grain Bar and Lounge is where you can enjoy amazing cocktails, top-class wine, beer, and platter or enjoy the Raw menu items served with a smile by a very friendly staff. A great place to hang out at night.
Location: Moragall, Beruwala
Timings: 24×7
12. Hildas Coffee Bar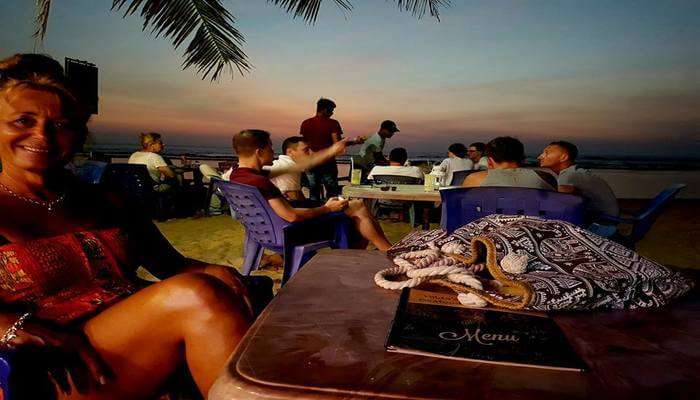 Hildas Coffee Bar is literally, a bar on the beach, just a few meters away from the beach. Laid back environment, the blue waters of the Indian Ocean, and the gorgeous sunset view are some natural gifts that add to the charm of this beautiful bar and restaurant. Have a cup of coffee or just lose yourself with some exotic beer in Sri Lankan nightlife.
Location: Moragalla Beach
Timings: 10 am to midnight
Best Nightclubs In Negombo
The beach city of Negombo is the fourth largest city beach town with very tourist-friendly locals which makes the environment perfect to roam around at night with your companions. In this city, you can check-in at some of the best nightclubs in Sri Lanka, located at some prominent hotels and restaurants.
13. Rodeo Club
Loud music, a fabulous crowd including locals and foreigners, excellent food and amazing atmosphere within Rodeo Club and Restaurant sets the tone for a great night out in Sri Lanka with your best buddies. Thursdays are special here as you can enjoy a live music performance in the bar. A wide range of cocktails and exotic wine is like an icing on the cake for party animals.
Location: 35A Poruthota Road, Ethukala
Timings: 10 am to midnight (all days)
Best Pubs In Nuwara Eliya
Nuwara Eliya is home to picturesque landscape surrounded by hills. It is one of the most beautiful places in Sri Lanka and thus attracts a lot of tourists. For their entertainment, Nuwara Eliya has some bars, pubs and other best places for nightlife in Sri Lanka which are open till wee hours and brighten the nightlife scene in Nuwara Eliya.
14. Lake View Pub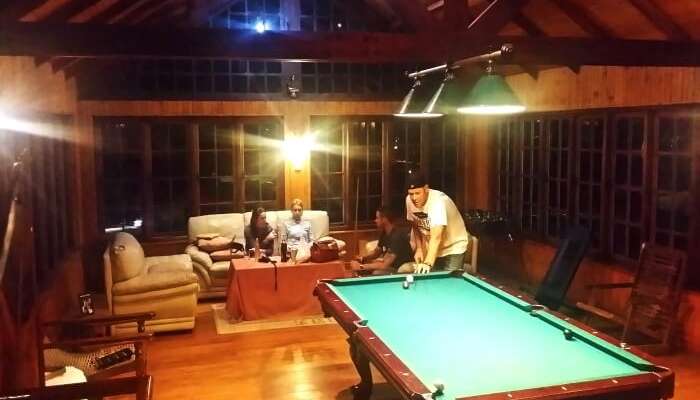 Great variety of drinks, eye-catching surrounding beauty and the warm and candid bar staff including bartenders are some distinguishing features of this charming bar. Near the lake, this pub is frequented by many tourists who savor their drinks and enjoy the nightlife in this part of Sri Lanka. An experience you shouldnt miss out on if you wish to get the real taste of the real Sri Lanka nightlife.
Location: 4 Haddon Hill Rd
Timings: 07 am to midnight
15. 19th Hole Pub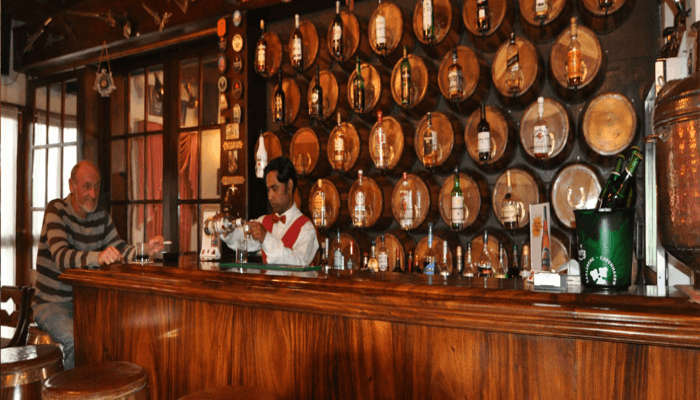 The 19th Hole Pub is a popular nightlife attraction located on the first floor of Glendower Hotel. The old Sri Lankan style wooden staircase leads you into the pub where you have a host of options to choose from. The surprising thing is that it just seems like youre at one of the pubs in Europe and not in Sri Lanka. A unique experience of nightlife in Sri Lanka!
Location: 5 Grand Hotel Rd, Hotel Glendower
Timings: 5 pm to 1 am
Further Read: 19 Photos that will make you wish you were in Sri Lanka Right Now!
Sri Lanka is ready for you to have a blast. Are you ready to experience the awesome nightlife in Sri Lanka? If yes, then pick up your outfit, book your trip to Sri Lanka with TravelTriangle and leave right away! Once you're back, don't forget to tell us about your amazing experience in the comments section below.
Frequently Asked Questions About Nightlife In Sri Lanka
Q. Is Sri Lanka good for partying?
A. Yes, Sri Lanka is an amazing place for partying as you can easily find nightclubs and bars. The locals are passionate about partying and you must socialize with them to have the best party of your life.
Q. Which are the best bars in Galle?
A. Galle has some of the best bars like The Living Room, The Lady Hill, and Tamarind Hill. You must stop by these bars to witness the nightlife in Sri Lanka.
Q. Which are the best places for partying in Colombo?
A. Colombo is the party hub and has innumerable nightclubs and bars. If you want to have a soul-stirring party then you must head to ZAZA Bar, Loft Lounge Bar, and Barefoot Garden Cafe.
Q. Which is the best area to stay in Sri Lanka?
A. The best areas to stay in Sri Lanka are Jaffna, Anuradhapura, Dambulla area, and Nuwara Eliya. These areas are located near the major tourist attractions and the most popular hotels are also situated here.
Q. Is Galle worth visiting?
A. Home to one of the famous world heritage site, Galle is an amazing city which you should visit on your vacation if you want to have an encounter with the glorious history and nightlife of Sri Lanka.
Q. Which are the best beaches for partying in Sri Lanka?
A. There are a lot of beaches in Sri Lanka and the locals frequently attend parties organized at the clubs located near these beaches. If you want to experience a beach party in Sri Lanka, then you must head to the Unawatuna beach and Bentota beach.
Q. Which is the most beautiful place in Sri Lanka?
A. Emerald green tea plantations and stunning waterfalls, Nuwara Eliya is considered as the most beautiful place in Srilanka as it is surrounded by emerald-green tea plantations and looks heavenly throughout the year.
Q. What is the best time to visit Sri Lanka?
A. The best time to visit Sri Lanka is between December to March as the weather in these months is quite pleasant and you can easily explore the country.
---
Looking To Book An International Holiday?
Book memorable holidays on TravelTriangle with 650+ verified travel agents for 65+ domestic and international destinations.
---
People Also Read:
Is Sri Lanka Safe 7 Days In Sri Lanka Traveling Sri Lanka On A Budget
Comments
comments