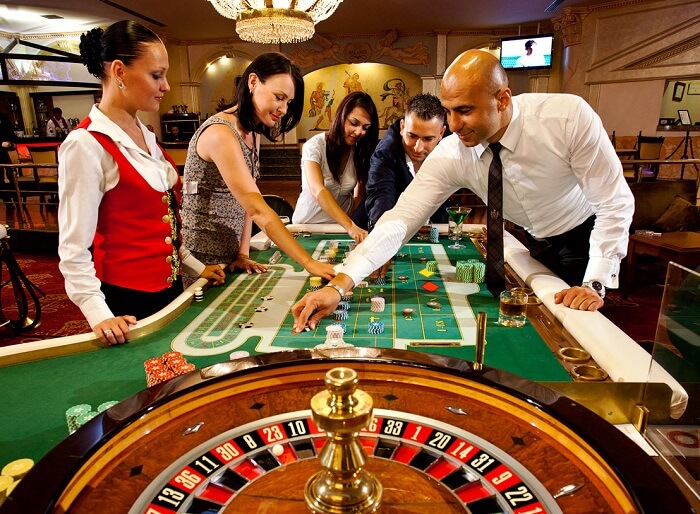 Roulette rolling, great bands, live music, delicious food, trancing cafes, themed pubs, and enthusiastic crowd – you name it and Colombo has it! Not very heavy on pocket, nightlife in Colombo is the best in the country. And since gambling is legal in Sri Lanka, casinos are the real highlight of Colombo's nightlife scene.
Traveling to Sri Lanka and not experiencing its happening nightlife is not a good idea. Based on your preference and budget, here are the top 10 highlights from Colombo's chic party scene.
Casinos in Sri Lanka are what you should experience after Goa and before Vegas!
1. Bally's Casino – The best place amongst all other spots to enjoy nightlife in Colombo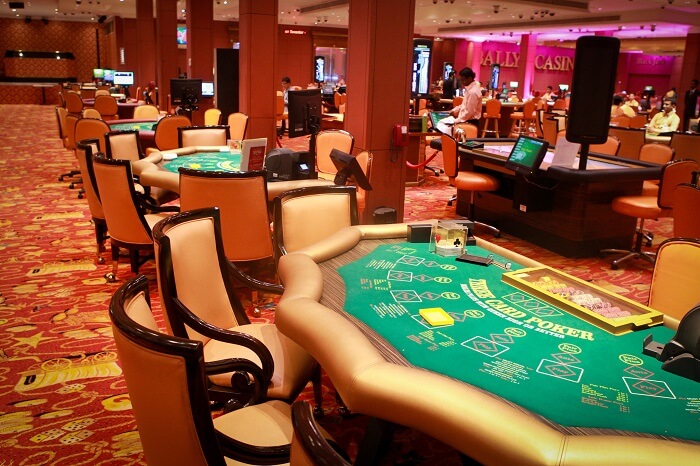 Image Source
Bally's has been a strong name in the nightlife of Colombo for a very long time. Associated with warmth, respect, hospitality, and trust, Bally's has earned itself a huge bouquet of clientele. The huge gaming area is always full of people, both locals and tourists. You can stake as low as INR 100 and go upto lacs. Players are treated to delicious snacks and complimentary drinks.
Further we suggest, don't miss their special breakfast, lunch, and dinner buffets.
Timings: Round the clock
Location: 34 D R Wijewardena Mawatha, Colombo 00100, Sri Lanka
For updates on their special nights, visit their Facebook Page.
Must Read: 6 Exciting Casino In Colombo To Try Your Luck At
---
Sri Lanka Holiday Packages On TravelTriangle
Book your Sri Lanka trip from TravelTriangle: Inclusive of Hotels, Sightseeing, Transfers, & Meals. Best Prices Guaranteed. Get Customizable Package & Free Guidance From Destination Experts. Book Now!
---
2. Bellagio Casino – One of the places to gamble
Image Source
Bellagio Casino is conveniently located in the middle of all humdrum. The hierarchy is such that high rollers are at the end and low stake tables are at the entrance. Once you make a name for yourself, the drinks and food is free. The atmosphere is always lively and cheerful as some celebrate their win while others get set to play better next time. Dab in the gamble world of  Three Card Poker, Roulette, and Black Jack.
Timings: Round the clock
Location: 430 R A De Mel Mawatha, Colombo 3, Sri Lanka
For more updates on their offers, visit their Facebook Page.
Happening nightclubs and bars are the lifeline of Colombo's nightlife scene!
3. Rhythm and Blues Nightclub – One of the best Colombian nightclubs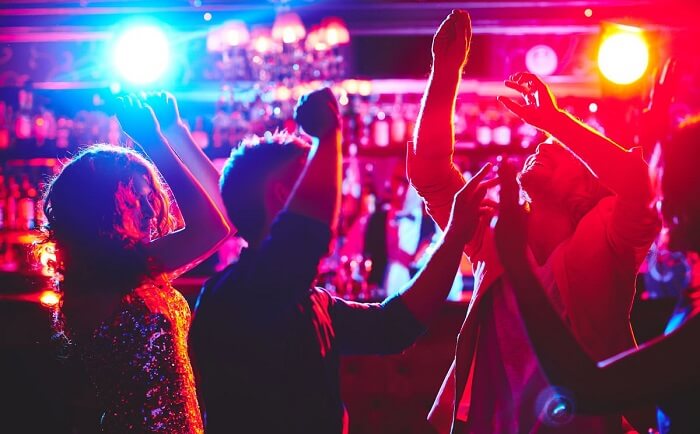 Image Source
One of the most popular places to visit in Colombo, Rhythm and Blues is a pretty welcoming party place. The interiors are done invitingly and menu offers the best of drinks and finger foods. If you are with friends, this is a good pick for partying in Colombo.
Timings: 6 pm to 2.30 am, and 6 pm to 5 am on Sundays
Location: 19/1, Daisy Villa Avenue, Colombo 4, Colombo – 00400
Know more about their offers at their Facebook Page.
Suggested Read: The Definitive Guide To National Museum Of Colombo In Sri Lanka
4. Loft Lounge Bar – A lofty bar with chic ambience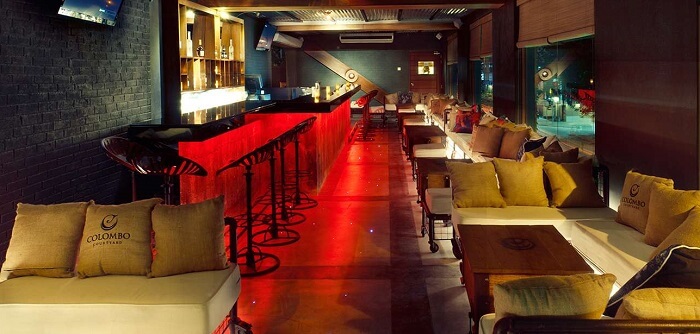 Image Source
The Loft is a great place to rejuvenate and relax amidst the quirky and arty interiors. It is a trendy and charming hangout bar, decorated with recycled pieces of scrap like scrunched ceiling sheets, tractor pieces for barstools, and sack cushions. The classic drinks and whipped cocktails are top sellers. Friendly staff and an interesting menu further add to the awesome experience of clubbing in Colombia.
Timings: 8 pm to 3 am
Location: Colombo Courtyard, Alfred House Ave, Colombo 00300, Sri Lanka
Visit their Facebook Page for more offers.
5. ZAZA Bar – The gorgeous open air bar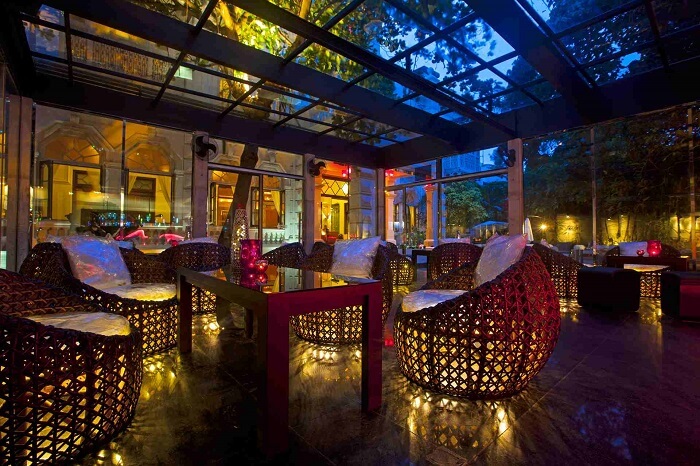 Image Source
ZAZA bar creates an illusion of being outdoors while enjoying the comfort of being indoors. Surrounded by glass walls and ceilings, ZAZA provides an environment which is both modern and abstract. The added bling of strobing neon lights lends appealing hues to the overall ambience the place.
Indulge in their extensive cocktails and gastronomical delights, while enjoying soothing lounge music in the house.
Timings: 8 am to 12 am
Location: Casa Colombo, 231, Galle Rd, Colombo 00400, Sri Lanka
Watch out their Facebook Page for more updates on weekend gigs and special performances.
Further Read: Sri Lanka In January: Places To Visit And Things To Do On Your Vacay
Romance the sky at Colombo's best rooftop bars!
6. Sky Lounge – The coolest addition to Colombo's happening nightlife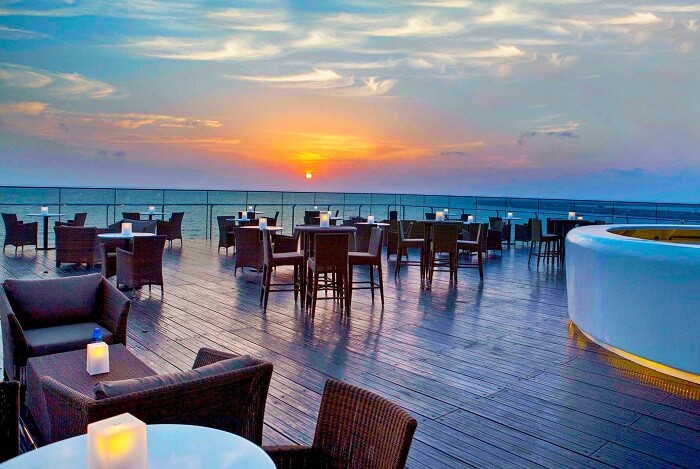 Image Source
One of the hippest Colombian nightclubs, Sky Lounge complements the awesome parties with its creative food and beverages menu. The place is phenomenal with high-quality cigars, premium champagnes, and their very own signature molecular cocktails. The sensational views of Colombo Port, Galle Face, and the old parliament attract people to gaze out more often than not.
Timings: 5.30 pm to 3 am
Special Nights: New Year's Party at the Sky Lounge is going to be a grand event with free flowing premium booze, lip-smacking food, interesting mocktails, and some kickass music. To cap the night, the morning rather, there will be all expansive Sri Lankan breakfast too.
Location: The Kingsbury, 48, Janadhipathi Mawatha, Colombo 1, Colombo – 00100
Stay updated on the special nights at their Facebook Page.
Suggested Read: 10 Romantic Beach Resorts in Sri Lanka to Melt Your Hearts Away
7. ON14 Rooftop Bar – The high point of nightlife in Colombo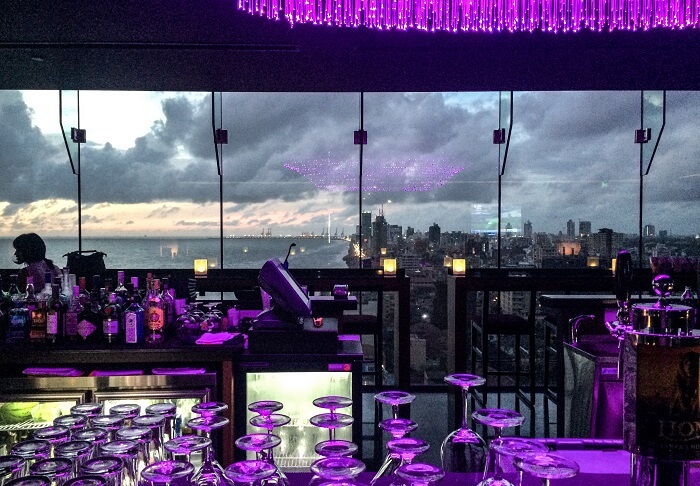 Image Source
It is often acclaimed that ON14 has the best views of the city. ON14 reflects sophistication, class, and glamor, and the rooftop pool adds to the style as well as the fun. Everything is out-of- the-world including food, beverages, décor, and clientele. One of the highlights of the On14 is its color changing quirky chandelier besides the stunning view of the Indian Ocean. Perfect to plan a special evening with your partner.
Timings: 6 am to 10.30 pm
Special Nights: The Glow Party on New Year's Eve will be an extravaganza of wine, food, and music under the stars. Groovy beats are guaranteed with Colombo's popular DJs including DJ Nick. Be there long enough after midnight to win amazing gifts and weekend getaways.
Location: OZO Colombo, 36-38, Clifford Place, Colombo 4, Colombo – 00400
Follow them on Facebook to know more.
Further Read: Viharamahadevi Park: A Handy Guide To Explore This Nature's Paradise In Sri Lanka!
Late night cafes and lounges in Colombo!
8. Barefoot Garden Café – A breath of fresh air to nightlife in Colombo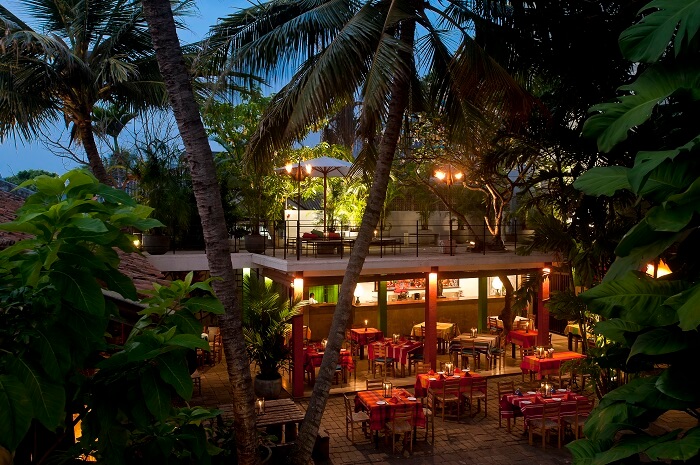 Image Source
Barefoot Garden Café exudes tranquility. Set in an enchanting garden, all wining and dining here is under the trees. From sandwiches to prawns to curries to pasta, every delicacy dished out at the Barefoot Garden cafe is scrumptious. It also has an art gallery that features the works of local artists. Grab your favorite book and sip on your latte while enjoying a peaceful late evening or night at the cafe. Inviting settings and the warm aura of the patio attract a lot of tourists and travelers.
Timings: 10 am to 11 pm
Special Night: Saturday Souls, Wednesday Quiz Nights, Friday Music Matters Jazz Trio, and Sunday Jazz Quartets.
Location: 00300, 704 Galle Rd, Colombo, Sri Lanka
Know more about their special nights and star performances on their Facebook Page.
9. Stirred – A stirred mix of everything buzzing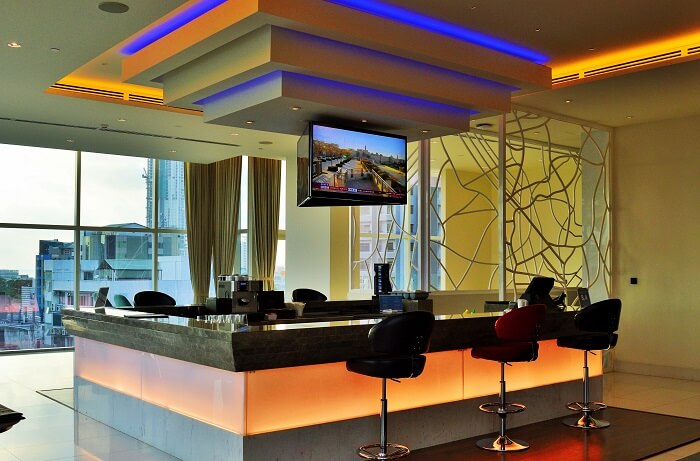 Image Source
Stirred is one of the best spots for experiencing nightlife in Colombo. Styled with hues of red, white, blue and black, it gives a very vibrant and jazzy feel. The 24 hour open café serves a wide bouquet of snacks and beverages. This is where you should head if you wish for something slightly different from the conventional nightlife of Colombo.
PS: Stirred allows you to place your order through IPTV (Internet Protocol Television).
Timings: Round the clock
Location: Cinnamon Red, 59, Ananda Coomaraswamy Mawatha, Kollupitiya, Colombo 03
Visit their Facebook Page to know more about offers and celebrity DJs.
Further Read: The Ultimate Guide To Sri Lanka's Dambulla Cave Temple
And the only Irish Pub in Colombo that makes to top 10 nightlife attractions!
10. Molly's Pub – An Irish Bar named after 'Sweet Molly Malone' song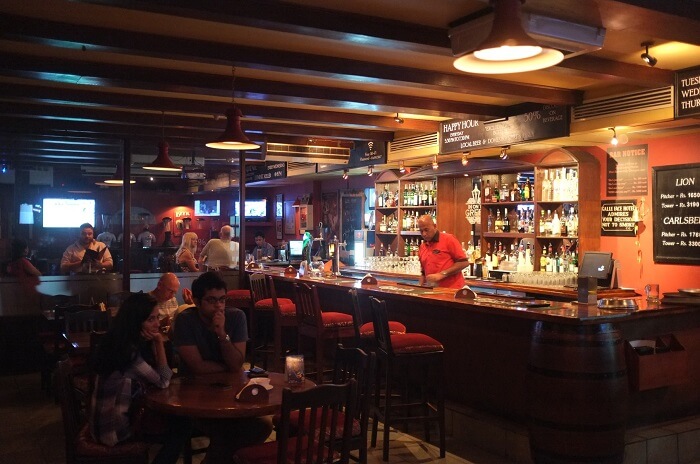 The Irish landlady of the bar, Annette makes sure that her patrons are in a relaxed and lively space all the time. Hidden away in the Nawam Mawatha, Molly's welcomes people with open arms, always.
What's Special: Irish delicacies, friendly owners, lively environment, cozy ambience, and live performances.
Timings: 10 am to 12 am
Location: 46/38, Nawam Mawatha, Slave Island, (Colombo 02), Colombo
Know more about them through their Facebook Page.
Does that spoil you for choices? Still, let us know which ones you won't miss for anything in the world.
Further Read: 19 Photos that will make you wish you were in Sri Lanka Right Now!
Book your trip to Sri Lanka with TravelTriangle and experience the best in this scenic land of Colombo!
---
Looking To Book An International Holiday?
Book memorable holidays on TravelTriangle with 650+ verified travel agents for 65+ domestic and international destinations.
---
Comments
comments