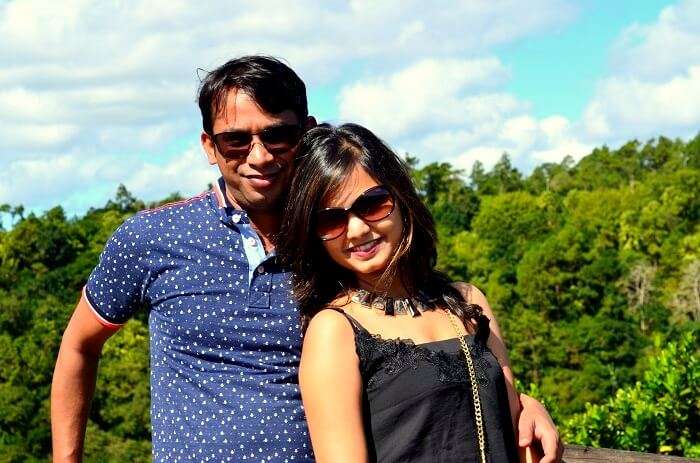 While basking in the tropical sun for 6 nights and 7 days, Nishant and his wife lived life king-size in Mauritius. Not only did they did enjoy serene beaches and stunning nature parks, they were also given a 'home away from home' treatment by the splendid Mauritian people.
Barely a month before flying to Mauritius, my wife and I were thinking about taking a leisure trip outside India. However, we were confused between Mauritius and Bali and needed a little help to organize the trip within our budget. And soon, we found it!
Here's How Their Romantic Trip To Mauritius Led Them To Discover New Places!
Details Of Our Luxury Vacation In Mauritius
I already knew about TravelTriangle and was sure they would be of a great help in our dilemma. Their representative guided me through all the pros and cons of both destinations to make our decision easier. That helped us a lot in selecting Mauritius as our destination. They offered us a sweet deal that covered plenty of things to do during our vacation. The price was manageable and the dates were well within our comfort zone.
Trip Cost: INR 1,44,000
Trip Duration: 6 nights/ 7 days
Agent Name: Stepup Travels
Inclusions: Flights, transfers, accommodation, meals (except lunch), sightseeing, water activities, and GST
Exclusions: Lunch, visa, insurance, and catamaran cruise
Here's a brief overview of the itinerary for our luxury vacation in Mauritius
Day 1: Arrive in Mauritius- transfer to hotel- check in at Pearl Beach Resort & Spa- dinner
Day 2: Breakfast- day trip to Ile Aux Cerfs- water sports activities- transfer to hotel-dinner
Day 3: Breakfast- leisure day- dinner
Day 4: Breakfast- south island tour- return to hotel- dinner
Day 5: Breakfast- north island tour- return to hotel- dinner
Day 6: Breakfast- leisure day- dinner
Day 7: Breakfast- check out from hotel- transfer to airport
In the recent past, Mauritius was praised by all kinds of travel bloggers. They had a lot of positive things to say about it's food, people, and tourist friendliness. Therefore, all the praises sung by travel gurus tempted us to go for a luxury vacation in Mauritius.
I couldn't wait to get my hands on one of those fancy tropical island hats and relax on the white sand beaches of Ile Aux Cerf.
Here are a few of the most beautiful experiences that made our 7-day luxury trip to Mauritius the best adventure of our lives.
Ile Aux Cerfs: A heaven like experience!
We had nothing planned for the day we landed in Mauritius, as by the time we checked into the Pearl Beach Resort & Spa, it was already 3 pm. Therefore, we took our own sweet time on the first day to relax, and catch up on some lost sleep.
On the second morning, my wife and I got ready for an amazing day filled with incredible adventure sports and sightseeing packed into one destination. After we had been transferred to the gorgeous Ile Aux Cerfs via speed boat, we took part in many water sport activities like undersea walk, parasailing, and banana boat ride.
The beautiful coral reefs and white sand bars of Ile Aux Cerf provided for a stunning backdrop to our adventure activities. Parasailing and undersea walking were equally unique and adventurous, as the former took us flying like a bird over the seas while the latter took us deep into the clear blue waters of the Indian Ocean.
Honeymoon In Mauritius: Enticing Things To Do And Must Experiences For Every Couple!
Mauritian People: Incredible hosts, even better companions!
Since the third day of our itinerary was completely free, we decided to rent a car and visit the Tamarind waterfalls. After a scenic hour-long drive, we reached the gorgeous waterfalls and clicked some pictures of the landscape.
Over there, we befriended an Indian couple who lived in Mauritius. They passed on such a friendly vibe, that the connection with them was instantaneous. They shared a few stories about Mauritius and their life on this beautiful island. Later on, they were even kind enough to invite us to their home for tea and snacks (which we obliged). The evening ended on a very heartwarming note as they sent us off with a beautiful parting gift.
South Island Tour: A perfect mix of British, French & Dutch
A lot of colonial countries controlled Mauritius over the past few centuries and as a result, their architecture displayed a fine mix of British, French and Dutch designs. The south side of Mauritius gave us a feel of being on a secluded European island. Small towns, limited number of people, and self-sustaining societies truly gave it a European vibe.
The Perfect 5 Day Family Trip To Mauritius
Casela Nature Park: A crazy safari into the wild!
Instead of going for the North Island tour, we visited the Casela Nature Park for an adventurous open-jeep safari. It was a fantastic experience witnessing a wide array of animals in their natural habitat. We were even lucky to pet a few ostriches and zebras. Along with wildlife safaris, Casela is also known to host a number of adventure activities like ATV riding, tube slide etc.
Catamaran Ride, Barbecue, and Dolphin Sightseeing – a perfect day at the ocean!
On the penultimate day of our luxury vacation in Mauritius, we went for an incredible catamaran cruise. The cruise took us into open waters where we saw dolphins in their natural habitat.
At one point, we saw the dolphins swimming right along the boat, as they hopped in and out of the water in a playful mood. At that moment, it felt like receiving one of those rare gifts of nature that no amount of money or know-how could get us.
 Best Honeymoon Experiences For Couples In Mauritius
A Spa treatment we would never forget!
To end our luxury vacation in Mauritius with a relaxing couples spa was definitely a master stroke. A rejuvenating massage after seven days of travel and adventure gave the perfect end to the beautiful tale we could have only dreamt of.
Far more than our expectations, this 7-day luxury trip gave us an experience we will never stop talking about. All we hoped for was a quiet vacation on a beautiful island, but what we got in return was so special. Thanks to TravelTriangle and Stepup Travels, every little detail of this incredible vacation was delivered as promised.
What added to the special feeling was how friendly the local people are to tourists. Not only did the people of Mauritius share their culture with us, but they also made an unbelievable effort to make us feel right at home with their amazing hospitality. This experience definitely urged me to plan a return to Mauritius in the not-so-distant future.
An Adventurous 7 Day Honeymoon Trip To Mauritius
High points:
Meeting the people in Mauritius is such a delight. I can visit Mauritius again and again just because of the locals.
Watersports at Ile Aux Cerf was an incredible adventure for the both of us.
Low points:
Something unique like Casela Nature Park could've been added to the itinerary instead of North Island Tour.
Here is a perfect mix of Beaches, nature, and luxury. Book your Mauritius tour package and savor the tropical sun!
Frequently Asked Questions About Luxury Vacation In Mauritius
How much does a Catamaran cruise cost per couple?
INR 8,800 for a full-day tour that includes drinks, lunch and barbecue.
Does the Indian driving license work as a proof for renting a car in Mauritius?
How much does it cost to rent a car in Mauritius?
It costs INR 2,400 per day (excluding fuel)
---
Looking To Book An International Holiday?
Book memorable holidays on TravelTriangle with 650+ verified travel agents for 65+ domestic and international destinations.
---