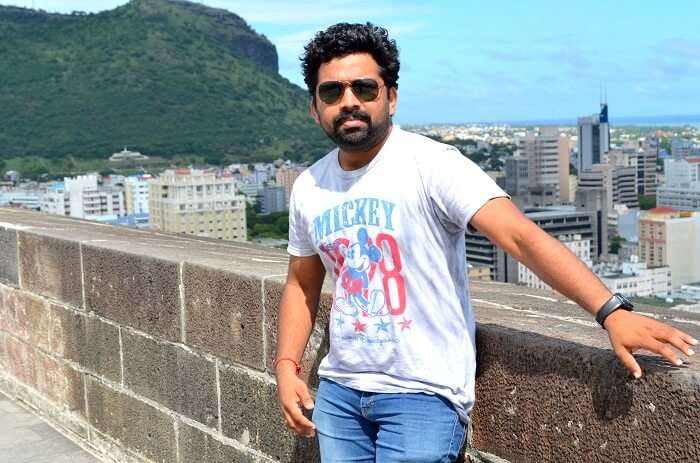 "I feel proud in saying that, my travel partners are not my friends or colleagues, but my parents. Our passion for travel and exploring new places, has lead us to beautiful and serene places all around the world".
Anu Ravi shared his experience of visiting a brilliant, top-notch international destination on a fantastic 4 nights/5 days trip to Mauritius.
Trip Cost: INR 1,15,500
Trip Duration: 4 nights/5 days
Agent Name: Advance Trip Experts Pvt Ltd
Inclusions: Flights, transfers, accommodation, meals (excluding lunch), sightseeing, and visa
Exclusions: Lunch and travel insurance
My parents and I had prepared an elaborate bucket list for all the places we wish to visit in the world. This time, we thought of traveling to a tropical destination serenaded with luxury and natural beauty. Hence, we made space in our busy work schedule to travel on a family trip to Mauritius.
Honeymoon In Mauritius: How To Plan A Perfect Honeymoon
Therefore, I started planning for our trip by searching for family packages for a trip to Mauritius. After researching on Google, I landed on the TravelTriangle website which provided customized packages. I filled a form at their website and soon got a call from a TravelTriangle agent who noted my requirements.
Very soon, I had quotes coming in via email through multiple agents of TravelTriangle. I selected the package given to me by Advance Trip Experts Pvt Ltd My parents were particularly excited upon seeing how easily the trip got planned within our budget. Their preconceived notion of planning international trips being a hassle, was nicely debunked with the help of TravelTriangle
Day 1: Arrival in Mauritius
Here's A Magical Way To Spend 7 Days In The Mesmerizing Mauritius
We boarded our late night flight from Kochi and arrived in Port Louis, Mauritius at 2 pm. We landed on a very beautiful day, as the sun shone as bright as our excitement levels on that particular day. Upon our arrival, a guide was present to receive us and drive us to the Le Grand Bleu Hotel.
As we reached the hotel for our check-in, we were greeted very warmly by the hotel staff into their fantastic hotel. It was almost dark as we settled in our rooms, which were very luxurious. Therefore, we decided to rest after dinner and save our energy for the upcoming days.
Day 2: Stunning views on our tour to Ile Aux Cerfs
Feeling The Tropical Love On A 4N 5D Honeymoon In Mauritius
We began the day with a delicious breakfast and proceeded with our driver to Belle Mare. Over there we took part in many thrilling adventure activities like parasailing, undersea walk, and banana tube ride.
After an exciting session of adventure sports, a speedboat took us to Ile Aux Cerfs. We thought that we were done with the adventure, but no, the speedboat ride was a thrill in itself! For a second, it even got my brave parents nervous.
All of that nervous subsided so easily as the boat glided on the beach of our drop point at Ile Aux Cerfs. My God! We were looking at probably the most scenic island we had ever seen! With a white sandy beach, turquoise blue water, and lush green vegetation, Ile Aux Cerf was my literal definition of paradise.
After spending the day at Ile Aux Cerfs, we left the island and arrived back to Belle Mare. From there, our drive took us back to the hotel. We arrived back at our room tired and satisfied at 7 pm. The best day of our trip to Mauritius came to a relaxing end.
Day 3:Scenic South Island sightseeing tour
Places To Visit On A Serene 6 Day Family Trip To Mauritius
This day of our trip to Mauritius was reserved for sightseeing. Post breakfast, we drove to the city of Curepipe.
We began our sightseeing by visiting a ship building factory and the extinct volcanic crater of Trou Aux Cerfs. In between all this, we also squeezed in a bit of time for duty-free shopping. We stopped for a quick lunch and resumed our sightseeing with a visit to the nature park of Black River & Plaine Champagne near the village of Chamarel.
The final few hours of our day took us to the Mangal Mahadev statue temple and seven colored earth in Chamarel. A nice mix of spirituality and natural beauty at this tropical paradise. At 6 pm, the sightseeing tour ended, and the driver took us back to hotel for the night.
Day 4: Classy elegance of the North Island tour
Things To Do On A 7 Day Honeymoon In Mauritius
We were scheduled to visit the north island for the penultimate day of our trip to Mauritius. The driver, punctual as usual, was present to pick us up at 9 am for the start of our sightseeing tour.
He drove us to the capital city of Port Louis where we visited the Citadel and Champs De Mars race course. The Citadel was perched atop a hill and provided panoramic views of the city. A place, where I managed to click a few good shots of the scenery.
After lunch, we drove to the Le Caudan/Port Louis Waterfront. A shopping complex with more than 150 shops of leading international brands. We really liked the shopping center for its clothing outlets and jewellery stores.
Later on, the driver took us back to the hotel, where we put our feet up and relaxed on the final night of our trip to Mauritius.
Day 5: Departure from Mauritius
The next morning, we packed our bags and checked out of the hotel at 10 am. We bid farewell to the staff who were exceptionally kind and welcoming to us. Their hospitality and service made sure that our trip to Mauritius was memorable. The driver took us the airport, from we boarded our flight back to Kochi.
Surely, there is no shortage of luxury and natural beauty in Mauritius. If anything, we would've loved to stay longer in Mauritius. I won't deny that the thought of having a retirement home at this wonderful island crossed my mind. The place is just so good that it engulfs you in it's beauty and peaceful vibe. Lastly, I would also like to thank TravelTriangle for making this trip to Mauritius possible with such ease and economical value.
A 7 Day Magical Honeymoon In Mauritius
High points:
The speed boat visit to the Ile Aux Cerfs was an incredible experience.
The colonial-style architecture of Mauritius was admirable.
Tips to travelers:
For people who love to shop, Le Caudan Waterfront is a must-visit place.
Doing research on the internet before heading to Mauritius is very important.
The sun hits really hard in Mauritius. It is recommended to carry a hat and sunscreen on your vacation.
The serene blue shores of Mauritius await. Book your Mauritius family package and enjoy the serene landscape with your loved ones!
---
Looking To Book An International Honeymoon?
Book memorable honeymoon on TravelTriangle with 650+ verified travel agents for 65+ domestic and international destinations.
---