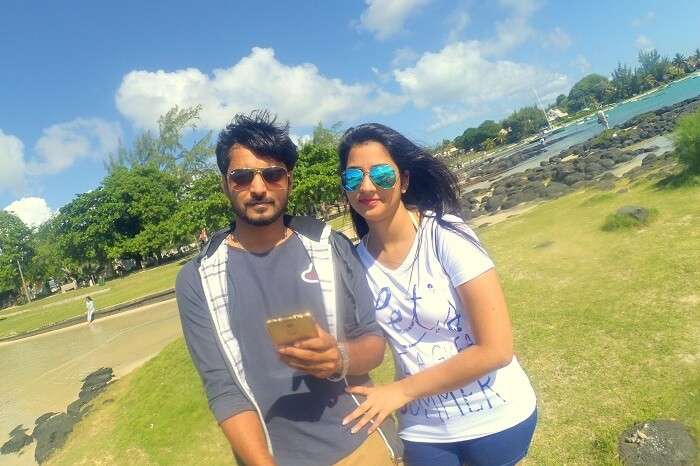 As passionate beach lovers and adventure enthusiasts, my husband and I were looking for a memorable vacation destination. An exciting Mauritius tour package with plenty of thrilling water sports and picturesque white sand beaches was something that crossed our mind.
However, before going on a vacation, my husband and I wanted to familiarized ourselves with the pros and cons of our possible destination. After thoroughly researching about Mauritius, we were impressed with the island's beauty and picturesque landscape.
From what I could see online and get through word-of-mouth, Mauritius had a pleasant romantic vibe helped by pristine beaches and warm hospitality.
Honeymoon In Mauritius: Enticing Things To Do And Must Experiences For Every Couple!
About Our 6N/7D Mauritius Tour Package
I browsed through multiple online travel portals and TravelTriangle provided me the best quotes for a week-long romantic trip to Mauritius. What's more, I could customize my Mauritius tour package to suit the specific needs of my vacation. Without any further delay, I went ahead with the booking procedure and blocked the dates for our romantic trip to Mauritius.
Trip Cost: INR 1,54,000
Trip Duration: 6 nights/7 days
Agent Name: Outshine Holidays Pvt. Ltd.
Inclusions: Flights, transfers, accommodation, meals, sightseeing, visa, and gst
Exclusions: Lunch, water activities, and travel insurance
Here's a quick look at the itinerary of our romantic trip to Mauritius
Day 1: Arrive in Mauritius- check into Anelia Resort & Spa- leisure day- dinner
Day 2: Breakfast- east island tour- visit to Ile Aux Cerfs- return to hotel- dinner
Day 3: Breakfast- full-day North Island tour with Port Louis and Pamplemousses- return to hotel- dinner
Day 4: Breakfast- South Island tour with volcanic crater and Chamarel Nature Park- return to hotel- dinner
Day 5: Breakfast- road trip in Mauritius- dinner
Day 6: Breakfast- road trip in Mauritius- trip to Flic En Flac beach- dinner
Day 7: Breakfast- scuba diving- check out of hotel- transfer to airport
---
Mauritius Honeymoon Packages On TravelTriangle
Begin your married life with an exotic honeymoon trip to Mauritius. Experience the best of Mauritius with North and South island tours: Inclusive of Hotels, Sightseeing, Transfers, & Meals. Best Prices Guaranteed. Customizable Package & Free Guidance From Destination Experts.
---
Unearthing the lesser explored gems of Mauritius
We landed in Port Louis with a bucket-load of enthusiasm and energy. My husband and I had put in a lot of effort into stitching together our dream romantic trip to Mauritius. As positive vibes surged through our body, the long flight and the overnight travel did not affect our minds at all.
The Perfect 5 Day Family Trip To Mauritius
At around 2 pm, we checked into the Grand Anelia Resort & Spa.Our itinerary was free for the day, so we decided to take a few hours to settle into Mauritius, sunbathe, and relax in the infinity pool.
Red Roof Church and Pamplemousse at North Island
We visited a tiny fishing village by the name 'Cap Malheureux' on the day of our North Island tour. Over there, we visited the famous Red Roof Church that stood like a gleaming attraction in the middle of nowhere. Its bright colors, Victorian architecture, and peaceful surroundings made it probably the most visited church in Mauritius.
Unfortunately, the other sightseeing places we visited on the North Island weren't as appealing as the Red Roof Church. Therefore, we parted from the group, and took a public bus to witness the Botanical Garden in Pamplemousses. Famous for its enormous lily flower pond, the garden was a lovely retreat to an otherwise dull day.
Maconde Rock & Gris Gris Beach
For the fifth and sixth day of our romantic trip to Mauritius, we rented a self-drive car to explore the landscape of this scenic country. Driving in Mauritius was a pleasure. On one side there were spectacular mountains painted a lush green, and on the other hand the beautiful coastline with bright blue waters and stunning beaches.
We arrived at the hairpin bend on the highway at Baie du Cap and climbed the stairs to Maconde rock. At the top, we enjoyed a fabulous view of the ocean waves smashing against the rocks and cars maneuvering the scenic hairpin bend.
Best Honeymoon Experiences For Couples In Mauritius
Finally, we arrived at the southernmost point in Mauritius- Gris Gris. A sturdy sea cliff that gave the impression that it was crying once the ocean waves smashed against the cliff and the water poured down its face. We also spent a few hours at the Gris Gris beach which was only a five-minute walk from the sea cliff.
An Adventurous 7 Day Honeymoon Trip To Mauritius
Tasting Dholl Puri and visiting Flic-en-Flac
Not only did we unearth beautiful places to visit in Mauritius, but we also ate some delicious local cuisine that we had never heard of. Dholl Puri, inspired by the Indian dish Aloo Puri, was a sumptuous delicacy we saw all over Mauritius. With so many Indians in Mauritius, it wasn't a surprise that one of our most famous dishes made its way into the Mauritian staple diet.
In the afternoon, we visited the alluring Flic-en-Flac beach. As it was the penultimate day of our Mauritius tour package, my husband and I thought of unwinding at this pristine location. We ate a light lunch, saw the sunset, and admired the longest and most scenic white sand beach in Mauritius.
Snapshots From An Incredible Honeymoon Trip To Mauritius
A scuba diving adventure on the final day
As with most good things in life, we saved the best for the last. On the final morning, we got up early to go for a scuba diving session at TICABO Diving Center. Their amazing expertise and know-how of scuba diving convinced us of the safety and thrilling experience we were looking for in our first dive.
Swimming beneath the surface with all kinds of fishes was a magical experience. The calm surroundings and the constant blue took our minds to a completely different planet altogether.
A 7 Day Magical Honeymoon In Mauritius
Our Mauritius tour package was a big hit because we explored the island, the only way we knew how. We followed our heart, got immersed into the culture, and wherever possible traveled that extra mile to discover something truly memorable and incredible. The places we visited were special, but the invaluable part was the time spent in each other's company. 
High points:
The beauty of Ile Aux Cerfs is unparalleled. It is a must-visit place.
Hiring a self-driven car and exploring Mauritius was amazing.
Scuba-diving in the clear blue waters of Mauritius was incredible.
Low points:
The resort booked for us was labeled as a four-star resort, but in reality, it wasn't up to the mark in terms of hospitality and services offered.
North Island tour wasn't an attractive sightseeing place, and it can be skipped altogether.
Tips for travelers:
After scuba diving, there should be a gap of a minimum 12 hours before you board a flight.
Book water sports at Ile Aux Cerfs itself to get a bargain on water activities.
Quad biking in Casela Nature Park wasn't worth it because the ATV track was pretty boring and lacked the thrills of a bumpy ride one would expect in such activities.
Carry GoPro or any other action camera if you are going for adventure activities in Mauritius.
The serene blue shores of Mauritius await. Book your Mauritius romantic package and discover something new at this tropical paradise!
Frequently Asked Questions About Mauritius Tour Package
How is the nightlife in Mauritius?
There is no nightlife as such in Mauritius. Most of the commercial places shut down after 6 pm. It is advisable to return to your resort/hotel premises once it gets dark.
What is the ideal place/beach resort to stay in Mauritius?
Travelers should book a resort on the Western coast of Mauritius. The place is less windy, the temperature is more stable, and the beaches are more beautiful.
How much does it cost to rent a car in Mauritius?
Looking To Book An International Honeymoon?
Book memorable honeymoon on TravelTriangle with 650+ verified travel agents for 65+ domestic and international destinations.
---