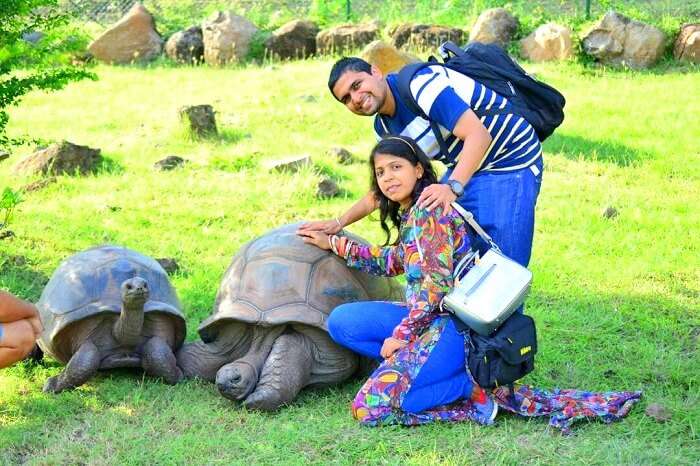 We experienced what luxury looks like when it is blended with love and natural beauty. Our 7 day honeymoon trip to Mauritius was a memorable experience that made the bond between my wife and I even stronger.
Trip Cost: INR 1,25,000
Trip Duration: 6 nights/ 7 days
Agent Name: Travelia Holidays
Month of Travel: April 2017
Inclusions: Flights, transfers, accommodation, breakfast and dinner, sightseeing, visa, and 1 sim card
Exclusions: lunch, travel insurance, and entrance fees
We decided to go for a honeymoon trip to Mauritius because it would give us a perfect opportunity to spend time with each other at a tropical paradise. I wished for a hassle-free holiday experience where everything would be taken care of.
A 7 Day Magical Honeymoon In Mauritius
I started browsing the internet for a travel site which would give me quotations at competitive prices. I liked the customized packages offered by TravelTriangle, and based on the customer reviews, I decided to book my package through their website.
I soon received a call from the TravelTriangle representative asking for my requirements. He connected me to various travel agents who sent me different quotations and itineraries as per my needs. I finalized Travelia Holidays because they provided us an excellent hotel, flight tickets at a decent price, and a vegetarian meal option in our package.
The booking process was completed without any trouble. My wife and I were looking forward to the range of adventure activities we had lined up for our honeymoon trip to Mauritius. Seven days in a tropical paradise with your life partner felt like a far-fetched dream coming true.
Day 1: Arrival in Port Louis and check in at the resort
Things To Do On A 7 Day Honeymoon In Mauritius
We boarded an early morning flight from Mumbai and landed in Mauritius by noon. A cab picked us from the airport and dropped us to Veranda Grand Baie, where we were welcomed with a superb cup of tea.
Our first evening was a light one, so we decided to explore the resort. The pool area was beautifully lit- a place where we could sit, relax, and enjoy the cool evening breeze. We ended our day with a delicious dinner at the resort restaurant.
Day 2: Ile Aux Cerf Islands – The Gem of Mauritius
This was the best day of our trip, as we visited the beautiful island of Ile Aux Cerfs. We did thrilling water activities like parasailing, tube ride, and undersea walk. We departed from our hotel at 9 am via cab and afterwards, took a speedboat to Ile Aux Cerfs.
The island was stunning, and the beaches were gorgeous and pristine. It felt amazing spending time on this island with my wife, where we enjoyed the beauty of the landscape and the thrill of the watersports. In the evening, we were reluctant to leave this paradise and go back to our hotel. But alas, we had to return with the last boat of the evening to our resort.
Places To Visit On A Serene 6 Day Family Trip To Mauritius
Tip: Ile aux Cerf's is a wonderful experience for all couples and it deserves extra time allotment. Travel agents can get it included in their leisure day, so as to experience this beautiful island in a better manner.
Day 3: Leisure Day in Mauritius
We spent our leisure day by going to the Mont Choisy Beach. Post breakfast, we took a private cab and traveled to the beach on a lovely morning. Mont Choisy, which also happened to be the longest beach of Mauritius, was filled with people on the account of it being a sunday. We spent our time taking photographs, playing volleyball with locals, and drinking coconut water.
 Feeling The Tropical Love On A 4N 5D Honeymoon In Mauritius
Later on, we visited Pereybere Beach which was a 10-minute drive from Mont Choisy. Pereybere was a smaller and more secluded beach, where we walked for a while and took photographs. We returned to our hotel in the evening to have dinner, and then called it a night.
Day 4: Witnessing the marvels of South Island Tour in Mauritius
This day, we went for the south island tour in Mauritius. Post breakfast, we started the tour by taking blessings at a Lord Shiva Temple on the south island. It was followed by a visited to the the volcano site of Trou aux Cerfs, Chamarel waterfalls and seven coloured earth.
The sightseeing tour ended with a visit to the ship building factory in the city of Curepipe. Over there, we did some shopping as we purchased a cute little ship for my aunty as a birthday gift, and a jewellery box for my lovely sister. It was a nice place for buying souvenirs and gifts.
Here's A Magical Way To Spend 7 Days In The Mesmerizing Mauritius
We had a pleasant time during the sightseeing tour, as the day went by smoothly without any problems. We returned to the resort at night,and as usual, had dinner before heading to sleep.
Day 5: Trip to Casela Nature Park
This day, instead of following the itinerary and going for the north island tour, we visited Casela Nature Park. There were six couples along with us, who decided to switch to the Casela Nature Park tour because the locals gave us average reviews regarding the sightseeing on north island.
Honeymoon In Mauritius: How To Plan A Perfect Honeymoon
At Casela, we had a lot of fun by clicking pictures of birds, lions, turtles, and other rare animals. Afterwards, we rented quad bikes in Casela for a few hours of adventure. While riding our quad bikes, it felt so cool that we could drive down to the area where deers, ostriches, and zebras were hanging out. An amazing day spent with the rich wildlife of Mauritius ended as we boarded our cab in the evening and returned to the resort.
Day 6: An unforgettable submarine ride
After having a delicious breakfast, we boarded the shared cab which took us for a submarine tour. The submarine took us 35 ft underwater, and the experience was absolutely surreal. The insides of the submarine were surprisingly comfortable, as 10 people went on the tour at once. Initially, I was worried a bit about feeling claustrophobic but the AC worked perfectly.
A Sweet Honeymoon Trip About Must Do Things In Mauritius
Post lunch, we visited a beautiful botanical garden where we spent a few hours walking and exploring the gardens. There was plenty to see in terms of plant life including some massive and interesting trees. For us, the best exhibition to see was the white lily and lotus garden. At 6 pm, we took a cab back to the resort, where we had dinner and relaxed for the night.
Day 7: Last minute shopping in Mauritius
We finally arrived at the last day of our honeymoon trip to Mauritius. In the afternoon, we had just enough time before our flight to go to a local mall called Super U for shopping. We bought clothes, key chains, handbags, and a small diary for our family. We checked out of our hotel in the evening, and arrived at the airport for our 9 pm flight back to Mumbai.
Our honeymoon trip to Mauritius was a superb experience. The beautiful wildlife, greenery, and climate made our stay in Mauritius amazing and memorable.
My wife was my pillar of support during our honeymoon trip to Mauritius. I was a bit scared of doing adventure activities like undersea walk and para sailing. However, she was always quick to remind me that nothing is dangerous, and she is there to complete these activities with me. With such belief and understanding amongst ourselves, I was pretty sure that nothing could go wrong .
Our Wow Moments:
Our hotel – Veranda Grand Baie, it was an excellent cho with superb beach and market nearby and really elevated our whole trip experience.
The underwater sea walking is a must experience for everyone. It is something that you won't get to enjoy anywhere else.
Submarine ride of 35 ft which we will never experience anywhere in the world and the superb nature and water very clean.
Low points of our trip:
Every day by 5 pm, we were supposed to return to our hotel due to the local transport restrictions. We wish we could have been given a little extra time at places like Ile Aux Cerfs Island because wrapping up everything so quickly leaves little time for enjoyment
Tip for travelers:
Mauritius is a great destination for honeymooners. One should always plan their vacation properly especially the leisure days so that there is always something else to do and look forward to.
Keep whole day for Ile aux Cerfs in your 6 Nights 7 Days Mauritius tour itinerary- it will be worth it.
Don't miss Watersports activities like undersea walk, para sailing, tube ride.
Casela Nature Park is an incredible place in Mauritius for adventure and wildlife.
Submarine ride and Botanical Garden is a must visit place for couples.
Our overall experience with Travel Triangle
I would like to give TravelTriangle a rating of 9 out of 10. A special mention to Pinaz who gave us the best quotes, hotel, and places where we had good vegetarian food. He guided us at every step of the way to make our honeymoon the best.
The serene blue shores of Mauritius await. Book your Mauritius honeymoon package and see the unbelievable adventure in store for you!