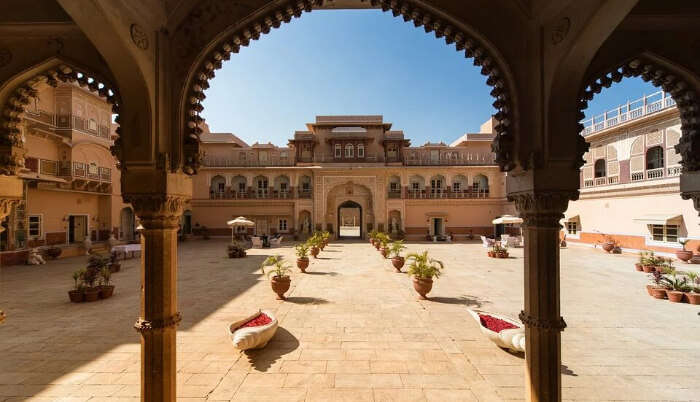 Kota, also called as the 'Jewel of Chambal', is a Rajput city in the northern portion of Rajasthan state. This city was founded in the 17th century and has a long history of unpleasant invasions by several dynasties. For instance, the Mughals, the Marathas and the Maharajas of Jaipur attacked Kota during their respective rule. Despite that, the city has managed to keep its rich Rajasthani culture and tradition intact and alive.
Situated on the banks of Chambi River, Kota has no shortage of tranquil beauty and bewitching scenery. The city is a brimming destination of exquisite arts, tradition, heritage, and culture. Most recently, this city has come to be known as a major hub of coaching institutes, thus a destination for education management.
Amidst all that, Kota's lovely sites and attractions have somehow been shadowed. The city thrives with Doria craft, gold embroidered sarees, Rajput forts, palaces, heritage hotels, and glorious monuments.
A Few Breath-Taking Places To Visit Nearby Kota
A well-connected city like Kota has several splendid tourist spots. They remain the fascinating gateways, perfect for weekend tour plans as they are only 3-5 hours of drive away from the main city. Here are a few of them:
1. The Divinely Serene: Baroli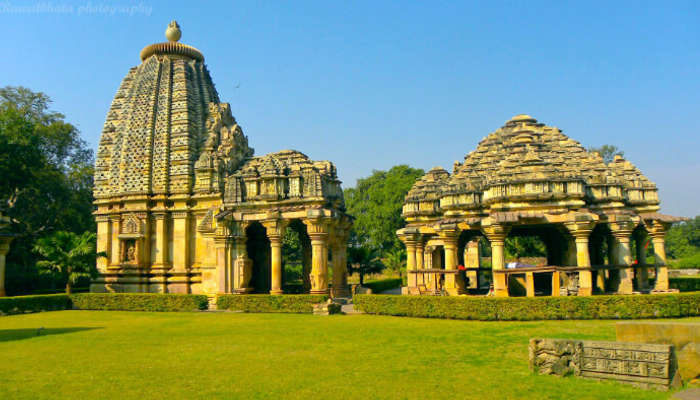 It lies in the embrace of scenic hills and is a place surrounded by forests, harboring a lot of greenery. Two seconds into this valley, you would know what an exhilarating & refreshing experience you are up for. Amidst such beauty are old Shiva temples where worshippers have flocked for centuries. Such temples are the ruins of ancient shrines – built back in 10th century. They have remained an epitome of Hindu architecture since then. The lush grass is spread like a carpet beneath your feet and you can hardly resist the temptation to walk barefoot. As a cherry on the cake, Baroli offers a gorgeous view of the nearby Chamba River.
Bundi, which is a nearby city, has the most iconic step wells, Rajput palaces and forts like the Talwas Fort and Badal Mahal. It is near enough to Baroli and is worth checking out!
Distance from Kota: 45 km from the city
Timings: 10 AM – 5 PM
Accessibility & Audience: Family Friendly, Group Tours
Must Read: Find Out The Best Places To Visit In Sikar: Rajasthan's Hidden Gem!
---
Rajasthan Holiday Packages On TravelTriangle
---
2. The Magnificent Heritage Of Jhalawar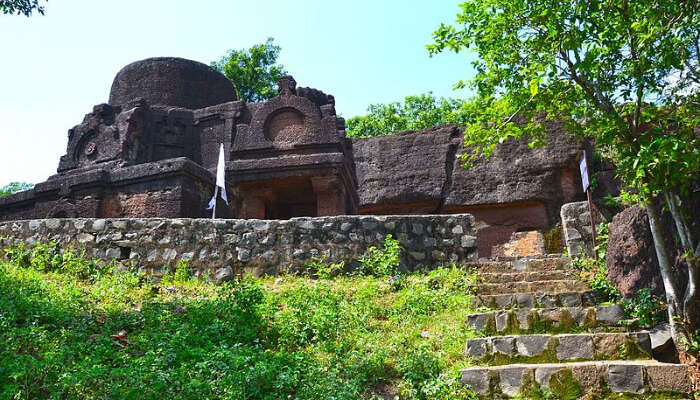 This famed city is both religiously and historically significant for Indian travellers and tourists. It is situated about 82 km from Kota and is home to glorious forts, shrines and a renowned theatre as well. The Jhalawar Fort is the most popular destination for its mesmerising paintings. One more fort of similar importance is the Gagron Fort built in the 7th century and has the distinction of one of the oldest forts. What entices travellers about this fort is that it rests in the lap of the forests and waterfalls.
Chandrabhaga Group of Temples is a pilgrimage centre which exemplifies ancient art. They are situated on the banks of river Chandrabhaga. The natural beauty of the surroundings and the aesthetics will surely be a pleasant sight to behold. There is also a theatre that pretty much has been inspired from the Roman theatre style. Also known as the Bhawani Natya Shala, it was built in 1921 and is a great compliment to modern Indian architecture.
Distance from Kota: 82 km from the city
Timings: Morning till evening
Accessibility & Audience: Family-friendly, Group Tours
Suggested Read: Explore Top 13 Things To Do In Sikar: The Magnificent Desert City Of Rajasthan!
3. The Legendary City Of Tonk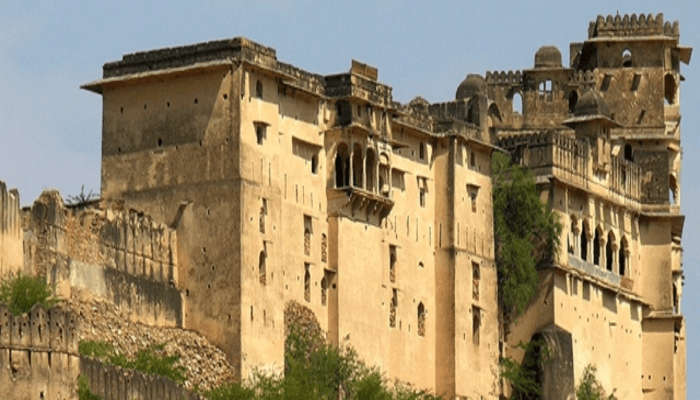 It is also known as the 'Lucknow of Rajasthan' or as famous poet, Akhtar, once called it as the 'Sheerani ki Nagri.' Situated at the banks of Banas River, this town is an anecdote to the marvels and glory of the bygone era. It has a plethora of monuments, historic and cultural sites which illustrate its Nawwabi roots. One such place is the Sunehri Kothi that had been constructed by the then Nawab Mohammed Ibrahim Ali Khan. It is also known as the Golden Mansion because its walls are polished with gold and decorated with the mirrors.
The Sunehri Kothi is renowned for its glass paintings. Other places to reckon at Tonk are its spell-bounding gardens. Be it the beautiful layout of Mysore Garden and Hiran Magri or the allure of the open spaces at Shivaji Gardens.
Distance from Kota: 143 km from the city
Timings: 10 AM – 5 PM
Accessibility & Audience: Family-friendly, Group Tours
Suggested Read: Popular Cafes In Bikaner To Hangout With Your People On A Rajasthan Trip In 2020
4. The Wilderness Of Ranthambore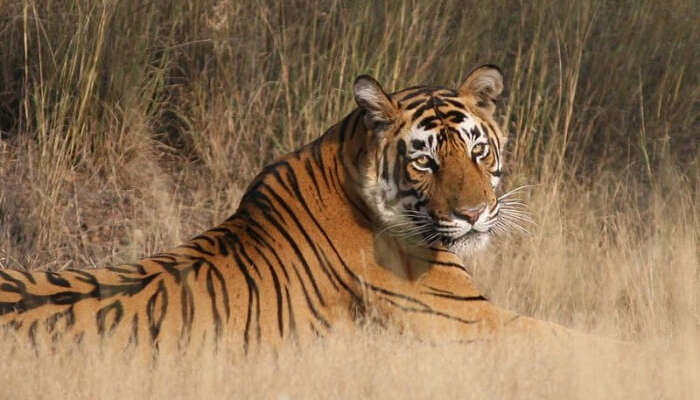 This delightful destination gets its name from the nearby hills 'Ran' and 'Thambor.' It is popular for its National Park and Tiger Reserves. It is a haven for photographers due to its unique location amid dense forests. There is a plethora of flora and fauna preserved through local efforts in their natural habitats. The reserve is a place to experience an adventurous safari, and spot its leopards, rare striped hyenas and various other wild animals. If not for the animals, then you can visit its pictorial lakes like the Padam Talao, Malik Talao and Surwal Lake for a meditative effect.
You can also check out some historical places like the Ranthambore Fort to have a walk through the cultural timeline of a wondrous era. Much is to be explored at the remodelled ruins of the forts, palaces and crumbling pavilions.
Distance from Kota: 150 km from the city
Timings: 10 AM – 5 PM
Accessibility & Audience: Family-friendly, Group Tours
Suggested Read: Get The Rajasthani Bohemia On! 14 Amazing Shopping Places In Jaipur To Explore In 2020!
---
Planning your holiday in Rajasthan but confused about what to do? These Rajasthan travel stories help you find your best trip ever!
---
5. Chittorgarh: Where A Glorious Past Awaits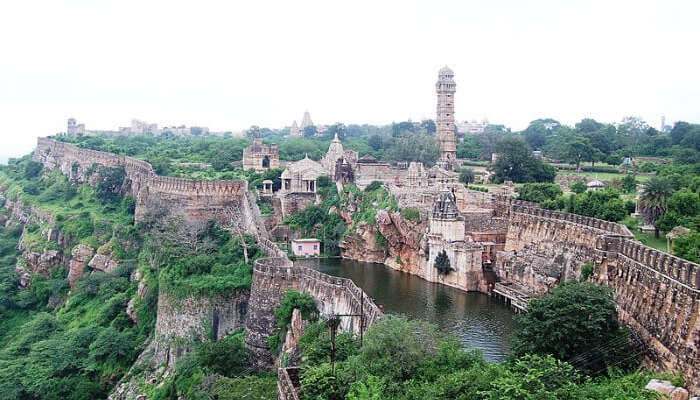 This historically significant place is located at about 168 km from Kota. It finds a mention in the Mahabharata as well, therefore, it depicts its cultural importance in terms of ancient and modern history alike. This city is popularly known for its Fort for the fact that armies upon armies have found its walls to be an impenetrable one.
Chittorgarh Fort is located on a hill of about 180 m high. Inside the fort is the graceful Fateh Prakash Palace which harbours a shrine as well and an artistic fountain. The city also has an Archaeological Museum which puts on the display wonderful cultural and historical artefacts which are the remainders of an ancient era. For a dose of nature, you can also visit the nearby town of Menal which is touted as the 'Mini Khajuraho' for its one of a kind natural beauty.
Chittorgarh also has several temples, shrines and dargahs in and around it along with many Buddhist temples as well.
Distance from Kota: 168 km from the city
Timings: Morning till evening
Accessibility & Audience: Family-friendly, Group Tours
Suggested Read: 7 Places To Visit Near Rajasthan For A Cultural Holiday Experience
6. The Pink City Of Jaipur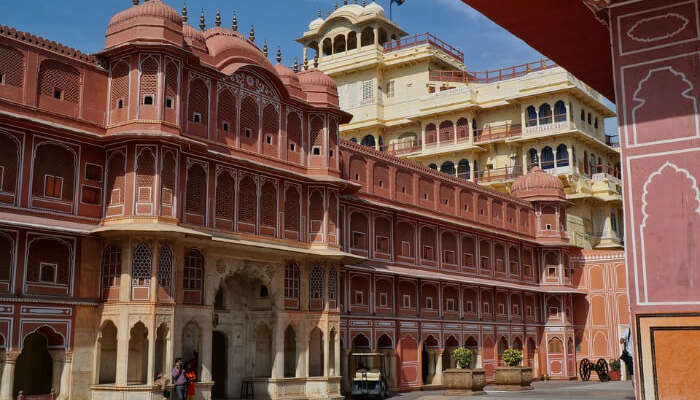 One of the oldest cities of Rajasthan and its capital city, there is absolutely nothing that this picturesque city cannot offer to please and delight its visitors. Even though the city is located in a semi-desert area; it has a lot to explore. It makes up for the lack in nature's delights through its awesome fairs, forts and food.
Plus, you will never find yourself idle or bored in Jaipur for you have a great number of things to do here. Your options include camel riding, rock climbing, hot air balloon rides and much more.
Culturally speaking, Jaipur is a shoppers' haven where handicraft, artefacts, antique jewellery, local heritage apparels, etc. are available.
Distance from Kota: 236 km from the city
Timings: Round the clock
Accessibility & Audience: Family-friendly, Group Tours
Suggested Read: 5 Places To Visit In Rajasthan In January Which Has Something More Than Just The Palaces!
7. The Heavenly Jewel: Ajmer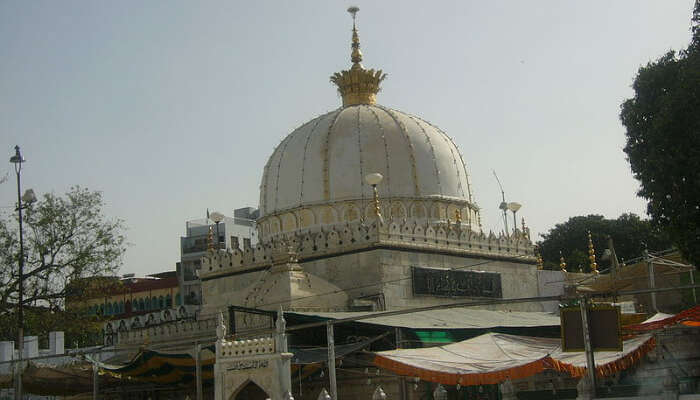 Ajmer is a very ancient city in Rajasthan which is 203 km from Kota. Its foundations go back to the 7th century. It is situated around Aravalli Hills and has some of the most enchanting tourist sites. Popular amongst them is the Dargah Sharif of Saint Moinuddin Chisti. It hosts a large number of pilgrims throughout the year. A nearby site to the Dargah is the Taragarh Fort.
Ajmer also harbours a beautiful artificial lake which is surrounded by the Pavilions or Baradari. It is called the Ana Sagar Lake and was remodelled by the Mughal King Shah Jahan. The city also has one more artificial lake named the Luni Lake. Both of these lakes are scenic sites and make for an ideal picnic spot too.
Temples, shrines and museums are in abundance in Ajmer that literally makes it a religiously harmonious holy city. Popular are the Adhai Din Ka Jhonpra, Brahma Temple at Pushkar and popular Nasiyan Jain Temple. Their architecture depicts the iconic styles of the Mughal era and the museums house the armoury and artefacts which will narrate the story of the bygone era.
Distance from Kota: 203 km from the city
Timings: Round the clock
Accessibility & Audience: Family-friendly, Group Tours, Worshippers
Further Read: 14 Places To Visit In Rajasthan In Monsoon In 2020 For Those Who Love Rains!
Surely, it goes without saying that there are a great many places to explore near Kota. All of which makes for an adventurous journey offering enough avenue to all types of travellers. There is something for everyone. If you want to get lost in a world of the past – spend some quality time with friends or family or take a solo trip – then the places to visit near Kota won't disappoint you.
Frequently Asked Questions About Places to Visit Near Kota
Q. When is the best time to visit these places near Kota?
A. These places are pleasant throughout the year. But definitely, October to March months are best suitable. During the rest of the seasons, it can get too hot. Winters too are a delight here.
Q. How do I experience these places at their best?
A. You can always take into account the festivals and fairs happening around these places. You can easily find the info on the many cultural activities on the web and plan your trip accordingly.
Q. How safe is it to travel to these places?
A. They are comparatively safer and crime rates aren't very high. People are friendly and helpful, especially around holy places.
Q. How does shopping fare in places nearby Kota?
A. Well, they are a shoppers' paradise. There are government-approved emporiums, textile shops, bookstores apart from the local shops and bazaars. Native jewellers, carpets and antiques are also good items to shop because of their cultural values.
---
Looking To Book A Holiday Package?
---
People Also Read:
Places To Visit in Jalgaon Places Near Salem Places In North India
Comments
comments