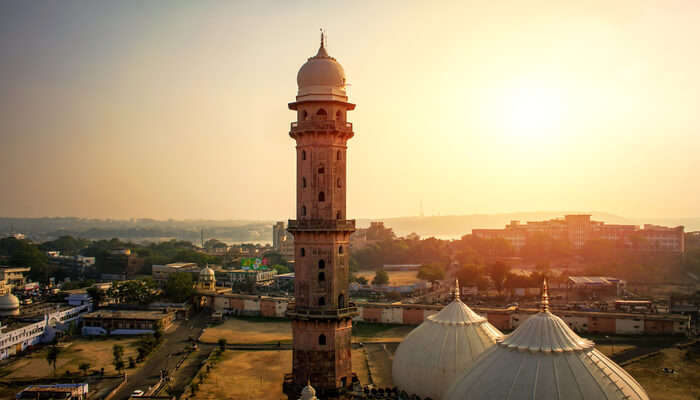 Bhopal resides in Madhya Pradesh and has a contrasting landscape around it. Also, there are many religious shrines and two jyotirlingas located near Bhopal. There are around 100 places to visit near Bhopal that are waiting to get explored. The places are famous not only in India but across the globe and people often come here to spend good time to explore all these places. Most places are also a perfect weekend getaway near Bhopal. Some of them are listed below and adorned with the title of UNESCO world heritage like Khajuraho Temple and Sanchi Stupa. Nearby cities like Ujjain, Gwalior, Indore, Mandu have great monuments of ancient times that are preserved to date.
Top 9 Places To Visit Near Bhopal
Madhya Pradesh, the heart of the country India, is a destination that never fails to surprise. With so many places to visit near Bhopal, this destination is always action-packed for all kinds of travelers. Take a look!
1. Pachmarhi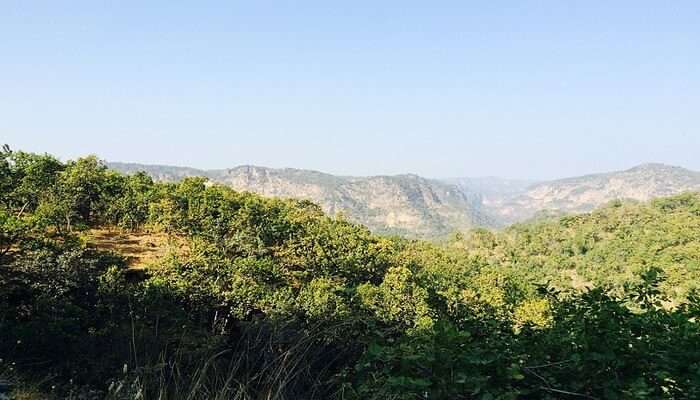 Image Source
Pachmarhi is a hill station that is located on the highest point in Madhya Pradesh and is also known as "Queen of the Satpura Range". The hill station is located at an altitude of 1,067 meters and is home to leopards and bison. The landscape is breathtaking and is also famous for its caves where Pandavas are said to have resided during their exile. The place is full of dense forests and acts as a perfect weekend getaway for many. People from nearby cities pack their things and come to escape from their daily busy routine to this place and unwind. The place also has few churches from the colonial era. The main places to visit in Pachmarhi are Bee falls, Jata Shankar caves, Pandava Caves, Dhoopgarh, Handi Khoh, Mahadeo hills. Pachmarhi is just 47 km from Pipariya. The nearest airport is in Bhopal (239 km away). Regular state-run buses are available to reach this place from nearby cities as it is a popular hill station.
Distance from Bhopal – 211 km
Must Read: All You Need To Know About Sanchi Stupa in Bhopal
2. Ujjain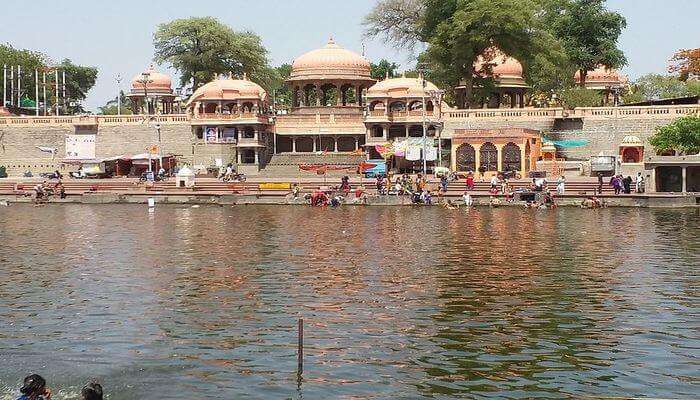 Image Source
Ujjain is the home of Lord Shiva and is one of the holiest cities for Hindus in India. The city is located on the banks of Shipra River in the Malwa region and is one of the four cities where Kumbh Mela resides. This makes Ujjain a place with the largest peace gathering of people where hundreds of millions of people come and reside. To add to this tranquility, there is also a Jyotirlinga shrine in Ujjain out of twelve all over India. The place is the mecca for getting an education in Madhya Pradesh and is one of the richest cities in terms of religious piousness. People come here from various countries to witness the magic of this city. The city is located 52 km from Indore and has the nearest airport in Indore. Top attractions in Ujjain includes Mahakaleshwar Temple, Kal Bhairav Temple, Ram Mandir Ghat, Kumbha Mela, Harsiddhi Temple, Kaliadeh Palace. Winters are the best time to visit Ujjain as the temperature is pleasant than (October to March).
Distance from Bhopal – 190 km
Suggested Read: 8 Enchanting Resorts In Bhopal That Prove Simplicity Is Beautiful Indeed
3. Indore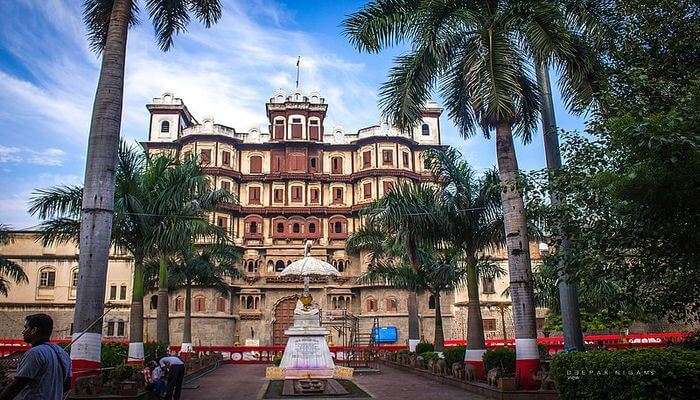 Image Source
Indore is known for the Lal Bagh Palace, Rajwada and shopping. The city has a rich culture that has been preserved over the centuries. The best time to visit Indore is from July to March. The temperature is always soothing here except for peak summers when you might not like to roam around in the scorching sun. The city also adorns Kanch Mandir or Mandir made up from the glass, the Bada Ganpati Temple and Annapurna temple that is the temple of the goddess of food. The city is famous for its delicacies, especially the imarti and poha – a dish made of rice flakes and vegetables. The city is named after Indreshwar Mahadev Temple is one of the few temples of Lord Indra. They say that Lord Indra meditated here on this land and later Swami Indrapuri established this temple to pay homage to Lord Indra. Indore is also known as an educational hub as it has both an IIT and IIM in this city. Also, various industries have established their facilities in this city.
Distance from Bhopal – 194 km
Suggested Read: 10 Captivating Places To Visit In Bhopal – The City Of Lakes
4. Orchha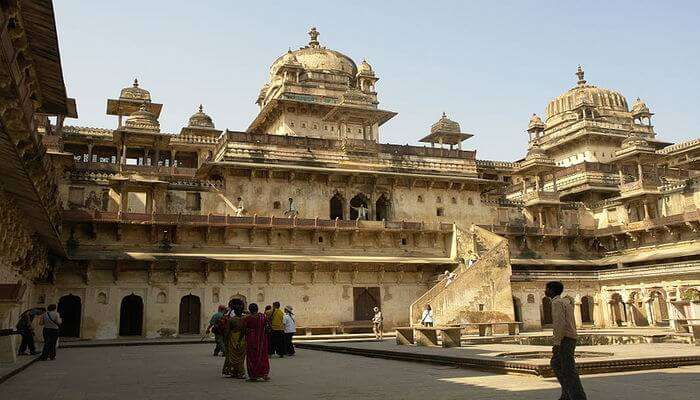 Image Source
Orchha is famous for the Jehangir Mahal, the Orchha Fort, Ram Raja Temple, and Raja Mahal. The city is known for its intricately carved temples and grand palaces. The city is in a pristine location beside the river Betwa and holds historical importance. The place is known to be a place for photographers. You can often see Gurus adorned in colorful clothes siding on roadsides. It's a pleasure clicking them however some of them might ask money for the photographs. The best time to visit Orchha is during winters. There are various travel packages available to visit this place. Other top attractions are rafting and boating in river Betwa, then Chhatris and Chaturbhuj temple. The city is known for rich cultural heritage and is known for architectural marvel and temples present in this place. The nearest airport is in Gwalior (140 km away). There are no direct railways connected to Orchha. One needs to reach Jhansi and travel around 16 km to reach Orchha. The city is small to have any kind of transport however local tempos can be hired to travel around the city.
Distance from Bhopal – 351 km
Suggested Read: Chanderi In Madhya Pradesh: A Detailed Guide To This Unique Town
5. Bhedaghat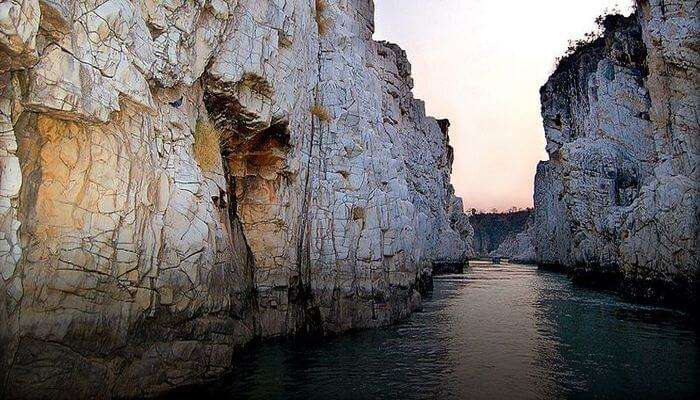 Image Source
Bhedaghat is a city of marble rocks because of 100 feet rocks that reside on either side of Narmada. The top attractions to visit while in Bhedaghat are Marble Rocks, Dhuandhar Falls, Chausath Yogini Temple, and people often love to shop in this city and trench for soapstone artifacts. The city is near Jabalpur. Dhuandhar Falls is 100 feet tall fall that creates a smoke-like effect due to a huge cascade of water falling from such a height. People love to boat in this city especially during moonlight also, you may hire boatmen who would reside several stories while your boat along the shores of Narmada. The best time to visit Bhedaghat is between November and March. The city does not have its airport or railhead. The nearest railway station is in Jabalpur from where you need to travel to this city via cabs of buses. The nearest airport is also in Jabalpur which is 30kms away.
Distance from Bhopal – 303 km
Suggested Read: 5 Places To Visit In Tikamgarh For An Enlightening Trip To Madhya Pradesh
6. Omkareshwar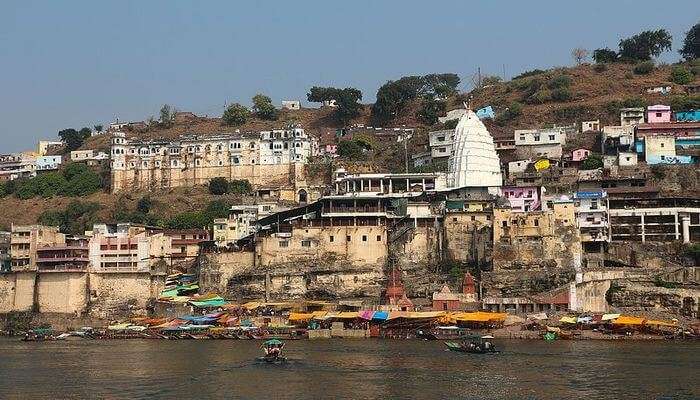 Image Source
Omkareshwar is also known as mini Varanasi and is famous for the Omkareshwar Jyotirlinga which another holy shrine of Lord Shiva amongst 12 Jyotirlingas in India is. The temple is on the island of Mandhata which is the meeting point of Narmada and Kaveri. Mandhata is said to have been in the shape of the holy 'Om' symbol and there are several other temples in this region in addition to Jyotirlinga. These temples also boast architectural value in addition to religious aura and house beautiful frescos and carvings. Omakreshwar is one of the most sacred towns in Madhya Pradesh and has got two ancient shrines that is Omakreshwar and Amarkareshwar. The whole area is bounded by mountains and gives a pristine view of its surroundings. The place is also known for the parikrama of this island. People often pay their homage by covering the outer edge of this island on bare feet.
Distance from Bhopal – 263 km
Suggested Read: 4 Best Tourist Circuits In Madhya Pradesh In 2020
7. Khajuraho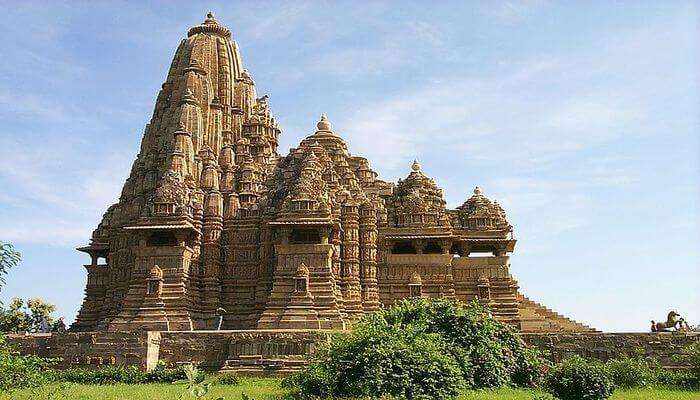 Image Source
Khajuraho is known for its architectural masterpiece and is one of the UNESCO World Heritage sites. The place is known around the world for its stunning temples. These temples are carved with erotic carvings of various sexual activities and are said to have been adorned with such carving to promote marriages in the medieval period when often people were taking the religious path to attain divine place and were not getting married anymore. This resulted in the shortening of the population in the country. Then the king of that state got these temples carved to promote marriages so that people may produce children. These temples are still preserved, and people often come here from across the globe to visit these temples. The heritage is situated in a vast area of land and has around 25 temples spread across this are. Khajuraho being a popular destination has its own railhead and airport. Other places to visit in this city are the light and sound show, Dulhadev Temple, Kandariya Mahadev Temple, Lakshman Temple, Parsvanath Temple, and Vishwanath Temple.
Distance from Bhopal – 372 km
Suggested Read: 10 Honeymoon Places In Madhya Pradesh Every Couple Should Visit In 2019
8. Ranthambore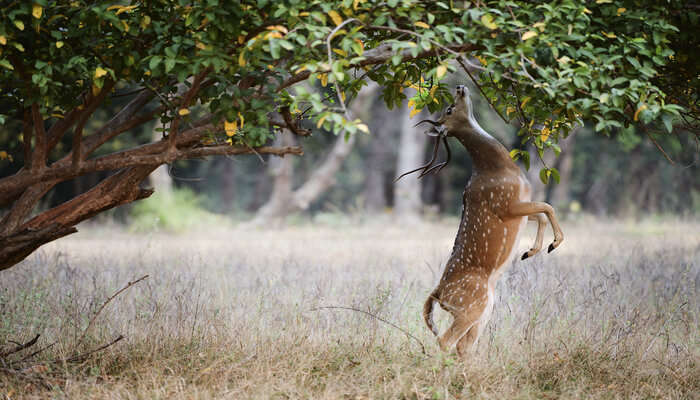 Image Source
Ranthambore is known for one of the best places for sitting tigers live is a must-visit national park near Bhopal. The tigers here are friendly and one gets to see them often sitting in the sun. The place is nestled on the foothills of Vindhyachal Hills and Aravali Hills. The place is known to be a photographers dream with a variety of flora and fauna found in this place. The place is surrounding the Ranthambore Fort and is every travelers and nature lovers' delight. There are various safaris available in this place which adds to your adventure. The place is also a site for birdwatchers with more than 250 species of birds residing and migrating at this place. Many birds have made this national park their native place over time due to the flora and fauna of this national park. Some of the top attractions to do in this lace are Jeep Safari, visiting the Ranthambore Tiger Reserve, Ranthambore Fort, Padam Lake, Trinetra Ganesh Temple, Kachida Valley. The place is well connected via rail and roadways. The nearest airport is in Jaipur (160 km away).
Distance from Bhopal– 484 km
Suggested Read: 16 Tourist Places In Madhya Pradesh That You Should Be Visiting In 2019
9. Jabalpur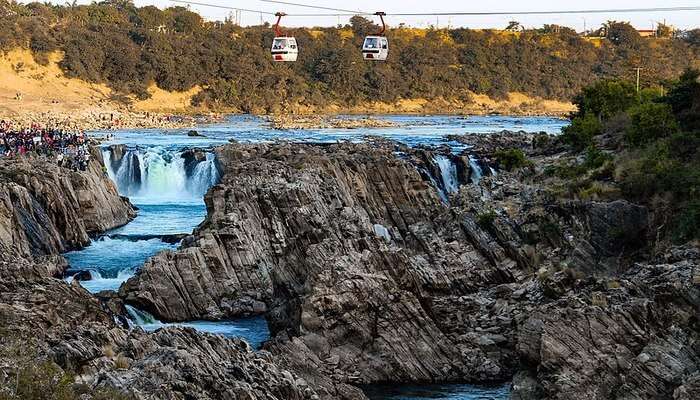 Image Source
Jabalpur is known as the land of glittering marble rocks and is an ancient city located on the shores of the river Narmada. The place is known as an industrial city and is a hub for tourism. The place is known for its splendid Ghats and tall waterfalls. Some of the top attractions in this city are boat riding in river Narmada, SeaWorld Water Park, Madan Mahal Fort, and Treasure Island. The best time to visit Jabalpur is during September and March. The place is full of the humid subtropical climate and is best to visit during winters. Jabalpur is a well-established city and has its own airport and railhead.
Distance from Bhopal – 313 km
Further Read: 7 Mystical National Parks Of Madhya Pradesh
The places mentioned above are of great importance and are some of the selected places which are famous not only in India but across the world. These places are famous for their pristine wealth of ancient architecture and are also listed in UNESCO world heritage. Here we have listed some of the top places to visit near Bhopal however the list is endless. There are almost 100 similar popular destinations which one can visit while in Bhopal whenever you are planning a vacation to Madhya Pradesh!
Frequently Asked Questions About Places To Visit Near Bhopal
Q. What is the best time to visit Bhopal and nearby places?
A. Bhopal is in the subtropical region hence the best time to visit these places would be during the winter months that is between March and October.
Q. Are there other camping sites available near Bhopal?
A. Yes, there are several camping sites available near Bhopal which include camping in dense forest, camping on the lakeside, Kanha National Park, Khajuraho and many more.
Q. What is the best way to reach Bhopal and travel to nearby places?
A. Bhopal has its airport and very well-connected railhead. You can travel to other places via train from Bhopal to visit nearby places.
Q. What are some of the local foods to try while in Bhopal and nearby places?
A. Bhopal has a rich food culture to its roots and some of the delicacies to try while you are in Bhopal are Achar Gosht, Keema, Keema Pulao, Biryani, Roghan Josh, Bafla, Bhopali Pan and many more.
Q. Can we cover Jabalpur and Bhedaghat on the same trip?
A. Yes, anyway, you have to go to Bhedaghat via Jabalpur so you can cover them on the same trip.
Q. When can we witness the Kumbh Mela in Ujjain?
A. Kumbh Mela happens every year during summers. However, Maha Kumbh takes place once every twelve years. Next Mahakumbh will happen in 2028
People Also Read:
Places to visit near Shirdi Places to visit near Ahmedabad Places to visit near Nainital
Comments
comments