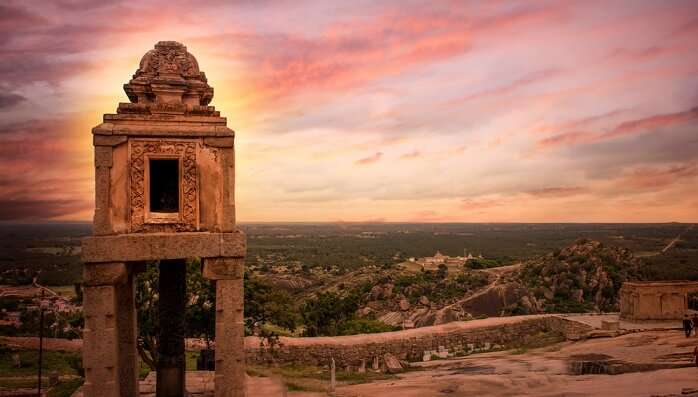 Shravanabelagola is a town in Channarayapatna of the Hassan district in Karnataka. The place is known for the 17m tall Gomateshwara Statue which has a major significance in Jainism and is also the highest monolithic statue in the world. There are many other places near Shravanabelagola where you can get a chance to explore the traditions and cultures of the state.
Top 7 Places Near Shravanabelagola
Take a look at this tailor-made list of places near Shravanabelagola and get to know more about the spiritual and traditions of the place. Read on to know more!
1. The Ghati Subramanya Temple

The temple has a lot of spiritual significance among the devotees and is also famous for its unique architectural style of designing the deities. The unique and the most attractive part of the temple is that the idols of deities Subramanyam and Lakshmi are carved with same stone idol of Subramanyam facing east and idol of Lakshmi facing the west side of the temple.
Must Read: 25 Stunning Places To Visit In Summer In Karnataka For A Relaxing Retreat In 2022
2. Vindhyagiri Temple

Vindhyagiri hills is a hill station near Shravanabelagola and is one of the top tourist spots, famous for the temple. Boost up yourselves to climb 100 steps to reach Vindhyagiri temple. Its rock-cut architectural style and spiritual significance has made it a tourist and sacred place for a lot of devotees. You can have a view of the beautiful images of Jain Tirthankaras. The entrance of the temple is also called Akhandu-bagilu because it was made from a single stone.
Suggested Read: These Best Places To Visit In Karnataka Will Totally Knock You Out
3. Sri Ramadevara Katte Waterfalls

After a tiring trip under burning heat of the climate, visit one of the popular waterfalls near Shravanabelagola that attracts a lot of people with its scenic beauty. Sri Ramadeva Katte Waterfalls is a not only a place for tourists but also a picnic spot. Have a great experience at Sri Ramadeva Katte Waterfalls and enjoy the beautiful place with your friends and family.
Suggested Read: Ecotourism Found New Meaning As Karnataka Unveiled 30 Foot Tall Canopy Walk
4. Chandragiri Hills

Another hill station that is located near Vindhyagiri hills is also one of the famous spots for tourists. You can have a panoramic view of Shravanabelagola from Chandragiri hills. The hill also has a lot of spiritual significance. A number of Jain Basadis are found in this hill. Explore to this beautiful place and discover many more things that you want to know about.
Suggested Read: 20 Fascinating Temples In Karnataka That Are All About Architectural Grandeur!
5. Bandipur Forest Reserve

Bandipur Forest Reserve is located on the banks of Kabini River. It is known for tiger reserve in India and it is also a home to many wild animals like bison, deer species, wild elephants, wild boar, etc. The reserve also consists of wide species of birds as well. If you are an animal lover, spend some time in the forest and discover a variety of animals in the reserve.
Suggested Read: This Private Island Homestay In Karnataka Is A Treasure & You Won't Doubt It!
6. Cauvery Fishing Camp

Cauvery Fishing Camp is the best place for nature lovers to enjoy the wilderness and solitude of the place. Being located in the midst of forests, you can have a majestic view of the flowing river cauvery and a place to camp near it. You can experience a lot of adventure, fun, calm and gather moments at this place.
Suggested Read: Karnataka Cuisine: 22Popular Karnataka Dishes For A Flavorful Culinary Journey
7. Nrityagram

Pay a visit to the village which is oriented to dance. The ethnic ambience makes it attractive among the tourists. It was gestatised by well-known Odissi dancer, Protima Bedi. The idea was to develop a village which is devoted to dance only. Experience the traditional dance culture of India in nrityagram with its magnificent architectural style. It is closed on Sunday and Monday.
Further Read: 15 Hill Stations In Karnataka In 2022 To Rejuvenate Yourself
Gather best experiences and discover the places near Shravanabelagola, Karnataka. Create wonderful moments on your journey to Karnataka with Travel Triangle. Convince your friends & family and don't miss this chance.
People Also Read
Places Near Daria Daulat Bagh Offbeat Places Near Bangalore Places Near Mangalore