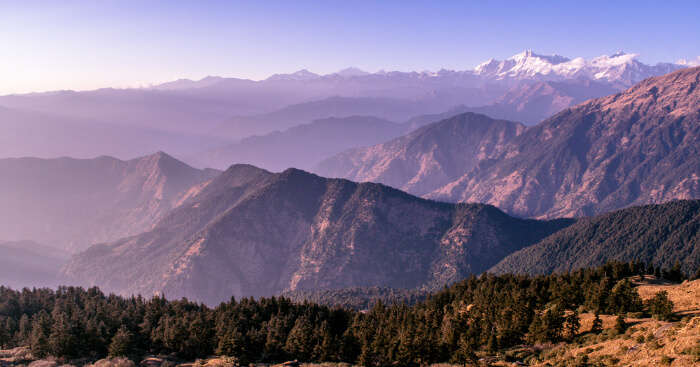 Chopta is a beautiful little hill station in Uttarakhand. Evergreen forests and meadows lend this place a surreal feel. Chopta is surrounded by the mighty Himalayas, making it the best trekking destination as well. It is the base for various trekking destinations like Tungnath, Chandrashila and more. This place is also termed as the "Mini Switzerland" of India due to its scenic beauty. Below are some of the best places to visit in Chopta that'll leave you speechless.
13 Best Places To Visit In Chopta
Are you looking for places to visit in Chopta, Uttarakhand? This refreshing place is known for its numerous enthralling experiences. Here is a list of the top places to see in Chopta that will surely amp up the fun on your trip. Take a look at them and choose what all places will you cover on the vacation. 
1. Tungnath – The Highest Temple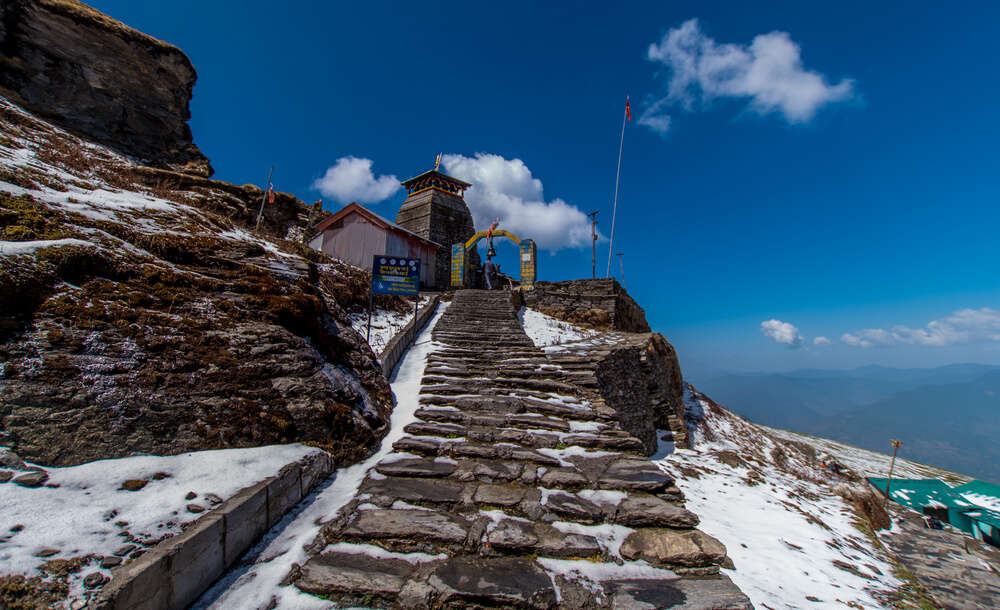 The highest Shiva temple in the world, Tungnath is situated at an altitude of 3680 meters. Expect an unprecedented view of the Himalayas from here. Tungnath is also one of the famous five Panch Kedar shrines of Uttarakhand. One has to trek to Tungnath, but it is one of the easiest treks recommended for beginners. This village is surrounded by evergreen forests of pine, deodar, and rhododendron.
Things To Do: Camping under the stars, trek through meadows and hamlets, visit the holy temple
Location: Rudraprayag, Uttarakhand 246419
8 Fascinating Things To Do In Chopta With Family On Your Uttarakhand Getaway In 2022
2. Deoria Tal – A Quaint Spot

This heavenly lake is located at a distance of 3 km from Sari village. Expect tranquillity and peace here and also a panoramic view of the Himalayan peaks. Do go on a village exploration trip alone or with your group to understand and see the lives of the people of the mountains. It will enhance your experience of Chopta tourist places.
Capturing the daily life of the village folk in your camera is something you must do! Mythological stories say that this place is the spot where the Pandavas were asked questions by Yaksha. Devariya Tal is situated at an astounding altitude of 2300 metre above sea level, which is definitely one of the best places to visit in Chopta.
Things To Do: trekking to the lake, embracing the local life, camping at the lake for the night
Location: Uttarakhand, India
3. Chandrashila – Snow-Covered Hills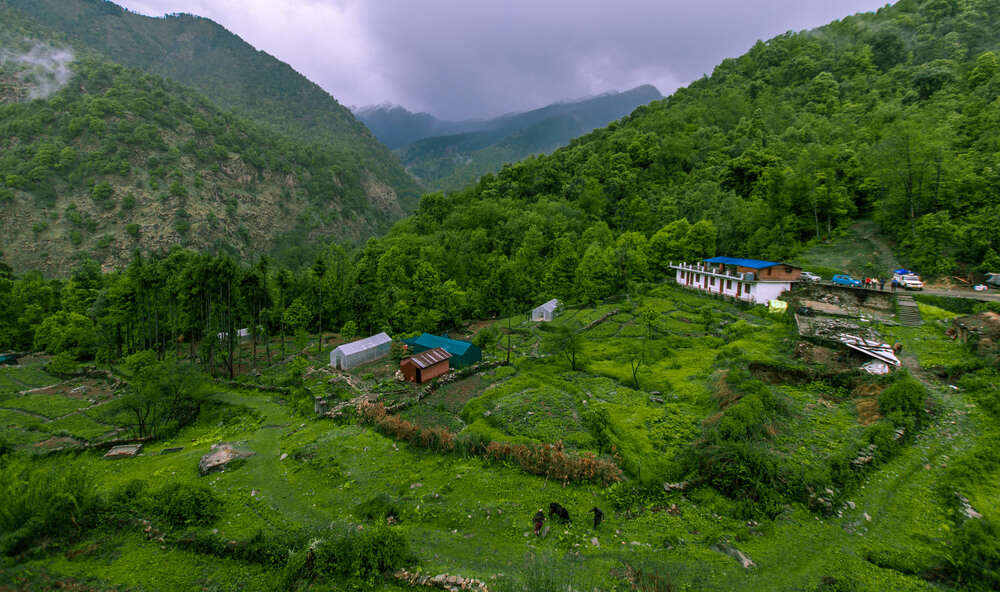 This is the summit of the mountain where Tungnath Mandir and Chopta is situated. Chandrashila is perched at an altitude of 4000 meters above sea level. It is one of the best places for Chopta sightseeing. You can have a 360-degree view of the Himalayan peaks from here, including Kedar, Nandadevi, Chaukhamba and Trishul peaks from Chandrashila.
According to legend, Chandrashila is the place where Lord Ram meditated after defeating Ravana. Chopta has a lot of myths related to the Ramayan. Chandrashila literally means "Moon Rock". You can also visit the temple which is dedicated to the goddess Ganga atop Chadrashila. The views offered by Chandrashila trek are mesmerizing which is why people visit this place time and again.  
Things To Do: trek, enjoy the view of the Himalayas, visit the temple
Location: Uttarakhand, India
Top 8 Chopta Hotels Offering A Perfect Stay In 'Mini Switzerland of India'
4. Ukhimath – Praise The God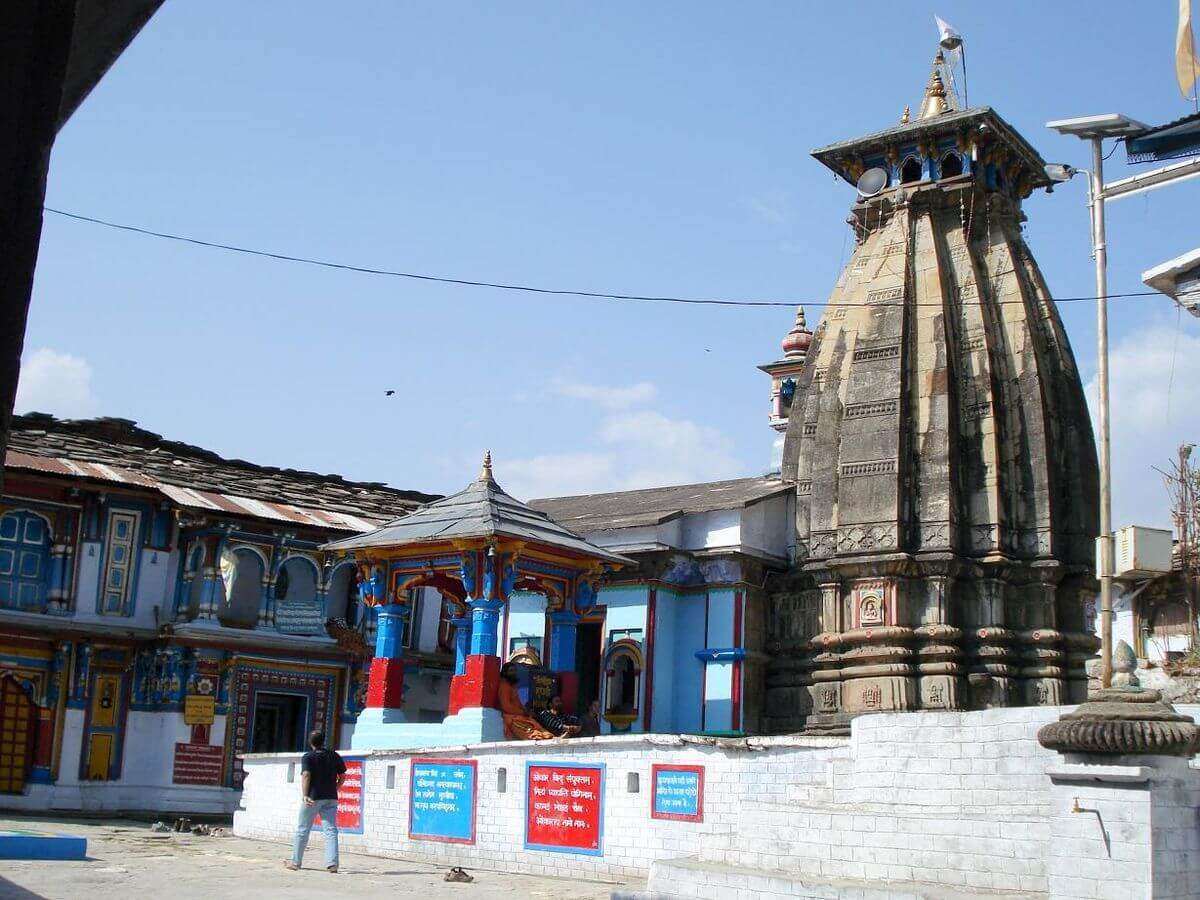 Image Source
Known as winter Kedarnath, it houses Lord Shiva when Kedarnath shuts down during winters. You can view the entire Himalayas from here too. A lot of devotees come here to visit this holy temple. Ukhimath is situated at an altitude of 1300 meters. It attracts a lot of travellers all through the year due to the scenic beauty of the place. You can find solidarity here in the midst of spirituality.
Things To Do: Trekking, visiting the Ukhimath temple, enjoying the view of the Himalayas
Location: Uttarakhand, India
5. Kanchula Korak Musk Deer Sanctuary – Witness Deer Playing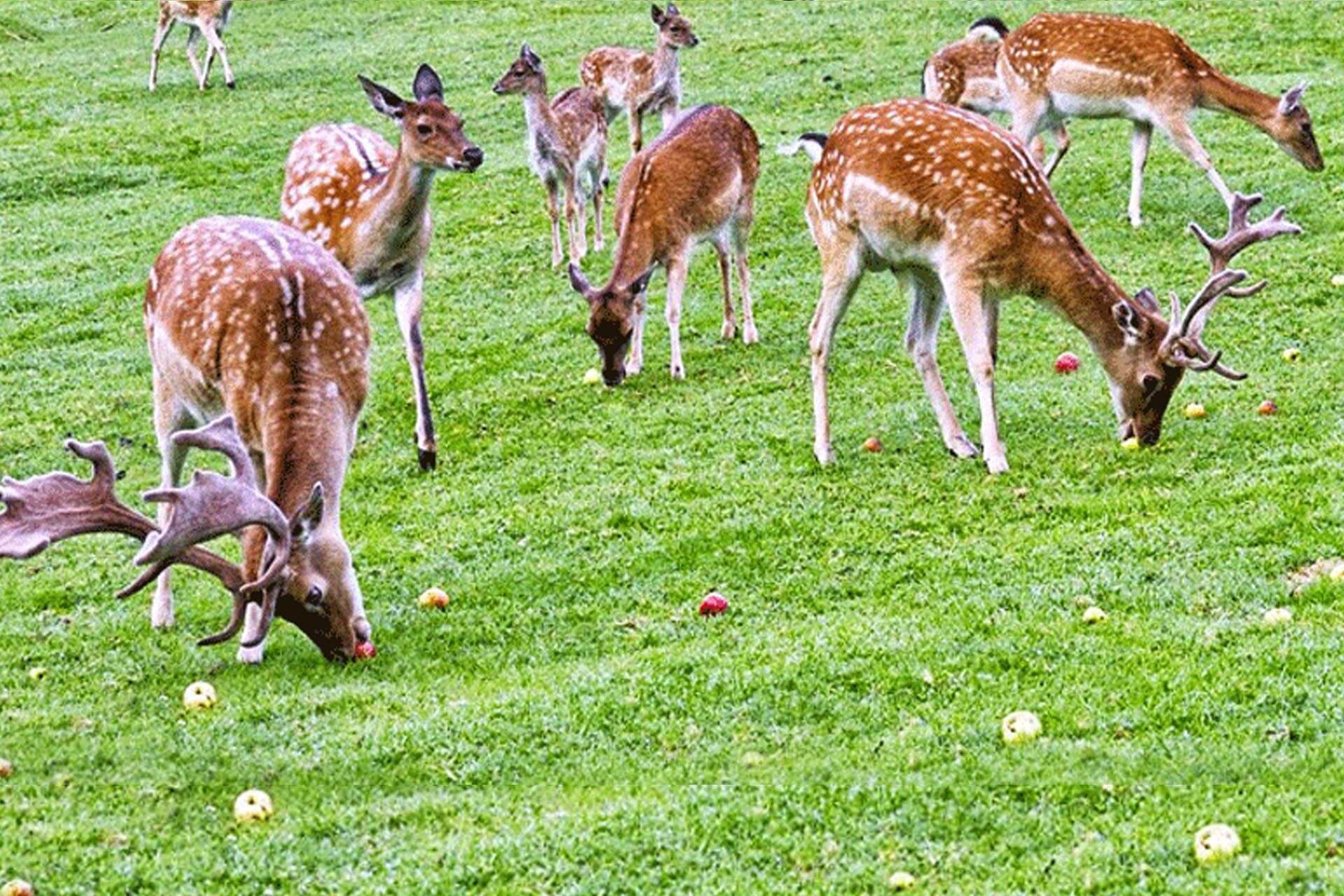 Situated in Chopta-Gopeshwar road, it extends over an area of 5 sq. km and houses many exotic Himalayan birds and animals. Most famous for musk deer, this is a dense forest. An ideal place for all wildlife lovers, rare Himalayan species can be spotted here. Do carry your binoculars to spot distant animals and birds.
Things To Do: safari, wildlife watching
Location: Uttarakhand, India
29 Best Adventure Destinations In India You Must Set Sail For In 2022
6. Madhyamaheshwar Mandir – Pay A Visit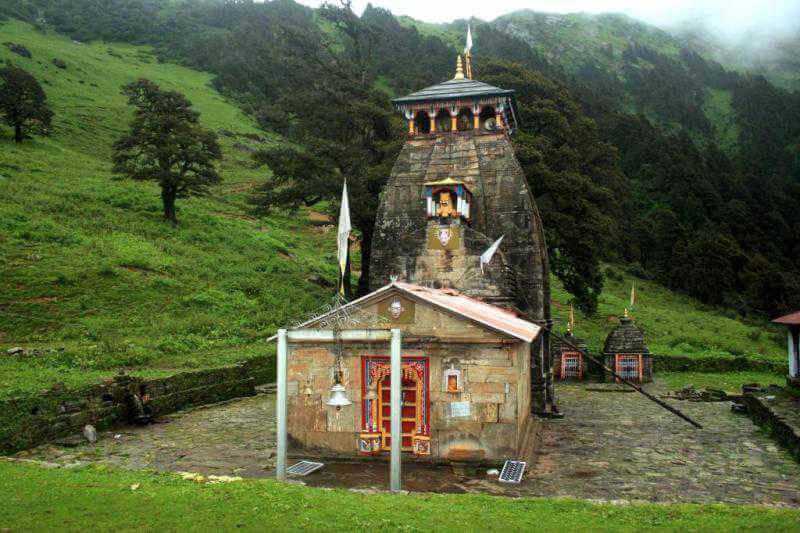 Also known as Madmaheshawar, Lord Shiva's stomach is worshipped here by devotees. This is one of the best tourist places near Chopta. It is situated at an altitude of 3200 m above sea level. The temple is surrounded by the snow-covered Himalayas from one side and alpine green meadows from the other. You can also see the Neelkanth and Kedarnath peaks from this temple.
Things To Do: Sightseeing, visiting the temple, enjoying the view of the Himalayas.
Location: Madhyamaheshwar Temple Trek, Uttarakhand 246469
7. Rohini Bugyal – Camp With Your Gang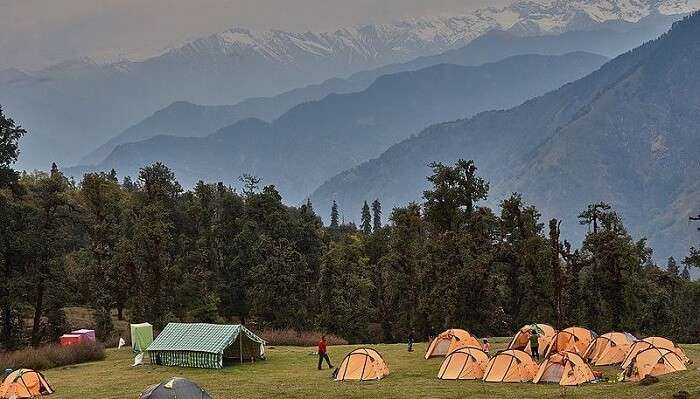 Another one from the list of the top places to see in Chopta is Rohini Bugyal. Blanketed with the dense forest of Chopta Valley, Rohini Bugyal literally means a green meadow. One can visit Bugyal while trekking to Chandrashila peak via Deoria Tal. It serves as a perfect location for camping. If you are an adventurous soul then make sure that you explore this meadow with your friends and spend some time in peace. This is one of the most popular Chopta tourist places. 
Things To Do: Trekking, camping, and sightseeing
Location: Uttarakhand, India

7 Astounding Reasons Why You Should Head To The Chopta Valley In 2022
8. Dugalbitta – Hidden Hamlet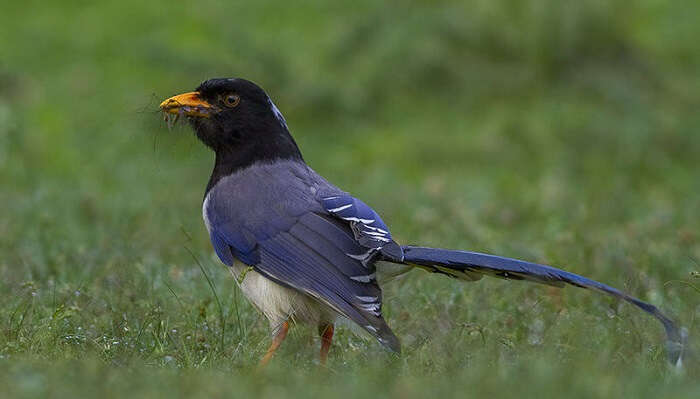 Travellers going to Chopta might have heard of Dugalbitta, a small hamlet that is often overlooked due to the popularity of Chopta. If you are the kind of person who likes to stay away from the touristy crowd then you must spend some time in Dugalbitta as it is one of the top offbeat places to visit in Chopta. 
Things To Do: Birdwatching, explore Kedarnath wildlife sanctuary, and trekking.
Location: Uttarakhand, India

9. Omkar Ratneshwar Mahadev – Religious Visit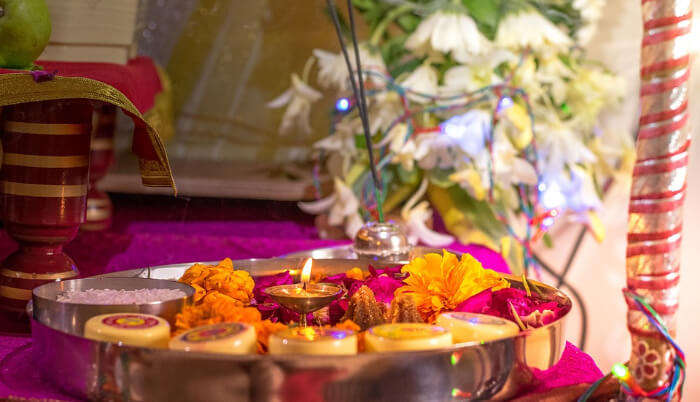 Another most beautiful place to visit in Chopta is Omkar Ratneshwar Mahadev temple that is located in Deoria Tal. This temple is dedicated to Nag Devta, the king of serpents according to Hindu mythology. The temple is known for its unique architecture designed like the iconic temples of Uttarakhand, in terms of Mandap and Garbgriha. You will get to hear numerous mythological stories once you visit this temple and indulge in conversations with locals. So, if you are looking for the best Chopta visiting places offering you complete peace, this is the place to be. 
Things To Do: Religious visit, admire scenic sights and click photographs 
Location: Sari village
10 Chopta Resorts: Perfect Stays In This Mini Switzerland Of Uttarakhand
10. Sari Village – Serene Escapes

Sari Village, also known as Saari Gaon is one of the most popular places to visit in Chopta. It is the base camp for Deorial Lake. Located at an altitude of 7800 feet, the serene village is known for offering romantic escapes. The village is well-connected to the major spots of Chopta and can be easily reached via road. This is one of the most beautiful Chopta tourist places. 
Things To Do: Trekking, hiking
Location: Sari, Uttarakhand
11. Kalimath Temple – Illuminating Hours

If you are planning to visit the popular temples of Uttarakhand located in the nearby area while staying in Chopta then Kalimath is one of the best places to visit in Chopta that you must not miss out on! As the name suggests, the temple is dedicated to Goddess Kali and according to folklore, Goddess went underneath the ground at this place, after killing a demon named Raktbeej. 
Things To Do: Religious visit, sightseeing
Location: Ukhimath, Rudraprayag
Uttarakhand In June: Your Personal Guide For A Blissful Vacay In Summer 2022
12. Bisurital – For Adventure Seekers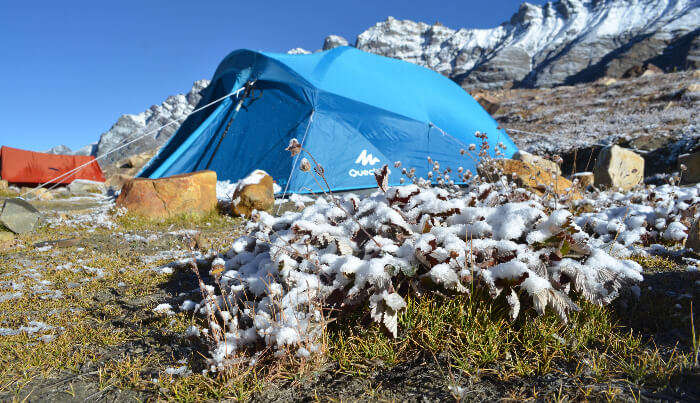 Bisurital is a serene lake that is perched at an altitude of 4000 meters above sea level. This lake is one of the most famous places to see in Chopta.  You can admire the mesmerizing Mandakini valley on your visit to this lake. The place is the most preferred trekking destination for adventurers holidaying in Chopta. As the place is not very popular among the tourists, it gives you a chance to witness the impeccable beauty of Uttarakhand!
Things To Do: Trekking, hiking, sightseeing
Location: Mandakini Valley
13. Baniyakund – Impeccable Beauty

Baniyakund is truly a delight for nature-lovers interested in encountering the captivating beauty of Uttarakhand. It is located in Kedarnath Musk Deer Sanctuary, overlooking the wide horizon of Garhwal Himalayas. This site near Chopta will surely enthrall you with the panoramic views of the surrounding valleys. You will be taking a 15-20 minutes road journey to get here.
Things To Do: Sightseeing, visit the temple of Tungnath on your way
Location: Kedarnath Musk Deer Sanctuary
7 Things To Do In Chopta For A Travel Experience That You'll Cherish Forever
Best Time To Visit Chopta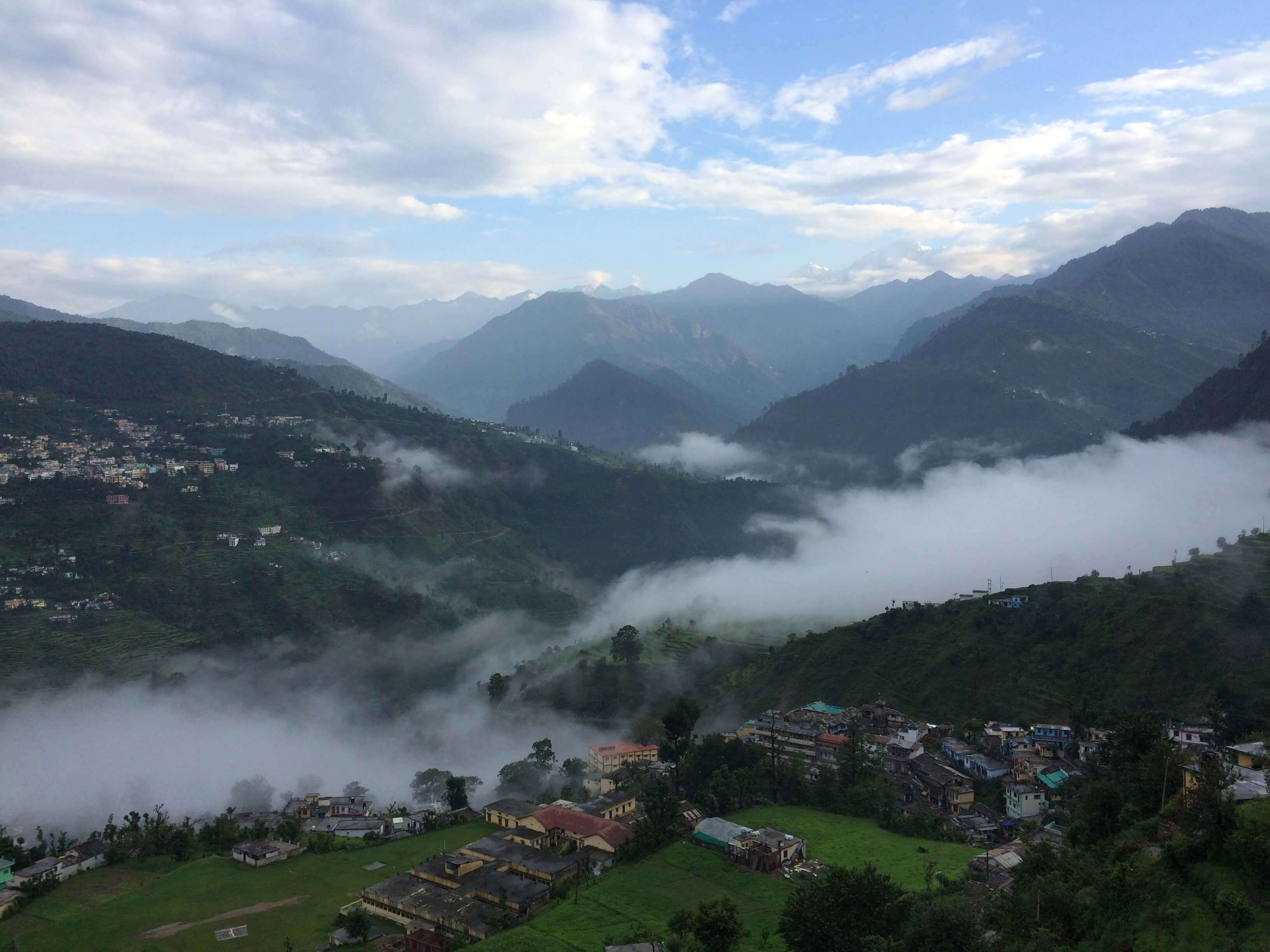 Chopta is one hill station that can be visited at any time of the year. In summer, the season remains cosy and perfect for people who are looking for a quaint getaway. The summer season begins from the month of April and continues till June. While in winter, the weather becomes chilly with snowfall and the whole region is covered with a thick sheet of white, fresh snow. October to December is the best time to witness the snowfall. If you are planning to visit Tungnath then the temple remains open from April to November so you can plan your trip accordingly.
20 Stupefying Winter Treks In Himalayas: Take Your Adventure Game A Notch Higher In 2022!
How To Reach Chopta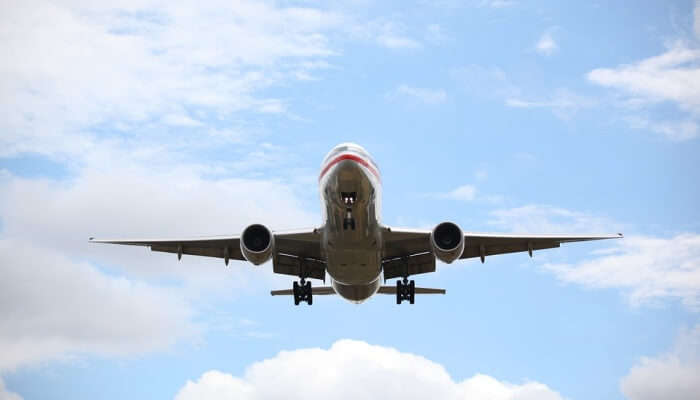 The nearest airport to Chopta is Dehradun airport which is around 97 km from it. From the airport, you can easily hire a taxi to reach your destination. Besides this, Chopta can also be reached via train. If you opt for this option, you need to book a train to Rishikesh Railway Station that is around 100 km away from Chopta. This is touted as one of the most convenient ways to reach Chopta. Alternatively, you can also drive to Chopta from Delhi by taking the NH58 highway.
If you want to add any other interesting place to this list of places to visit in Chopta, you can comment below to help other travellers plan a perfect trip to Chopta You will not be disappointed with the places that Chopta has to offer to you. Moreover, it is a place that you can explore with families or friends. 
For our editorial codes of conduct and copyright disclaimer please click here. 
Frequently Asked Questions About Places To Visit In Chopta
What is the best time to visit Chopta?
April to November is the best time of the year to visit Chopta for all kinds of adventure activities. For snow activities, December to March is a great time to visit.
How many days is enough for Chopta?
3-4 days are enough to visit and cover all the major points in Chopta. You can easily cover the trek in about 3 days. However, you can always increase the number of days if you want to visit more places.
Is it safe to visit Chopta, given the covid situation?
Yes, it is safe to visit Lachung given that you follow all guidelines and take all the necessary precautions. Make sure to get yourself vaccinated before planning a trip, also wear masks at all times, maintain social distance at public places and sanitize your hands regularly to avoid the spread of the virus.
What is Chopta famous for?
Chopta is is a popular hill station and is famous for its picturesque snow-capped mountains and adventure activities such as skiing, trekking, bird watching and more!
Is camping in Chopta safe?
Camping in Chopta is one of the best things to do in this beautiful landscape. Camping is absolutely safe and you can enjoy a number of adventure activities as well.
How can I reach Chandrashila peak?
The last motorable road to Chandrashila peak is Chopta. From here, you will require to trek 3.5 km from Chopta to Tungnath from where it's a 1.5 km trek further to reach the Chandrashila trek.
How do you get to Chopta by bus?
Since there are no direct buses to Chopta, you can get any public transport bus for Rishikesh from where you can get a bus or a taxi to Chopta.
How long is Tungnath Trek?
The Tungnath trek from Chopta is about 4 km and will take you about 3 hours to reach Tungnath.
---
Looking To Book A Holiday Package?
---
People Also Read
17 Places To Visit In Uttarkashi 22 Places To Visit In Panchgani 20 Places To Visit In Thekkady