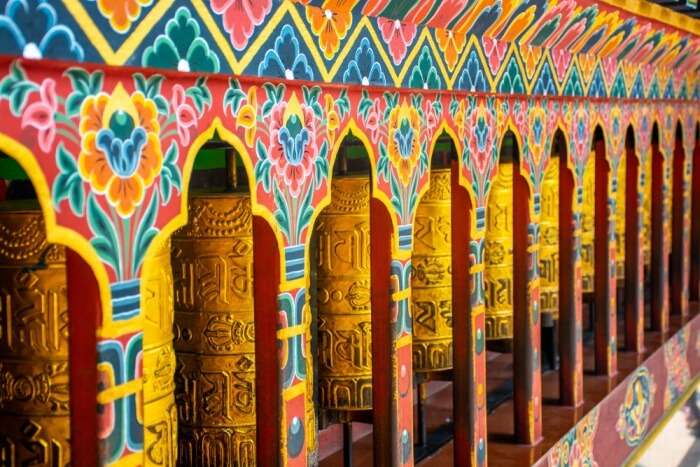 The gateway of the land of thunder dragons, Phuentsholing is often regarded as the abode of kings and queens of the Himalayan Kingdom. Time moves at a slow pace here and the simplicity of the inhabitants complements the serenity of nature. At an altitude of only 300 meters, this commercial center in Bhutan lies adjacent to Indian town Jaigaon on the Himalayan foothills. There are a number of places to visit in Phuentsholing where you can catch a glimpse of the diversity of Bhutanese, Nepalese and Indian cultures.
Top 10 Places To Visit In Phuentsholing
The frontier town serving as the corridor to Sikkim, West Bengal and Assam is certainly worth a visit when you are exploring Bhutan. Here are 10 places to visit in Phuentsholing:
Bhutan Gate
Amo Chhu Crocodile Breeding Centre
Zangto Pelri Lhakhang
Zangto Pelri Park
Karbandi Monastery
Torsa River Side
Phuentsholing Market
Phuentsholing Viewpoint
Phuentsholing Park
Palden Tashi Chholing Shedra
1. Bhutan Gate

Image Source
One of the most photographed places to visit in Phuentsholing, the Bhutan Gate is the main entrance and exit from and to India. In terms of orderly planning, municipal cleanliness, and architecture, the difference between the two cities is evident. Located beside the Regional Immigration Office, the gate looks beautiful with exquisite woodcraft and the well-maintained flower beds in close vicinity create a beautiful setup. The entrance and exit gates are manned by Shashastra Seema Bal (SSB) paramilitary force and Bhutan Police to ensure that the vehicle passes in an orderly fashion, without unnecessary honking, which is deemed as a punishable offense in Bhutan.
Location: The entrance or exit point of Bhutan, on the Bhutan Jaigaon (India) border
Timings: 7:30 AM – 8:30 PM
Must Read: 17 Spellbinding Places To Visit In Thimphu On Your Next Trip To Bhutan
2. Amo Chhu Crocodile Breeding Centre

The Amo Chhu Crocodile Breeding Centre is among the top places to visit in Phuentsholing, should definitely be on your wishlist, especially if you wish to catch sight of the feeding session during the afternoon. A few ponds are there, some of them filled with fishes. Beside the ponds, you can see the endangered gharials, mugger crocodiles, migratory birds, tortoises and fishes in the water. The officials will let you know about their conservation projects and food the reptiles consume.
Location: Close to Phuentsholing bus stop on Amu Chhu riverbanks
Timings: 9 AM – 6 PM
3. Zangto Pelri Lhakhang

For those looking for religious fervor or watching the Buddhist monks chanting hymns during the early morning, the Zangto or Zangdo Pelri Lhakhang is among the best places to visit in Phuentsholing. On the ground floor, there is Guru Rinpoche's replica along with 8 differently manifested life-size idols and paintings depicting the life of Buddha. You will also find 8 idols of Bodhisattva, Avalokiteshvara as well as Shabdrung Ngawang Namgyal on the 1st floor and the main idol of Amitabha on the top floor.
Location: Town Center, near the Indo-Bhutan border
Timings: 8 AM – 6 PM
Suggested Read: Celebrating Our Anniversary On A Romantic Trip To Bhutan
4. Zangto Pelri Park

After paying a visit at the Zangto Pelri Lhakhang and circumambulating prayer wheels, check out the Zangto Pelri Park adjacent to it. One of the kid-friendly places to visit in Phuentsholing, Bhutan, here you will find people from all walks of life. Monks chant prayers, tourists take a stroll, sip coffee or read books, lovers enjoy date and kids flock around the prayer wheels, small pond and the large ball fountain. The immaculacy of the park is what makes it special.
Location: Town Centre, near Indo-Bhutan border
Timings: 8 AM – 6 PM
Suggested Read: Royal Enfield India Bhutan Road Trip: An Account Of Our Most Incredible Bike Journey!
5. Karbandi Monastery

Image Source
On your Phuentsholing sightseeing, Karbandi or Rinchending Goemba is a scenic vantage point with life-size idols of Rinpoche, Shakyamuni and Shabdrung Ngawang. While strolling around the lush garden on the complex, you will find the 8 Tibetan-Buddhist Stupas and enjoy the panorama of the Phuentsholing town and the Bengal plain. Legend has it that couples with infertility issues will be blessed with a child after visiting the monastery.
Location: 400-meter altitude on a hillock of Phuentsholing town
Timings: 7 AM – 6 PM
6. Torsa River Side

Image Source
Undoubtedly among the best places to visit near Phuentsholing, Torsa River Side can be reached easily on foot during a morning walk. Vehicles are not allowed on the track. You will find the basketball court at the end of the walking path. The panorama of the town, the verdant hillocks and the confluence of the two streams of the Torsa can be seen from here and you can also put up a tent to spend a night. The Torsa Tea Gardens are located nearby.
Location:On the upward path from Phuentsholing to Thimphu or Paro
Best time to visit: Early in the morning and in summer, monsoon, and autumn
Suggested Read: Bhutan Travel Tips: A Guide That Unfurls Essential Bits Of Info For Tourists!
---
Planning your holiday but confused about where to go? These travel stories help you find your best trip ever!
Real travel stories. Real stays. Handy tips to help you make the right choice.
---
7. Phuentsholing Market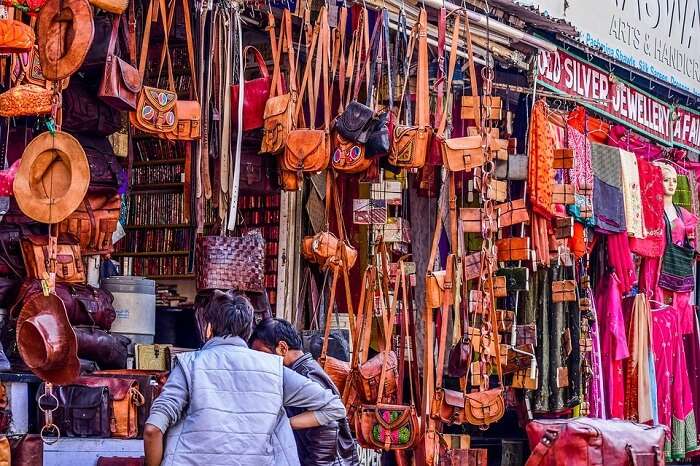 Image Source
For shopaholics, among the best places to visit near Phuentsholing is the Phuentsholing Market which lies a bit detached from the main town of Phuentsholing. If you are not up for buying the costly home decor or bronze and brass idols from the main market, pay a visit to this no-frills market that sells the basic commodities like food items – both cooked and uncooked. Interact with local sellers, buy seasonal vegetables and fruits and be enamored by the herbal incenses.
Location:Enroute to the Amu Chhu Crocodile Breeding Centre
8. Phuentsholing Viewpoint

Image Source
Another places to visit in Phuentsholing, Bhutan is the Peeple Drangra or Phuntsholing viewpoint which lies at an almost same altitude of the Rinchending Goemba. Best visited during the daytime, on clear days, you will get a clear view of the thriving Phuentsholing town as well as the Bengal plains. The hill gradients and the Torsa River flowing beside it creates the perfect setup for photography.
Location:20 minutes drive from Phuentsholing Hospital
Suggested Read: 10 Best Resorts In Bhutan For Luxury And Budget Travelers
9. Phuentsholing Park

Image Source
The oldest park in the town, Phuentsholing Park is one of the popular places to visit in Phuentsholing, Bhutan with your kids or partner. As a relaxing getaway for a quick visit with friends and family, the park has an abundance of towering eucalyptus and broad-leaf sal trees offering shades. There are a few gazebos for resting and a basketball court that is popular for both Bhutanese and Indian tourists. The outdoor gym equipment would be great for fitness-freaks while foodies can enjoy tea, snacks and steaming momo from the food stall.
Location:On the right side of Phuentsholing-Thimphu Road, few meters ahead of RICBL building
10. Palden Tashi Chholing Shedra

Image Source
Among the offbeat places to visit near Phuentsholing is the Palden Tashi Choling Tsu Lakhang which is actually a Buddhist monastic school. The shedra is set up with a backdrop of the stunning Himalayas and the wonderful murals at the assembly hall or Tsuglhakhang will definitely please you. The school offers educational programs especially for nuns and monks during their teen years to early twenties. Built in 2014, you will find around seventy students from age group six to twenty-five. Photography is not allowed inside.
Location: West of Phuentsholing
Best time to visit: During October through August
Further Read: From Trekking To Rafting, Know The Best Things To Do On A Trip To Bhutan With Friends
If you want to spend some laid-back time in Bhutan, these calm and enchanting places to visit in Phuentsholing will be perfect for you. Take a trip to Bhutan right away and explore this magical land with your loved ones! We promise that you'll have the time of your life and you won't be disappointed. Go ahead and explore these tourist attractions at your own pace.
For our editorial codes of conduct and copyright disclaimer, please click here.
Frequently Asked Questions About Places To Visit In Phuentsholing
Can we stay in Phuentsholing without a permit?
Yes, only Indian citizens can stay in any of the hotels in Phuentsholing without a permit. However, you require a permit once you leave Phuentsholing and check into any of the hotels or hostels in Bhutan located in a different city, like Thimphu.
Is it safe to visit Phuentsholing in the summer given the current situation of Covid-19?
As things are slowly getting on track and people are adapting to the new-normal so yes it is safe to visit Phuentsholing . But only if you follow the precautionary measures for Covid-19 and maintain social distancing. Having said that, your safety is always in your hands.
How do I get to Thimphu from Phuentsholing?
Road/Self Drive: One of the best (and most cost-effective) ways to reach Thimphu is by road from Bagdogra in West Bengal. You will need to drive to Phuentsholing first, from where you can take a bus to Thimphu. The distance between Bagdogra andPhuentsholing is 164 kilometres and will take 4 hours to cover.
How far is Phuentsholing from Siliguri?
By road, Siliguri is about 157 km away from the town of Phuentsholing in Bhutan. In other words, one has to cover a distance of about 157 km by road in order to reach Phuentsholing from Siliguri.
How do I get from Phuentsholing to Paro?
Phuentsholing can easily be reached from Paro by road. You can take a taxi or a bus from Phuentsholing and get down at Paro. In fact, some of the best travel tips for Bhutan state that public transport is the best way to get around in Bhutan.
Is Bhutan expensive?
Bhutan is amongst the least expensive countries to visit in the world for Indians (along with Nepalis and Bangladeshis). Other countries are required to pay a fee of $200 per person per day when in Bhutan.
Where is Phuentsholing?
Puntholing is a border town in southern Bhutan and the administrative center of the Chukha region. It is the starting point for passengers arriving by bus from Kolkata and Siliguri. The city is mainly a place where Bhutanese and Indians do business.
Is it safe to visit Bhutan?
Bhutan is a very safe tourist destination with the lowest crime rate. There are no traffic lights in this country, but there are many traffic controllers. The production and sale of tobacco is illegal, as are hunting and fishing (except trapping). Most people here believe in Buddhism, which is a religion that values compassion and non-violence, this may be the reason why this country is so safe and tourist friendly .
Are there any airports in Phuentsholing?
No, the city has no airport or rail link but Indian Railways has train stations nearby. A 20 km long railway line is planned from the next railway station, Hasimara in North Bengal to Phuentsholing. Bus is the preferred mode of public transportation here.
---
Looking To Book A Holiday Package?
Book memorable holidays on TravelTriangle with 650+ verified travel agents for 65+ domestic and international destinations.
---
People Also Read:
Places To Visit In Sikkim Places To Visit In Nepal Places To Visit In Gangtok