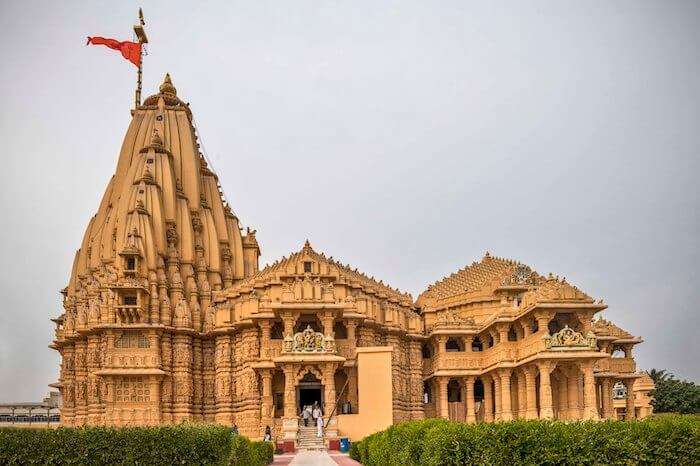 Somnath is an important pilgrimage and tourist spots in Gujarat on account of being a Triveni Sangam i.e. the confluence of three holy rivers: Kapila, Hiran and Sarasvati. Soma, the Moon god, is believed to have lost his lustre due to a curse, and he bathed in the Sarasvati River to restore it. The name of the town, meaning "the lord of the moon", arises from this tradition. Primarily a temple town, Somnath also offers other attractions. The places to visit in Somnath derive their identity from Hindu myths and religion.
Top 14 Places To Visit In Somnath
We have shortlisted 6 best places to visit in Somnath on account of their popularity with the tourists. These tourist attractions in Somnath are a spiritual haven for reflection and meditation. Activate your human potential on this peaceful journey:
Suraj Mandir
Laxmi Narayan Temple
Dehotsarg Teerth
Bhalka Tirth
Somnath Temple
Panch Pandav Gufa
Shree Parshuram Temple
Junagarh Gate
Gita Mandir
Bhidbhanjan Mahadev Temple
Triveni Ghat
Somnath Beach
Prabhas Patan Museum
Sana Caves
1. Suraj Mandir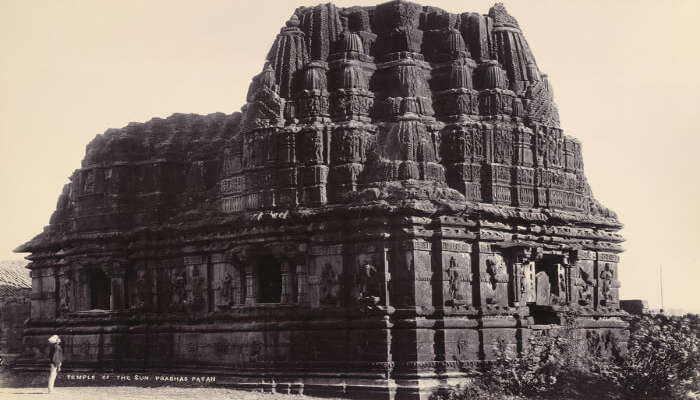 In the front of the temple, above the entrance doorway, is an image of Surya with his seven horses below him and his two wives. Around the shrine, in the circumambulatory passage, are three image niches, one on each of the north, south and west sides. They contain iconography of Vishnu and Lakshmi, Brahma with Saraswati, and Shiva with Parvati.
Location: Near Triveni Ghat, Somnath 362268
Must Read: 10 Exciting Things To Do In Saputara To Make Your Gujarat Getaway More Fun!
---
Gujarat Holiday Packages On TravelTriangle
Spot lions in their natural habitat at Gir National park, relax on the beautiful island of Diu, or go on a religious tour to Somnath and Dwarka. Book a memorable holiday to Gujarat inclusive of airport transfers, cab, resort, sightseeing, and meals on TravelTriangle.
---
2. Laxmi Narayan Temple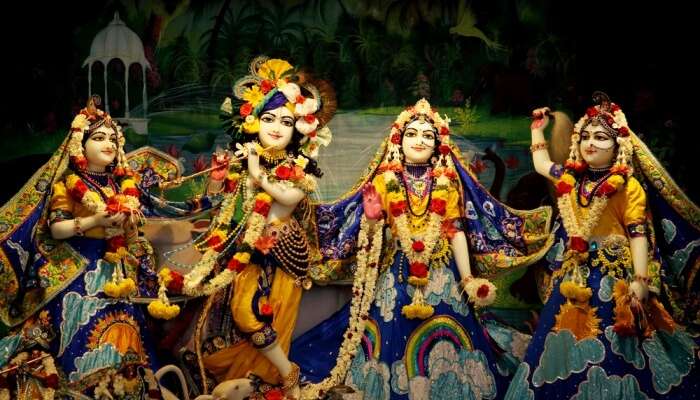 Lakshmi Narayan Mandir, situated on the banks of Triveni Tirth, is one of the most famous places to visit in Somnath Gujarat. The temple was constructed by Raja Sahil Verma. It is famous for the carvings on its 18 pillars which have the sacred message of Krishna. It is situated near the Gita Temple and is visited by thousands of devotees every year. You must visit it on your weekend getaways from Somnath.
Location: On the banks of Triveni Tirth
Suggested Read: 25 Intriguing Tourist Places In Ahmedabad For Your Next Gujarat Getaway
3. Dehotsarg Teerth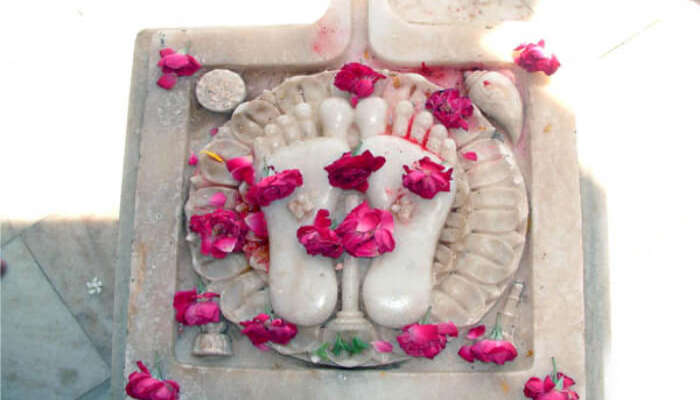 This Teerth is located on the banks of Hiran at a distance of 1.5km from Somnath temple. Bhagvan Shree Krishna took his divine journey to Neejdham from this sacred soil. Rich accounts of the divined Shree Krishna Neejdham Prasthan Leela are maintained by the authentic traditions of Mahabharat, Shrimad Bhagwat, and Vishnu Puran.
Location: On the banks of Hiran
Suggested Read: 10 Famous Festivals In Gujarat To Celebrate In 2019 With Joyous Fervor
4. Bhalka Tirth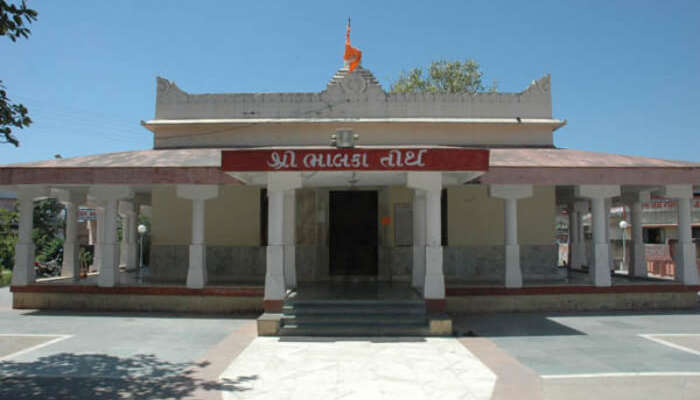 This sacred tirth is located on the Prabhas Veraval highway. The arrow of the poacher named Jara hit Shree Krishna at this spot. The latter was resting under a pipal tree when the poacher misread the foot of Bhagvan Shree Krishna as a deer and hit from a distance. This divined leela of Shree Krishna is immortalised by this beautiful temple. Make sure to visit Bhalka Tirth on your Gujarat getaway.
Location: Bhalka, Veraval, Somnath 362266
Suggested Read: 20 Incomparable Places To Visit In Gujarat For A Memorable Trip In 2019
5. Somnath Temple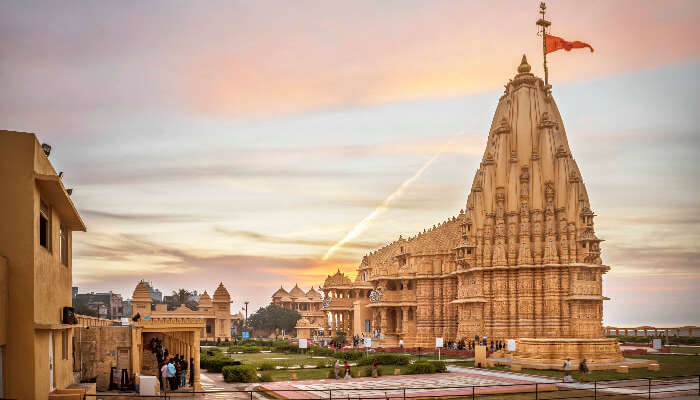 The principal temple of Somnath is believed to have been built in gold by the moon god Soma, in silver by the sun god Ravi, in wood by Krishna and in stone by the Solanki Rajputs in the 11th century. The present temple, built in 1951, is the seventh reconstruction on the original site. Tales of its riches attracted a series of invasions, but each time the temple was invaded, it was restored to its original glory by devout Hindu worshipers.
Location: Somnath Mandir Road, Veraval, Somnath 362268
Suggested Read: 10 Historical Places In Gujarat That Uncover A Legendary Past.
6. Panch Pandav Gufa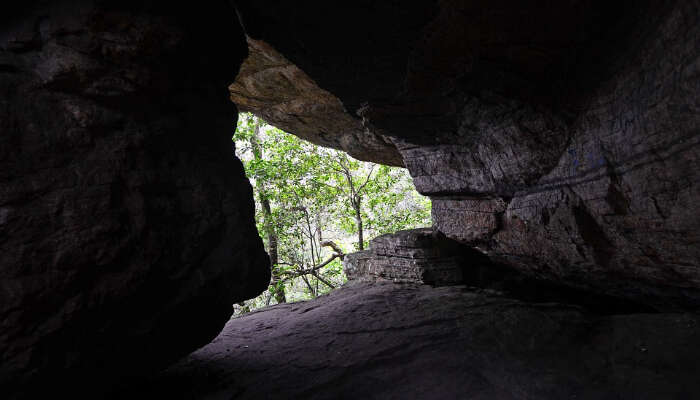 Panch Pandav Gufa is situated in the Lalghati near the Temple City of Somnath is typically a cave temple revered by the followers of Hinduism. The Late Baba Narayandas discovered this cave temple in the year of 1949, which is dedicated to the famous five Pandavas Yudhisthira, Arjuna, Mahabali Bheema, Nakul and Sahdev had spent time in this temple during the term of their exile. The Panch Pandav Gufa also has shrines dedicated to Lord Shiva, Lord Ram, Lord Laxman, Devi Sita, Goddess Durga and Lord Hanuman.
Location: Prabhas Patan, Somnath 362268
7. Shree Parshuram Temple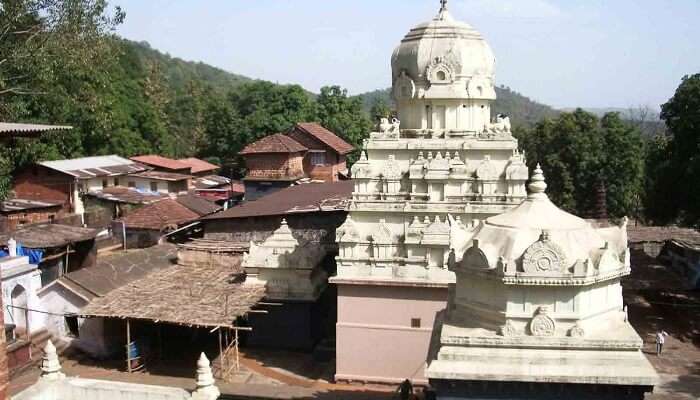 Image Source
Shree Parshuram Temple, also called the Somnath Parshuram Temple, is among the most famous attractions located close to Somnath in Gujarat. It is situated on the banks of the river Triveni Theerth at the very spot where Lord Somnath had blessed Lord Parshuram and relieved him of his curse of 'Kshatriyahatya'. The renowned Hindu shrine is dedicated to Lord Parshuram and houses two ancient Kunds in its premises other than its three main structures – sabhamandap, a central mandap, as well as a garbhagriha. The temple complex also has small shrines dedicated to Lord Hanuman and Lord Ganesh.
Timings: 6 AM – 6 PM
Entry fee: Nil
8. Junagarh Gate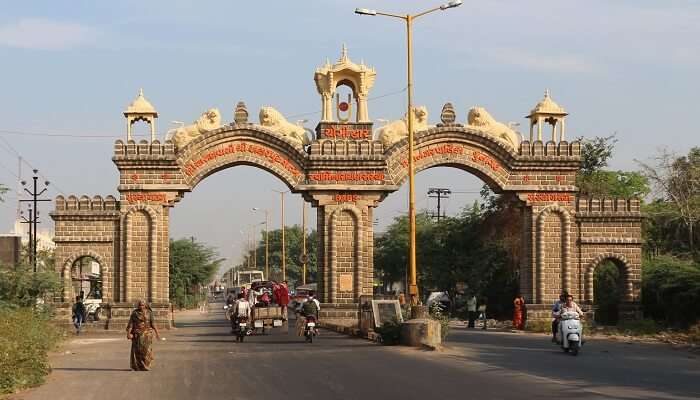 Image Source
Junagadh Gate happens to be one of the most important historical attractions in Somnath. It is located very close to the temple of Prabhas Kshetra and this gate is essentially the only way of entering the city of Somnath from the nearest city of Veraval. Though it was partially destroyed during of Somnath by Mohammed Ghazni, a major part of this gate still stands tall and reminds passersby of its past. Don't miss the intricate carvings on this ancient structure while you're passing it.
Timings: 7 AM – 7 PM
Entry fee: Nil
9. Gita Mandir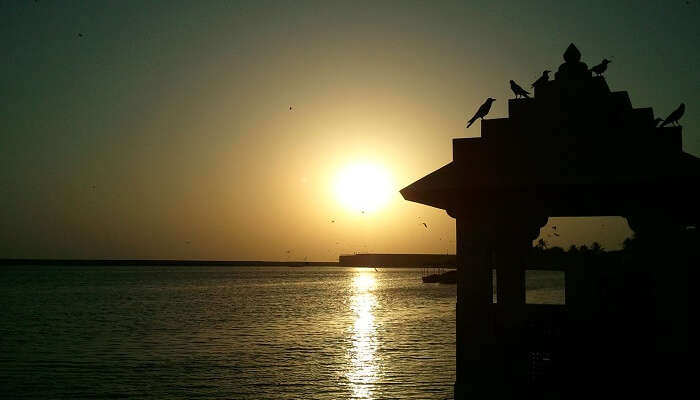 Image Source
Also called the Birla Mandir, Gita Mandir in Somnath is among the most famous attractions located inside this city. It was built in the year 1970 by the Birlas of the famed Dehotsarg Campus and acts as a popular representation of Shrimad Bhagwat Geeta, which happens to be carved on 18 marble pillars here. The revered shrine is dedicated to Lord Krishna, as is evident from the numerous paintings of Lord Krishna that its walls are decorated with. The holy sanctum is also home to the idols of Lord Lakshmi-Narayan and Lord Sita Ram on either side of Lord Krishna.
Timings: 6 AM – 6 PM
Entry fee: Nil
10. Bhidbhanjan Mahadev Temple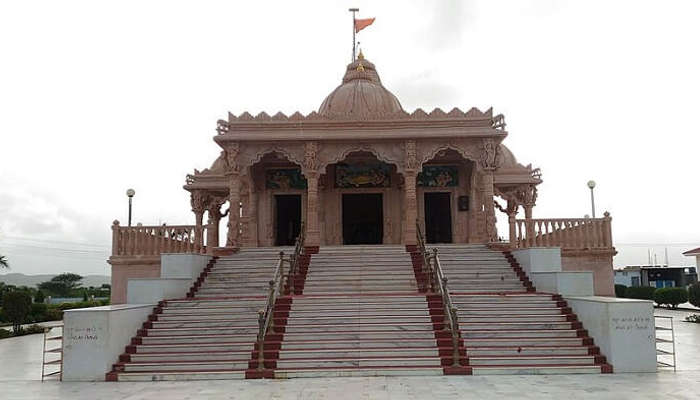 Image Source
The famed Bhidbhanjan Mahadev Temple of Somnath is located close to Triveni Theerth and is considered one of the most popular pilgrimage spots in the city. Built in modern Indian architectural style, this holy shrine is located quite close to Gita Mandir. Dedicated to Lord Vishnu, the Bhidbhanjan Mahadev Temple is said to have the power to make your wishes come true!
Timings: 6 AM – 6 PM
Entry fee: Nil
11. Triveni Ghat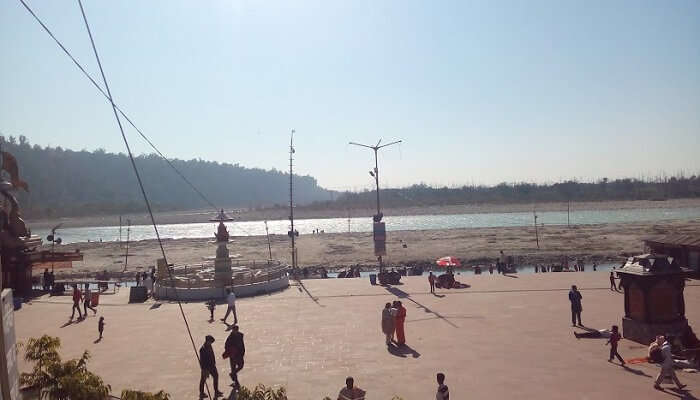 Image Source
Triveni Ghat is also known by two other names – Triveni Sangam and Triveni Sangam Snanghat. It is one of the major places to visit in Somnath and is situated right at the point of confluence of three holy streams, namely Saraswati, Hiranya, and Kapila before they merge into the sea. According to Hindu Mythology, if you take a dip in the holy waters of Triveni Sangam Snanghat, you'll be rid of all your sins and acquire Moksha by merging with the Almighty.
Entry fee: Nil
12. Somnath Beach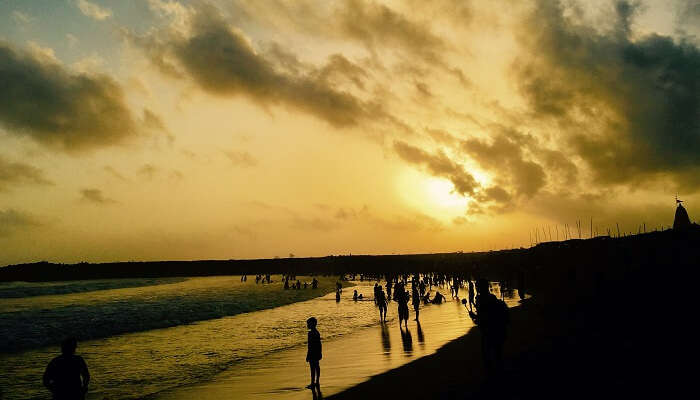 Image Source
A real treat for beach lovers visiting Somnath, this is absolutely clean and beautiful shores to hang out with your friends and family. However, do keep in mind that you're not allowed to enter these waters owing to the high tides and the unpredictable climate here causing frequent showers. The water can get pretty dangerous, so make sure you stay at a safe distance from it. But don't worry, the beauty of the beach and the stroll-worthy sands will totally make up for it!
Location: Near Access Road to Temple, Somnath, Gujarat 362268
Timings: 7 AM – 7 PM
13. Prabhas Patan Museum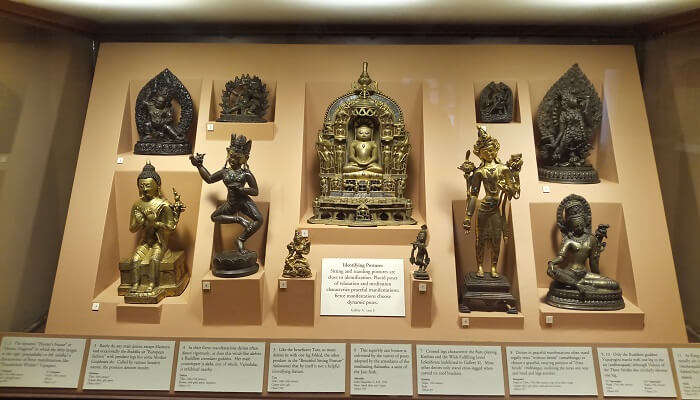 Image Source
Want to get an insight into the intriguing history of Gujarat? You must visit the Prabhas Patan Museum in Somnath that will tell you a great deal about the past of this city via its collection of old stones, ancient sculptures, and temple remains that have been restored and kept here. Its exhibits are totally unique and will keep you transfixed! You will find antique pieces from the original five Somnath Temples which were reduced to dust preserved here as best as possible. Maintained by the Somnath Trust, it's a great place for history geeks and archeology lovers.
Location: Near Check Post, Somnath 362001, India
Timings: 10:30 AM – 5:30 PM
Entry fee: INR 5 per person | INR 100 for still camera
14. Sana Caves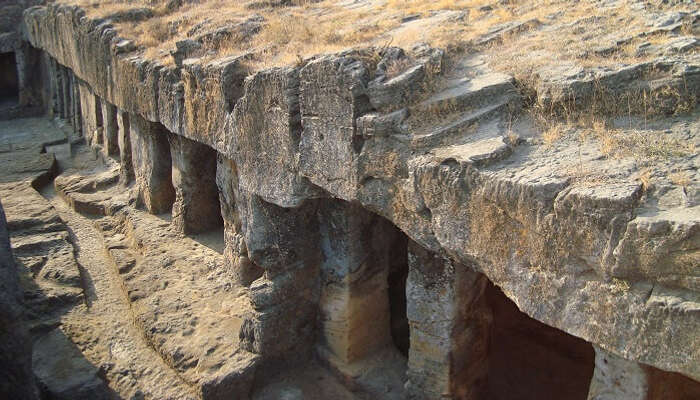 Image Source
This is a must-visit place for those looking for some thrill and excitement on their trip to Somnath in Gujarat. These are essentially a set of two different cave systems in the same place. The Sana caves in question here are the Buddhist caves located at a 7-kilometer distance from Veraval in the Gir Somnath district of Gujarat. You'll be blown away by the unique formation of these 62 rock-cut caves spread over the hill and bearing amazing carvings on almost each of them. The halls of these structures are dome-shaped and consist of stupas, chaityas, pillows, and benches. Historians claim that these caves were formed around the 1st century BC.
Location: Sana Caves, Vankiya, Una, Gir Somnath, Gujarat
Further Read: 8 Fascinating Things To Do In Vadodara That Let You Taste The Good Life In Gujarat!
Somnath is well known for its rich culture and religion. A number of stories and legends revolve around this enigmatic town. The town is full of monuments and historical sites. The places to visit in Somnath have surprising and intriguing stories behind them. The architecture of these religious places still leave people mesmerised. Book a trip to Gujarat right away to explore these architectural marvels.
Frequently Asked Questions About The Places To Visit In Somnath
Know more about Somnath's attractions through these common queries:
Q. How can I go to Somnath from Dwarka?
A. You can either drive to Somnath from Dwarka or take the train. The driving distance between Somnath and Dwarka is about 231 km, while by train it is approx 398 km. There is one direct train that goes to and fro Dwarka and Somnath. The Okha Somnath Express (19252) will take you to Somnath from Dwarka in just about 8 hours and 40 meters.
Q. How can I go to Somnath temple by flight?
A. There are no direct flights to Somnath. The nearest airport is the Diu Airport in Daman and Diu.
Q. What is the best time to visit Somnath temple?
A. September to March are the ideal months to visit Somnath owing to the pleasant climate.
Q. What is famous in Somnath?
A. Somnath Temple is a highly revered religious site for Hindus, Somnath Temple is one of the 12 Jyotirlingas of India.
Q. What can I buy in Somnath?
A. While Shopping in Somnath, you can shop things like wall hangings, quilts, marriage costumes, cradle clothes, embroidered and decorated beadwork.
Q. What is the best time to visit Somnath temple?
A. The best time to visit Somnath temple is the winter season between October to March.
Q. Why Somnath temple is famous?
A. The Somnath temple located in Prabhas Patan near Veraval in Saurashtra on the western coast of Gujarat, is believed to be the first among the twelve jyotirlinga shrines of Shiva.
---
Looking To Book A Holiday Package?
Book memorable holidays on TravelTriangle with 650+ verified travel agents for 65+ domestic and international destinations.
---
Comments
comments