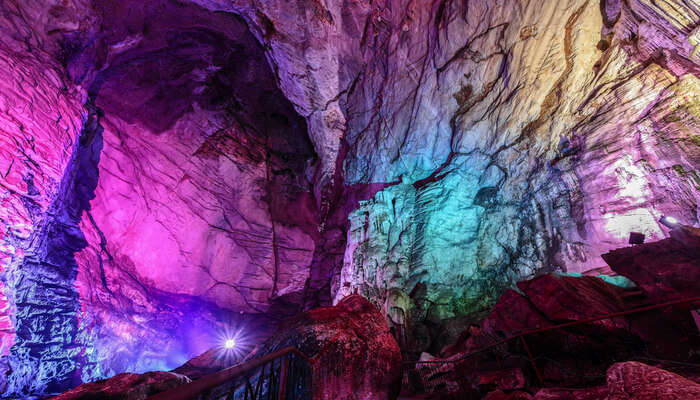 Boasting a beautiful collection of natural wonders like dense forests, exciting trekking trails, mysterious caves, and enchanting waterfalls, Ananthagiri is the perfect destination for a weekend getaway for nature lovers. The presence of Anantha Padmanabha Swamy Temple also makes Ananthagiri Hills a point of religious importance.
While there is a lot to do in Ananthagiri Hills, being present amidst the calmness of nature can often inspire travelers to extend their trip. If you count yourselves amongst such travelers, we've got good news for you. You won't have to spend your time getting bored in your hotel room or revisiting places that you've already been to with this list of places to visit near Ananthagiri Hills.
Top 8 Places To Visit Near Ananthagiri Hills
The following are the most popular places to visit near Ananthagiri Hills that will surely mesmerize you with their beautiful experiences:
1. Chilkur Balaji Temple – 59 Km From Ananthagiri Hills
2. Mrugavani National Park – 60 Km From Ananthagiri Hills
3. Singur Dam – 61 Km From Ananthagiri Hills
4. Ocean Park – 61 Km From Ananthagiri Hills
5. Osman Sagar Lake – 62 Km From Ananthagiri Hills
6. Golkonda Fort – 71 Km From Ananthagiri Hills
7. Nehru Zoological Park – 78 Km From Ananthagiri Hills
8. Sudha Car Museum – 79 Km From Ananthagiri Hills
1. Chilkur Balaji Temple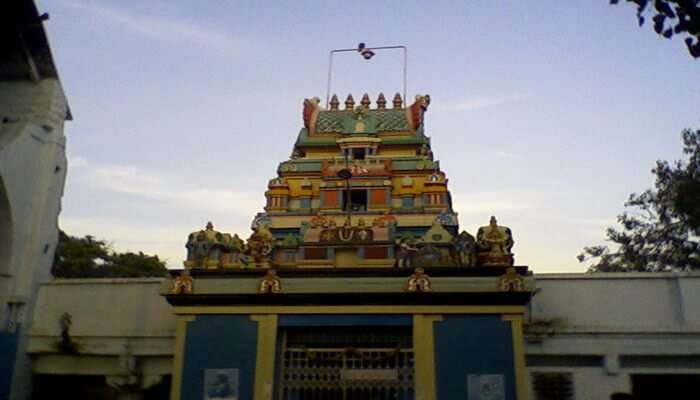 One of the only two temples in India that is not operated by the Government of India, The Chilkur Balaji Temple, or Visa Balaji Temple is unique in many aspects. For starters, the temple has no special provisions for any sort of VIPs. Moreover, the temple does not accept any sort of donations from the visiting devotees.
One of the oldest temples in Telangana, the temple is surrounded by a rich history and some fascinating mythological tales. Thanks to this combination, the temple attracts approximately 75,000-100,000 devotees every week.
Interestingly, the temple got its name, Visa Balaji Temple as it came to be associated with fulfilling the wish of devotees that aspire to settle in a foreign country. Legend says by completing 11 "parikramas" or revolutions of the temple, one can wish for their visa application to get approved. Once it is done, the devotees (according to the ritual) are required to return to the temple and complete 108 "parikramas" as a gesture of gratitude for the Gods.
The holy significance of the destination makes it one of the best places to visit near Ananthagiri Hills for family.
Additional Info:
Timings: 5 AM-8 PM
Entry Fee: Free Entry
Distance From Ananthagiri Hills: 59 Kilometers
Must Read: Ananthagiri Hills: A Visitor's Paradise In The Beautiful State Of Telangana
2. Mrugavani National Park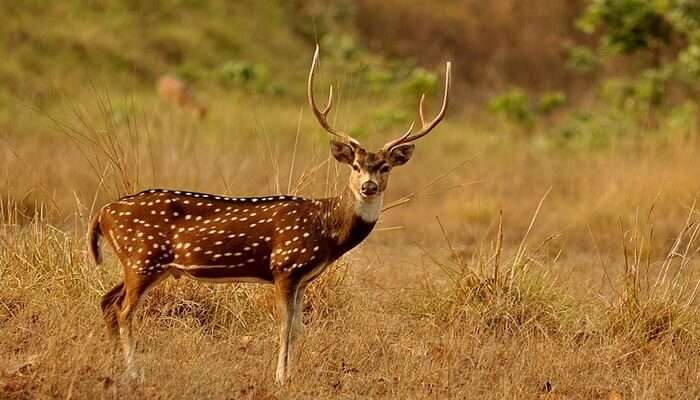 Spread over 850 acres, the Mrugavani National Park is smaller than its counterparts in the area. However, what it lacks in size, it makes up for in the variety of flora and indeginous fauna it houses. The area was announced as a National Park in 1994 and houses animals like black-naped hares, India vipers, and foxes.
I real variety however, is of the avian fauna in the area. With over 100 species of birds present here, Mrugavani National Park is of special interest for the bird watchers. The governing authorities of the park also organise a guided wildlife safari, which is perhaps the best way to go around the important areas of the park.
Additional Info:
Timings: 9 AM to 5 PM
Entry Fee: Rs 5 for entry and Rs 50 for guided wildlife safari
Distance From Ananthagiri Hills: 60 Kilometers
Suggested Read: 26 Fascinating Tourist Places In Telangana That Are Worth A Visit In 2022
3. Singur Dam

Located in Telangana, Singur Dam is one of the biggest dams in the area. The dam is responsible for fulfilling the irrigation, drinking water, and hydroelectric needs of the city of Hyderabad. Surrounded by lush green forest cover, the sight of the expansive dam is one to behold.
The deep waters of the dam are also home to about 1000 crocodiles. Tourists from all nearby areas have turned this dam into a popular tourist destination and thus, one of the places to visit around Ananthagiri Hills.
Additional Info:
Timings: 09:00 AM-12:00 PM (Best time to visit. The dam is open 24 hours)
Entry Fee: Free Entry
Distance From Ananthagiri Hills: 61 Kilometers
Suggested Read: 23 New Year Eve Parties In Hyderabad 2022 You Should Not Miss!
4. Ocean Park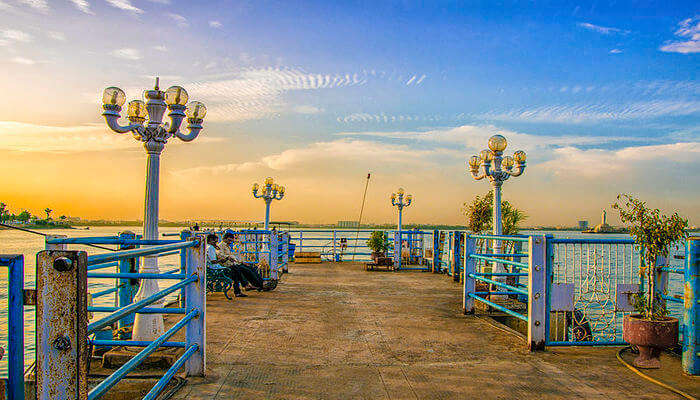 One of the first theme parks near Hyderabad, the Ocean Park offers travelers to enjoy a fun day out, regardless of their age or who they are travelling with. The part is situated about 20 kilometers from Hyderabad city centre, in an expansive area that houses an amusement park and a water park.
Filled to the brim with adventure pools and fun rides, the Ocean Park is a local favorite, when it comes to planning a fun day out with the family. If you are done visiting the Ananthagiri Hills, and have some time on your hands, visiting Ocean Park may well the best thing you can do with it.
Additional Info:
Timings: 11:30 AM-7:30 PM For Amusement Park and 11:30 AM-6:00 PM For Waterpark
Entry Fee: Rs 400 For Adults and Rs 350 For Children
Distance From Ananthagiri Hills: 61 Kilometers
Suggested Read: 15 Offbeat Places In South India 2022 That Will Make You Go 'WOW' With Natural Beauty!
5. Osman Sagar Lake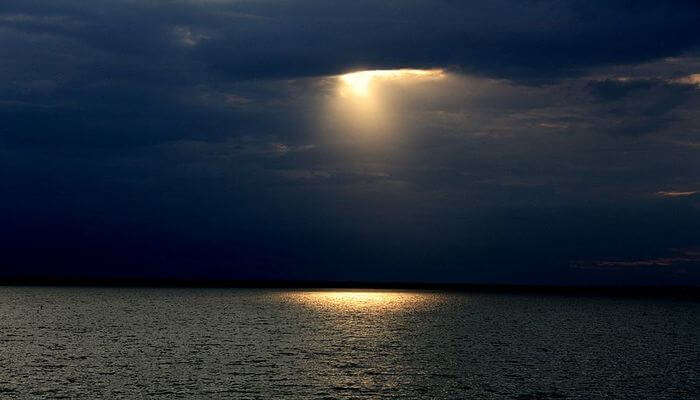 Created by Nizam Osmal Ali Khan, the Osman Sagar Lake is an artificial lake that was created as the result of a dam construction, also undertaken by the same Nizam. The lake offers breathtaking natural views and also has an awe-inspiring palace overlooking it, which was historically used as a summer retreat by the Nizam.
Also sometimes known as Gandipet Lake, the destination is a favorite picnic spot among the visitors. For those looking to splurge, the Nizam's former summer home has now been turned into a resort that is operated by the Andhra Pradesh Tourism Department. The palace offers visitors a chance to experience the life of aristocracy in a dreamy and serene lakeside accommodation, making it one of the best places to visit near Ananthagiri Hills for couples.
Additional Info:
Timings: 9:30 AM-5:00 PM
Entry Fee: Rs 5
Distance From Ananthagiri Hills: 62 Kilometers
Suggested Read: Skydiving In India: 9 Best Locations For Exploring The Skies In 2022
---
Planning your holiday but confused about where to go? These travel stories help you find your best trip ever!
---
6. Golkonda Fort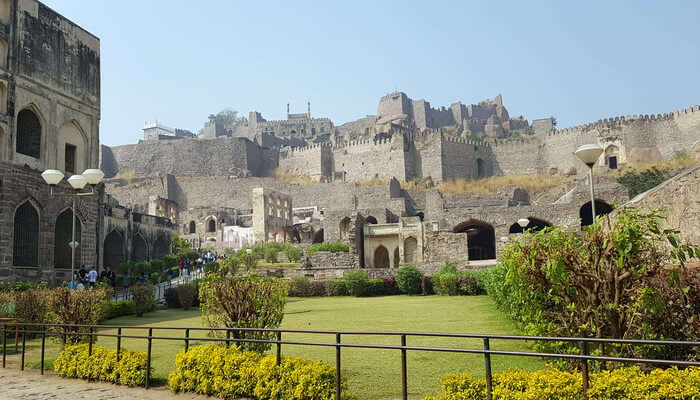 If you're looking for a place full of wonderful history and architecture to couple with your visit to the Ananthagiri Hills, Golkonda Fort will surely deliver. Golkonda (Shepherds' Hill) Fort was built in the 12th century by a local king on top of a 12 meter high granite rock.
The fort was then expanded to cover an area of 11 kilometers by Brahmin rules, approximately 200 years after its original construction. The fort has been the subject of interest for many accomplished rules including the Mughal Ruler Aurangzeb in 1687.
The fort is an architectural marvel with 18 feet high walls and some very unique acoustics. If one claps at the gate of the fort, the sound can be heard in one of the topmost pavilions, which is approximately 1 kilometer away.
Apart from being backed by a rich history and architecture which was way ahead of its time, the Golkonda Fort has another trick up its sleeve for visitors, the infamous sound and light show. While the show in itself is a marvel to behold, watching it in Hindi comes with a special surprise. The hindi voiceover of the show is done by famous Bollywood actor Amitabh Bachan.
Additional Info:
Timings: 9:00 AM-5:30 PM
Light And Sounds Show Timings: 6:30 PM and 7:45 PM (November to February)/ 7:00 PM and 8:15 PM (March to October)
Entry Fee: Rs 15 For Indian Nationals and Rs 200 For Foreign Nationals
Light And Sound Show Fee: Rs 60 for children (normal class) and Rs 80 for adults (normal class)/ Rs 110 for children (executive class) and Rs 130 for adults (executive class)
Distance From Ananthagiri Hills: 71 Kilometers
Suggested Read: 30 Amazing Places In India To Celebrate New Year 2022!
7. Nehru Zoological Park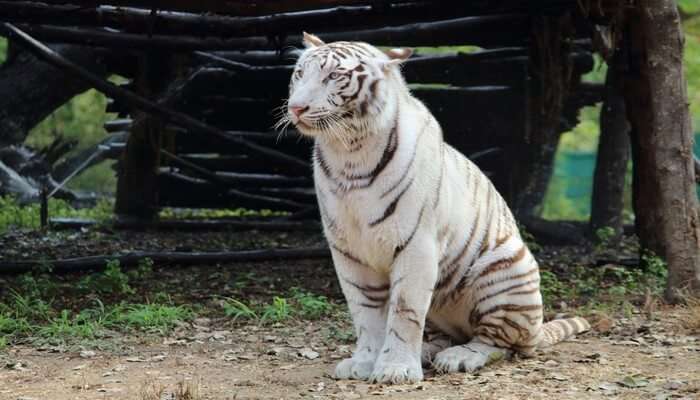 For those who wish to spend a day appreciating the marvels of nature, the Nehru Zoological Park is easily one of the most sought after destinations. The park is home to a number of endemic species including the Asiatic Lion, Bengal Tiger, and the Indian Rhino.
The zoo also houses a nocturnal section that replicates the condition of night. In this section, visitors can observe nocturnal creatures such as owls and bats during the day time. The nearby Mir Alam Tank also attracts thousands of migratory birds every year, making the place perfect for bird watching enthusiasts. This combination of rich flora and fauna makes Nehru Zoological Park, one of the most popular tourist places near Ananthagiri Hills.
Additional Info:
Timings: 8:00 AM-5:00 PM
Entry Fee: Weekdays: Rs 50 for adults and Rs 30 for children. Weekends: Rs 60 for adults and Rs 40 for children. (Additional fee for camera at Rs 100 for still camera and Rs 500 for video camera)
Distance From Ananthagiri Hills: 78 Kilometers
Suggested Read: 7 Airports In Tamil Nadu For An Awesome Flying Experience In 2022
8. Sudha Car Museum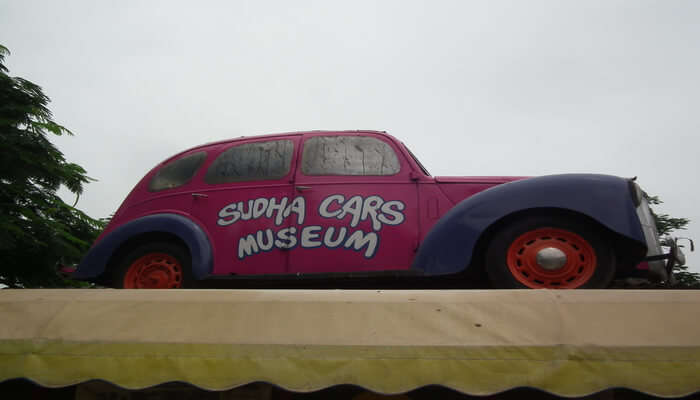 Perhaps one of the most unique automobile museums in the World, the Sudha car museum houses a peculiar collection of cars and motorcycles. Inaugurated by K. Sudhakar in 2010, all the exhibits in the museum are hand made by the same man.
From the World's smallest double-decker bus to a 13 inch motorbikes to cars shaped like handbags and helmets, the collection of vehicles in Sudha Museum presents the perfect way to spend a day filled with wonderment.
Additional Info:
Timings: 9:30 AM-6:00 PM
Entry Fee: Rs 50 For Adults And Rs 15 For Children
Distance From Ananthagiri Hills: 79 Kilometers
Further Read: 38 Romantic Honeymoon Places In South India For 2022 That Cast Utter Magic
There is no shortage of places to visit near Ananthagiri HIlls for those who have the right amount of wanderlust in their hearts. With that said, exploring a new destination comes with its own apprehensions. Plan your trip to Hyderabad with TravelTriangle enjoy the most enthralling vacations!
For our editorial codes of conduct and copyright disclaimer, please click here.
Frequently Asked Questions About Places To Visit Near Ananthagiri Hills:
What is the best time to visit Ananthagiri Hills?
Ananthagiri Hills experiences pleasant weather all through the year and thus, travelers can plan a visit to the beautiful hill station any time they please. With that said, the lush green forest cover of the hills is in full bloom after the months of monsoon. If you are looking to experience this beauty, the best time to visit the Ananthagiri Hills is between the months of October and March. This time is also great for the bird watching enthusiasts as a lot of migratory birds can be spotted in Ananthagiri Hills during the winter months.
Are hotels in Ananthagiri Hills safe and hygienic after the outbreak of COVID and is the food prepared up to the mark?
Analysing the COVID situation, every hotel is maintaining its standards to offer a relaxed stay for its guests. As the hotel industry is suffering from a financial crisis, they are taking every necessary step to invite the guests including proper sanitisation, the mandatory wearing of masks and frequent cleaning of the kitchen area to avoid catching any virus which will enhance the quality of food they offer to their guests.
How to reach Ananthagiri Hills?
The nearest railway station to Ananthagiri Hills is situated in Vikarabad which lies at a short distance of 6 kilometers from the hill station. Those coming by flights will have to land at the Hyderabad Airport. From Hyderabad, Ananthagiri Hills lie at a distance of about 909 kilometers. Luckily, the road leading to Ananthagiri Hills is very well maintained and at the same time, dotted with breathtaking views and enchanting sights of the surrounding hills. For these reasons, driving is the most preferred way for travelers to reach Ananthagiri Hills.
How much does accommodation cost in Ananthagiri Hills?
Since Ananthagiri Hills is a revered hill station that has been a point of interest for tourists for decades now, the hill station houses a number of holiday accommodation options for visiting tourists. While budget options like homestays and hostels charge tariffs as low as Rs 600. On the other hand, a stay in a decent resort can set you back by Rs 4000-5000.
What is Vikarabad famous for?
Vikarabad is home to higher education institutes like Sri Anantha Padmanabha College and Osmania University College Vikarabad for Self Finance. For this reason, the nearby Ananthagiri Hills attract a large amount of student crowds looking for respite from non-stop classes during weekdays.
What are some of the activities fit for tourists visiting Ananthagiri Hills?
From hiking trails to enchanting waterfalls, Ananthagiri Hills are home to unmatched natural beauty and a couple of significant hindu temples. As a result, it attracts adventure seekers and devotees alike. The hills are perfect for trekking enthusiasts that have limited experience as it boasts a couple of hiking trails that are beginner friendly. Moreover, there are a number of tourist-worthy places that fall within the radius of 100 kilometers from Ananthagiri Hills. In other words, if you search hard enough, you will never run out of things to do in Ananthagiri HIlls.
What makes Ananthagiri Hills so special?
The picturesque Ananthagiri Hills is a very peaceful place known for its gorgeous waterfalls and coffee plantation covered hills. It is also a religious hotspot because of the famous Anantha padmanabha swamy temple . Definitely a place worth visiting for nature lovers .
What are some famous Hotels in Ananthagiri Hills?
Some of the best reviewed resorts you can consider for your trip to Ananthagiri Hill :-
1. Haritha Hill Resort
2. Infinite Adventure Club Hill Top Camping Ananthagiri Hills, Vikarabad
3. The GrassWalk vikarabad
Where is Ananthagiri Hills?
Ananthagiri Hills is located in Vikarabad District, Telangana, India. The Hussain Sagar and Himayat Sagar water flows from these hills . It is one of the thick forests of Telangana and the famous Ananthagiri Temple is also situated here .
---
Looking To Book An International Honeymoon?
---
People Also Read:
Places To Visit Near Shirdi Places To Visit Near Delhi Places To Visit Near Nainital