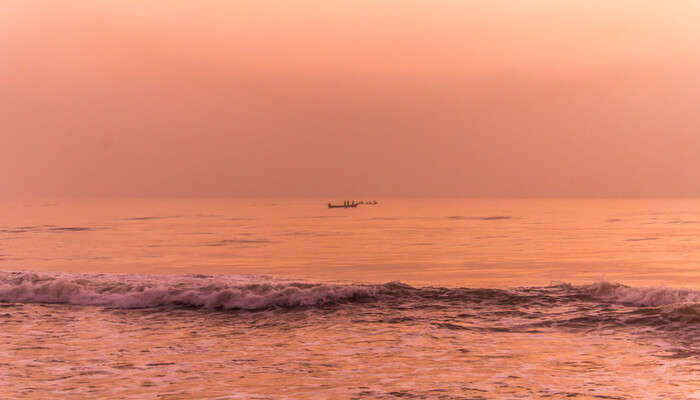 If you are more beach kind of person who feels differently about waves and water splashing against your feet makes you the happiest then you should visit Marina Beach. It is India's longest and world's second longest beach. Stretching for approximately 12 kilometers, this beach is located on the eastern side of Chennai. It adjoins the Bay of Bengal. You can watch the beautiful sunset and sunrise which is a unique and soothing experience for anyone. There are some recreational activities such as horse riding can be opted. This is very famous among the people who visit Marina Beach. Bathing and swimming are prohibited due to the strong undercurrent. Moreover, there are numerous places to visit near Marina Beach as they are totally beautiful and interesting.
8 Best Places To Visit Near Marina Beach
Below mentioned are some of the places near Marina Beach which also hold a great value in Chennai. Let's dive into the historical as well as modern architecture around Marina Beach.
Vivekananda House – A Memorial
Santhome Cathedral Basilica – A Gothic Church
Connemara Library – A Grand Structure
Valluvar Kottam – A Striking Monument
G. U. Pope Statue – A Seashore Statue
M.G.R. Memorial – A Memorial Park
Victory War Memorial – World War Memories
Fort St. George – First English Fortress
1. Vivekananda House – A Memorial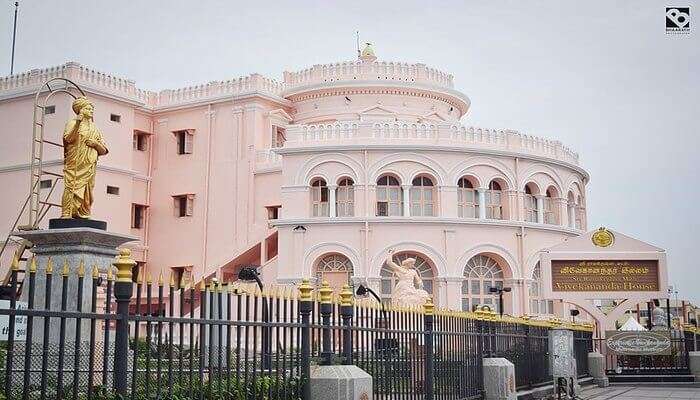 This is a memorial that has been made which consists of exquisite paintings. These are established here in chronological order which depicts the grand tradition of the ancient period and is one of the historical places to visit near Marina Beach. You can experience a lot of memoirs related to Swami Vivekananda in different forms. The 2D hologram depicts the beauty of Indian culture from the time of Sri Ramakrishna and Swami Vivekananda.
There is a set of an exhibition of pictures of Swami Vivekananda. It is preferable by those historical fans who admire the living of Swami. An itinerary was also furnished here, which depicts the total set of events in Chicago, where Swami Vivekananda had given an eloquent speech. All the photos are in black and white and are displayed on laminated frames. These pictures are affixed on wall panels.
Location – Vivekananda House, Kamarajar Salai (Marina beach road), Triplicane, Chennai 600005, India
Timings – The exhibition is open to the public every day from 10.00 AM to 12.30 PM and from 3.00 PM to 7.15 PM except Mondays (On Sundays and Special days half an hour extension for visitors).
Entry Fee – For Adults: Rs. 20, Children (3-12 years): Rs. 10 and Group ticket for school students: Rs 5
Must Read: 8 Homestays In Mahabalipuram To Feel At Home On Your Trip To The South!
2. Santhome Cathedral Basilica – A Gothic Church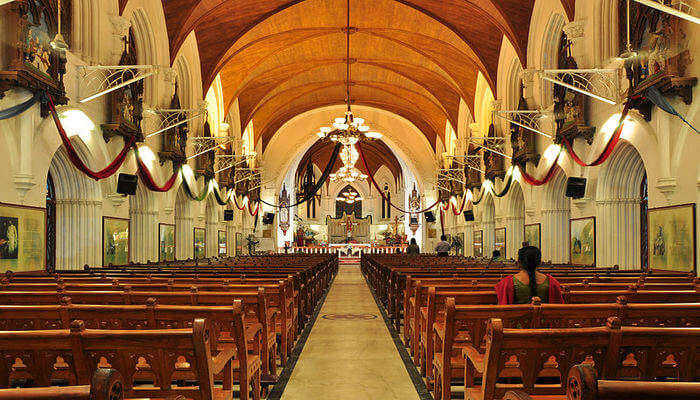 One of the most beautiful places to visit near Marina Beach, Santhome Cathedral Basilica is a flawless Gothic Church is a fortune trove of engineering. Grandly rising 155 feet starting from the earliest stage, a height 112 feet by 33 feet, and a glorious haven estimating 62 feet by length and 33 feet by width, it is decorated with recoloured glass windows exempting the supporter Holy person Thomas and different messengers. One can discover inside the haven a statue of St. Thomas situated. One more fascination in the Basilica is an antiquated recoloured glass work of Mother Mary.
This is where the other extraordinary missionary of India, St. Francis Xavier, used to pray. Currently, there are two new structures one being the Tomb House of prayer beneath the Basilica and the other a Historical center cum-Theater. Selective movies on the supporter holy person Thomas and the congregation are screened twice day by day for the neighbourhood and remote pioneers. The new underground sanctuary has different access from outside. The visual structure, enabling explorers and visitors to visit the tomb without upsetting the artworks.
Location – National shrine of St. Thomas Basilica, 38, Santhome High Road, Mylapore, Chennai-600 004, India.
Timings – 6:00 AM TO 9:00 PM
Entry Fee – Free
Suggested Read: Mahabalipuram In Tamil Nadu: Explore The Unique Culture Of Southern India In 2022
3. Connemara Library – A Grand Structure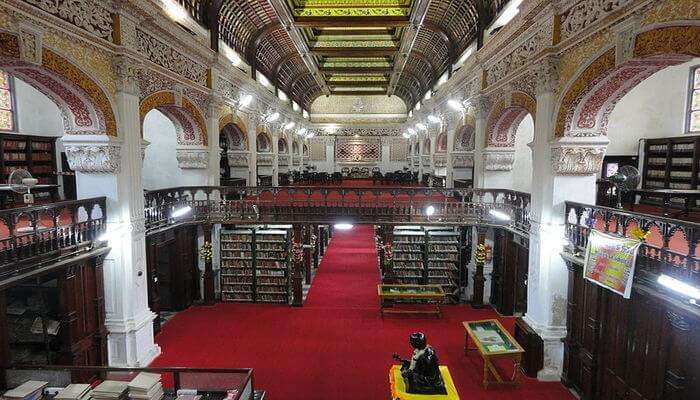 It is common knowledge that Chennai is well-defined place when we talk about landmark buildings. These buildings hold great historical values and another one of the historical places to visit near Marina Beach is Connemara Library. This library is the pride of Madras. This place is preferred by avid book lovers and research scholars.
The building has its share of architectural beauty which holds a special significance in the history of this city. This place is ideal for book lovers who want to experience the aura of a historical library. Moreover, if you want to spend some peaceful time while reading a book, then you can prefer this place. This place provides a unique level of serenity and peace. If you want to experience silence and gain knowledge, then this place is a suitable match for you.
Location – Connemara Public Library, Pantheon Road, Egmore, Chennai, Tamil Nadu 600008, India
Timings – Connemara Public Library serves the public daily from 9.00 A.M. to 7.30 P.M. on weekdays and from 9.30 A.M. to 6.00 P.M. on Sundays without any break.
Entry Fee – Any person above 17 years is eligible to use the free public library service.
Suggested Read: 7 Airports In Tamil Nadu For An Awesome Flying Experience In 2022
4. Valluvar Kottam – A Striking Monument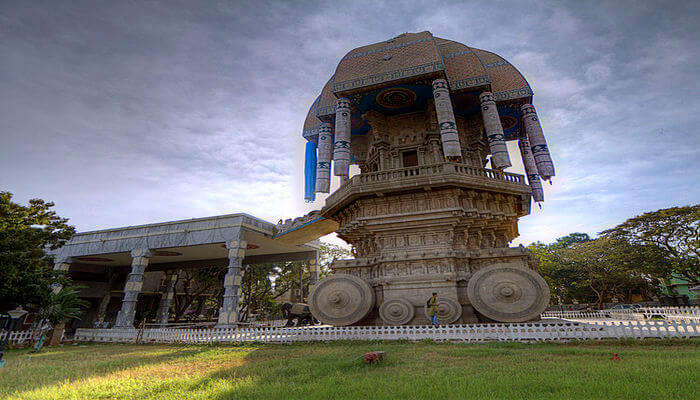 Valluvar Kottam is another one of the popular places to visit near Marina Beach and is known for its incredible engineering, worked with creative formats and well-thought execution. The glorious magnificence of Valluvar Kottam is best experienced during the morning hours when the city is simply awakening to the day, or you can make a visit to this goal during the night hours when the sun is simply set into the great beyond.
The sublime plan of the Valluvar Kottam is an incredible sight, which makes it the ideal goal to click a couple of pictures. The landmark comprises of an enhancing curve, a theatre that can sit around 3,500 individuals. It also consists of the Kural Manimandapam, where all the couplets from every one of the sections of the Kural literature are engraved. This is one of the spots which is truly a unique piece of architecture.
Location – Valluvar Kottam is located at the crossroad of the Kodambakkam High road and the Village road in the Nungambakkam neighbourhood of Chennai. The monument now stands at what was once the deepest point of a local lake called the Nungambakkam lake.
Timings – 6:00 AM to 9:00 PM
Entry Fee – free
Suggested Read: 7 Festivals Of Tamil Nadu That'll Take You Close To The Traditions Of The State In 2022!
5. G. U. Pope Statue – A Seashore Statue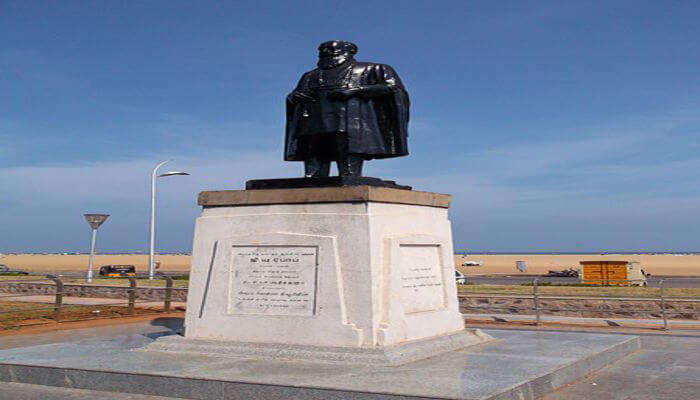 This is a statue on the Chennai seashore and is one of the most famous places to visit near Marina Beach. The statue remembers G.U. Pope for his commitment to the comprehension and advancement of the Tamil language. George Uglow Pope or G.U. Pope was an Anglican Christian minister and Tamil researcher who went through 40 years in Tamil Nadu and made an interpretation of numerous Tamil writings into English.
This statue is memorabilia for George Uglow Pope given by the Tamilian citizens. They find great pride in showing affection towards this scholar and his works. His prevalent interpretations incorporated those of the Tirukkural and Thiruvasagam. He later took to educating, running his very own school in Ootacamund for a while. Afterward moving to head the Religious administrator Cotton Young men's School in Bangalore. This is the best spot for researchers who want to gather information about the different cultures of the state.
Location – Kamarajar Salai Road, Triplicane, Chennai, Tamil Nadu 600005, India
Timings – 6:00 AM TO 6:00 PM normally a visit lasts for 10 to 15mins
Entry Fee – Free
Suggested Read: 50 Best Tourist Places In Tamil Nadu Ensuring The Most Awesome 2022 Vacay!
6. M.G.R. Memorial – A Memorial Park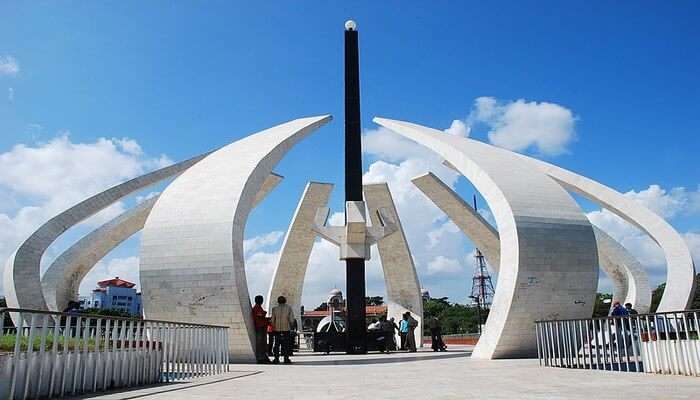 MGR Memorial is a commemoration structure and is one of the best places to visit near Marina Beach, Tamil Nadu, and India. It is spread over 8.25 sections of land. The dedication is found adjoining the Anna Remembrance. It was worked in memory of Previous Boss Priests of Tamil Nadu, M. G. Ramachandran and his protégé J. Jayalalithaa, whose bodies were covered at the site on December 5, 2016. This is a new passage with the AIADMK gathering's two-leaf image and Pegasus, the stature from Greek folklore.
The arrangement of the open zone around the commemoration utilizing Korean grass, and the planting of outlandish, embellishing plants, for example, palmyra alpha, date palm, arachnid lily, and adenium. Likewise included were a rock pathway molded like a guitar, treated steel handles around the commemoration, a wellspring in the center, cascade at the back, enlivening lights, and an overhead tower with lights both at the passageway and on the curve.
Location – Marina Beach Road, Navalar Nagar, Chepauk, Triplicane, Chennai, Tamil Nadu 600005
Timings – 6.30 am to 9.30 pm
Entry Fee – free
Suggested Read: 11 Mystical Temples In Coimbatore: A Must-Visit On Your Trip To Tamil Nadu In 2022!
7. Victory War Memorial – World War Memories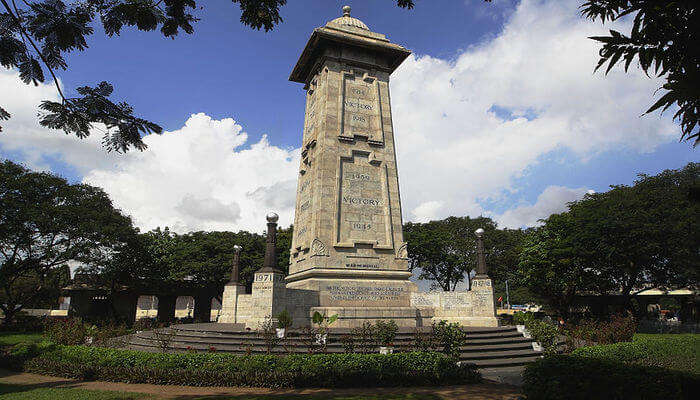 Another one of the top places to visit near Marina Beach is Victory War Memorial. It is a round shape rock and marble structure situated in the territory that once in the past housed the beachfront turret. Inside what was once called Cupid's bow stands a banner post with the Tricolor. Past the red-and-gold flags that line the way are steps that lead to a fully loaded with the names of men from the Madras Administration who fell in two world wars and those that pursued Freedom.
The transcending National Banner will be obvious over a long separation and would be there consistently. The banner pole estimating 30.5 meters holds on high the 20 feet by 30 feet Tricolor which adds to the magnificence of the Triumph War Remembrance. This is the place that can make you goosebumps due to its fair share of war memoirs. Visit this place if you want to feel the patriotic sense.
Location – Port Trust Officers Quarters, Sathya Nagar, Chennai Port Trust, Chennai, Tamil Nadu 600009. The Victory War Memorial is located to the south of Fort St. George and marks the beginning of the 13-km-long Marina beach.
Timings – open 24 hours
Suggested Read: Monsoon In Tamil Nadu 2022: See The 6 Most Wonderful Places To Explore
8. Fort St. George – First English Fortress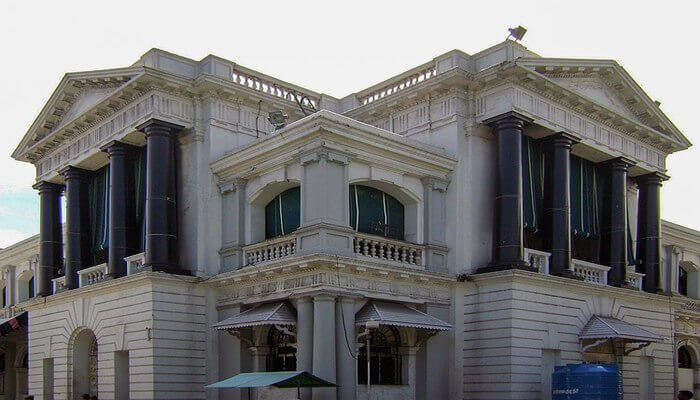 Fort St George is the first English fortress in India and was established in 1644 at the beachfront city of Madras. This monument provides a special feel for this city and is one of the best places to visit near Marina Beach. The development of the fortification gave the action to assist settlements and exchanging movement, in what was initially an uninhabited land. St Mary's Church is the most seasoned Anglican Church in India. It was worked somewhere in the range of the year 1678 and 1680.
This monument and its surroundings provide an added advantage of getting an experience of historical architecture and also the beautiful sea beach. The gravestones in the cemetery are the most ancient established English or English headstones in India. In the wake of visiting the fortress, you should walk around Kamarajar Promenade, which outlines the mesmerizing Marina Seashore.
Location – St. George Street, Chennai, India
Timings – 6.30 am to 7 pm
Entry Fee – Fort St. George is open daily and there's an admission fee. An admission fee is also applicable for the museum, which is open from Saturday to Thursday. The church is open daily, except for Sunday.
Further Read: Kodaikanal Honeymoon Guide: What You Can Expect From The Queen of Hills
So, these are some of the best places to visit near Marina Beach that speak of Chennai's architecture and historical importance. These places, mainly constitute of different memorials and statues which have their historical importance. Strolling around Marina Beach will provide you with a unique experience if you like to be around interesting infrastructure and beautiful architecture so make sure you indulge in these activities on your trip to Tamil Nadu. Also, the addition of seashore is an added advantage that provides a stress-free environment while gazing towards the sea. It gives a true sense of pleasure to be here.
Disclaimer: TravelTriangle claims no credit for images featured on our blog site unless otherwise noted. All visual content is copyrighted to its respectful owners. We try to link back to original sources whenever possible. If you own the rights to any of the images, and do not wish them to appear on TravelTriangle, please contact us and they will be promptly removed. We believe in providing proper attribution to the original author, artist or photographer.
Frequently Asked Questions About Places To Visit Near Marina Beach
Which is the best place to visit near Marina Beach?
Almost all the places near Marina Beach are worth a visit. Among them, Vivekananda's house and war memorial are very interesting.
What are the recreational activities offered around Marina Beach?
Among these places there are different recreational activities are available. You can do sightseeing, or visit a library, other than that you can opt for water sports near marina beach.
What are the options for commuting around Marina Beach?
You can opt for local transport and also rented a car for commuting. It is advisable to take a troll and experience the beautiful architecture near the Marina beach.
Can we visit Marina Beach at night?
Yes, you can visit Marina Beach at night, but it is not advisable to take deep strolls around the beach in the late-night due to safety concerns.
What are the safety concerns which you should take care of while wandering around Marina Beach?
The weather in Chennai is quite hot and humid. You should take the desired precautions to tackle the immense heat. Other than that, keep yourself aware of petty thefts and conman.
In case of any mishappenings whom should we contact?
You can contact the local police. Take a note of the nearest police station. If possible, make a list of the person whom you should contact in case of any emergency.
Which is the most romantic place around the Marina beach?
There are numerous places around Marina Beach which are romantic. You should opt for the Marina beach though it provides the serene view of the sea.
Is Marina Beach safe for strolling with family?
Yes, it is safe to take a stroll with your family around Marina Beach. Just you have to be attentive and take care of normal concerns.
---
Comments
comments