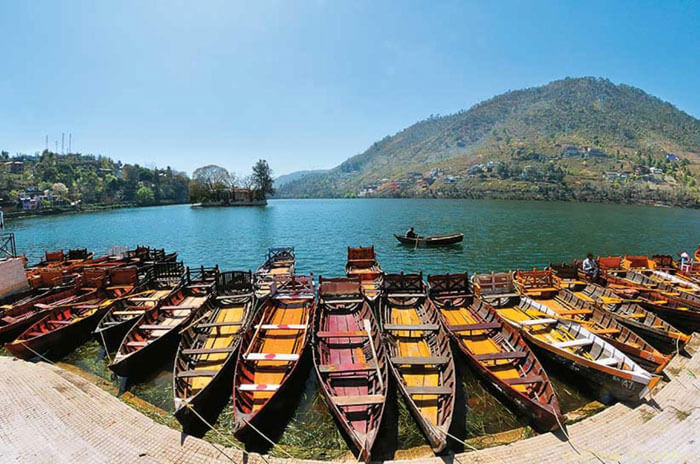 One of the most popular getaways and a tourist destination, Nainital is full of picturesque landscapes, pristine lakes and enjoyable weather that attracts Indian and international tourists alike. Like Nainital, places near it are a perfect combination of soothing hill stations, a place for adventurous activities, wildlife sanctuary and a perfect weekend getaway for friends, families, and couples. The places to visit near Nainital are ideal for rejuvenating and exploring oneself through nature.
15 Places To Visit Near Nainital For A Revitalising Vacation
Sit back and relax as we have your itinerary ready for your next trip to Nainital. These places are an ideal amalgamation of thrill, adventure, and beauty. So, do not forget to include a visit to these in your Nainital itinerary while browsing ideal Uttarakhand tour packages.
1. Bhimtal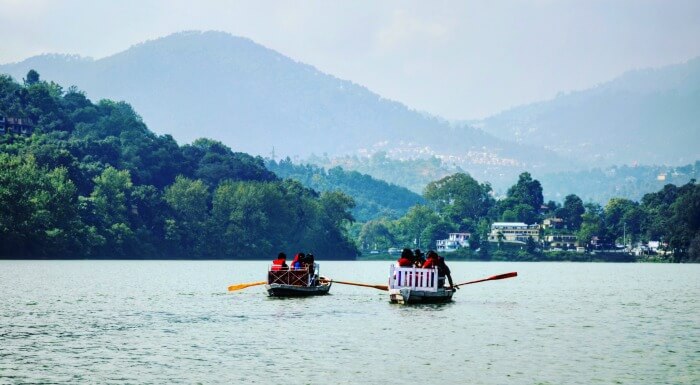 Must Read: 15 Amazing Hill Stations In Uttarakhand: From The Most Popular Hill Towns To The Unexplored Ones
Bhimtal is an exquisite location nestled in the Himalayas, 1370m above sea level. It is an ideal weekend getaway and Bhimtal Lake is the one of the most sought after destinations in Bhimtal. The dense forests of Oak and the pristine lakes along with a pleasant weather make Bhimtal a magical location suited for everyone. It is certainly one of the most visited tourist places near Nainital.
Best time to visit Bhimtal: March to June and September to December
Places to visit in Bhimtal: Hanuman Garhi, Aquarium on Bhimtal Lake and Victoria Dam
Distance of Bhimtal from Nainital: 20 kilometers
Time taken: 56 minutes
---
Uttarakhand Holiday Packages On TravelTriangle
Witness the beauty of Uttarakhand and indulge in spiritual pilgrimages, adventure sports, and treks. Visit Nainital, Rishikesh, Haridwar, Auli, Jim Corbett, and more. Get best holiday deals on TravelTriangle.
---
2. Ranikhet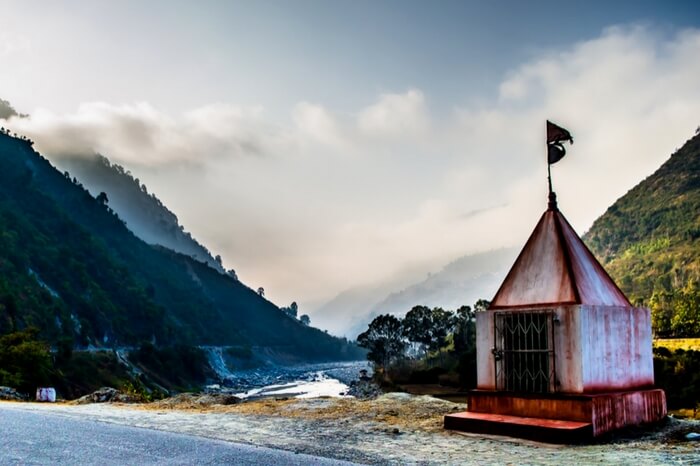 Ranikhet literally means the Queen's Farm and is a location developed around the ancient temples with bounties of natural beauty. An interesting fact about Ranikhet is that it is the Headquarter of the Kumaon Regiment of the Indian Army. The Kumaon Regiment Center Museum is also situated in the town with a splendid collection of weapons. Nanda Devi Peak is another popular location in Ranikhet. The place is also known for trekking, mountain climbing, exquisite golf courses and various temples. The vibe of this place makes one of the best places to visit around Nainital.
Places to visit in Ranikhet: Chaubatia Orchards, Kalika, Bhalu Dam, and Majkhali are some famous places to visit in Ranikhet.
Distance of Ranikhet from Nainital: 55.9 kilometers
Time taken: 1 hour 45 minutes
Suggested Read: 10 Best Things To Do In Nainital For An Amazing Holiday In 2018
3. Almora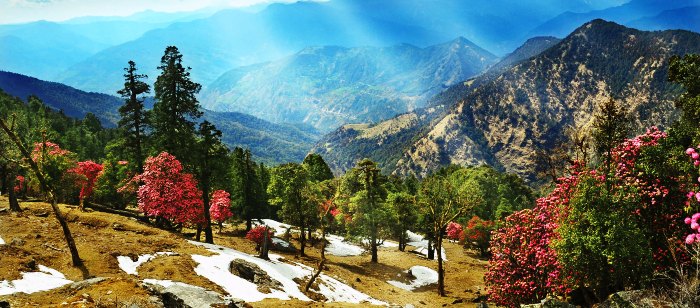 Shaped like a horse-shoe and cradled between the mighty Himalayas, Almora is a popular tourist destination near Nainital that has a pre-British heritage and rich history. Almora is known for unique handicraft and its diverse wildlife. Two major rivers pass from the town, namely, Koshi and Seyal, which increase the enchanting beauty of the place. Almora has a pleasant climate and can be visited throughout the year. The town can be easily explored in 1 or 2 days and will prove to be an interesting site for nature lovers. It is a perfect destination for everyone and the pride of Uttrakhand!
Best time to visit Almora: Throughout the year
Places to visit in Almora: Kasar Devi and Katarmal Sun Temple
Distance from Almora to Nainital: 62.9 kilometers
Time taken: 2 hours 5 minutes
4. Mukteshwar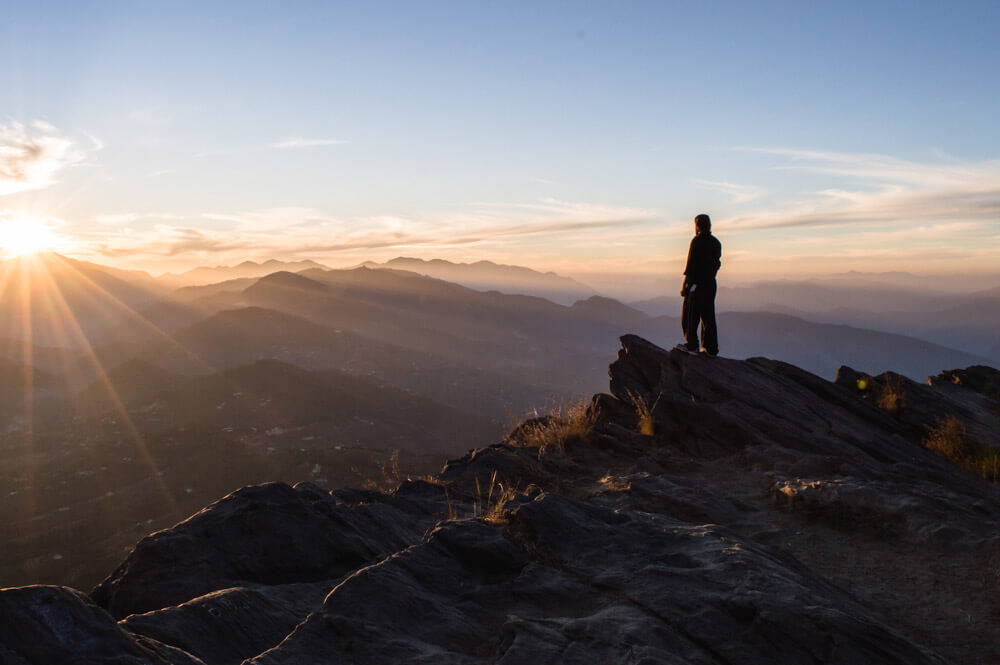 Suggested Read: 6 Super Fun Things To Do In Mukteshwar For A Kickass Weekend Retreat
A famous destination for adventure sports, Mukteshwar is a destination that gives each one a splendid view of the Himalayan ranges. The place is covered in coniferous forest and is full of fruit orchards along with rolling meadows. The place is situated at a height of 7,500 m above sea level and lets tourists indulge in numerous activities like rock climbing and rappelling. The colonial architecture of the place adds to its scenic beauty. From Mukteshwar, one can have a breathtaking view of Nanda Devi and various other peaks. The Renewable Park developed by the Energy and Resources Institute is located here which makes Mukteshwar one of the favourable places to visit around Nainital.
Places to visit in Mukteshwar: The Renewable Park, Mukteshwar Dham, Bhalu Gaad Waterfalls
Distance from Mukteshwar to Nainital: 46.5 kilometer
Time taken: 1 hour 38 minutes
5. Ramgarh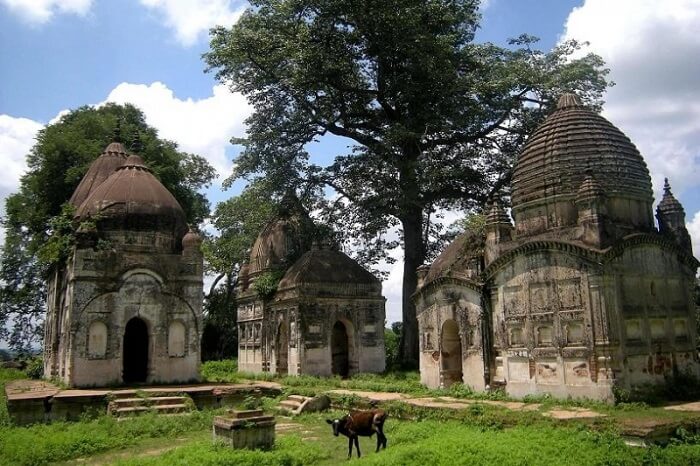 Image Source
Situated at a height of 1789 m, adorned with serene environment, and bearing impeccable views of snow covered Himalayas, Ramgarh is a treat for everyone. That is why it is included in the list for places to visit near Nainital. It is often called the Fruit Bowl of Kumaon as it is enriched with a variety of exotic fruits, like, peaches, apples, plums, pears, etc. The tranquility of the place and serene sunrises and sunsets are a delight to watch. The place is ideal for bird watching, trekking, and rock climbing.
Best Time to Visit Ramgarh: October to May
Places to visit in Ramgarh: Orchards, Nathuakhan
Distance from Ramgarh to Nainital: 34 kilometer
Time taken: 1 hour 15 minutes
6. Sattal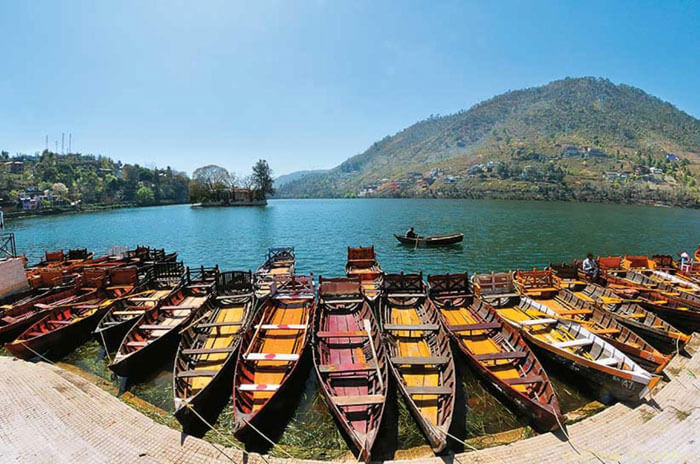 Sattal is a unique group of freshwater lakes which has loads of migratory birds adorning the town. It is an ideal destination for nature buffs, bird watchers and anyone who wishes to relish the panoramic views of the place. It is one of the ideal places to visit around Nainital as the lush green area full of oaks and iner is something that soothes the eyes. It is located at a height of 1370. Sattal is a cluster of seven rivers and is ideal for trekking and fishing. Subhash Dhara in Sattal is another location that is visited by tourists.
Best time to visit Sattal: April to June and September to December
Places to visit in Sattal: Seven Lakes, Subhash Dhara
Distance from Sattal to Nainital: 45.6 kilometer
Time taken: 1 hour 28 minutes
7. Kumaon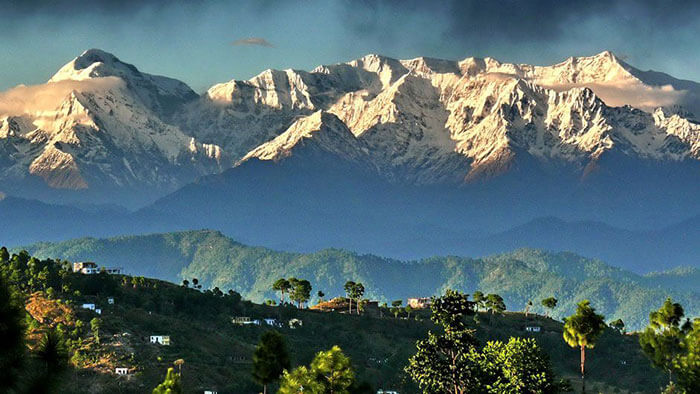 Kumaon is a region full of towns, religious spots and hill stations. It is draped in lush green forests and changes its coat of blooms several times a year. It plays hosts to a lot of events, festivals and fairs that display that culture of Uttrakhand. The weather is pleasant in the summers and the winter nights are chilly. It is a location that can be visited by everyone from friends, families, and couples. Kumaon is one of the famous tourist places near Nainital.
Best time to visit: April to July
8. Naukuchiatal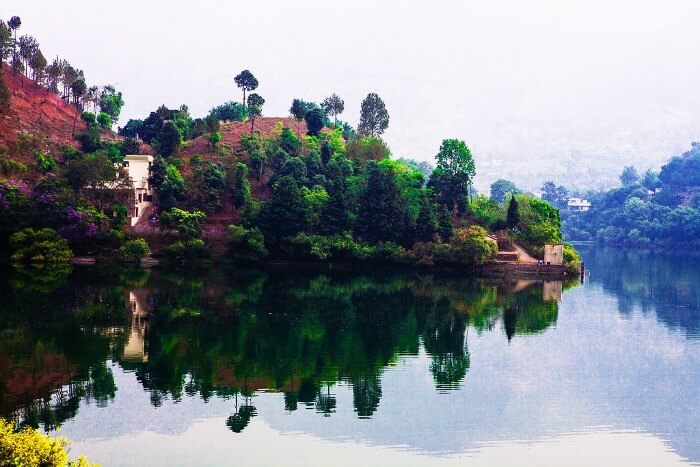 Suggested Read: 8 Amazing Things To Do In Bhimtal
Naukuchiatal is a picturesque village suitable for those who seek tranquility and relaxation. The village is full of scenic beauty and has a 9 cornered lake which is 1 kilometer in length and 40 meter deep. The place also inspires a lot of legends. It is said that if a person views all the 9 corners of the lake with his feet on the ground, he disappears and attains nirvana. The place has captivating beauty and a serene lake with a pleasant weather that makes it an enchanting location. It is one of the most brilliant places to see near Nainital.
Best time to visit Naukuchiatal: April to June and September to November
Places to visit in Naukuchiatal: Lake Naukuchiatal, Hanuman Temple
Distance from Naukuchiatal to Nainital: 26 kilometers
Time taken: 30 minutes
9. Corbett National Park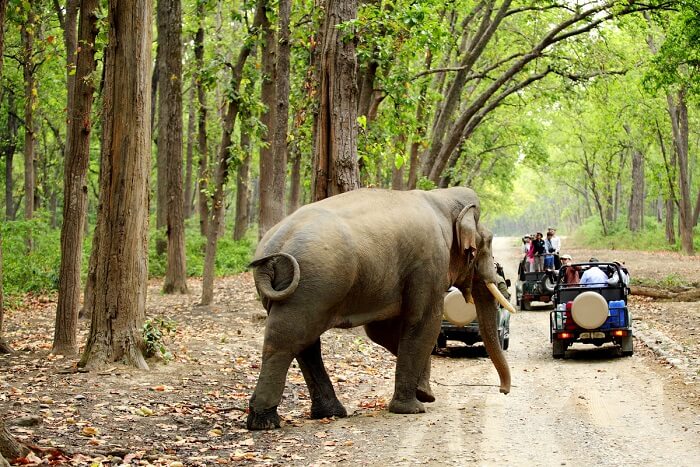 Set amidst the foothills of Himalayas, Corbett National Park houses a variety of flora and fauna. The place also has a lot of rare tigers and is a treat for wildlife enthusiasts. is from. It is the diversity of the beautiful flora and fauna of this place to which it owes its status of one of the best places to visit near Nainital. The park is home to 50 species of trees, 580 birds, 25 reptiles living in an area spread over 500 square kilometers. Corbett National Park has lots of riverine belts, hills, lakes, and beautiful streams.
Best time to visit Corbett National Park: October to June
Distance of Corbett National Park from Nainital: 153 kilometers
Time taken: 4 hours
10. Patal Bhuvaneshwar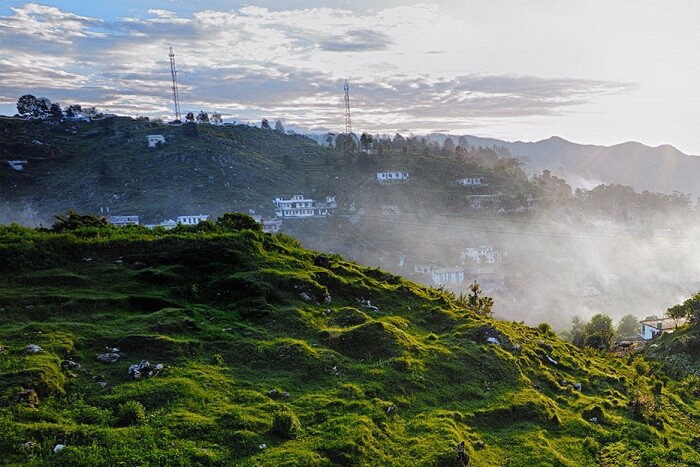 Image Source
Patal Bhuvaneshwar is a magical place situated at a height of 1350 m above sea level. Among the most surreal places to visit in Uttarakhand, Patal Bhuvaneshwar is famous for the Shiva Temple Cave and has a spiritual vibe to it. It is situated amidst the cover of oaks and cedars and it is believed that the place is home to 33 crore Gods and Goddesses. If one is searching for places to visit around Nainital, Patal Bhuvaneshwar should definitely be on the list.
Places to visit in Patal Bhuvaneshwar: Haat Kalika Temple, Patal Bhuvaneshwar Caves
Distance of Patal Bhuvaneshwar from Nainital: 146.9 kilometer
Time taken: 4 hours 52 minutes
11. Pithoragarh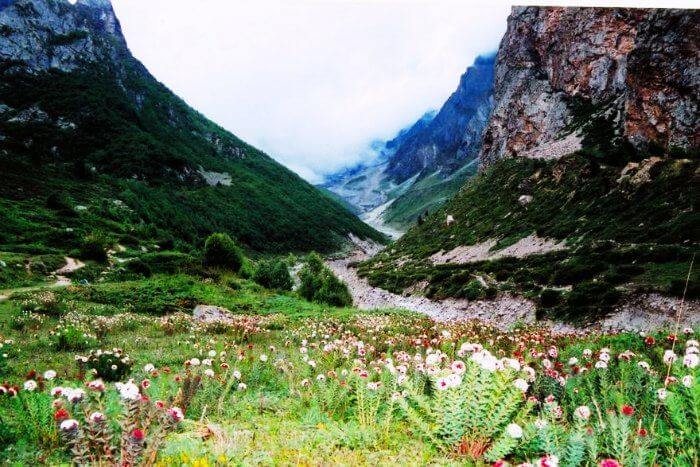 Suggested Read: 15 Most Beautiful Places To Visit In Uttarakhand In Winter
It is fondly referred to as Little Kashmir and is a quaint town full of natural beauty. The place is also of much historical importance and pilgrims begin their journey to the holy shrine of Kailash from here. Snow capped mountains of Nanda Devi, Appi and Panchauli are easily visible from here. It is one of the best tourist places near Nainital and houses the magnificent Pithoragarh Fort, Thal Kedar Temple, and Dhwaj Temple.
Places to visit in Pithoragarh: Askot Sanctuary, Munsiyari
Distance from Nainital: 170.2 kilometer
Time taken: 5 hours 30 minutes
12. Bageshwar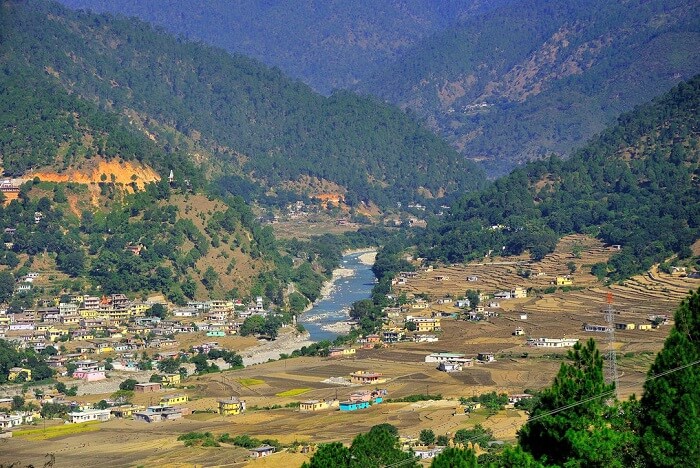 Image Source
Bageshwar is called the Kashi of Uttrakhand and is tucked beautifully in the Himalayan ranges. It is one of the most untouched destinations in the Kumaon Valley. It has brilliant and colourful fairs and festivals and is a great site for adventure buffs. Hiking and trekking are some of the most enjoyed activities of this region. Streams of Sarayu, Gomti and Bhagirathi make the place even more serene and charming. Tourist places near Nainital Uttarakhand definitely include Bageshwar.
Places to visit in Bageshwar: Bageshwar are Baijnath, Kanda, and Bagnath temple.
Distance of Bageshwar from Nainital: 138 kilometer
Time taken: 4 hour 41 minutes
13. Jageshwar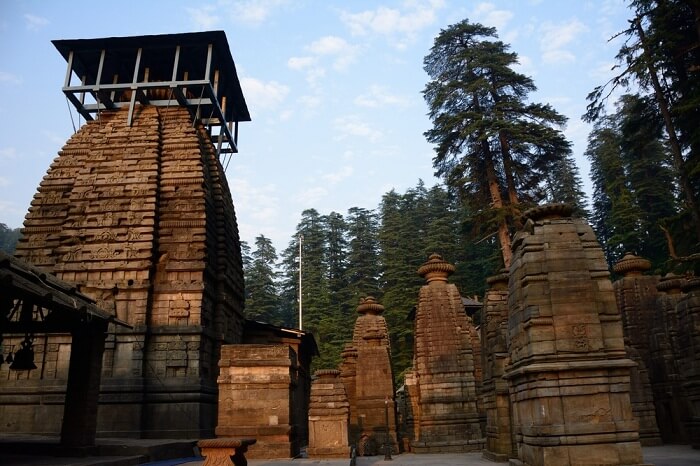 Jageshwar is a place specially carved for temples. It has 124 beautiful temples that sit on Jata Ganga Valley. The place invites tourists who look for spiritual and religious sites and is one of the best places to visit near Nainital.
Places to visit in Jageshwar: Mahadev Temple
Distance from Jageshwar to Nainital: 97 kilometers
Time taken: 3 hours 16 minutes
14. Rishikesh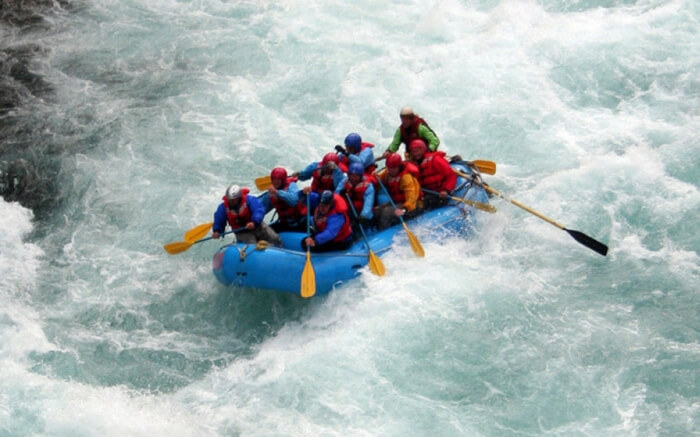 Situated in the foothills of Himalayas, Rishikesh is famous as the rivers Ganges and Chandrabhaga converge here. The place has some ancient temples, cafes, ashrams and provides great scope for adventure sports. It is a spiritual destination where you may come across many 'sadhus' and pilgrims deeply immersed in worshipping the Almighty. Whitewater rafting, bungee jumping, and mountain biking are some of the famous activities one can try in this region. It's spiritual vibe yet adventurous vibe make it one of the best places to visit near Nainital.
Places to visit in Rishikesh: Ram Jhula, Lakshman Jhula, Neelkanth Mahadev
Distance from Rishikesh to Nainital: 257.5 kilometer
Time taken: 6 hours 29 minutes
15. Kausani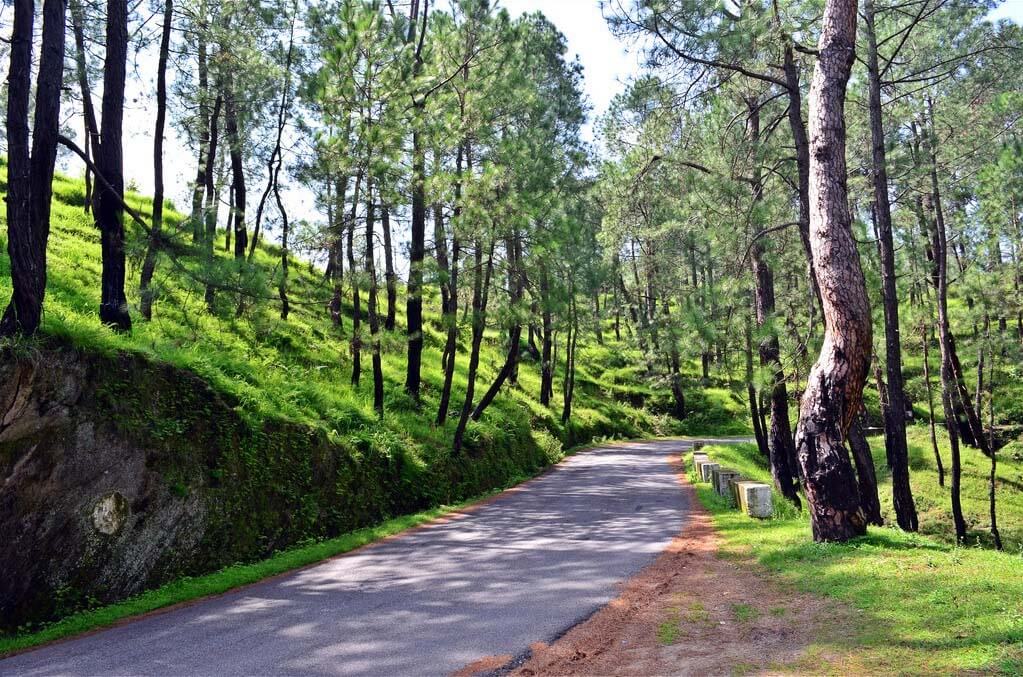 Further Read: 7 Honeymoon Places In Uttarakhand For An Idyllic Escape Right After The Wedding
Kausani showcases the beauty of alpine hills and is a nature lover's paradise. Tourists can engage in various recreational activities in Kausani, like photography, bird watching, or adventurous hikes. The place is ideal for a romantic weekend getaway or a walk in the lap of nature and therefore deserves a special place in the list of places to visit around Nainital.
Places to visit in Kausani: Lakshmi Ashram, Sumitranandan Pant Museum, and Baijnath Temple
Distance from Kausani to Nainital: 114.8 kilometers
Time taken: 3 hours 38 minutes
Now that you know of all the places to visit near Nainital, get down to picking your favourite of the lot and planning your trip. Book your trip to Uttarakhand with TravelTriangle to make your holiday a hassle-free and adventure-rich experience!
---
Looking To Book A Holiday Package?
Book memorable holidays on TravelTriangle with 650+ verified travel agents for 65+ domestic and international destinations.
---
Comments
comments