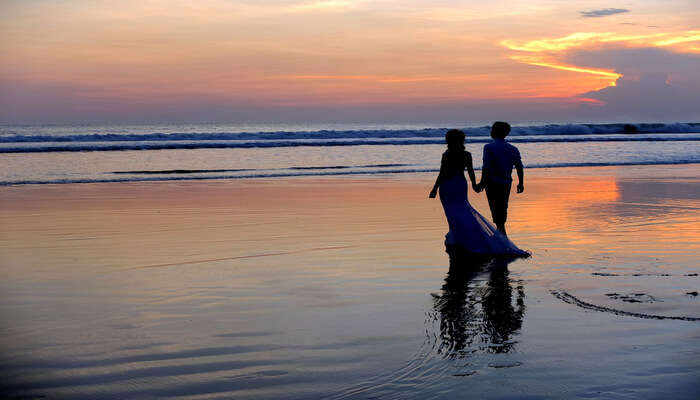 The beautiful coast of Goa is home to some of the top beaches on the planet and serves as a picture-perfect host for photography. So make your wedding special with a pre-wedding shoot in Goa. We are always choosy with all the things like dresses, location, and photographer when it comes to pre-wedding shoots. As it is a one-time event that lasts forever with us. When it's about location, Goa will always remain on top of the list of fascinating places.
Photographs indeed speak a thousand words, so don't let yours be a basic photoshoot in Goa. The best part is that you don't need to be a professional for the furthermost part. And you just need a dependable group of shutterbugs who can pull a pre-wedding shoot in Goa, with ease. Here are 5 awesome ideas for a stunning pre-wedding shoot in Goa that you could do.
Top 5 Destinations For A Pre-Wedding Shoot In Goa
Goa is a destination that reeks of love and romance. A pre-wedding shoot in Goa is all about aesthetically appealing backdrops, enchanting themes, and exciting poses. Here are the top ideas that one can use for their pre-nuptial photoshoot!
1. Chorla Ghats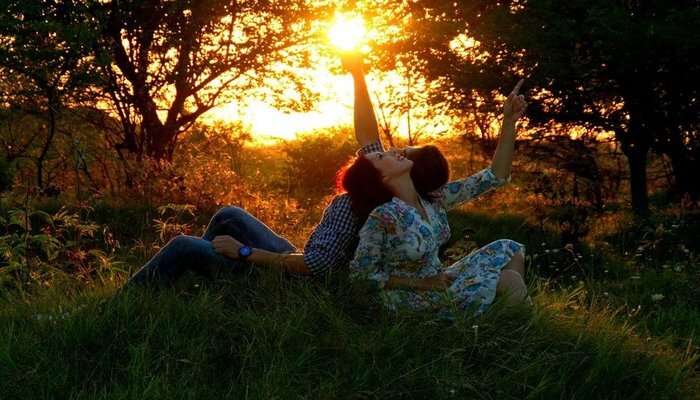 Goa has an immense forest cover in its eastern part. Grab a chance to have a lovely photo session right under its canopy. It's a great way to make your photoshoot in Goa surreal. The Chorla Ghats is a picture-perfect choice because of its lush greenery and pleasurable weather. Avoid doing a photoshoot here during the rains to enjoy a hassle-free experience. You can expect monkeys to photobomb your pictures now and then. Adventure enthusiasts frequently visit this place to experience the breathtaking view and scenic beauty the place has to offer. This is amongst the best Goa pre wedding shoot site.
Location: State Highway 4, Belgaum, Maharashtra 403505, India
Cost: INR Rs. 45,000 GST for 6 hours
Speciality: Breathtaking view and scenic beauty the place
Places To Visit Nearby: Malabar whistling Thrush, Indian Pitta, Nilgiri Wood Pigeon, Loten's sunbird, White Cheeked Barbet, Nilgiri Flycatcher, etc
12 Lakes In Goa That Are Ideal For An Off-Beat Vacation
2. Calangute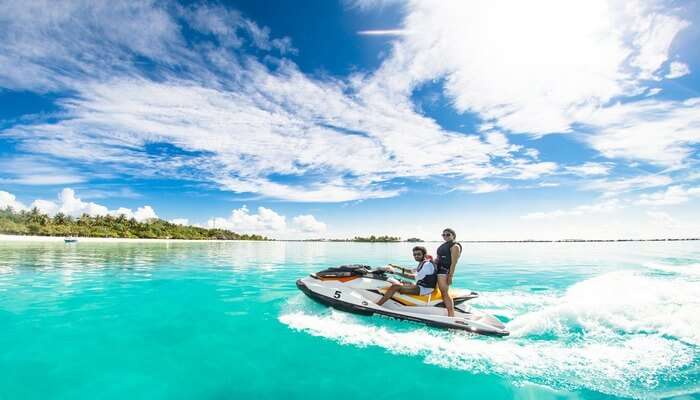 We stake your pre-wedding shoot in Goa cannot get more histrionic than this. If you're having a photoshoot in Goa, you might as well have one on the vast open sea. Even better is when you and your fiance are big-time adventure people. Have a candid shooting session with your partner while pandering in water sports in Goa.
You can go scuba diving, Kayaking or even Wakeboarding in Goa. Let your photographer do his magic of catching the romance, between those moments of adrenaline rush. Capture all your adventurer and explorer photos. People love coming here to indulge in the fun, cheerful and lively way in this destination of sun, sand, and surf. You can go to Calangute, Candolim, Agonda, Miramar, Palolem, Baga, Anjuna and Vagator.
Location: Calangute, North Goa, India
Cost: Starting INR Rs. 35,000 plus GST
Speciality: Water sports, kayaking, and wakeboarding
Places To Visit Nearby: Candolim, Agonda, Miramar, Palolem, Baga, Anjuna, and Vagator.
3. Panjim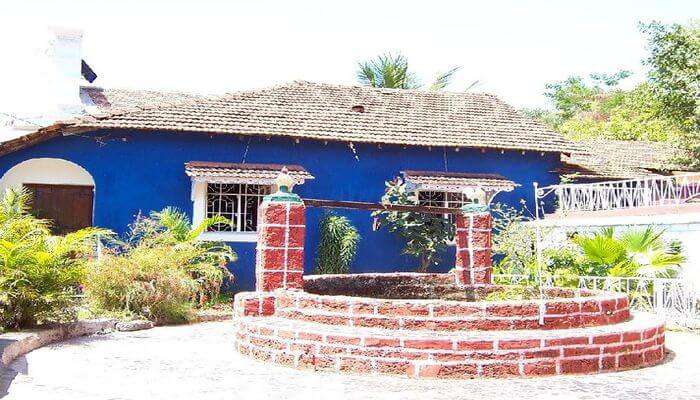 The radiantly colored streets of Panjim are a flawless scene for your pre-wedding shoot in Goa. Fontainhas is the oldest Latin Quarter in Goa, adjacent to the hustle and bustle of Panjim city, but cut off from the same. Fringed by houses painted in blue, yellow and many more colors, Fontainhas gives away a strong Portuguese feel.
So, think out of the conventional and complement a vintage romantic flavor to your love with a photoshoot in Fontainhas, Goa. The place can be visited at any point of the year and appears equally beautiful throughout, however, tourists usually prefer visiting here in the winters. After all, it's a once in a lifetime opportunity. The colorful streets of Goa await you! This is amongst the best pre wedding shoot locations in Goa.
Location: Panjim, Goa, India
Cost: Starting INR Rs. 55,000 plus GST
Speciality: Sightseeing, churches, and market to explore
Places To Visit Nearby: Beautiful places nearby church, beaches and market.
Goa In Winter: 7 Happening Events & Festivals To Keep Your Eye On
---
Planning your honeymoon in Goa but confused about what to do? These Goa honeymoon stories help you find your best honeymoon trip ever!
---
4. Bat Island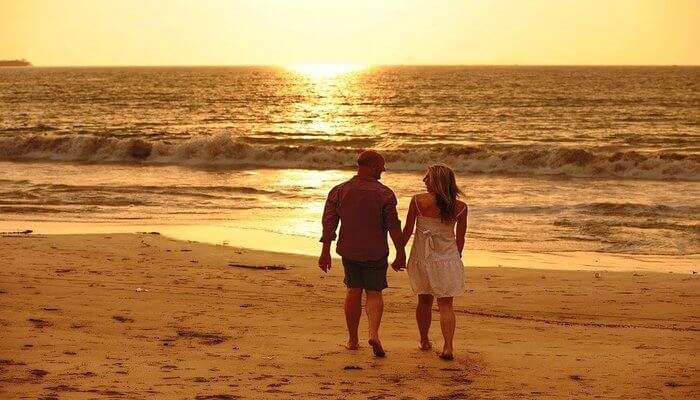 A starry-eyed photoshoot in Goa is imperfect without a beach. It's truly magical to have those tranquil blue waters as a backdrop for your photos. A very candid and simple setting. There is no surprise why these stellar locations get to choose from at this balmy beach destination. There are various beautiful beach locations to choose from, sometimes associated with famous shacks that sell some of the delicious seafood.
Right through the lovely moments through to the fun on the beach, you can seizure the perfect picture of a lifetime.
So go ahead, find the impeccable lighting and pose away on the picturesque beaches of Goa. A sunset sky in Goa is highly mentioned. You can go for Suzy's Wreck, Grande Islands, and Bat Island.
Location: Vasco-da-Gama, Goa, India
Cost: Starting INR Rs. 65,000 plus GST
Speciality: Seren beach, calm and picture-perfect place
Places To Visit Nearby: Amazing places near beaches and markets.
5. Mandovi River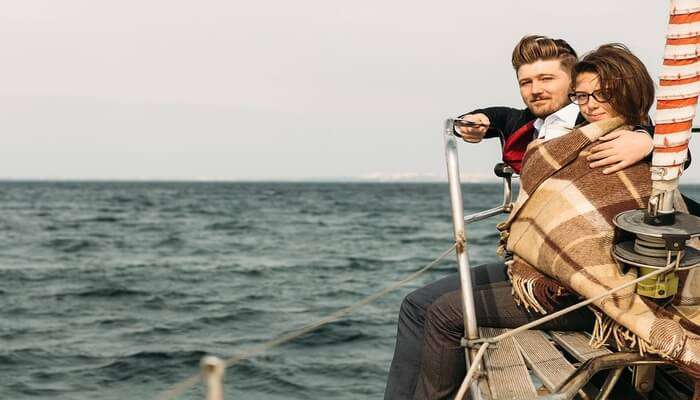 A flawless couple needs an impeccable photo to complement their album of life. When it comes to precision, you cannot go wrong with a pre-wedding shoot in Goa under the stars. Snatch the opportunity for a glamorous photo with a heavenly Goa in the background. The use of Drone photography here is the greatest way to capture the seamless bird's eye outlook.
The Mandovi River, of course, is the unspoiled choice for a photoshoot in Goa because of the quiet mix of city life and sunshine.
You can also go for a customized yacht in Goa. If you want to experience Goa in a different way you should try a houseboat tour also. Beautifully handcrafted houseboats fitted with all modern luxuries can be one of the best things for modern-day pre-wedding shoots in Goa.
Location: Mandovi River Goa, India
Cost: Starting INR Rs. 45,000 plus GST
Speciality: Picture perfect place
Places To Visit Nearby: Mesmerizing places nearby beaches.
7 Magnificent National Parks In Goa For An Adventurous Encounter With The Wild
All set up for a spectacular pre-wedding shoot in Goa? You can go for either romantic or adventurous photoshoot ideas that you have for your pre-nuptial shoot in Goa. Goa fits the bill for the pre-wedding shoot, destination wedding effortlessly, with facilities made available across several different locations. pretty destination and it's kind-hearted and friendly people welcome tourists with open arms and big smiles. So when are you planning your trip to Goa for a picture-perfect photoshoot?
For our editorial codes of conduct and copyright disclaimer, please click here.
Frequently Asked Questions Pre-Wedding Shoot In Goa
Why is Goa so popular for a pre-wedding photoshoot?
Goa is popular for its beautiful beaches, colorful streets, nightlife party, dramatic views, carnival, and Water sports. So, people find it best suitable for Pre-wedding shoots.
Is Goa safe for women travelers?
Goa is easier to travel as a solo female than other parts of India. Goa is considered to be safer than other states. Goan people are warm and welcoming.
Why is Goa so popular for a destination wedding?
A wedding in Goa can create a lot of memories. Starting from themes from a beach wedding to one on an island, or a Portuguese church to rocky cliff sides and lush evergreen fields. It also makes sure that you combine a vacation trip with your special day, either before it or after it.
Which is the best place for the Pre-wedding shoot in Goa?
To add some more charm to your portraits, here are the top pre-wedding shoot in Goa places:
1. Chorla Ghats
2. Panjim city
3. Cola Beach
4. Ashwem Beach
5. Harlem Falls
How much does a pre-wedding shoot in Goa cost?
The average cost of a pre-wedding shoot in Goa typically is around Rs 30000 to Rs. 250,000. The charges vary based on various factors like shoot location, time, concept, equipment used, etc.
Where can I find the package for top Goa photographers?
Here are few names in the business including Dreamcatchers Photography, Lenseyezia Productions, Cupid Love stories, Knotty Affair, Shutter Magik, The We Do Moments. They have a per-day price estimate for photos and videos.
Which are the different services provided by Pre-wedding photographers in Goa?
Here is a list of services Pre-wedding photographers offer in Goa
1. Traditional photography
2. Candid photography
3. Portraits
4. Aerial/Drone photography
5. Albums
---
Looking To Book Your Honeymoon Package?
---
People Also Read:
Pre-Wedding Shoot In Pune Pre-Wedding Shoot In Rishikesh Pre Wedding Shoot In Delhi NCR