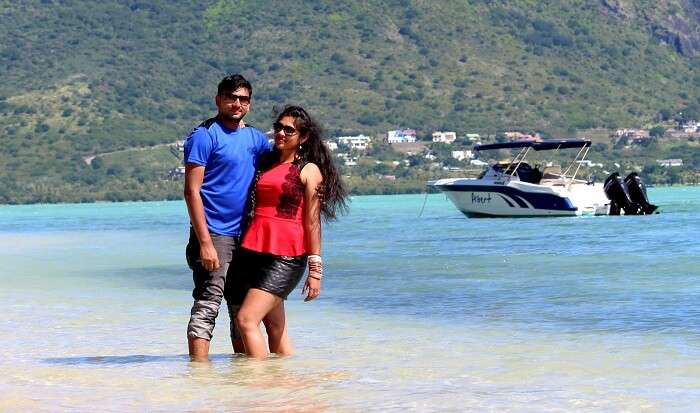 Arup captured the sights and sounds of an incredible 6 nights/7 days honeymoon to Mauritius. Read on, as he describes his idea of a memorable and romantic vacation for couples visiting from India.
Trip Duration: 6 nights/7 days
Trip Cost: INR 68,500
Agent Name: Travel Plug
Month of Travel: April 2017
Inclusions: Transfers, accommodation, sightseeing, meals (excluding lunch), and visa
Exclusions: Flights, lunch, and entrance fee
My wife and I wanted to go to Maldives or Mauritius for our honeymoon. However, after doing a bit of research, we felt that Mauritius had a lot more places for sightseeing. The diverse wildlife and the scenic beaches had a major part to play in us choosing Mauritius.
TravelTriangle linked us up to various agents, and we received the best quotations from Travel Plug agency for a honeymoon trip to Mauritius. After the booking was done, the eager wait to fly out to this marvelous and magical Mauritius began. Going by the amount of shopping my wife had done, a week prior to the honeymoon, her excitement levels for this trip were extremely high.
Have a look at the summary of the itinerary we followed on our 7 day honeymoon trip to Mauritius
Day 1: Arrive in Port Louis- transfer to resort- dinner at hotel
Day 2: Breakfast- south island tour- return to resort in the evening- dinner
Day 3: Breakfast- north island tour- shopping in port louis- return to hotel- dinner
Day 4: Breakfast- trip to ile aux cerf island along with watersports- return to hotel- dinner
Day 5: Leisure day
Day 6: Breakfast- leisure afternoon- sunset catamaran cruise- dinner at hotel
Day 7: Breakfast- drop to airport- flight to New Delhi
Here are the precious moments I managed to capture with my camera of our honeymoon trip to Mauritius
Here's A Magical Way To Spend 7 Days In The Mesmerizing Mauritius
Being a photography enthusiast, I tried to capture the essence of Mauritius and take back with us memories of what made our honeymoon a perfect holiday. Mauritius, as a honeymoon destination, gave us a lovely mix of adventure, romance, and natural beauty.
Welcome to the lap of luxury
We landed into Port Louis and straightaway checked into the exotic Anelia Resorts Villa & Spa. Our rooms were beautifully decorated and extremely comfortable.
Honeymoon In Mauritius: How To Plan A Perfect Honeymoon
After taking a short nap in the afternoon, the resort had a luxurious three-course meal prepared for us. The evening began with drinks and starters, and ended with a delicious dinner.
Covering the picturesque landscape on the south island tour
A Sweet Honeymoon Trip About Must Do Things In Mauritius
Post breakfast, we enjoyed a lovely sightseeing tour of the south island on the second day. The visit to Mangal Mahadev temple was the best moment of our day.
Feeling The Tropical Love On A 4N 5D Honeymoon In Mauritius
We returned to the resort after the sightseeing tour at 4 pm. It gave us a chance to enjoy the evening, relaxing in our room, and admire the sea-facing view.
Making new friends along the way
We departed for the north island sightseeing tour and visited beautiful places like Le Caudan Waterfront, Champs de Mar race course, and Citadel.