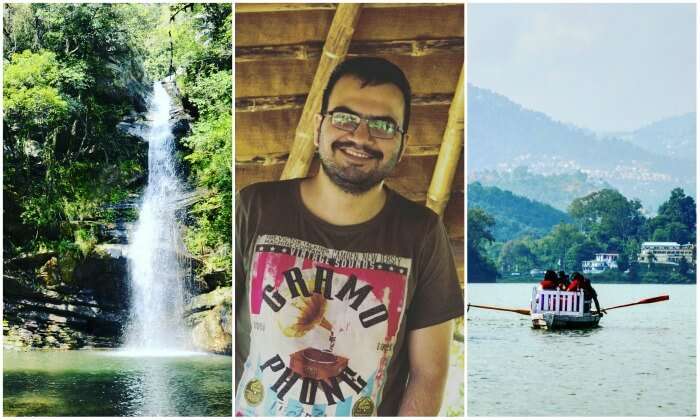 What good is a vacation that just doesn't allow you to be with yourself for a change & where your work doesn't cease to follow you! And as soon as Abhishek realised this, he booked himself a 1 night 2 days package to Mukteshwar for INR 3,500/- that included his transfers, accommodation, and meals, and decided it was time for a break! Take a look at how he and his amigos jazzed up their weekend!

My friends and I wanted a vacation where we could get a break from our hectic work routine and enjoy limitless natural beauty, along with a spot of adventure, which is why we chose Mukteshwar! We booked our package through TravelTriangle who tailored our trip to Mukteshwar as per how we wanted it at a very affordable price.
And now with the weekend finally approaching, we were all pumped up for the adventures awaiting us.
A bus journey like no other

Our fellow passengers on the bus were one step ahead in terms of how they passed their time on the journey. Apart from 'Antakshari' and occasional card games, there were soulful rounds of 'Shayari' to keep everyone entertained!
Sitting atop one of the highest ridges in Uttarakhand, was our quaint, eco-friendly hideout

Upon arrival at Camp Purple, our remote abode for our trip, we were greeted by its lush surroundings, alluring orchards of apricots, peaches, & plums, heart-stealing views of hills all around…and the absence of network in our cell phones!
Weekend Trip To Dhanaulti: This Solo Traveler Gave 2017 A Kickass Start!

Post a delicious meal prepared from fresh, home-grown vegetables, we set out for the day's adventures as planned.
He Sketched, Explored & Trekked In Kheerganga- All @ Just INR 4,500/-
Plunging into ice-cold water of the Bhalu Gaad Waterfall

The 2 km trek through the thicket over tricky passages & razor sharp rocks to get to this waterfall may have been exhausting, but upon reaching, the unbeatably mesmerizing views of the waterfall totally made up for our efforts.
6 Super Fun Things To Do In Mukteshwar For A Kickass Weekend Retreat

Swimming and diving in that pool of biting cold water, we felt we were children once more!
Delighting ourselves in some fun activities and the sunset at Chauli ki Jaali

Post a refreshing dip in the waterfall, we trekked back to the camp, and then further to Chauli Ki Jaali (or Chauthi Jali).

The highest point of the region, this dangerous looking cliff bears a natural lattice-like rock formation on its edge….and a breathtaking canvas of mist-soaked mountains beyond.
Weekend Trip To Mukteshwar: How Aishwarya Planned An Ideal Adventurous Escape From Delhi

Post basking in the hues of a gorgeous sunset, we tested our skills with a session of rappelling and rock climbing.

The task of climbing about 80 feet down that vertical wall was quite challenging, but what stimulated the thrill was the slowly darkening sky!
15 Most Beautiful Places To Visit In Uttarakhand In Winter
Bonfire, music, laughter….and some more 'shayari'!

The best way to call off an adventure-packed day is with a campfire and some music. While the staff members sang local songs, we played 'dholaks' and danced around the roaring pyre.

Post that, we settled down to enjoy sumptuous local cuisines for dinner, which again came fresh out of their lovely vegetables patches.
Stopping by for boating at Bhimtal

Once we'd had our fill of the delicious 'makke ki roti' & 'sarson ka saag' for breakfast, we rode off, bidding farewell to the town and the exceptionally hospitable staff of our camp.

How can one ride through the charming town of Bhimtal and not pay a visit to its equally charming lake? As we peddled away in our boats, the lush, picture-perfect hills on either side of the sparkling lake turned all the more alluring. After a relaxing session of boating and a spot of lunch in Bhimtal, we resumed our journey home.
High points: The trek to Bhalu Gaad waterfall; the refreshing experience at the waterfall itself; the well maintained and eco-friendly resort; sunset at Chauthi Jali
Tips for travelers: Be careful when trekking or generally venturing out in the forest here after dark; you won't get much cell reception here, so plan accordingly.
Why wait? Plan your own soul-charging adventure this weekend.
A Perfect Beginning For A Blissful Married Life: Celebrating Life & Honeymoon In Manali
You can't go wrong with a short and exciting trip to Mukteshwar. Chanel the adventure junkie in you and plan your own trip to this beautiful destination. Head over to TravelTriangle and customize your very own Mukteshwar itinerary now!
---
Long Weekend Trips Starting @ Rs 3499/-
Take a trip to spend the upcoming long weekend with your buddies.
✓ Stay at 4 star rating hotels with local sightseeing, meals and transfers.
✓ Travel in AC coach round trip (from Delhi).
✓ All Inclusive Deal– Camping, Jeep Safari & Trekking as per itinerary
✓ Sign up NOW to celebrate the long weekend out of town!
---