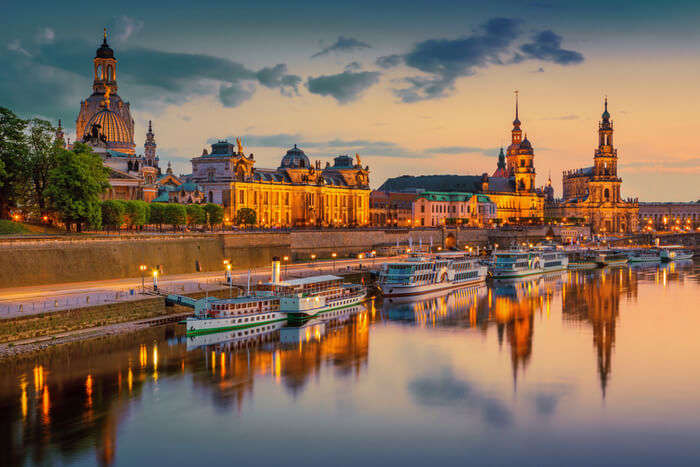 Watching the rural European vista unfold in front of you is rewarding in many ways. Yes, you can explore Europe through flights or rails, but enchantment lies on 'going with the flow' and sailing on the most beautiful rivers in Europe for cruise journeys. The streams meander and babble through varied landscapes and countries, and sailing on these rivers opens a world full of cultural extravaganza, gastronomy, nature's abundance, and luxury.
Europe's prettiest river journeys are covered in cruises that are anchored near city areas. These are mostly urban hubs where you can meet local people, go on bicycle exploration, and indulge in a range of activities. Also, when you're on the cruise, there's enough to keep you entertained, from Flamenco performances to audio tours of historic monuments.
Most Europe tour packages do nor offer river cruises, but if you are planning a trip anytime soon, make sure you ask for it. More so, if you're on your honeymoon!
Europe's most beautiful rivers to sail on
1. Thames, flows through England
Flaunting English gems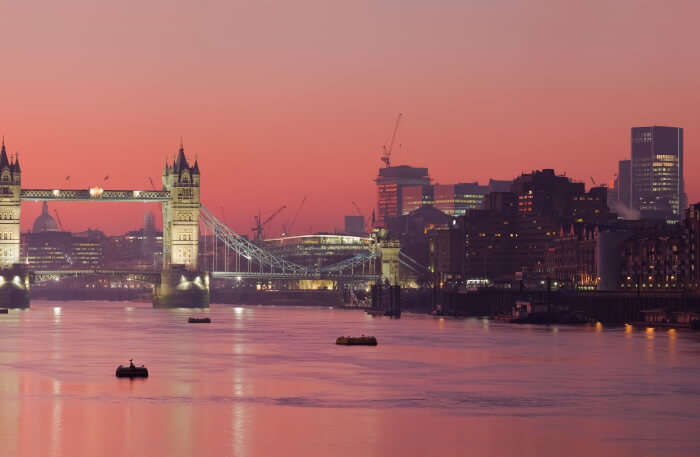 One of world's most popular rivers, Thames happen to allow a different view of the top tourist sites of London, like the Big Ben. This is the second longest river in the United Kingdom, starting from Gloucestershire and finally merges with the North Sea in Essex. The Thames cruise most notably are found in London, and one has many genres to choose from – like sightseeing and dinner cruise.
Distance covered in cruise: 346 km
Attractions enroute: London Bridge, London Eye, Shakespeare's Globe, Westminster Abbey, and Big Ben
Must Read: 40 Romantic Things To Do In London For Couples Madly In Love!
2. Rhone, flows through France & Switzerland
A scenic voyage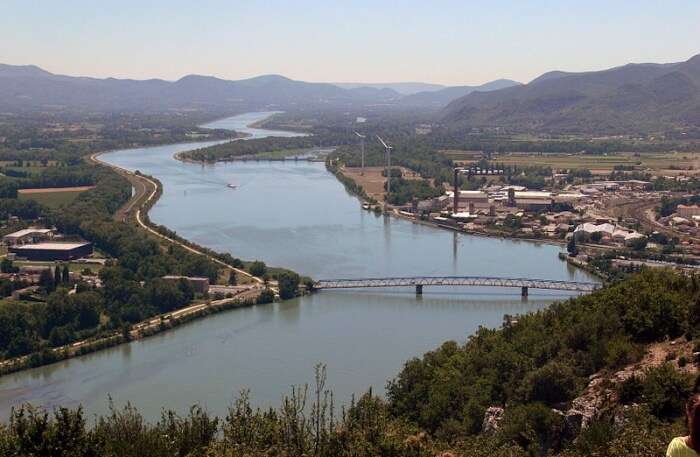 Starting from the Swiss Alps and further flowing to the Mediterranean, Rhone River formerly served as an important trade route to the Germans and Romans. The cruise tours will leave you overwhelmed while you tour the lavender fields of Burgundy, or sail past the terracotta-roofed houses of the Rhône Valley. The ideal suggested cruise itinerary lasts for 8 days, starting from Chalon-sur-Saône and ending at Chalon-sur-Saône to Avignon.
Distance covered in cruise: 652 km
Attractions en route: Lyon, Burgundy, Provence, and Paris
3. Po, flows through Italy
Showcasing the best of Italian landscapes and culture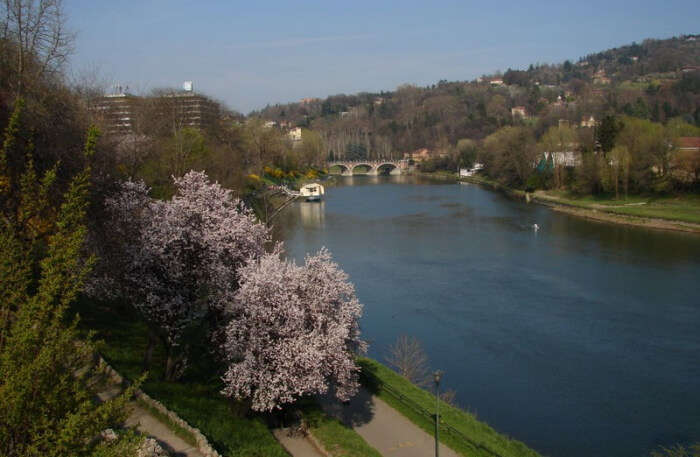 The longest river in Italy, Po River's cruise tours starts from the glistening Venetian canals, taking you through islands of Murano, Burano, and even cities like Ferrara. Cruising on this river allows the travelers to get an insight to the Italian culture. The tours usually concludes at Polesella, but may also extend to Mantua. You can opt to cruise during the day, or night. However, if you want overnight cruises, the options are not enough.
Distance covered in cruise: 652 km
Attractions en route: Venice, Murano, Burano, Piacenza, and Mantua
Suggested Read: 13 Frolicsome Beaches In Europe For All The Excited Beach Bums Across The Globe
4. Guadalquivir, flows through Spain
A different perspective of Seville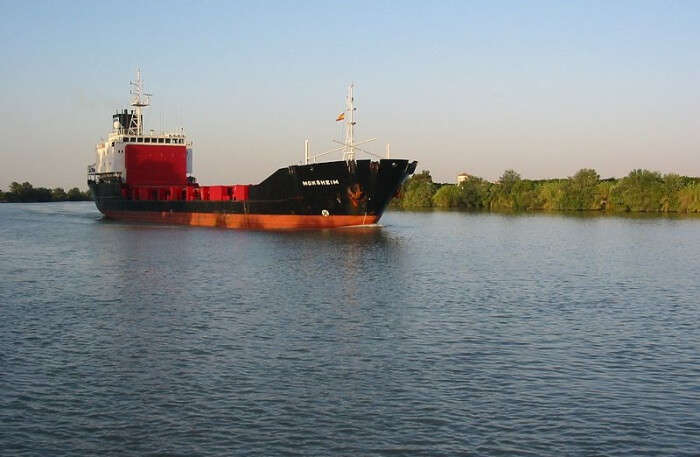 The Guadalquivir starts from Seville, one of Spain's most enchanting cities, and merges with the Atlantic Ocean. In the past, the river served as a major import/export point for the city, and today it happens to be one of the greatest tourist attractions of Spain since the beauty of its embankment is escalated by various lovely landmarks as Plaza de Espana. The river cruise journey on the Guadalquivir lasts for about an hour; starting from 10:00 am to 8:00 pm. Most of the cruises provide audio tour, narrating stories of the monuments you'll sail past.
Distance covered in cruise: 657 km
Attractions en route: Monastery of Santa María de las Cuevas, Plaza de Toros, Barrio de Triana, and Towers of Plaza Espana
5. Seine, flows through France
A Parisian journey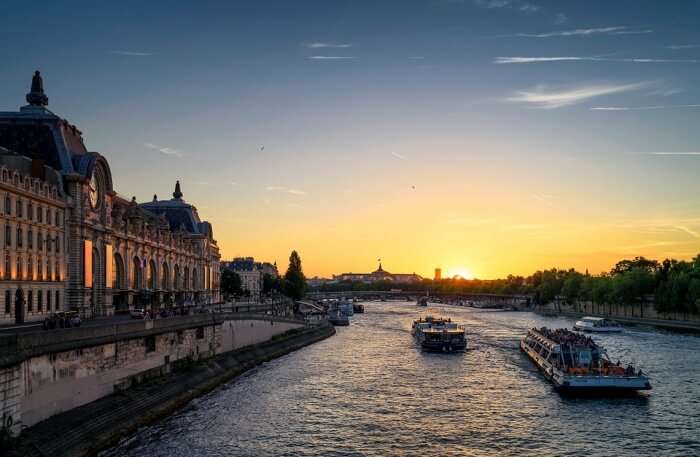 The Seine River is the heart of France. It flows within the Paris Basin, and indeed a cruise tour on it is considered one of the best things to do in Paris. This one, unlike other river journeys in Europe, lasts for about an hour, sailing past the remarkable landmarks like the Eiffel Tower, and Notre-Dame Cathedral. You can opt for sightseeing cruise tours, sunset cruise tours, dinner cruise tours, or combine activities with a cruise tour for a complete Parisian experience.
Distance covered in cruise: 776 km
Attractions en route: Notre-Dame Cathedral, Eiffel Tower, Louvre, Grand Palais, and La Conciergerie
Suggested Read: 31 Picture-Perfect Places To Visit In Paris
6. The Douro, flows through Spain & Portugal
Blended brilliance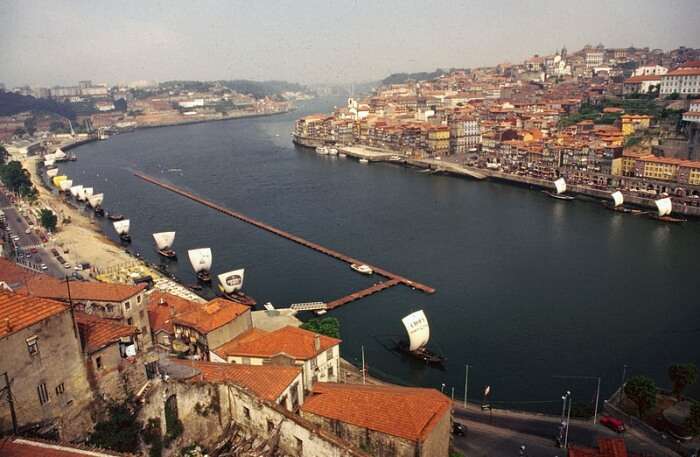 The Douro River starts from Bilbao in Spain, and merges into the Atlantic in Porto in Portugal. The Douro Valley, in Porto, is regarded as UNESCO World Heritage Site, owing to the region's wine-growing traditions. Most of the cruise tours start from Porto, and ends in Porto. Generally the tours are seven to ten days long, and flaunt a cultural extravaganza through various shows like Flamenco performances.
Distance covered in cruise: 897 km
Attractions en route: Porto, Regua, Pinhao, and Salamanca
Suggested Read: 17 Spots For Snorkeling In Europe Every Underwater Enthusiast Must Visit
7. Elbe, flows through Czech Republic & Germany
Highlands, vineyards, and architectural marvels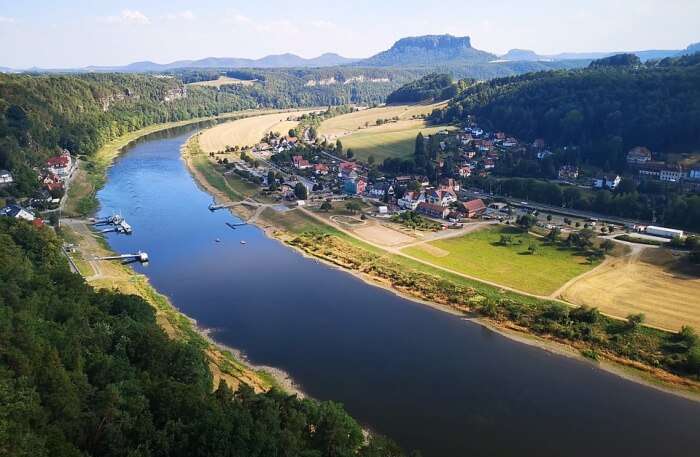 Named by the Romans, Elbe River starts from Czech Republic's Krkonose Mountains, and ends at North Sea in Germany's Hamburg. The river winds past Saxony vineyards and Saxon Alps, making your heart skip a beat or two with its charming landscape. Beside nature's mystique, Eastern Europe's cultural and architectural appeal will have your jaws dropped, as you will stop by in magnificent towns like Dresden and Magdeburg.
Distance covered in cruise: 1091 km
Attractions en route: Berlin, Magdeburg, Potsdam, Dresden, Hamburg, and Prague
8. Rhine, flows through Switzerland, Liechtenstein, Austria, Germany, France and the Netherlands
Castles all the way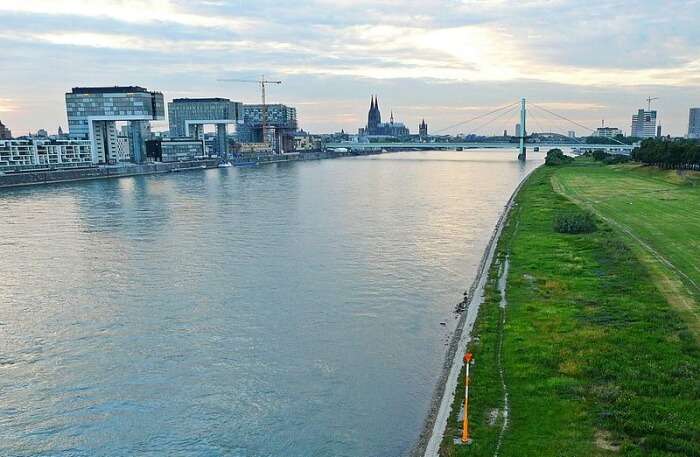 Having its banks dotted with many dreamy hillside castles, vineyards, and medieval hamlets, Rhine River turns all your cruise fantasies come true. The Rhine Gorge, in Germany, is listed as a UNESCO World Heritage Site; thanks to inspiring culture and scenic beauty that surround. The river begins from the Swiss Alps, flowing between German and French border, and finally merging into the North Sea near Amsterdam.
Distance covered in cruise: 1233 km
Attractions en route: Worms Cathedral, the museums of Mainz, The Palatinate Forest, Wiesbaden, and Wiesbaden
9. Dnieper, flows through Russia, Belarus, & Ukraine
Unfolding diverse landscape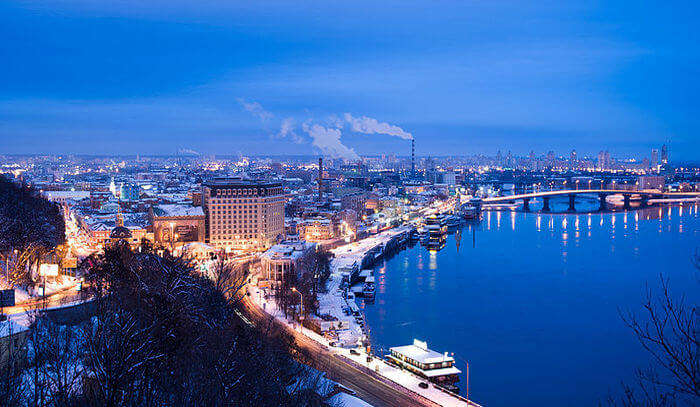 The third longest river in Europe, Dnieper source lies at the Valdai Hills of central Russia, and it flows to meet the Black Sea in Ukraine. The river's bank consists of rolling hills, ancient hamlets, stunning cities and forested lands. It plays an important role in Ukraine's economy, thanks to many hydroelectric projects.
Distance covered in cruise: 2201 km
Attractions en route: Keiv, Odessa, and Kherson
Suggested Read: 31 Traditional Festivals In Europe That Will Up The Fun Factor Of Your Euro-Tour In 2022
10. Danube, flows through Germany, Austria, Slovakia, Hungary, Croatia, Serbia, Bulgaria, Romania, Moldova, and Ukraine
One of the longest rivers in Europe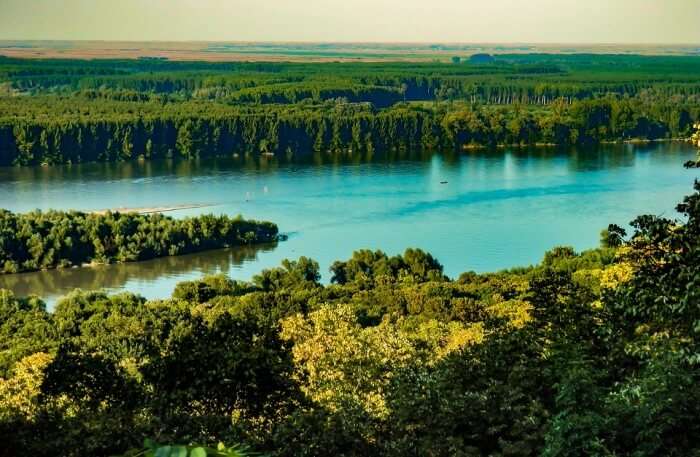 Danube River is known to have sparked inspiration for the creation of many poetries and songs, like the beloved Waltz by Johann Strauss. This European river meanders through ten countries, flowing past forests, countrysides, and bustling cities such as Vienna and Budapest. It starts from the Black Forest in Germany, and ends at Romania's Black Sea. Most cruise tours will make you travel back to the ancient times, narrating the tales of the time when Vienna ruled an empire, and more.
Distance covered in cruise: 2860 km
Attractions en route: Passau, Vienna, Budapest, Bratislava, and Melk
Suggested Read: In Pictures: 35 Most Beautiful Cities In Europe That Will Make You Want To Take The EuroTrip Now!
Best river cruise lines in Europe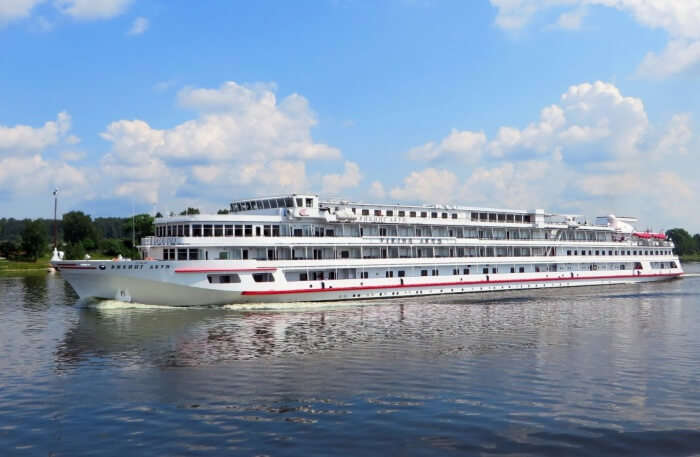 Europe's cruises make these journeys so much more beautiful. Avalon Waterways, Ama Waterways, and Viking River Cruises are some of the best cruise lines in Europe. Also, there are sightseeing cruises that last for about an hour. So, if you are looking for a short-term cruise in a particular city itself, there are options to spoil you!
Further Read: The Best Of Cruise Travel Around The World, Inclusive Of All Luxuries!
If you're wondering about the budget, there's good news here too, since different cruise lines quote differently for similar journeys. Plan a trip to Europe so, you can grab the one you think is a steal deal! Now, let's get sailing.
People Also Read
Rivers In Australia Rivers In Auckland Rivers In Austria
---
Looking To Book An International Holiday?
Book memorable holidays on TravelTriangle with 650+ verified travel agents for 65+ domestic and international destinations.
---