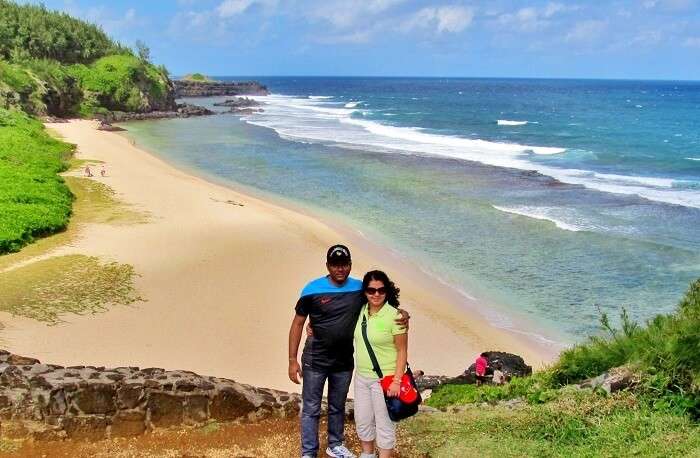 The decision of where to go on our honeymoon was definitely the most difficult one to make. Fortunately, having mutual love for adventure, uniqueness, and fun helped us both settle for Mauritius after long discussions on a need for beach, African feel in the ambience (since we had to drop Kenya), and thrilling experiences, all of which this gorgeous island promised.
And thanks to TravelTriangle we were able to plan everything from the things to do on honeymoon in Mauritius to our accommodation, much before the trip even began. Their booking process, easy payment method, and customizable itinerary added to the exclusivity of our holiday, and it left us amazed.
Trip Type: 7 Days 6 Nights honeymoon trip
Cost: INR 1,48,000
Inclusions: Airfare, accommodation, breakfast and dinner, transfers from and to the airport, sightseeing, transfers during the trip, driver, complimentary sparkling wine, and GST, and transport tax.
Exclusions: Activities we did on our leisure days, lunch, and all types of personal expenses.
Things To Do On Honeymoon In Mauritius That Added Thrill To Our Vacation
Day 1: Enroute Mauritius
Our romantic journey began from Kolkata with an overnight layover at the Chhatrapati Shivaji International Airport in Mumbai. Making the most of every minute there, we explored every store throughout the night and boarded Air Mauritius early in the morning.
Our Romantic Mauritius Trip: A Perfect Blend Of Nature, Adventure, Cruise, And Wildlife!
After landing at the Sir Seewoosagur Ramgoolam International Airport, we were warmly welcomed by our driver at the arrival who took us to the Pearle Beach Resort and Spa. At the resort, we were served welcome drinks and were given an alternative room in place of the one we booked as it hadn't been made at that time. To compensate for the inconvenience, the resort staff was courteous and sweet enough to offer us a complimentary couple's spa. But despite this all, we were drawn towards the pristine white beach adjoining the dining area and in that moment, nothing else mattered.
While we were in our temporary room, we enjoyed the fruit platter and complimentary sparkling wine, after which we took a quick half an hour nap. The evening was all about running into the ocean, enjoying the day at leisure, lazing around, swimming, snorkelling, and checking out the bar & pool table by its side. The eventful day finally ended with a delicious dinner at the restaurant in our resort. Soon after, both of us hit the bed and slept, dreaming of the adventure, wildlife, water sports, and the sea, which awaited us the next day.
Day 2: Touring, exploring, and shopping on the North Island
The second day of our Mauritius honeymoon was booked for a full day North Island tour. Fort Adelaide aka La Citadelle in Port Louis was our first pit stop where apart from the obvious historical allure, it also offered an opportunity to witness the scenic beauty of the island at its best.
Looking For Water Villas In Mauritius? Constance Le Prince Maurice Is A Dream-Come-True!
Next was the Champ de Mars Racecourse, and after driving around the city for a while we reached the Port Louis' exotic waterfront area along with the Caudan Shopping complex. Here, we realized that most people were capable of speaking in Hindi apart from their usual English or French language. The sugarcane juice shop where the menu was written in Hindi won us over and the different mocktails there with the sugarcane juice felt like bliss.
Along with the drink, we enjoyed the performance of the Mauritian dance Sega by the local performer, and realized that the Caudan shopping complex was the one best place to soak in the local culture. Not just this, we also picked up a few souvenirs including items like local exotic rums (with coconut).
Day 3 : Visiting La Vanille Nature Park, Gris Gris, and eating Crocodile kebabs
While this was a leisure day, both of us decided to taste a little thrill. We visited La Vanille Nature Park aka Riviere Des Anguilles, the home to crocodiles, giant tortoises, and more. The lovely day began by taking pictures with a baby crocodile in our hand, after which we chased after an Iguana who was roaming around. Another sweet little adventure was crocodile feeding. Since it was one of things to do on honeymoon in Mauritius, which we already planned in advance, we were too excited for it.
A 7 Day Magical Honeymoon In Mauritius
We joined the crowd that had gathered to watch the 12 to 15 crocodiles in a small pond-like water body, where the staff from one side was putting chunks of meat on a rope's hook and then dipping it. Each time the meat was dipped, a number of crocodiles would rise from the water about half of its size to catch the juicy morsel. And the sound when they snapped their jaw shut was like a thunderous booming noise, and it sent chills down our spine. All in all, it was an adventurous experience, and we couldn't wait to explore the rest of the reserve's area.
The next creatures we met were the giant Aldabra tortoises, and feeding these huge, lazy & slow tortoises was a revelation. Irrespective of how they ate, the short piggyback rides they gave us were sweet enough.
Honeymoon In Mauritius: Enticing Things To Do And Must Experiences For Every Couple!
Since it was an eventful day, we were craving for a lip-smacking lunch, and the crocodile dishes seemed too apt. The two of us headed to a tree-house setting where we had the crocodile kebabs which were literally toothsome, and tasted a lot like chicken. Apart from the delicious food, what thrilled us more was the ambience, which made us feel like we were Tarzan and Jane.
After a wonderful day and lunch at the park, we headed to the Gris Gris. Our cab driver knew about a local waterfall, and post our agreement drove us through the fields of sugarcane and lush greenery. So, after spending some time admiring the falls, we resumed our journey to Gris Gris. We were greeted with humongous waves and strong winds and despite standing far above the sea level, the wind nearly blew us off the cliff's terrain into the water. It was a moment of fun and joy.
Day 4: Exploring the South Island
After a hearty breakfast, we boarded a shared bus with around 12 people who were mostly couples and were on their honeymoon. Being a part of our 'things to do on honeymoon in Mauritius' itinerary, the first stop of our tour was the 13th Jyotirlingam, the only one outside India. After a short peaceful prayer session followed by a quick photo session in front of the giant Idol of Shiva, we moved on to Troux aux Cerfs, the crater of an extinct volcano, and then visited the Grand Basin, a natural lake at the base of a volcanic crater.
Romance Aboard A Catamaran Cruise On Your Mauritius Honeymoon For Memories Of A Lifetime
Post lunch, all of us headed to Chamarel where the awe-inspiring seven coloured earths made us fall in love with the wonder that nature is. Though in the petting zoo, we tried our luck at catching and petting a fawn without much success.
The next stop of our South Island tour was the boat-making shop in the city of Curepipe where after watching how boats are made first-hand, we checked out their display from which we chose a few model boats for souvenirs.
Day 5: Safari at Casela Nature Park
Another day of leisure for us meant that we were free to do whatever we wanted and that meant visiting the Casela Nature Park right after breakfast. We were accompanied by a lovely couple who were staying at our resort and shared the same level of enthusiasm for nature and wildlife.
After strolling around in the vast area of the park, we first went for the safari, which was an open bus to see and interact with the wildlife. Feeding ostriches and zebras was a different experience altogether and it only added beautiful memories to our holiday.
Casela Nature Park In Mauritius: Everything You Should Know About This World Of Adventures
Next thing was the reason why we chose to visit Mauritius, i.e. having an interaction with the lions. Of course, first we had to start small, so we started with the Cheetah and after a brief set of instructions with a stick in our hands, we followed the guide. Stroking the back of Cheetah felt like petting a cat, only a huge one though.
After gathering our wits, we finally entered the lion's territory. Growing up watching Lion King, singing Hakunamatata at the top of my voice, spouting Lion King dialogues and references at random occasions, being here felt like a dream come true. There were a number of lions here including a white one, and two cubs who were given a ball to play with.
As we waited for our guide to take us to a lion with whom we could play or pet. After much waiting, our turn finally came, and it was a lioness for us. Getting to feel the powerful muscles of the magnificent beast under our fingers was another kind of thrill. We also got the chance to pet a cute little Simba, and it felt like a sweet achievement on the honeymoon.
Day 6: Thrilling water sports on Ile aux Cerfs
It was time for visiting the Ile Aux Cerfs, and a day that promised more adventures. Straight from the resort, we went to the beach where we had to indulge in water activities for the day.
We tried out the tube surfing first, which I'm not a big fan of. But the fun began soon after I did parasailing, as this was for the first time I tried this adventure in my life. It felt like flying freely up in the air with the splendid natural beauty of Mauritius, which seemed like it was there just for our pleasure. The world around at that time only felt more beautiful and serene.
Then next on the list was the undersea walk, which was again a first in our lives. We were made to wear weights according to our individual weight and then taken to the bottom of the ocean (about 4 meters deep) where we walked around with a heavy helmet on our heads, witnessing the gorgeous ocean life around us. The water was crystal clear and it was a different sort of a thrill.
Later in the day, a speedboat took us near the waterfall, so close that we got drenched in the mist created by the waterfall. The rest of the evening was spent relaxing on the sandy beach and swimming occasionally in the cool and pristine waters.
Feeling The Tropical Love On A 4N 5D Honeymoon In Mauritius
It was our last night in Mauritius and in our resort, where each night had live music with dinner, they had arranged for a Sega session where we were asked to join in. Learning Sega and dancing with the native performers was so much fun that it felt like we were sharing a piece of their culture, and becoming a part of the waves.
Day 7: Bidding adieu to the romantic island
On our last day in this blissful and heavenly place, we had nothing much to do apart from enjoying our complimentary couple's spa session, which relieved us of all the fatigue, and lightened our hearts as we were sad about this being our last day here.
After checking out of the resort, we left for the airport and that's when we saw the nearly 360˚ rainbow. In that beautiful moment, I realized that the memories that we are taking with us will stay with us forever and there would be more such wonderful moments in the future as this is only the beginning!
High Points Of Our Trip:
Interacting with lions and cheetah
Undersea walking and parasailing at Ile aux Cerfs
Crocodile feeding and eating crocodile meat
Witnessing the seven-coloured earth at Chamarel
Exploring the sugarcane fields
Learning and performing Sega dance
Low Point Of Our Trip:
There were no low points except the part that since we were Indian, people in every restaurant assumed that we wanted vegetarian Indian food, and for experimental foodies like us, this got a little saddening at one point of time.
Tips For Future Travelers:
Public transport is scant and pretty expensive in Mauritius. So, it is advisable to travel in a group if you want to explore the entire island.
The perfect time to enjoy a dry and sunny Mauritius is from May to December. The weather is cool during that time.
Carry your sunscreen lotion (water-resistant ones preferably) everywhere you go.
If you want to be close to the happening places, you should stay in the Northern part near Port Louis. If you love beautiful beaches, you can opt for the West Coast. Our resort was in Flic en Flac (east coast) and we enjoyed the scenic beauty thoroughly. If you like peace and calm away from the hullabaloo and not much into outside activities or nightlife, you can opt for tranquillity the East coast offers.
Go and witness crocodile feeding live if you've never experienced it before.
Overall, our honeymoon in Mauritius with TravelTriangle was one incredible affair. It was adventure-packed and loaded with romance. Thanks to their planning and customizable itinerary, we could witness the best of the island at our own pace, and we loved every bit of it.
---
Looking To Book An International Honeymoon?
Book memorable honeymoon on TravelTriangle with 650+ verified travel agents for 65+ domestic and international destinations.
---