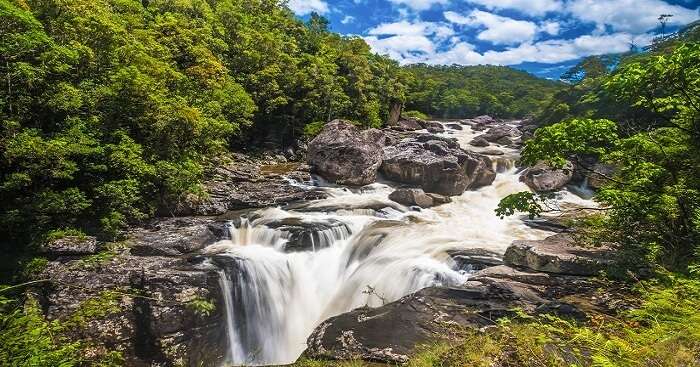 'Ranomafana' which translates to 'Hot Springs' in Malagasy, referencing to its hot springs that you will find plenty in the national park. Ranomafana National Park in all its eccentricities happens to be one of the most picturesque national parks that one can find in Madagascar. Plan your next trip to Madagascar and don't forget to add Ranomafana National Park in your list. The park covers a mountainous area that spans to a 415 kilometres stretch. The altitude that the park is settled in ranges between 800 and 1,200 metres and the stretch is vast. This entire stretch is covered in dense rainforest.
There was a rare golden bamboo lemur which was discovered here back in 1986 by Dr. Patricia Wright. This incident led the area to gain its National Park status. The park has now evolved to be a sanctuary of flora and fauna providing a protected environment to these endangered wildlife and the rare vegetation of the rainforest. The park is also the most accessible stop of the island and appealing for any itinerary.
Entry Fee: The record of November 2017 shows the entry fee for each adult foreign visitor is a 55,000 Ar per and for children the fee is 25,000 Ar per day. This has to be paid after a "community charge" of 2,000 Ar per day per person. You can pay your dues at the booth near the park's checkpoint.
Best time to visit Ranomafana National Park

Best time to visit Ranomafana National Park is during the dry season, from April to December. Even though you pick out a dry period, there isn't a week in Madagascar without any rain. Ranomafana National Park weather is generally humid. But you can be safe and visit during the lesser rainy months, around May and September until November.
How to reach Ranomafana National Park, Madagaskar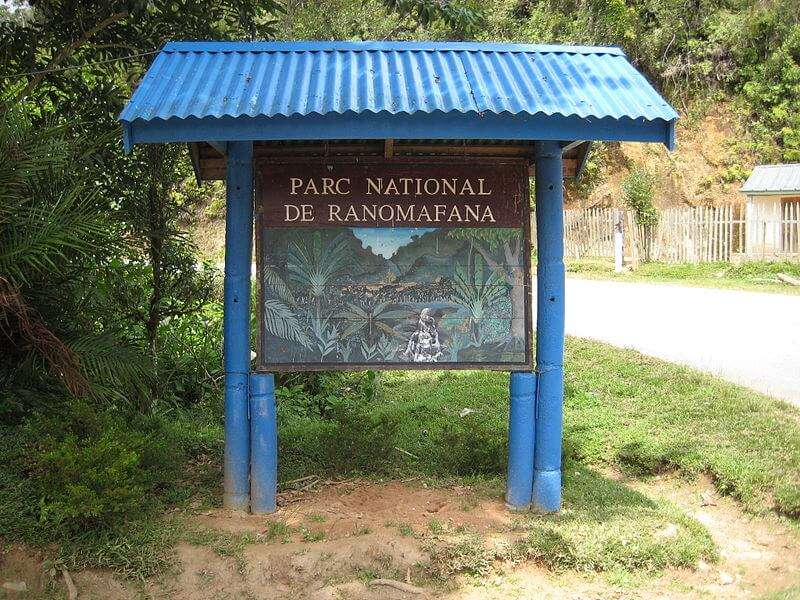 By Train: Opt for the RN7 (National Road number 7) travelling by train to Manakara tour.
In this trip you can experience the travel by train from Fianarantsoa to Manakara. You can also catch the train from Manakara and travel to Fianarantsoa, this route offers beautiful views of vast landscapes and plantations. The National Park is listed in this tour and you can make a stop here and enjoy the Madagascar wildlife in their natural habitat.
By Air: Take a flight Ivato International Airport just about 23 km away from Antananarivo, Madagascar (TNR / FMMI). Take a bus from Antananarivo Airport (TNR) to Ranomafana National Park and it will take around 6 and half hours. You can also take a shuttle which will reach you at your destination by 10 and half hours.
By Road: Ranomafana National Park is located at a very easy to access spot lying about 60 km north from Fianarantsoa and just around 400 km south from Tana. Choose any of the two roads that cross the park: the stretching from Ambohimahasoa, RN25, and coming from Alakamisy, the RN45. You can commute via any of them, all year round. You can also opt for the taxi-brousse connection that drops you at Ranomafana village from Antananarivo and from Fianarantsoa.
Flora and Fauna of Ranomafana National Park
Flora

Ranomafana National Park animals include, the twelve lemur species. There is the famous golden bamboo lemur and aside from that you can easily spot eastern woolly lemur, eastern grey bamboo lemur, red bellied lemur, greater bamboo lemur, black-and-white, red-fronted brown lemur, ruffed lemur, Small-toothed sportive lemur, Milne-Edwards sifaka, brown mouse lemur and greater dwarf lemur, and the very rare aye-aye.
Then there are other mammal species including 8 bats species, 7 species of tenrecs and 6 carnivorous, including the Malagasy striped civet as well as some of the mongooses. There is a wide spread varieties in birds in Ranomafana. At least 115 species catalogued among which 30 are local endemic exclusive to this part of the geography.
There are the species like Henst's goshawk, Rufous-headed ground-roller, velvet asity, mesites or the threatened crested ibis. Then there are the reptiles to fill in the blanks of Madagascar wildlife, which are plenty. There are 62 species of reptiles (chameleons, snakes and fringed and satanic leaf-tailed geckos are pretty common), 98 frogs, 90 butterflies, 350 spiders and several fishes and crayfishes.
Fauna

The National Park is proud of the lush rain forest and among the plants species that grow in these parts there are heavily used in medicines. Tanala and the Betsileo use various plant species for medical purposes. You cannot possibly forget the precious wood and palm trees. You can also find many orchids and if you are lucky the carnivorous plants.
This part of the densely forested hill is protected and characterised by the numerous small streams that pass by and merge in the beautiful Namorona River.
Must Read: Madagascar Island: The Land Of Alien Landscapes, Virgin Islands, & Unique Wildlife
---
Planning your holiday but confused about where to go? These travel stories help you find your best trip ever!
Real travel stories. Real stays. Handy tips to help you make the right choice.
---
Things to do in Ranomafana National Park
i) Spot the Golden Lemurs

You can spend your time tracking the famous golden lemur that was first found in the south-east of Madagascar, this Golden bamboo lemur got the area the status of a national park and now acts as a protected sanctuary for its flora and fauna. There are different types of lemur: the red-bellied lemur, the black and white ruffed lemur and the golden bamboo lemur.
Suggested Read: 14 Reasons Why Madagascar Honeymoon Is The Ultimate Dose Of Romance
ii) Go for a hike

You can map your way through the mountainous stretch of the National Park with rugged cliff sides and see the turns of the tremendous rivers. And it's probably one of the best Ranomafana National Park activities for those who want to add some adventure to their trip.
Suggested Read: 17 Things To Do In Madagascar In 2022 That You Won't Get To Do Anywhere Else
iii) Explore the ecosystem

If you hike to the edge of the Malagasy forest you can finally understand the ecosystem of the land and get your very first glimpse of this incredible vegetation where the most dangerous inhabitants are tiny ones like the deadly leeches and scorpions.
Suggested Read: 10 Reasons Why You Should Spend Your Next Family Vacation In East Africa
iv) Go camping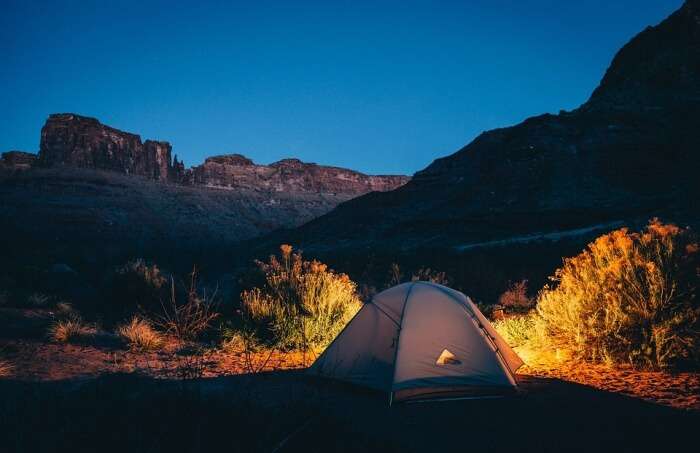 The ultimate way get the best of the national park is to spend a night here. Explore the beauty of the region by taking an overnight camping trip; there are many designated campsites within the park.
Suggested Read: 7 Mystical National Parks In Madagascar To Explore The Best Of African Wildlife In 2022
Ranomafana National Park accomodation

i) Zomatel Hotel – 79.2 km from Ranomafana National Park
Place du Zoma | Bp 1367, Fianarantsoa 301, Madagascar
ii) Hotel Cotsoyannis – 79.7 km from Ranomafana National Park
1229 4 Rue Du Prince Ramaharo – Ampasambazaha – Bp, Fianarantsoa 301, Madagascar
iii) Aux Bougainvillees – 35.2 km from Ranomafana National Park
6 Lot II G | Face Gare Routiere Antsinanamanda, Ambalavao 303, Madagascar
Further Read: 10 Most Luxurious Madagascar Resorts For A Perfect Staycation
The best of Madagascar can be seen and experienced at Ranomafana National Park. So, Should you want to delve deeper into the vastness of the beautiful country, try visiting this place and plan your trip to Africa with TravelTriangle today!
People Also Read:
Kruger National Park In South Africa Addo Elephant National Park Namaqua National Park
---
Looking To Book A Holiday Package?
Book memorable holidays on TravelTriangle with 650+ verified travel agents for 65+ domestic and international destinations.
---