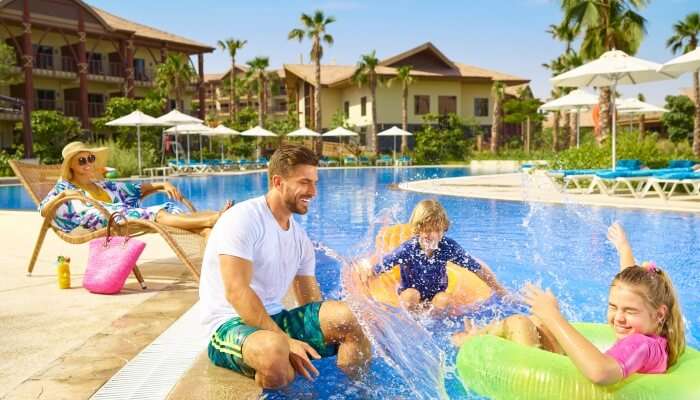 If you fancy an enticing holiday with your family, then you have landed at the right place! Imagine adrenaline pumping joy rides, jaw-dropping shows, themed dining and lots of entertainment for you and your munchkin to have a gala time while vacationing in Dubai. Dubai theme parks and resorts is home to over 100 rides, attractions and theme parks making it a one stop destination for you and your family to have an unforgettable holiday experience.
Here's giving you 7 reasons why Dubai parks and resorts should be on your list of things to do in Dubai for a fun family time in Dubai!
7 Reasons To Visit Dubai Parks & Resorts With Your Family
Get a glimpse of the most entertaining capital in the world, the Dubai theme parks give you an excellent opportunity to come together as friends and families and enjoy a vacation amidst lots of frenzy and excitement. Let's have a closer look at why you must visit this one stop destination for fun with your loved ones.
1. Build A Lego Empire At LEGOLAND® Dubai

Experience chills down the spine as you take on thrill-seeking rides at Legoland where the LEGO brick actually comes to life. Feel your heart race with over 40 LEGO themed rides and shows, your kids can get creative as they build lego structures, drive cars or steer boat. There's also a lot to learn while you witness the manufacturing process of lego bricks.
Must Read: 23 Best Places To Visit In Dubai With Family For A Holiday Like None Other!
2. Luxurious Staycation At Lapita Hotel

This boutique hotel exudes luxury and comfort in its every nook and corner. With Polynesian design, a stunning architecture and a lavish experience, the Lapita hotel is your ideal destination for a luxurious getaway in Dubai. Enjoy unlimited access to theme parks, an exotic Polynesian cuisine to tickle your taste buds and a rooftop bar for you to let your hair down and enjoy a sundowner amidst a breathtaking sunset.
Suggested Read: Dubai New Year: A Guide For The Celebration
3. Enjoy Family Time

Dubai parks and resorts theme park also gives you an excellent chance to relish family time and bond with your loved ones amidst all the excitement and frenzy. LEGOLAND® Dubai Is the perfect spot for families to feel connected as you get to spend time with your toddler while they're busy building a Lego city!
Suggested Read: Visit These 10 Top Art Galleries In Dubai To Feed You Mind And Soul With Ethereal Art
4. Revive Bollywood Drama At BOLLYWOOD PARKS™ Dubai

If you live and breathe Bollywood, here's a chance for you to get an extra dose of drama at the BOLLYWOOD PARKS™ Dubai! Relive your favourite scenes from iconic Bollywood movies and get up close with your favourite superheroes from the hindi drama. Learn a step or two from famous Bollywood songs like Dabangg, and experience a musical spectacle at special musical performances.
Suggested Read: Bungee Jumping In Dubai: 7 Tips Every Beginner Should Be Aware Of
5. Experience Hollywood Extravaganza At MOTIONGATE™ Dubai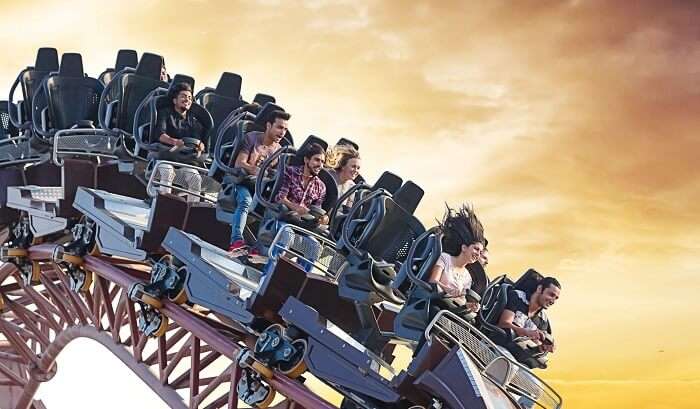 If Bollywood isn't your cup of tea, there's more drama to fill the void. That's right, MOTIONGATE™ Dubai Theme Park houses three motion picture studios including Lionsgate, Columbia Pictures and DreamWorks Animation to make you fulfill your Hollywood fantasy. Relive your childhood memories as you join the ghostbusters gang in a battle to save the New York City, make friends with the blue Smurfs or learn how to groove like the 'Step-Up' movie series. Visit real life movie sets and develop an interest for the art of filmmaking, especially for film enthusiasts. Apart from this, it also features an exciting rides and rollercoasters like Zombieland Blast Off, Madagascar Mad Pursuit and the Hunger Games Bullet Train.
Suggested Read: 10 Most Fabulous Places To Enjoy Desert Camping In Dubai
6. Kids Frenzy At LEGOLAND® Water Park

If you thought this wasn't enough, there's more for the kids to enjoy at theme parks. The LEGOLAND® Water Park is a paradise for water babies and toddlers who would love to swivel down from water slides and dip into the pool. The water rides and pools will make sure your kids have unlimited fun and leave with exciting memories.
Suggested Read: Dubai In March: An Ultimate Guide To Have An Experience Like 'Sheikhs'!
7. Go On A Nature Trail At Riverland

The Riverland gives you the perfect chance to relax and unwind amidst a serene atmosphere. Enjoy themed dining at this retail destination that features multiple restaurants and retail shops connecting all the theme parks together with four distinct themed zones – The French Village, Boardwalk, India Gate, and The Peninsula. This is the ideal spot for families to bond and reconnect with themselves and the surrounding nature.
Further Read: Everything You Need To Know About The Transcendental Dubai Opera
We hope these reasons enticed you enough to book a trip to Dubai and relish a great family time at the Dubai parks and resorts theme park! With so many exciting things to do, it is the perfect place for friends and families to relax, unwind and rejuvenate on their vacation in Dubai. What are you waiting for? Start planning your family getaway right away!