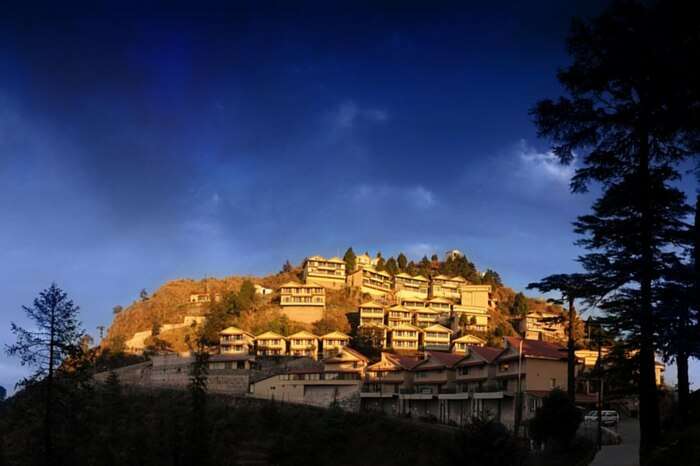 Special places command extraordinary hideouts. They not only make your stay worthwhile but also leave with enchanted with memories of a lifetime. For a hill-station like Mussoorie that boasts of unperturbed locales, panoramic vistas, and daunting bylanes, a grand stay becomes a prerogative.
To hold-up the aforesaid, there are some homey resorts in Mussoorie that hold the prestigious distinction of being a perfect retreat. These picturesque resorts, over a period of time, have earned the reputation of offering a comfy and cosy stay. And the destination, in totality, is one of the best weekend getawayas from Delhi.
Here are the top 15 that'll mess you up in the head. I suggest, sit with someone to decide which one to pick!
Luxury Resorts in Mussoorie
1. JW Marriott Mussoorie Walnut Grove Resort & Spa: It's about luxury & panache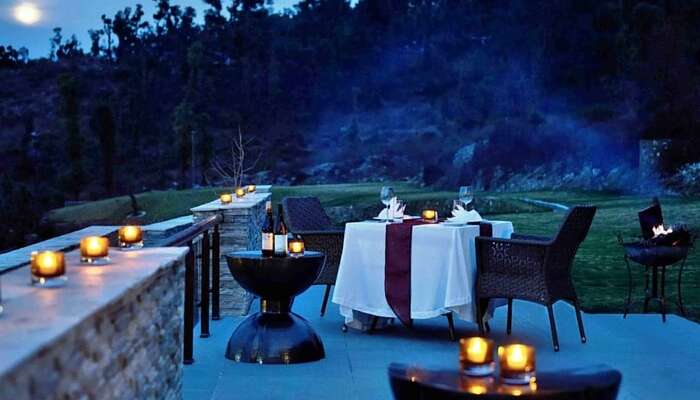 Savor the luxury retreat in the heart of the Himalayas. The JW Marriott Mussoorie Walnut Grove Resort & Spa towers above the rest in the list of luxury resorts in Mussoorie with swimming pool. The resort presents a myriad of deluxe hotel rooms and suites, each boasting of modern amenities and a breathtaking view.
What's special: Full-service spa, and fitness centrer
Suggested suite: Valley View; for the perfect view of the tranquilising valley
Tariff: INR 15,000 per night onwards
---
Uttarakhand Holiday Packages On TravelTriangle
Witness the beauty of Uttarakhand and indulge in spiritual pilgrimages, adventure sports, and treks. Visit Nainital, Rishikesh, Haridwar, Auli, Jim Corbett, and more. Get best holiday deals on TravelTriangle.
---
2. The Claridges Nabha Residence: Of yesteryears and colonial charm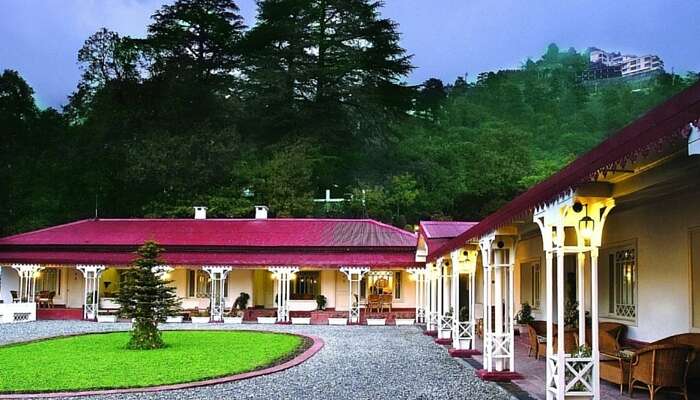 Once in a while, you want to quietly slip away from work and go to the hills. An alluring haven is all you seek and The Claridges Nabha Residence is one of its kind among the best resorts to stay in Mussoorie that makes for your perfect hideout. The resort is apt for the seekers to spend moments of peace and serenity.
What's special: The Pavilion- multi cuisine all day dine, The Victorian Bar
Suggested suite: The Claridges Room; for their separate lounge and vanity areas that are ideal for couples
Tariff: INR 10,000 per night onwards
3. Fortune Resort Grace: Epitome of grace and grandeur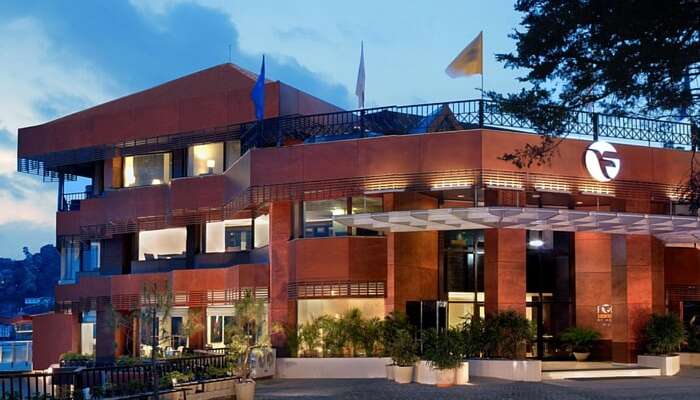 Fortune Resort Grace is a lovely piece of architecture that sits cozily on a pine covered hill slope with an enchanting view of the Doon valley at its disposal. One of the few popular resorts in Mussoorie near Mall Road, Fortune Resort Grace is quite easily reachable. The resort exudes the charm of a quiet country resort.
What's special: Body treatment, recreation zone comprising of pool table, and air hockey. It is also one of the few resorts in Mussoorie with swimming pool.
Suggested suite: Valley View Rooms; for the views of the splendid Doon Valley
Tariff: INR 9,000 per night onwards
4. The Amber Vermont Estate: Enveloped by the colossal sky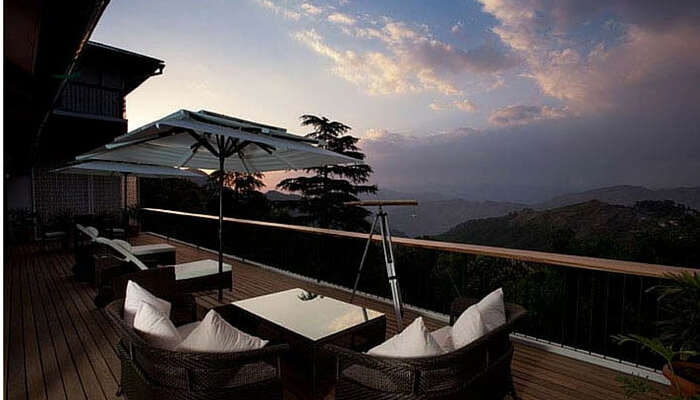 One of the oldest estates in the beautiful Himalayan town of Mussoorie, The Amber Vermont Estate has been revamped and made to look like a traditional English cottage laden with modern amenities. Located in one of the most beautiful areas of Mussoorie, the resort offers personalized services that would make your stay worthwhile.
What's special: Croquet, pool table, and board games
Suggested suite: The Amber Suite; for a perfect stay with the family
Tariff: INR 8,300 per night onwards
Suggested Read: Honeymoon In Mussoorie Is A Dreamy Start To A New Beginning
5. Rokeby Manor: In the lap of nature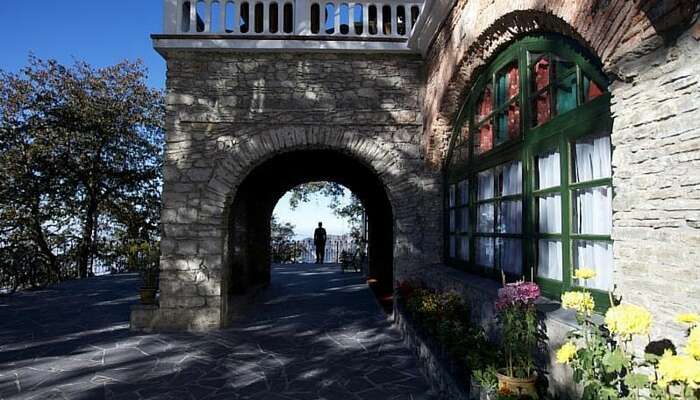 The luxe and charming suites from Rokeby Manor has been designed in a Victorian style with a cozy fireplace and intricate wooden work in the interiors. Enjoy the idyllic views of the valley and the tea garden from your own private balcony. It's among the best Mussoorie resorts with swimming pool that will make your stay a lavish one!
What's special: The Lantern (restaurant), and pool
Suggested suite: The Rose Suite; for its traditional wooden beams, sophisticated interiors, and private sitting area
Tariff: INR 8,000 per night onwards
Suggested Read: 9 Things To Do In Mussoorie For A Complete Hill Station Holiday
6. Kasmanda Palace: A perfect escape guaranteed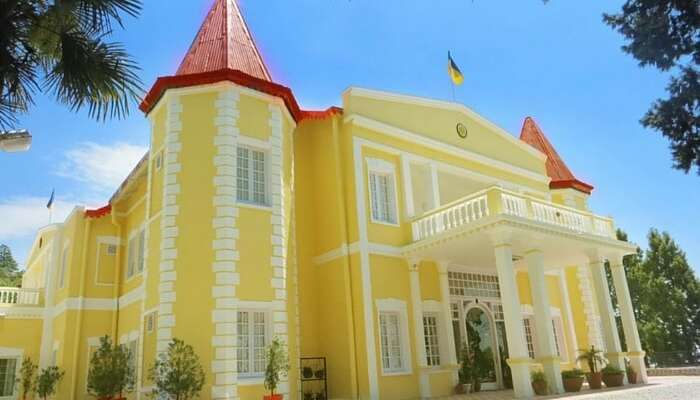 The shimmering yellow-white mansion resembles an Anglo-French style of architecture. Kasmanda Palace served as a sanatorium for the British armed forces and then as a school (one of the first in Mussoorie). Finally, it became the summer retreat of the Kasmanda royal family and now it's being run as one of the most imposing resorts in Mussoorie.
What's special: Magnolia Restaurant, and badminton court
Suggested suite: Superior Rooms; which are furnished with all the modern amenities making it a perfect blend of modern day facilities with the ancient charm
Tariff: INR 7,200 per night onwards
7. PRIM Resorts: A perfect trip down the memory lane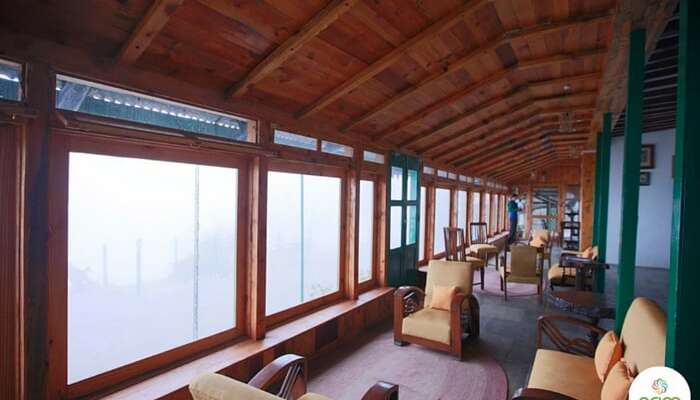 PRIM Resorts prides itself in its massive expanse spread across 400 acres of largely untouched private jungle. A true delight for nature lovers, the resort brims with lush green surroundings that house hundreds of species of birds. PRIM Resorts also happens to be one of the best resorts in Mussoorie and also the most photogenic. Hope you are carrying your camera along!
What's special: Echo/sunset point, Camelback Road, and Lal Tibba
Suggested suite: Super Deluxe; for bearing the panoramic view of nature and luxe interiors
Tariff: INR 6,700 per night onwards
Affordable Resorts in Mussoorie
8. Club Mahindra Resort: Tucked comfortably amid majestic mountains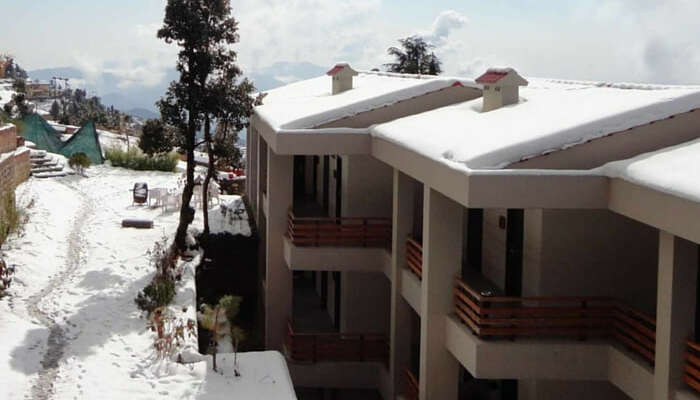 Does your window-view greet you with snow-capped mountain peaks of the Himalayas? Well, at least this resort of Club Mahindra does and that makes it a hot favorite among best resorts in Mussoorie. From salubrious hill climate to delicious food in an ideal location, this resort has it all.
What's special: Open-air multi-cuisine restaurant, and hike to Lal Tibba
Suggested suite: Studio Rooms; for the urban comforts and the breathtaking view of the snowcapped mountains
Tariff: INR 6,000 per night onwards
9. Royal Orchid Fort Resort: Brace yourself for a royal treatment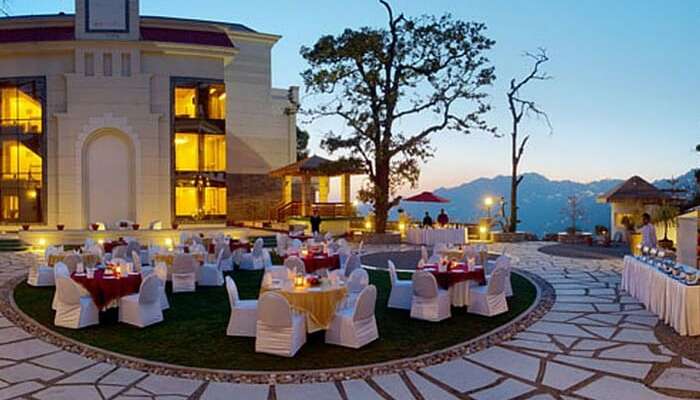 A perfect ode to the modern architecture, the Royal Orchid Fort Resort, Mussoorie is a royal treatment assured in The Queen of Hills. Nestled amidst lush green surroundings, and overlooking the imposing snow-capped mountains and the vast Doon Valley, Fort Resort is well connected to Delhi by train and airways.
What's special: Hammocks, nature trail, and sauna
Suggested suite: Duplex; for its wooden laminated flooring, mini bar, safety lockers, and swipe cards door
Tariff: INR 5,900 per night onwards
Suggested Read: 9 Fascinating Hotels In Mussoorie Near Mall Road
10. Cloud End Forest Resort: A stay that evokes nostalgia and calmness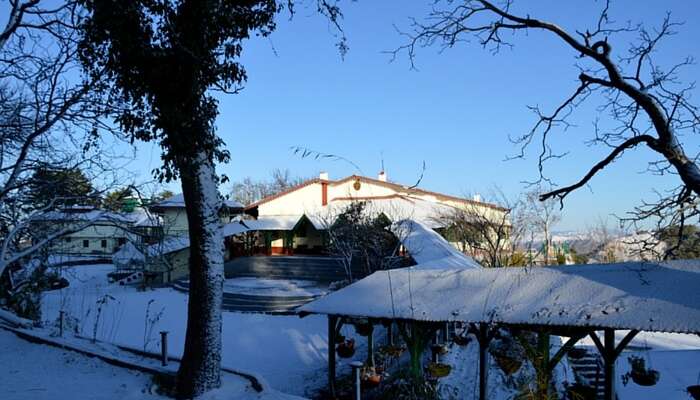 This 175-year-old building truly lives up to the reputation of colonial regalia while providing a multitude of latest amenities to its patrons. Also, it is one among the few hotels and resorts in Mussoorie that enable the mortals to savor nature's pristine beauty. The unscathed sunlight on the spotless white sheet of snow (exclusively in winters) makes it a perfect place to stay.
What's special: Horse riding (on request), and separate arrangement for pet (if any)
Suggested suite: Heritage Deluxe Suite; for the majestic view of the colossal nature upfront
Tariff: INR 5,700 per night onwards
11. Karma Vilas: Savor the Victorian style villa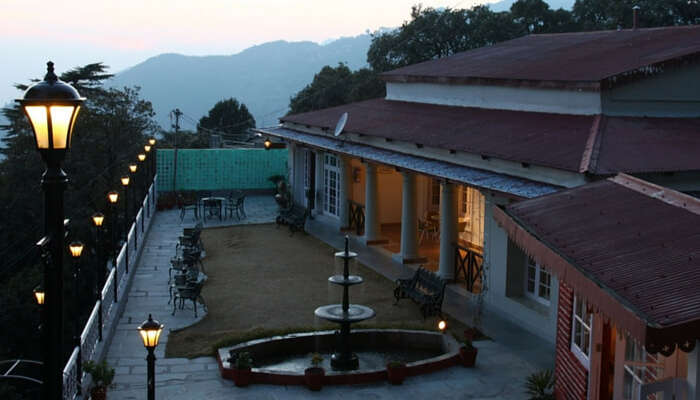 Oak and pine trees adorn the outskirts of this 19th-century Victorian-style villa. Karma Vilas Resort, Mussoorie also happens to be a top-rated heritage resort in Mussoorie. A kilometer from the city center, this Victorian charm is perched at an altitude of 6,000 feet.
What's special: Woodbrick Cafe, mountain biking, and bonfire nights with live music
Suggested suite: Wood House; for its perfect wooden interiors done up with some fine craftsmanship
Tariff: INR 5,000 per night onwards
12. Dancing Leaves: Where wind whispers and leaves sing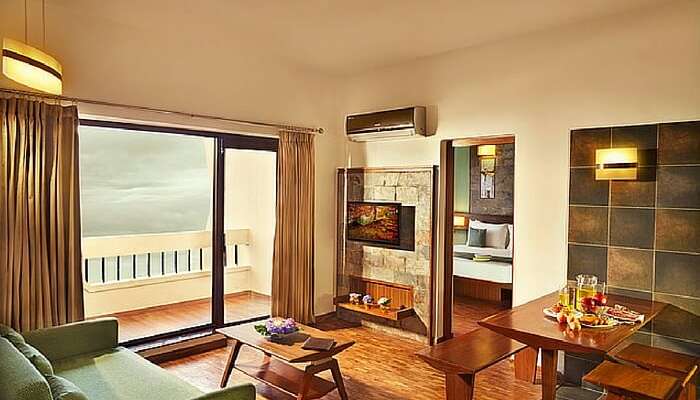 Behold the most enthralling one of the best resorts in Mussoorie near Mall Road. It is here that exuberant tourists rub shoulders with adventurous trekkers headed for the Himalayas and pious pilgrims walking the path that leads to the holy sites of Gangotri and Yamunotri.
What's special: Horse riding, roller skating, and Mini Appu Ghar
Suggested suite: Doon Valley facing rooms; for the peace and serenity that they offer
Tariff: INR 4,500 per night onwards
Budget Resorts in Mussoorie
13. Mussoorie Gateway: Resort with a view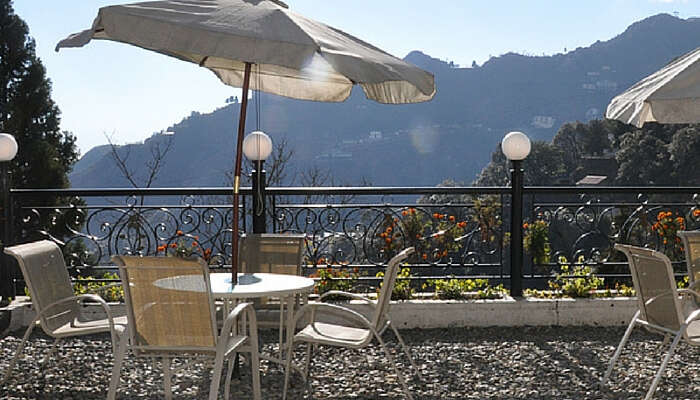 Soak in the serenity of pristine valleys and listen to the wind whispering through the Deodar and pine trees. Mussoorie Gateway Resort is the perfect sojourn for the sassy tourist in you. Here, a world of understated splendor welcomes you. It's surely better than a lot of resorts near Mussoorie.
What's special: Open wardrobes, adventurous activities, and trekking on demand
Suggested suite: Premium Club Room; for a pleasant view of the lovely nature around
Tariff: INR 4,000 per night onwards
Suggested Read: 17 Amazing Places To Visit In Mussoorie
14. Country Inn: The resort sitting in nature's lap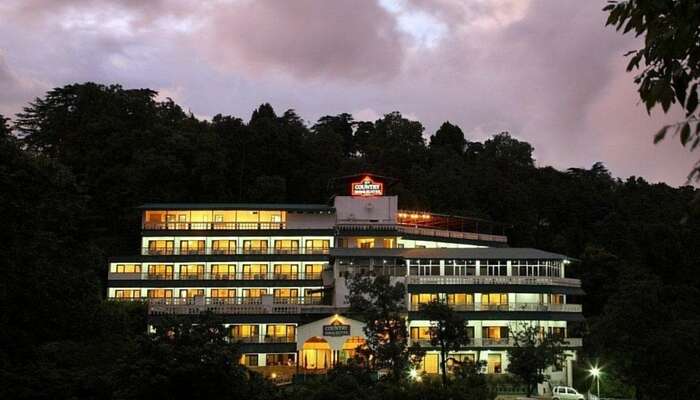 One of the most photogenic resorts in Mussoorie, the Country Inn resort is another budget resort in Mussoorie that houses all the modern amenities for the visitors. The resort sits pretty on a quiet hillside with gorgeous views of the Himalayas. It is indeed a great place to plan your weekend getaway.
What's special: Kids zone, and hotel library
Suggested suite: Premium Suite; for a majestic view of the Mussoorie ridge and the kids' play area
Tariff: INR 3,400 per night onwards
15. Kempty Falls Resort: Amid lush meadows and greenery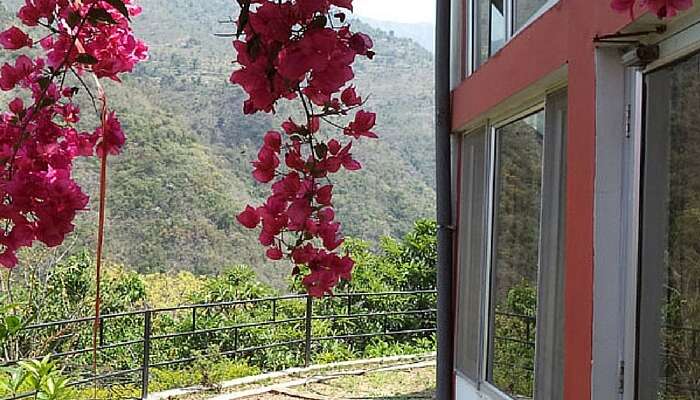 The resort's perfect location enables a tourist to explore the famous hill station. The fresh mountain air is a real treat. Also, you can spot birdlife and see the waterfalls nearby.
What's special: Bonfire, and river crossing
Suggested suite: Family Room; for the great views of nature topped with amazing comfort
Tariff: INR 3,000 per night onwards
16. Sterling Mussoorie: An affair with the hills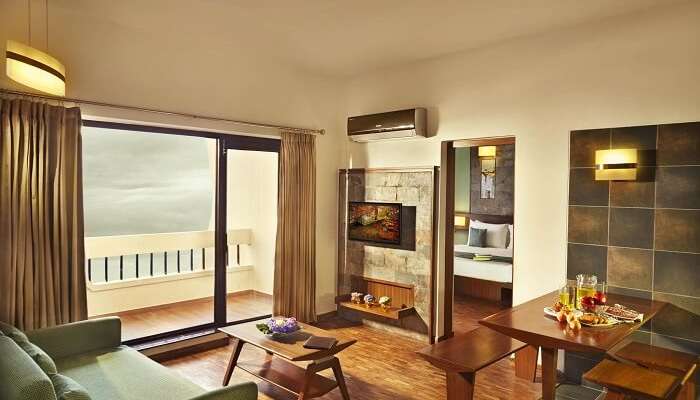 One of the best resorts near Mussoorie, Sterling is known to retain the good old charm of Mussoorie in its new and fancy decor. You are bound to me amazed by the splendid views of the Doon valley at night from this resort, which comes alive with glittering lights and the cool, scented aroma of thick Deodar trees nearby. It's the best resort in mussoorie uttarakhand for those who wish to experience the pure magic of luxury and the Himalayas. Make sure you stay at this gem of a retreat on your next trip to Mussoorie where the staff awaits your arrival with lovely surprises!
What's special: Spa, children's activities
Suggested suite: Family room, for awesome views of the Himalayas
Tariff: INR 3,503 per night onwards
Frequently Asked Questions About Resorts In Mussoorie
Got queries? Read on:
Is there any heritage resort in Mussoorie?
A. There are no heritage resorts in Mussoorie, but Jukaso Heritage Hotel and Kasmanda Palace are excellent heritage hotels here that you must check out before booking your trip.
Which are best resorts in Mussoorie on Mall Road?
A. Fortune Grace Resort is an outstanding resort on Mall Road that provides the convenience of having the market and all attractions closeby.
So, are you all geared up to pick your next sojourn exemplified by splendor and eminence? Start by planning a holiday in Mussoorie.
---
Looking To Book A Holiday Package?
Book memorable holidays on TravelTriangle with 650+ verified travel agents for 65+ domestic and international destinations.
---
Comments
comments