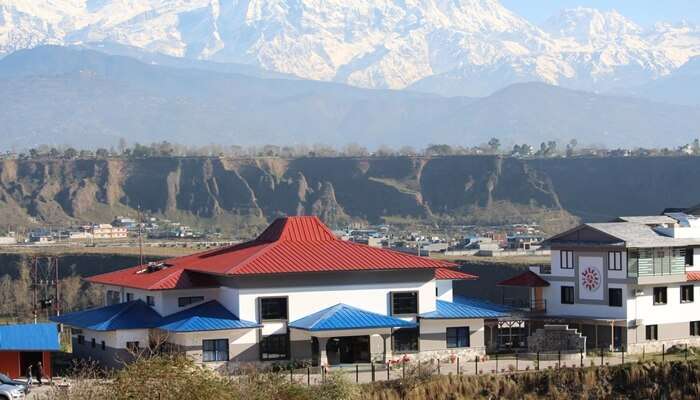 Offering an integration of the Himalayan skyline, enchanting temples, mountain villages, and vibes of the medieval era, Nepal is a destination that embraces ample of impeccable experiences. Hiding something for every kind of traveler- from budget travelers to luxury seekers, Nepal spoils tourists with a choice of an extensive variety of stay alternatives. The resorts in Nepal are known for their finest blend of snug and opulence, making the vacation all the more happening. With catering to all the basic needs, the resorts in Nepal leaves no stone unturned to ensure the utmost comfort and convenience of the guests. Take a look at this list of top resorts for travelers with all kinds of budgets paying a visit to Nepal in the near future!
Top 12 Resorts In Nepal
Some of the coziest and feel-good accommodations cover the floors of this beautiful destination. With something for every pocket, here are some of the top resorts in Nepal that one can visit according to their budgets.
1. Gokarna Forest Resort
With the mighty Himalayas forming its backdrop, Gokarna Forest Resorts happens to be one of those resorts in Nepal that is ideal for a tranquil and rejuvenating escape. Offering bagful of engaging activities including paintball, forest walks, bird watching, horse riding, and much more, this resort is a great destination for those who are seeking to de-stress. The rooms in this resort reek of elegance from every nook and cranny. Some of the common facilities offered by Gokarna Forest Resort includes luxurious herbal bath amenities, Jacuzzi, Sauna, and more.
Location: Rajnikunj Gokarna, Thali, 20498 Kathmandu, Nepal
Distance From The Airport: 8.2 kilometers
Available Rooms: Cottage Room, Premier Room, Club Room, Premier Suite, Gokarna Suite
Tariff: INR 8,000 to INR 10,000
Specialty: Gokarna Suite- a spacious duplex; availability of open-air spaces for horse riding and playing golf
Must Read: 11 Nepal Travel Tips For Traveling To The Country Like A Pro!
2. Tiger Palace Resort
Tiger Palace Resort in Nepal is nothing less than a crowd-pleaser amidst locals and travelers alike. An ideal venue for a laid-back getaway, Tiger Palace Resort is the only resort in Nepal that offers state-of-the-art nightlife experience- the true Casino affair. Along with giving a new definition to the term 'fun', this resort offers some of the most spacious rooms to the guests. The blend of contemporary decor and modern sophistication of the rooms in this resort is what makes it unmatchable. The luxurious rooms overlooking the beautifully handled landscapes of exotic flora makes the whole experience for travelers simply more blissful.
Location: Tilottama – 17, Lumbini, Nepal
Distance From The Airport: 272 kilometers
Available Rooms: Deluxe Rooms, Suites, VIP Villas
Tariff: INR 6,000 to INR 12,000
Specialty: VIP Villas with private access to pools, in-house casino, and spa
Suggested Read: Bungee Jumping In Nepal: 2 Places To See The Adventurous Side Of The Country In 2022
3. Dwarika Resort
Oozing of lavishness and serenity from all over the place, Dwarika Resort is one of the luxury resorts in Nepal. Giving travelers an opportunity to embrace a tranquil and healthy lifestyle, Dwarika Resort usually appeals to those who are seeking solace in their lives. Offering nothing but grand suites with floors being covered by expansive terraces, lounging spaces, private hot tubes, and much more, the staff of Dwarika Resort tends to give the guests home-like vibes. The stunning views of the surrounding Himalayas take away the breath of guests, leaving them in awe of mother nature.
Location: Dhulikhel, Kavre, 45200 Dhulikhel, Nepal
Distance From The Airport: 29 kilometers
Available Rooms: Royal Suite, Executive Suite, Junior Suite
Tariff: INR 27,800 to INR 1,42,000
Specialty: Royal Suite – a duplex offering impeccable views, yoga and cleansing retreats, therapies for physical wellbeing
Suggested Read: Dussehra In Nepal: 6 Unmissable Experiences In Nepal During Dashain 2022!
4. Dhulikhel Mountain Resort
Nestled amidst the culturally rich Dhulikhel, Dhulikhel Mountain Resort easily falls in the list of best resorts in Nepal for those who are seeking to get an insight into the true lifestyle of Nepal. Offering the finest amalgamation of comfort with lavishness, the Dhulikhel Mountain Resort blankets separate and private cottage rooms with their own gardens. The rooms of this resort are simple yet graceful. The relaxing and serene aura encircling the atmosphere of accommodations in this resort is great to enjoy the pleasantness that this destination possesses.
Location: Khawa, Dhulikhel, Karve, 44600 Dhulikhel, Nepal
Distance From The Airport: 30.7 kilometers
Available Rooms: Deluxe Rooms
Tariff: INR 8,000 to INR 9,000
Specialty: Private Cottages, cultural dance program, organic garden
Suggested Read: 10 Captivating Airports In Nepal That Are Catering To Tourists From All Over The World
5. Temple Tree Resort And Spa
A boutique resort that stirs together the contemporary architecture with the Nepalese culture amidst the Himalayas, the Temple Tree Resort And Spa is one of the ideal resorts in Nepal for couples. Ensuring that travelers get to enjoy a calm and serene vacation, all the rooms in this resort are climate controlled. This makes sure that the guests get an opportunity to embrace the pleasant weather throughout their escape to the hills. Each of the two storey cottages offered by the Temple Tree Resort and Spa adorns the rustic architecture with stone walls and traditional interiors.
Location: Gaurighat, Lakeside 6, Nepal
Distance From The Airport: 2.2 kilometers
Available Rooms: The Deluxe Rooms, The Temple Tree Suite, The Junior Suite, The Super Deluxe Room
Tariff: INR 8,500 to INR 20,000
Specialty: Infinity Pool, Spa treatments with traditional aromatic oils, saunas
Suggested Read: 15 Engrossing Things To Do In Nepal In 2022 For All Adventure Junkies!
---
Planning your holiday but confused about where to go? These travel stories help you find your best trip ever!
---
6. Rupakot Resort
Another one of the greatest resorts in Nepal that showcases the traditional Nepalese culture and lifestyle in its perfect sense is the Rupkat Resort. Often a starting point to some of the greatest hiking expeditions, this resort residing in Nepal offers some magnificent views of the picturesque lakes including Begnasa, Rupa, and Fewa. An escape for those who prefer waking up to a view, the accommodation at this resort is perfect for a laid-back, relaxing holiday. For those who prefer to mix up the easy-going vacation with a chance to get closer to marvels of mother nature, the Rupakot Resort has plenty of thrilling experiences to offer such as village walk, trekking, bird watching, star gazing, and much more.
Location: Rupakot – 6, Maidan Kaski, 33700 Pokhara, Nepal
Distance From The Airport: 7.9 kilometers
Available Rooms: Deluxe Rooms
Tariff: INR 11,000 to INR 13,000
Specialty: Stunning views of the Himalayas, rooms exhibit traditional Nepalese culture, adventurous activities
Suggested Read: Safari In Nepal: 9 Spots To Go On An Expedition And Witness The Wild Beasts!
7. The Begnas Lake Resort And Villas
The Begnas Lake Resort And Villas is another one of the resorts in Nepal that gives travelers a chance to get closer to the natural wonders. With the majestic mountains surrounding the resort on either side, paddy fields and the lake sitting on the foothill, The Begnas Lake Resort And Villas look right out of a story book. A grand escape right into the arms of nature, this resort blankets cottages and suites that are sitting on the old paddy terraces. These rooms showcase some of the most breathtakingly beautiful views of the picturesque landscapes and stunning naturescapes, catering perfectly to the needs of those who are seeking to get away from city life.
Location: Sundari Danda, Begnas Lake, 40000 Pokhara, Nepal
Distance From The Airport: 17.3 kilometers
Available Rooms: Deluxe Rooms, Waterfront Cottages, Premier Rooms, Luxury Suites
Tariff:INR 9,300 to INR 10,400
Specialty: Ayurveda, perfect for a family getaway, natural pool
Suggested Read: Nepal Visa For Indians: A Pocket Guide For Planning Your Vacation In 2022
8. Kasara Resort
Offering the chic and understated side of luxury, the Kasara Resort ranks at the top in the list of best jungle resorts in Nepal. Nestled in the heart of the famous Chitwan National Park in Nepal, the Kasara Resort offers the true jungle experience in the trekker's paradise. The minimalistic and refined setting of the accommodation in this resort adorns various local elements of Nepalese culture and heritage. The idea behind the rooms in this hotel is to promote simplicity and functionality while hiding the rich experiences in its lap. The culturally inclined resort blankets plenty to offer including various adventurous experiences that involve canoeing, jungle walks, jeep safari, and so much more.
Location: Patihani Road, Chitwan, 44200 Patlahara, Nepal
Distance From The Airport: 169 kilometers
Available Rooms: Deluxe Rooms, Family Room
Tariff: INR 12,400
Specialty: Family Room – comes with a private plunge pool, Cultural experiences through dance and Oxcart village tour
Suggested Read: 12 National Parks In Nepal: Imagining A World Of Splendid Natural Artwork!
9. Barahi Jungle Lodge
A great alternative amidst all the resorts in Nepal, the Barahi Jungle Lodge is another resort sitting in the wilderness of Chitwan. The experiences offered by this resort are some of those that one tends to remember throughout their lifetime. Giving travelers a chance to witness the Tharu culture first-hand, explore the unearthed corners of the National Park, Golden Pool hike, strolling around the lake in the heart of Chitwan, and all the other adventures are what awaits at the resort. The classiness of the suite rooms in this resort with a touch of vintage luxury usually leaves travelers in awe of it. The private wooden terrace, personal bar, private swimming pool, and the very-own campfire place in each of the massive rooms is what makes this resort one of a kind.
Location: Andrauli, Meghauli-1, West Chitwan, 97761 Meghauli, Nepal
Distance From The Airport: 181 kilometers
Available Rooms: Suite Rooms
Tariff: INR 15,000 to INR 22,000
Specialty: Suite Rooms with private terrace, swimming pool, cubicle and rain shower, adventurous experiences hosted by the resort
Suggested Read: Consider These Snug Homestays In Nepal Your Home While Backpacking In The Paradise
10. Atithi Resort
Residing on the famous phrase 'Atithi Devo Bhava', the Atithi Resort is one of the most relaxing and rejuvenating resorts in Nepal. Appealing to those who just wish to enjoy a stress-free escape in the lush green hills, Atithi resort is an epitome of luxurious and comfortable accommodation. The modern architecture adorned with the most stunning rosewood furniture in the rooms of this resort, this stay more than what one seeks. Along with offering all the basic and a little extra amenities, the rooms in Atithi Resort are well-equipped with services that one might need to be at their utmost convenience.
Location: Shanti Patan, Lakeside, Pokhara-6, Nepal
Available Rooms: Deluxe Room, Luxury Room, Suite
Tariff: INR 12,000 to INR 21,400
Specialty: Camellia Spa, outdoor clear swimming pool
Suggested Read: 5 Eerie Haunted Places In Nepal To Have An Encounter With The Mystical Side!
11. December Resort
Sitting in Pokhara, the December Resort is one of the less expensive resorts in Nepal and an ideal choice for those who wish to travel on a budget. With the rooms being at their utmost comfort, the December Resort ensures that the basic needs and preferences of travelers get fulfilled. There are plenty of facilities and services offered by the December Resort in Nepal including an outdoor swimming pool, bikes on rent, recreational room, and much more. Home to a common room, this resort gives travelers a chance to befriend fellow travelers and likeminded individuals to make memories that one remembers for a lifetime.
Location: Lakeside Road lakeside-6, 33700 Pokhara, Nepal
Distance From The Airport: 3.2 kilometers
Available Rooms: Deluxe Room, Standard Double Room, Superior King Room
Tariff: INR 3,600
Specialty: Common room, recreational room with board games, provides bicycle on rent
Suggested Read: 5 Magnificent Waterfalls In Nepal Every Traveler Must Visit While At This Trekker's Paradise!
12. Everest Manla Resort
Sitting on a hilly terrain of Nepal, Everest Manla Resort is the highest located resort of Nagarkot offers the most stunning views of the surrounding lush green forests, fierce mountains, and valleys. Nothing less than a backpackers delight or a great alternative for families traveling on a budget, this is one of those resorts in Nepal that caters to every kind of pocket. The pinewood-floored rooms are well-equipped with windows that exhibit some of the most stunning views of the mountains and sunrise. To add, the accommodation offers all the basic facilities and services that make the stay feel like home.
Location: Nagarkot, Nepal
Distance From The Airport: 26 kilometers
Available Rooms: Standard Room, Family Room
Tariff: INR 1,700 to INR 3,200
Specialty: Rooms offer great views of nature, gives a chance to try paragliding
Further Read: Move Over Paris! Ring In New Year In Nepal In These 15 Fun Places & Experiences In 2022
Resorts in Nepal not only reek of lavishness but also make sure that travelers get to embrace the vibe of home away from home. With an extensive variety of unique experiences hiding in the lap of these resorts, the stay alternatives in Nepal are all about relaxing and rejuvenating on some time off. Giving travelers a chance to get closer to marvels of mother nature and escape the bustling city culture and lifestyle, a Nepal trip would be nothing less than an experience worth cherishing!
---
Looking To Book A Holiday Package?
---