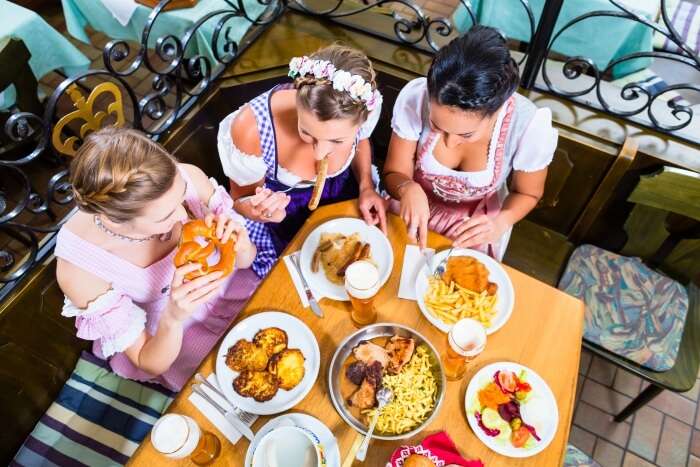 Munich is the popular German city and is the capital of Bavaria. Travelers from every nook and corner of the world visit this place during the Oktoberfest celebration where a variety of brewed beer is served. When people think of Munich, this beer festival is what comes to mind. What many travelers do not know about this part of Germany is that it also accommodates a number of highly acclaimed restaurants which must be visited by every food enthusiast. The top 10 picks of restaurants in Munich in which one must dine in is given below.
Top 10 Restaurants In Munich
It is famous worldwide for the several structurally astounding buildings and the numerous historic museums which it houses.
1. Restaurant Broeding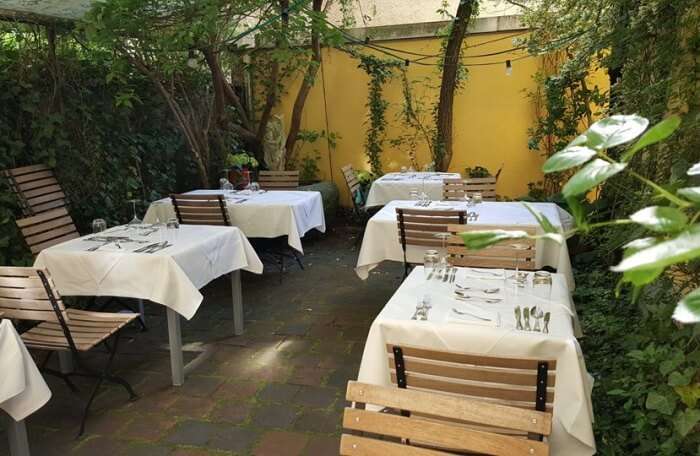 This restaurant in Munich runs on a unique concept of featuring a six-course meal which changes every night. Broeding first opened its doors to visitors in the year 1990, and since then this concept of a different six-course meal every night has not changed. One is sure to get enamored by the food and the service at this restaurant. The meticulous preparation of a variety of lip-smacking dishes is carefully curated by head chef Manuel Reheis.
Location: Schulstr. 9, 80634 Munich
Cost for two: INR 12,900
TripAdvisor rating: 4.5
TripAdvisor reviews
2. Restaurant 181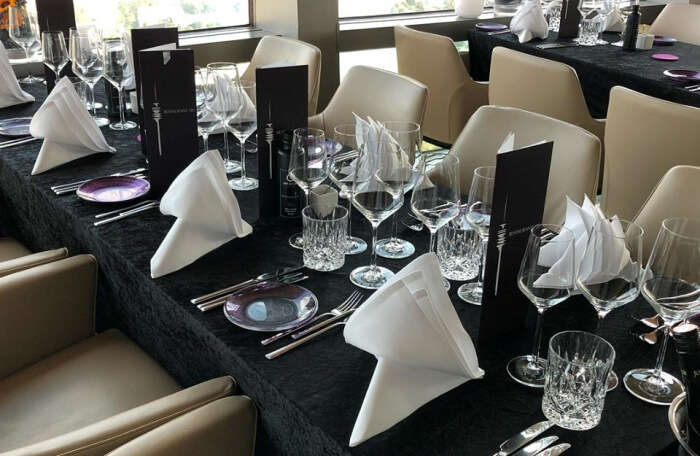 Image Source
This is one of the best restaurants in Munich and is luxuriously designed with chic and elegant furnishings and fixtures. This is the perfect dining place for those who enjoy less crowded and intimate spaces. Restaurant 181 is a small restaurant which can accommodate up to 12 diners. In spite of having a very little seating area, this restaurant is the proud achiever of 2 Michelin stars and has even managed to get a high rank on the Gault Millau scale. This Munich restaurant with a view is ideal for a romantic dinner with your loved one or for business outings. It is located almost 600 feet above the ground and due to this, it has been named as restaurant 181.
Location: Spiridon-Louis-Ring 7, 80809 Munich
Cost for two: INR 7,500
TripAdvisor rating: 4.0
TripAdvisor reviews
Must Read: 10 Day Trips From Munich That Are Worth Taking Once In 2022!
3. Restaurant Mark's

Image Source
One can expect to have an enchanting dining experience at this elegant Michelin star rated restaurant. The dinner at this place starts with Amuse-Bouche which makes the diners much more expectant for the main course to be served. Delicious French dishes served here are designed and delivered by Chef German Simon Larese, who uses modern and innovative techniques to create the most unique and flavorsome dish. Authentic French cuisine dishes are served here which are enjoyed by every diner who visits this restaurant. The must-try dishes at this place include Romanesco, Caramelized Cucumber, Salicornia, and Butter Potatoes.
Location: Neuturmstr. 1, 80331 Munich
Cost for two: INR 8,100
TripAdvisor rating: 4.5
TripAdvisor reviews
4. Schwarz & Weiz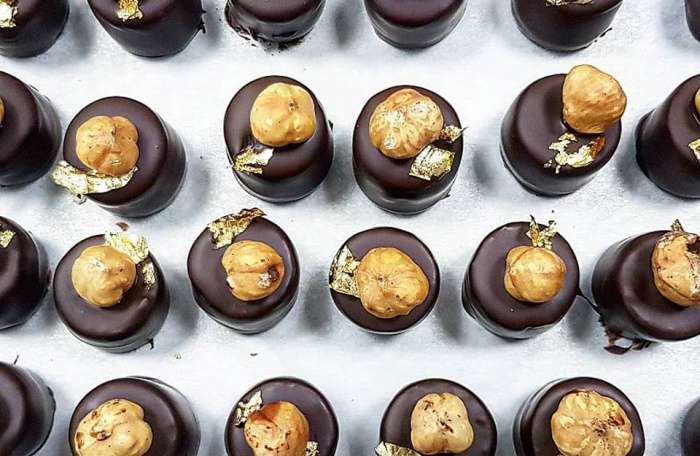 Image Source
This impressive restaurant is spread through three different floors, each with extraordinary architectural designs. The ambiance and service style of this restaurant leaves the diners beyond satisfied. The delicacies served here, add a different charm altogether to the dining experience. An international mix of flavors is served here by the most friendly and hospitable staff. Dishes from International as well as local cuisine are curated here with utmost authenticity and passion.
Location: Sofitel Munchen Bayerpost, 12 Bayerstrasse, 80335 Munich
Cost for two: INR 7,400
TripAdvisor rating: 4.0
TripAdvisor reviews
Suggested Read: Munich Nightlife: A Handy Guide For Party Animals To Explore This Bavarian Capital
5. Cafe Cord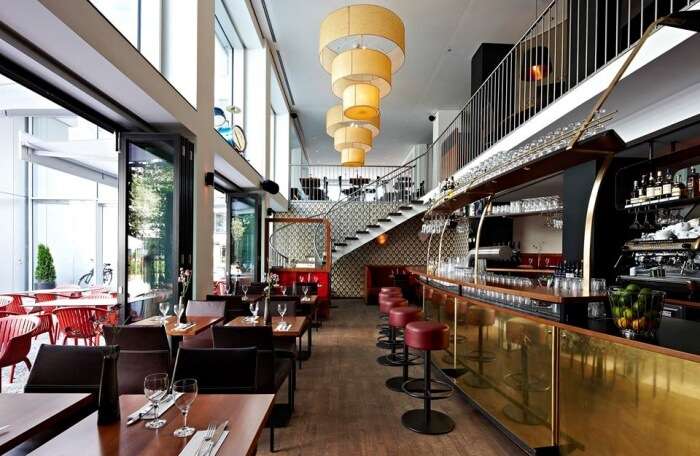 Image Source
Cafe Cord features a cozy and comfortable setting with a trendy and modern decor. If one is thinking about where to eat in Munich on a budget, then this is the perfect place to enjoy a meal. One can dine here after a tiring day of strolling around the city center. The ambiance and feel of this place is completely casual which makes it perfect for lounging leisurely. The menu features a variety of cocktails and other beverage options which can be sipped for a refreshing feel. One can even get a chance to interact with the locals over here as this cafe is frequented by a lot of local visitors. It is a very popular cafe and hence it is recommended that one should book the seats here much prior to the day they plan on dining here.
Location: Sonnenstr. 19, 80331 Munich
Cost for two: INR 4,000
TripAdvisor rating: 4.0
TripAdvisor reviews
Suggested Read: Munich Travel Guide: A Curated Collection Of All That The City Has To Offer
6. Sophia's

Image Source
Sophia's is one of the most unique Munich restaurants which employs the culinary concept of botanical bistronomy which gives the unique taste in the dishes served here. It is a part of the Charles Hotel which is located near Old Botanical Garden in Munich. The highly acclaimed chef her is the proud winner of Michelin star. Chef Michael Husken creates wondrous delicacies by using his professional experience in the culinary industry. He uses only the seasonal and fresh ingredients which are locally sourced and grown. The interior seating area of this restaurant is adorned with modern and chic decor with dim lighting.
Location: Sophienstrasse 28, 80333 Munich
Cost for two: INR 6,500
TripAdvisor rating: 4.5
TripAdvisor reviews
Suggested Read: 15 Best Things To Do In Munich For Treating The Culture Vulture In You!
7. Ella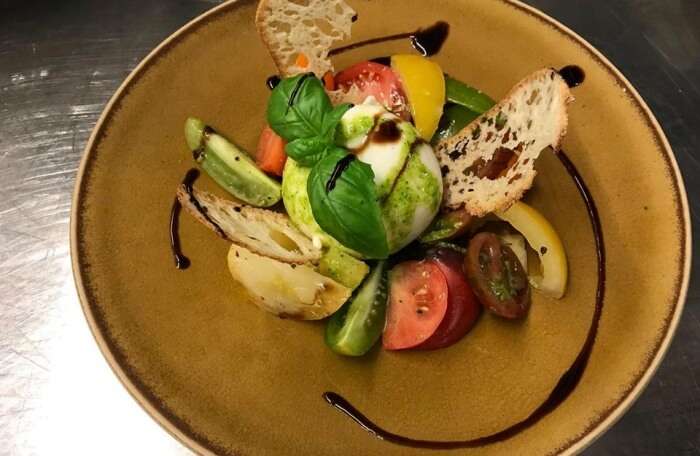 Image Source
Artist Wassily Kandinsky used to call his friend Gabriella Munter as "Ella", that is how the name of this cultural Munich restaurant came into being. It is located at the famous Lenbachhaus Museum near the Koenigsplatz. This restaurant mainly serves breakfast and lunch and is frequently visited by the guests at the museum. Chef Michael Hausberger creates the authentic Italian cuisine dishes which are great in flavor as well as visual appeal. The interior walls of this restaurant are beautifully adorned with original art pieces by the famous artist Thomas Demand.
Location: Luisenstr. 33, Ecke Briennerstr., 80333 Munich
Cost for two: INR 6,500
TripAdvisor rating: 3.5
TripAdvisor reviews
8. Tantris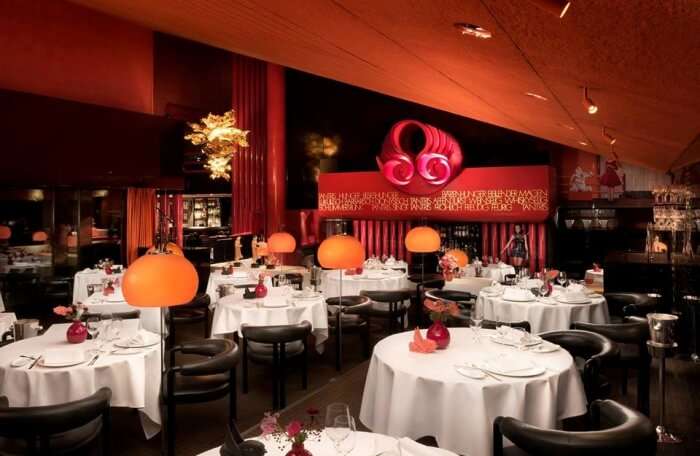 Image Source
The restaurant's architecture and design are truly scintillating and attractive. The basic theme of this restaurant is kept as Asian and all the adornments in the seating area are based on this theme. Contrasting red and black colors are used in all the decor, furnishings and fixtures. The eye-catching sculptures by the well-known artist Justus Dahinden can also be seen here. Owing to the great taste of dishes offered here, this restaurant holds 2 Michelin stars since the year 1974. A maximum of 160 guests can be accommodated by this restaurant. Some famous celebrities who have previously visited this restaurant include Yves Saint Laurent, Christina Aguilera, and Woody Allen.
Location: Johann-Fichte-Str. 7, 80805 Munich
Cost for two: INR 34,900
TripAdvisor rating: 4.5
TripAdvisor reviews
Suggested Read: 12 Tourist Places In Munich You Should Not Miss
9. Gratitude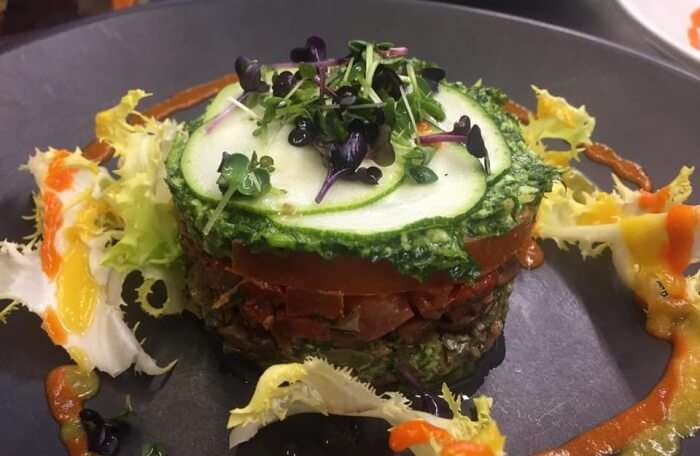 Image Source
This is a vegan restaurant situated in the heart of Schwabing and can be easily reached from any part of Munich. The chef here, Patrick Janoud has the ability to turn these animal-friendly dishes into unique and flavorsome delicacies. All the ingredients used here to create the delicious meals are locally sourced and grown. This restaurant caters to all those visitors who are on a strict vegan diet. The must-try dishes of this place include Risotto, Curry, Tempeh Chili, and Burritos. This is the perfect place for all those vegans who want to enjoy a healthy meal.
Location: Tuerkenstr. 55, 80799 Munich
Cost for two: INR 3,300
TripAdvisor rating: 4.0
TripAdvisor reviews
10. Atelier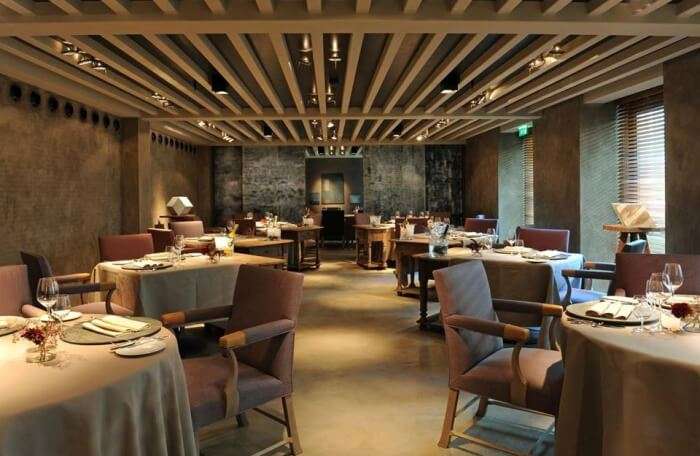 Image Source
The chef here, Jan Hartwig has the ability to blend many ingredients together to create a culinary perfection. This Munich restaurant with a view has an intimate setting with elegant decor. It has been awarded 2 Michelin stars for the food and service offered here. One can enjoy a luxurious dining experience over here with their loved ones. There is even a private room which can be reserved for a private dinner party. This restaurant also features a terrace from where the mesmerizing view of the Munich city can be observed.
Location: Promenadeplatz 2-6, 80333 Munich
Cost for two: INR 3,500
TripAdvisor rating: 4.5
TripAdvisor reviews
Further Read: Berlin VS Munich: Which One Is The Most Ideal Holiday Destination
Visit any of these restaurants in Munich to have a chance at trying out the flavorsome food blends amidst a luxurious setting. Book a trip to Munich at affordable rates by contacting the travel experts at TravelTriangle. What can be better than making your trip to Germany a memorable mix of sightseeing and lip-smacking dishes? So, when are you packing your bags?
---
Looking To Book An International Holiday?
Book memorable holidays on TravelTriangle with 650+ verified travel agents for 65+ domestic and international destinations.
---