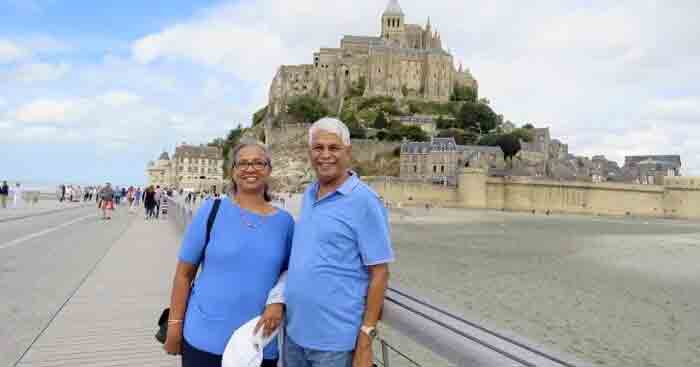 As they say, charity began at home and made Louis and Janet D'souza travel through 52 countries in 8 months. Inspired by yet another family who traveled for 111 days across 11 countries, Louis & Janet, 61 and 55 respectively, only felt more positive with time about their dream of traveling from India to UK and back.

Suggested Read: Your Road Trip Guide Is Here: Do's & Don'ts Of Road Trips For Hassle-Free Traveling
Combining their love for driving and their passion to explore the world as much as possible, the retired couple decided to make the most of their retirement days and take a break from the monotonous business schedules.

Learning much from the previous experience of exploring South India for over 3000 kilometers, there was nothing that could have stopped this retired couple from taking some lavish time off for themselves.

Suggested Read: Delhi to London By Road: These 3 Indian Super Moms Drove Across 17 Countries in Just 95 Days
They embarked on their road trip called "The Lifetime Journey" from Mumbai in May 2016 and journeyed through 52 countries. It included China, Russia, Norway, Germany, United Kingdom, France, Spain, Switzerland, Croatia, Italy Greece and Iran over a period of 8 months.

Other countries that made it to their itinerary are Myanmar, Latvia, Finland, Sweden, Denmark, Netherlands, Belgium, Portugal, Hungary, Slovenia, Malta, Bulgaria, Turkey Georgia, Armenia, Kazakhstan and Kyrgyzstan.

Suggested Read: 11 International Road Trips You Can Take With Your Indian Driving Licence
As much as their children were skeptical about the idea of retired couple travel especially because they were going to be driving throughout, Louis & Janet drove those extra miles for charity and donated INR 10 for every kilometer that they traveled.

Not even the language barrier could stop them from living their dreams as Google Translate came to their rescue. As a result of their passion and commitment, they ended up raising about INR 6 lakhs for White Doves and Muskaan Sharing Smiles apart from INR 5.5 lakhs that they contributed earlier.

Suggested Read: This Couple Gave The New Year A Kick-Ass Start By Taking A Road Trip From Bangalore To Pakistan
This couple has broken more number of stereotypes in one international trip than anybody could have ever imagined. Proving that your love, passion and commitment is beyond your age, Louis & Janet have made everyone proud by doing what they love the most and living up to the quote, "to travel is to live".

Do wish this daring couple all the luck as they already have another trip to New Zealand and Australia lined up for this year followed by another trip from Cairo to Cape Town.
Isn't that inspiring? Don't know about you but we're considering some international tour packages right away! If you have something to say to this couple or share, feel free to use the comments section below.