On your Italian voyage, pick the most romantic things to do in Rome and explore the city's best spots with your better half. From long strolls at dusk to sightseeing Rome offers a wide choice of activities to newlyweds.
Here's the list of best things to do in Rome for couples that aren't just about sunsets and candle-light dinners. It covers activities that let you admire Rome's local heritage and iconic sights. Besides, there're happening nightclubs and pubs for lovebirds to party.
20 Romatic Things To Do In Rome For A Roman Holiday
So, here's all you need – activities, their charges, and timings to make the best of your trip to Rome and rekindle the romance between you and your better half!
Tour the town on a horse carriage
Take a cruise tour on the Tiber River
Tour the Vatican City and behold the best of Italian artistry
Go for a romantic stroll in Villa Borghese Garden
Glance at the city while on a picnic in Aventine Hill
Attend an Opera night in Teatro dell'Opera di Roma
Have a candle-lit dinner at the romantic rooftop restaurant of Hotel Raphael
Experience the real Rome post sunset in Trastevere
Savor delicious Gelato at the Giolitti
Toss a coin into the Trevi Fountain
Have a picnic on Aventine Hill
Rent a Vespa
Wine & dine in a private cellar by the Pantheon
Take part in paint & sip class with your partner to relish art
Take a helicopter ride for the best views of Rome
Enjoy a sunset tour in a golf cart
Romantic Segway tour of Rome at night
Take a dip in a hot pool
Go on a biking tour and savor a slice of pizza
Pamper Yourself With A Spa & A Buffet
1. Tour The Town On A Horse Carriage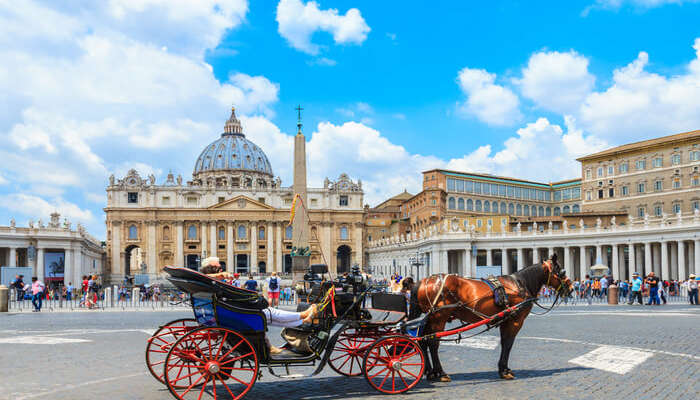 Live the fairytale roaming through the cobbled passageways of Rome, onboard traditional horse carriage. The horse carriage tour in Rome indeed transfers you back to the era when the city could only be crossed on horse carts.
The local horseman takes you past the ancient landmarks of the city like the Mausoleum of Augustus and St. Peter's Basilica, while also narrating the tales. The seats are comfortable, and the ride stays smooth. This is among the most romantic things to do in Rome, especially if you go on a ride in the evening.
Charges: 490 Euro for two people
Must Read: 15 Best Places To Visit In Venice – The Most Beautiful Canal City Of The World
2. Take A Cruise Tour On The Tiber River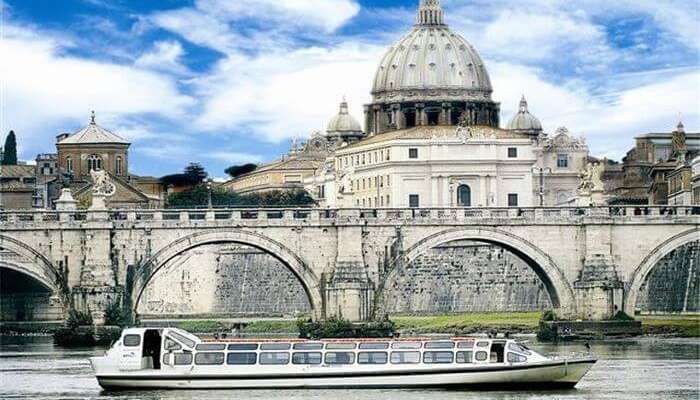 In Rome, romantic places are plenty. Sail the Tiber with that special someone, cruising past the top attractions of Rome like the St. Peter's Basilica. The Rome Boat Experience offers different types of cruise tours like Hop On Hop Off Cruise, Wine Bar Cruise, and Dinner Cruise with Live Music. Each cruise type has separate charges and separate timings. Just pick the one that suits you both the best, and indulge in one of the romantic things to do in Rome.
Charges: Starts from 18 Euro per person
Must Read: Shopping In Rome: 10 Must-Visit Places That Will Delight The Shopaholic In You
3. Tour The Vatican City And Behold The Best Of Italian Artistry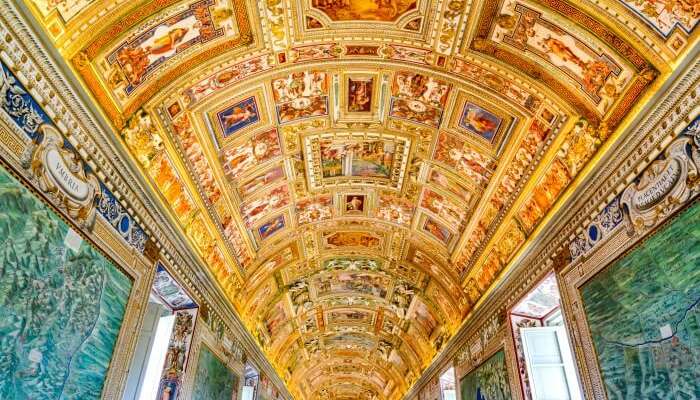 When in Rome, Vatican City is unmissable, especially when you're looking for romantic experiences. The city's museums have proven to showcase the highest standards of aesthetics; and no! We're not just talking about the exhibits but also the architecture and decor. Motifs, sculptures, and immaculate carvings will steal your heart on your honeymoon in Rome! In fact, not just the museums, the manicured garden, and other historic sights look straight out of a dream.
Must visit: Sistine Chapel, Gardens of Vatican City, and St. Peter's Square
Suggested Read: Honeymoon In Italy: Full-Fledged Guide To Plan Your Romantic Voyage
4. Go For A Romantic Stroll In Villa Borghese Garden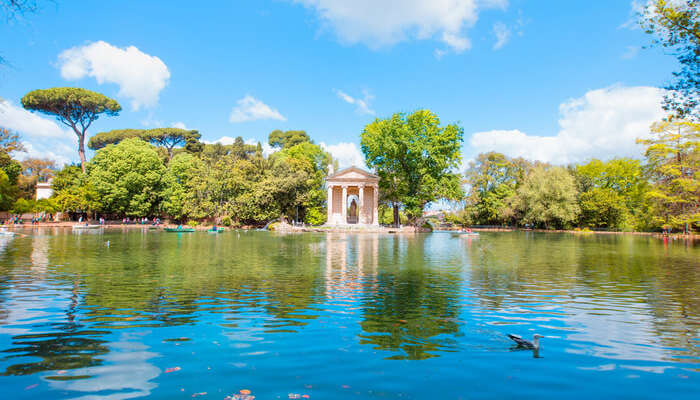 Built in the 17th century, Villa Borghese Garden had also been frequently visited by the members of the Bonaparte and Borghese families. This is the third largest public park in Rome, spanning over an area of 80 hectares. Alongside flourishing greenery, the garden is beautified with many Roman structures like the Villa Borghese, and Borghese Gallery and Museum. It is one of the things for couples to do in Rome.
Must Read: 15 Romantic Things To Do In Venice For Young Couples: A Drop-down Of Everything Magical!
5. Glance At The City While On A Picnic In Aventine Hill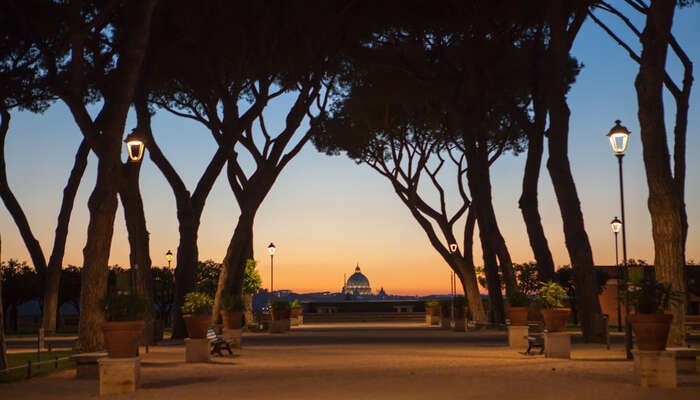 One of the seven hills on which the Roman township lays, Aventine Hill is the perfect place to behold the panoramic views of the city with your better half. This is one of the most romantic places in Rome The Giardino degli Aranci (Orange Garden) in the hill is a lovely hideout to escape to for a picnic lunch, or a stroll and sunset view – these are among the most romantic things to do in Rome.
Must visit: Aventine Keyhole, Santa Sabina, and Orange Garden
Must Read: Rome Travel – The Eternal City To Travel To Once In Your Lifetime
6. Attend An Opera Night In Teatro dell'Opera di Roma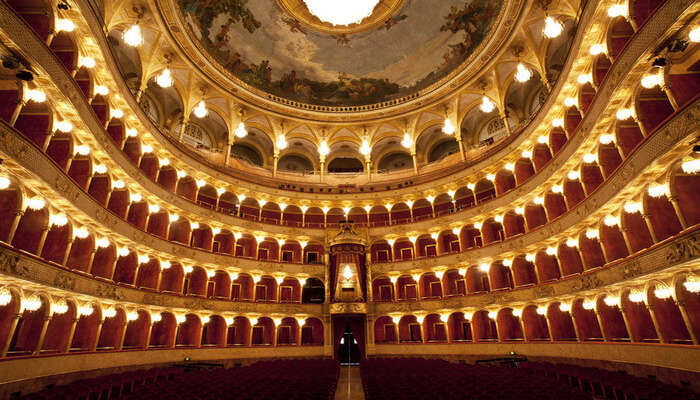 What's a romantic trip to Rome if there is no Opera?! Teatro dell'Opera di Roma is among Europe's finest amphitheaters where one gets to witness the opera and ballet extravaganza. The structure dates back to the nineteenth century, and it reflects history, royalty, and romance at the same time! Everything from the interiors, architecture, and of course the performance in this opera house skip a heartbeat. In no time, you'll find your hands placed on your heart, with your jaws dropped. If you are looking for romantic things to do in Rome at night, here is one.
Charges: 20 Euro per person onward (prices for tickets, however, differ from show to show and preferred seating)
Suggested Read: 10 Picturesque Honeymoon Destinations In Italy For Madly-in-love Couples
7. Have A Candle-lit Dinner At The Romantic Rooftop Restaurant Of Hotel Raphael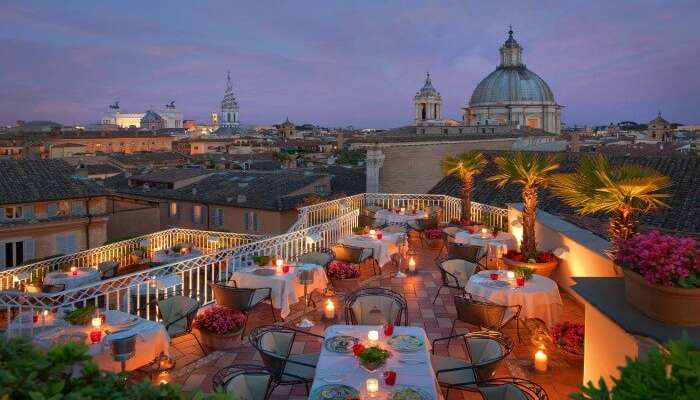 Suggested Read: 7 Day Trips From Rome: Take To Roads To Savor The Timeless Charm
Like anywhere else in the world, a romantic candlelight dinner is among the best things to do in Rome at night. The Terrace, Hotel Raphael's rooftop restaurant, allows the panoramic views of Rome, while also serving mouth-watering Italian dishes in a soulful setting.
The restaurant boasts of the view of Santa Maria della Pace on one side, and Church of St. Mary of the Soul on the other. Palazzo Doria Pamphilj, and Church of St. Agnes in Agone are other Roman landmarks that are viewed from this exquisite dining area.
8. Experience The Real Rome Post Sunset In Trastevere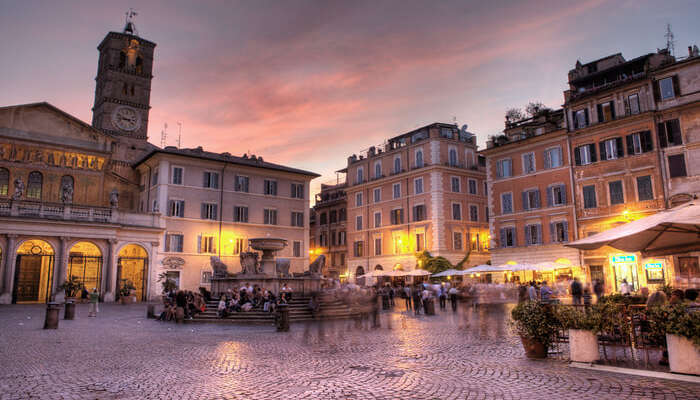 Image Source
When you're done touring the touristic side of Rome, just rent a classic Vespa to wander through the narrow cobbled pavements of Trastevere street. The name translates to 'Across Tiber River', and indeed you'll notice the Bohemian vibe. The old buildings have its own charms, and when you feel like shopping the boutique shops will offer you a variety in everything from fragrances to handicrafts.
The evenings are rather more happening, since the local bars and pubs along the street gets electrifying with crowd and groovy music.
9. Savor Delicious Gelato At The Giolitti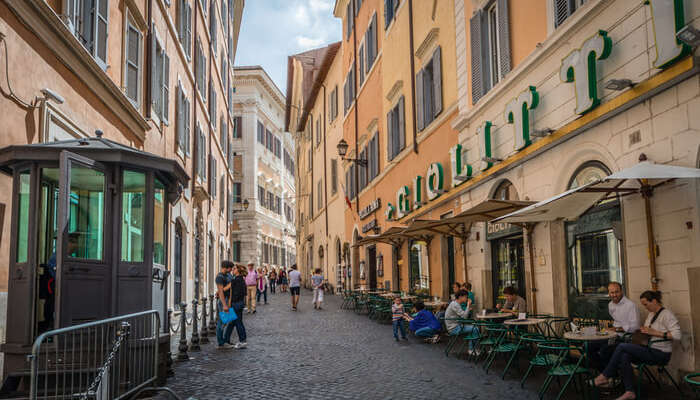 Gelato and Italy are never separated, but sharing Gelatos bought from an ice cream shops that's been here since 1900 has to be among the loveliest things to do in Rome for couples. This ice cream shop happens to locals' favorite, and tourists' must. There is a dozen of flavors offered, in a myriad of colors. Giolitti is located near Pantheon, and is a must visit if you both are up for signature experiences of Rome.
10. Toss A Coin In The Trevi Fountain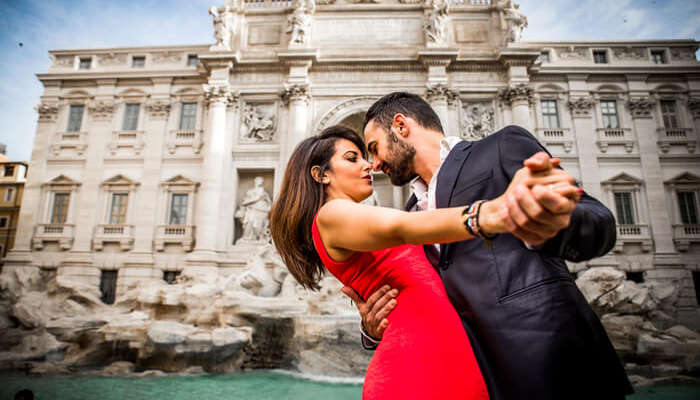 Suggested Read: 10 Enchanting Beaches In Italy For An Unforgettable Vacation By The Ocean
Trevi Fountain is one of the romantic places in Rome. Surely, you will have a lovely time in Rome. But before you make your way back home, don't forget to toss one coin in the Trevi Fountain! Why one, you ask? Well! There's special significance of the number of coins one throws in the fountain. Each number (one, two, and three) signifies different wishes the person has. One coin means return to Rome, two signifies a new romance, while the third one is for marriage.
11. Have A Picnic On Aventine Hill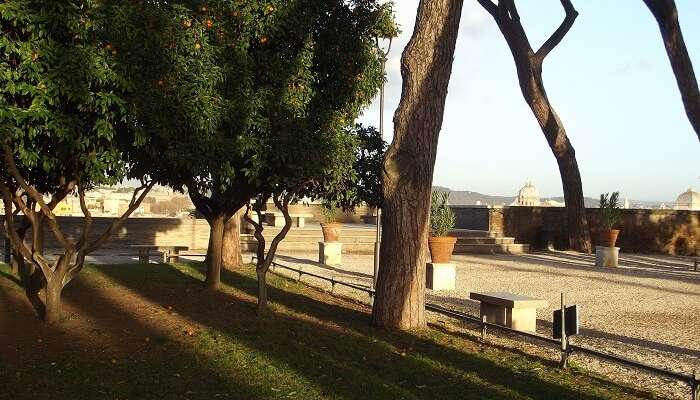 Suggested Read: 15 Best Places To Visit In Venice – The Most Beautiful Canal City Of The World
Rome is built on seven hills one of which is Aventine Hill from where you can get beautiful panoramas of the place. If you want to get away with your partner to a secluded spot and spend some alone-time together, having a picnic in the Orange Garden (Giardino degli Aranci) on top of the Aventine Hill seems like a good idea. It is also one of the best places to watch romantic places with your amor.
Timings: 7 AM – 7 PM
How to reach: It is located near the church of Santa Sabina and can be reached by taking a walk uphill.
12. Rent A Vespa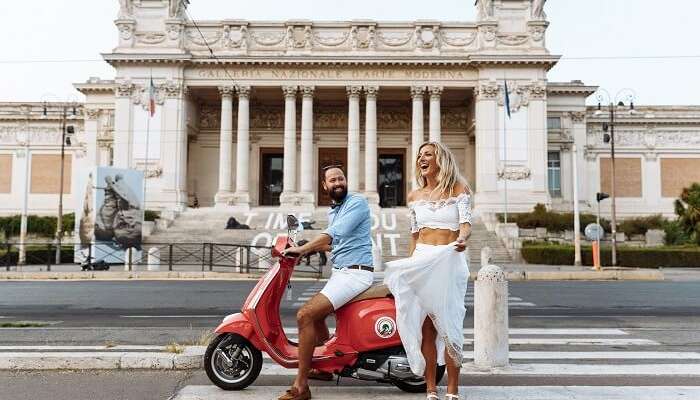 Image Source
If you haven't rented a Vespa and taken a tour around Rome with your partner, have you even visited this place? One of the most fun and romantic things to do in Rome is hiring a Vespa and exploring Rome together just like the show in the movies. Ride around the Colosseum, fountains, and narrow streets of Rome.
Charges: It starts from approximately INR 3,000 for 4 hours
13. Wine & Dine In A Private Cellar By The Pantheon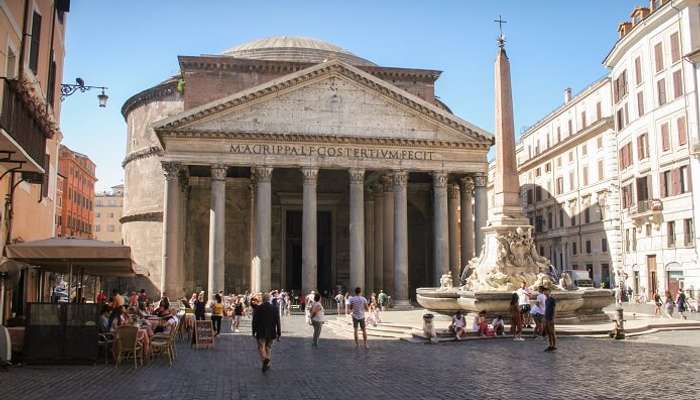 Sip on the finest wine and indulge in a lavish Italian meal in the wonderful company of your partner along with a culinary connoisseur hosting the evening. This family-run restaurant is the perfect choice for a romantic dinner and celebrate your Roman holiday with classic wine and mouth watering delicacies near the Pantheon in Rome – it certainly is one of the most romantic things to do in Rome at night.
Departure Point: Piazza della Minerva, 00186 Roma RM, Italy
Departure time: 7 pm
Duration: 2 hours 30 minutes
Price: INR 8,372 onwards
14. Take Part In Paint & Sip Class With Your Partner To Relish Art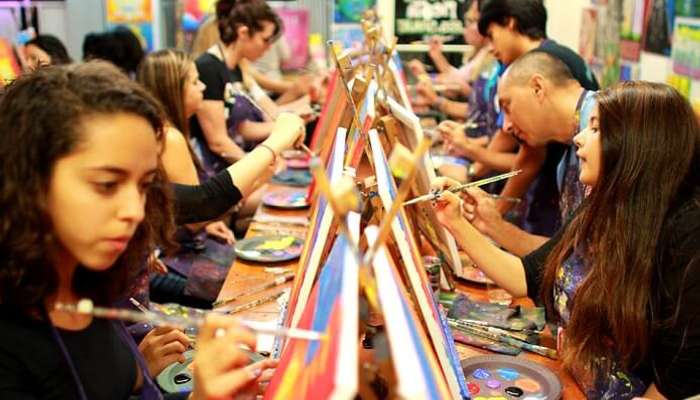 Imagine pairing art and wine together along with your partner, it really is the perfect way to spend your afternoon in the city of everlasting romance. Embrace your creative side and channel the real artist in you, let your imagination unfold whilst sipping on your favourite kind of Italian wine. This is also a chance for you to get along with the locals, learn about artistry, make new friends and have a good time making art in a fun and relaxing atmosphere.
Location: Corso Vittorio Emanuele II 154, Rome, Lazio, 00186.
You book your classes here.
Price: INR 4,500 onwards (Approx.)
15. Take A Helicopter Ride For The Best Views Of Rome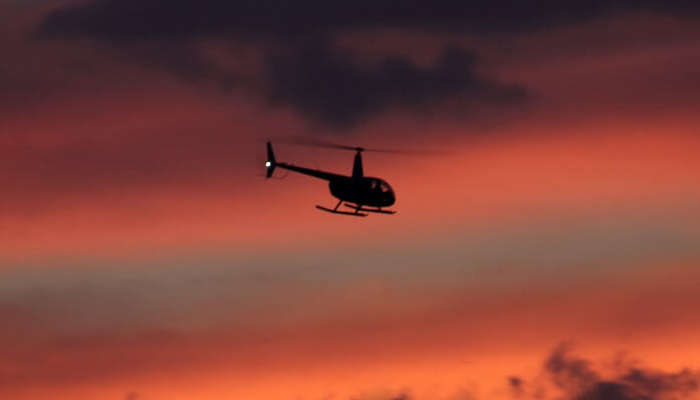 Amongst the most romantic things in Rome is to witness dazzling views of the city as you sip a glass of Prosecco with your partner. Sit back and relax as the helicopter glides over the city to give you a bird's eye view of the monuments, the scenic countryside, the sea and the breathtaking skyline. Enjoy Rome from a different perspective, it's a perfect gift to surprise your partner and shower them with love!
Duration: 40 minutes
Departure point: Overfly Heliport in Castelnuovo, Roma
16. Enjoy A Sunset Tour In A Golf Cart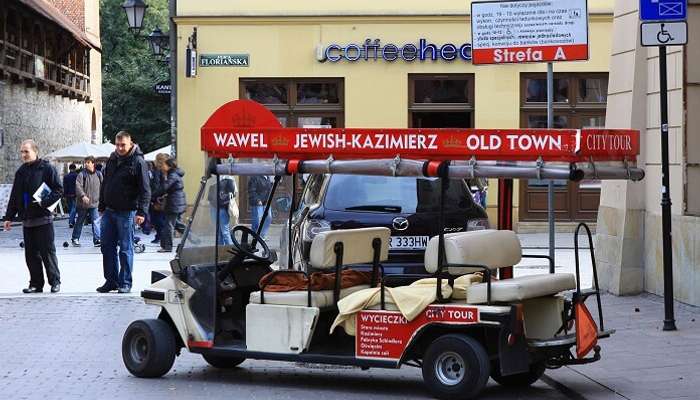 If you want to get access to all the narrow lanes and romantic alleys of Rome, a tour in a golf cart is the ideal way to do that. Enjoy this fun and romantic tour of the city of Rome during sunset and witness Rome by the night along with free drinks. Some of the important landmarks you'll stop at include the Trevi Fountain, Pizza di Trevi, Colosseum, Aventine and more to make the most of all the the romantic things to do in Rome.
Duration: 3.5 hours
Price: Starting from INR 20,000 (Approx.)
17. Romantic Segway Tour Of Rome At Night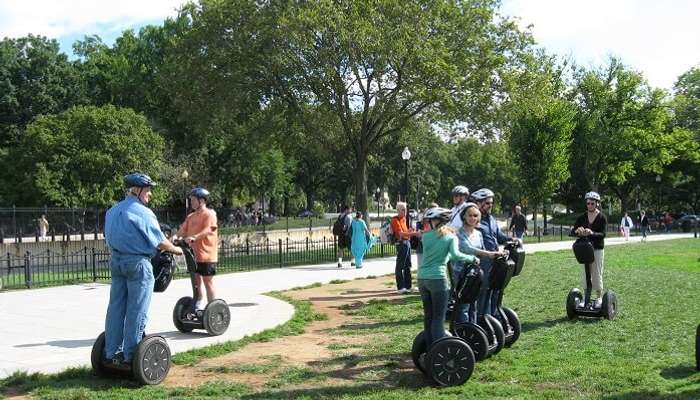 Feel romance linger in the air as you glide through the city of Rome on your Segway and paint the town red with your significant other. Stop at all the famous landmarks of Rome, the guide will give you all the essential information about the top attractions in Rome. You will ride through the stunning Campidoglio, ancient Forum of Traiano and the Palazzo Montecitorio – it is amongst the best couple things to do in Rome.
Duration: 2 hours 30 minutes
Departure Point: Via dei Delfini, 35, 00186 Roma RM, Italy
Price: Starting from INR 5,000 (Approx.)
18. Take A Dip In A Hot Pool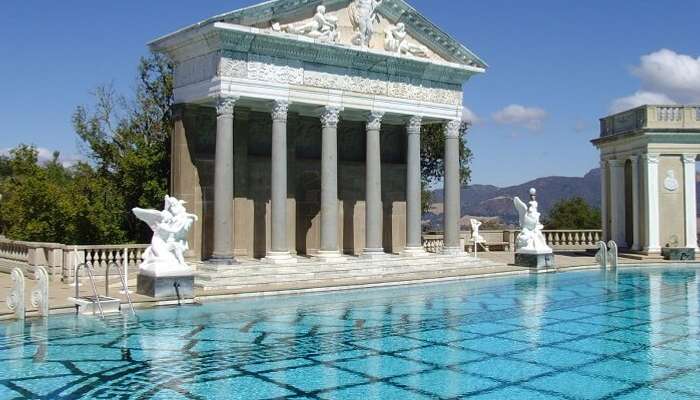 Rome is surrounded by hot thermal baths and swimming pools that are perfect to take a dip and enjoy a leisurely swim with your better half. Taking a dip in a hot pool is a must while you are on a Roman holiday with your spouse, it's the perfect way to spend a romantic evening in a hot pool in the arms of your better half, enjoying the sights of Rome away from the city crowd.
Pools you can visit in Rome for a swim: Aqvi Blu – Sheraton Roma, Palazzo Naiadi Roma, Radisson Blu Es. Hotel, Rome Marriott Park Hotel, QC Terme
19. Go On A Biking Tour & Savour A Slice Of Pizza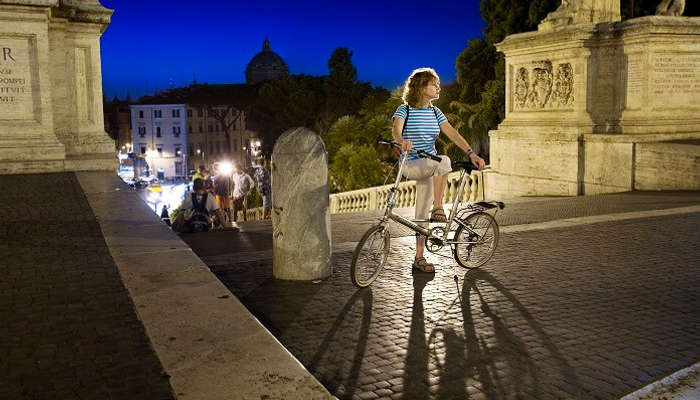 Enjoy the romantic activities in Rome as you feel the Roman breeze in your face as you ride through cobbled streets of Rome at night with your partner. Spend a romantic evening riding the bike through the city of Rome, witness top attractions like Trevi fountain, Piazza Navona and more on the tour. Savour on a slice of pizza and beer while you stop and marvel at the glittering city lights on the Tiber River. Doesn't it all sound oh so romantic?
Duration: 2 hours
Departure point: Via Labicana, 118, 00184 Roma RM, Italy
Price: Starting from INR 3,000 (Approx.)
20. Pamper Yourself With A Spa & Buffet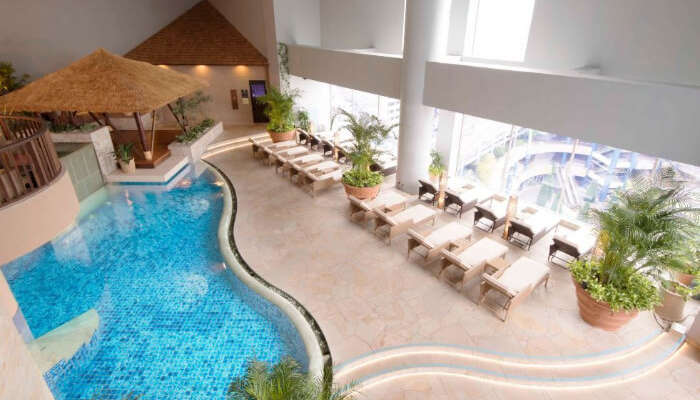 Spend a relaxing day in of the most exclusive wellness center and health spa of the city where you can pamper yourself and your partner as much as you want to help erase the tiredness of the body and unwind. A day at the spa will totally calm your senses as you the tension being released from the body. Savour a rich buffet including sparkling wine along with soft music playing in the background to help you ease your mind and body as it is one of the most romantic things to do in Rome.
Duration: 3 – 5 hours
Price: Starting from INR 25,000 (Approx.)
Further Read: 10 Best Islands In Europe For Honeymoon
So, this was our list of the most romantic things to do in Rome. Hope your trip to Rome becomes the most beautiful escapade ever by adding these experiences to your itinerary and touring the streets of Rome with your amore. 
Frequently Asked Questions
Q. What can couples do in Rome?
A. Here's a list of things couples can do on a Roman holiday:
– Tour the town on a horse carriage.
– Take a cruise tour on the Tiber River.
– Tour the Vatican City and behold the best of Italian artistry.
– Go for a romantic stroll in Villa Borghese Garden.
Q. Is Rome a romantic place?
A. Rome is the city of lovers and has romance lingering in the air anywhere you go. The history and the eternal charm of the city are what intrigues couples the most.
Q. Is Rome safe at night?
A. If you are staying in Rome's historic center, such as Via Veneto, or Campo de' Fiori, Spanish Steps area, Trevi Fountain area, or Trastevere, you should not be worried.
Q. What is the best area to stay in Rome?
A. The best neighborhoods to stay in Rome are:
– Trastevere.
– Vatican & Prati.
– Tridente & Trevi Fountain.
– Ancient Rome & Monti.
– Historic Center & Jewish Ghetto.
– Villa Borghese, Barberini, & the Quirinale.
– Termini Station & Around.
– Testaccio.
Q. What do in Rome at night?
A. Here's a list of fascinating things you can do in Rome at night:
– Throw a coin in the Trevi Fountain.
– Step inside the Colosseum.
– Enjoy the nightlife in Trastevere.
– Explore Vatican City after the crowds have gone home.
– Check out a rooftop bar.
– Substitute a delicious food tour for a traditional dinner.
– See a show at the stunning Teatro dell' Opera.
– Admire the Spanish Steps.
Q. How many days do you need in Rome?
A. If you want to cover the major attractions of Rome like St Peters, the Pantheon, Piazza Navona, Trevi Fountain, Spanish Steps, the Colosseum, and a quick jaunt thru The Forum, then 3 days are enough. If you want to go beyond by exploring churches and museums then a week be enough.
People also read:
Things to do in Bari Things to do in Venice Things to do in Florence
Comments
comments