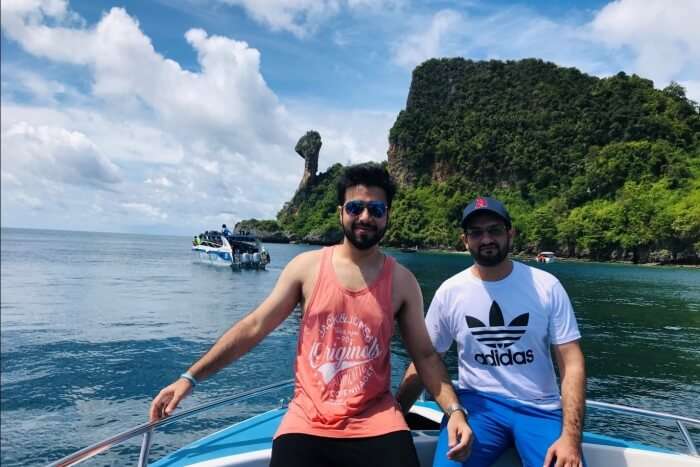 The best travel plans are the ones made spontaneously. So, when the two of us randomly decided to take a trip to Thailand, and it turned out to be the best travel decision of our lives! And even though there were only 15 days at hand to make all the arrangements, we still managed to pull it off, all thanks to TravelTriangle.
TravelTriangle connected us to different travel agents and we finally closed the deal with Classic Trips before proceeding with our flight bookings. Kavita from Classic Trips as well as Vaishali from TravelTriangle had helped us in every step, before and after completion of the trip.
Here are a few details of our 5 days Thailand bachelor trip:
Our 5 Days Thailand Bachelor Trip Details
Trip Type: Friends
Trip Duration: 4 Nights 5 Days
Places Covered: Krabi, Phi Phi Island, Phuket, and Bangkok
Trip Cost: INR 34,500/-
Agent Name: Classic Trips
Inclusions: Airport Transfers, Breakfast, English Speaking Driver, Sightseeing, Cab, Government Taxes
Exclusions: Lunch & Dinner, National Park Fee, Visa, Airfare, Personal Expenses
Flight cost for 2 (Jaipur to Bangkok return): INR 31,640 (including additional 20 kg luggage)
Required Documents For Entry Into Thailand
Passport (validity of not less than 6 months)
Original Pan Card
Photocopies of the first and last page of the passport & pan card
Visa fee – THB 2000 / INR 4000 per person
Two recent passport size photographs on a white background
Confirmed return flight ticket
Proof of accommodation
Adequate funds (THB 10,000) per person (preferably split as THB 7500 + $150)
International debit card (to be used only in case of emergencies)
 Thailand Waives Visa-On-Arrival Fee For Indians. Dear Travelers, Get Packing!
DAY 0: The flight journey from Jaipur to Bangkok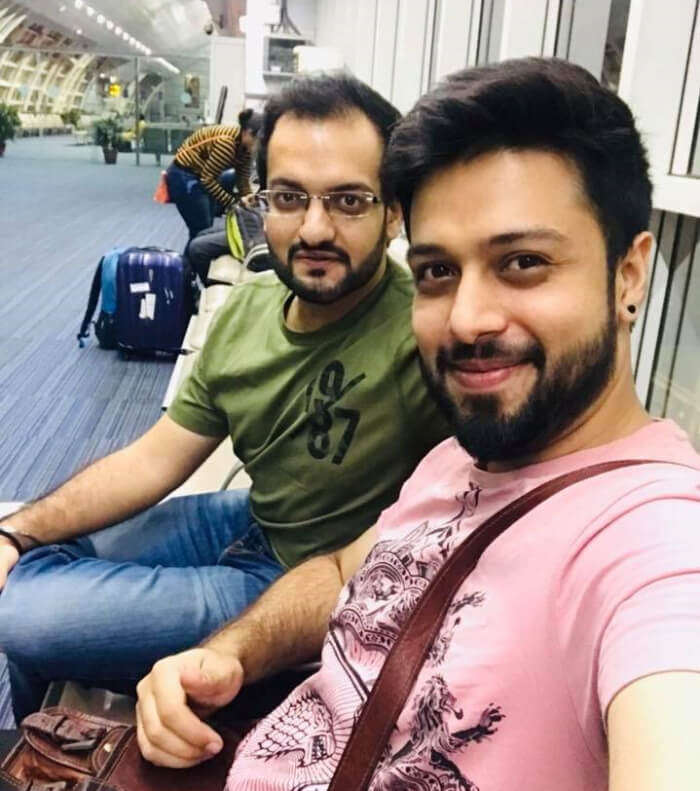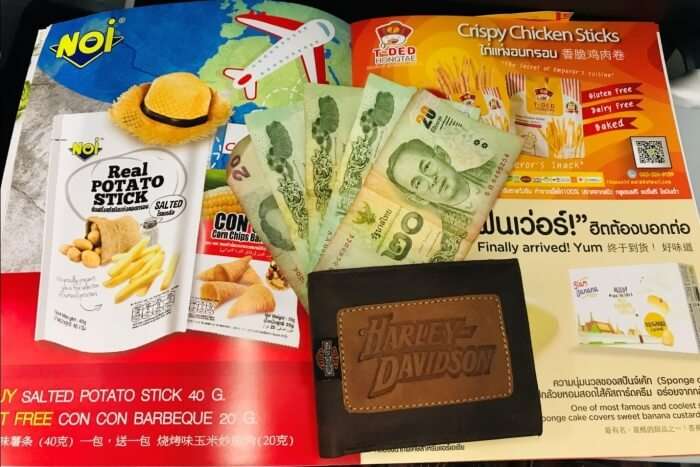 We had opted for a night flight so that we could arrive early in the morning and spend the day exploring. During the flight, we enjoyed two chilled cans of the popular Thai Singha beer, which turned out to be quite amazing! We reached well in time at the Don Mueang which, as per our research, happens to be located right next to the Chatuchak Market in Bangkok.
NOTE: Don't forget to fill the immigration form that you will get in the flight, as it will be required during the visa on arrival process.
DAY 1: From Bangkok to Krabi
Upon reaching the Don Muang Airport, the first thing one is required to do (even before collecting the luggage) is complete their visa on arrival formalities.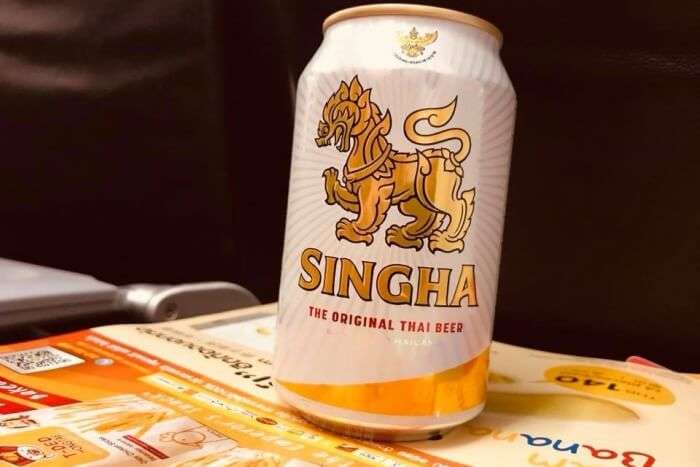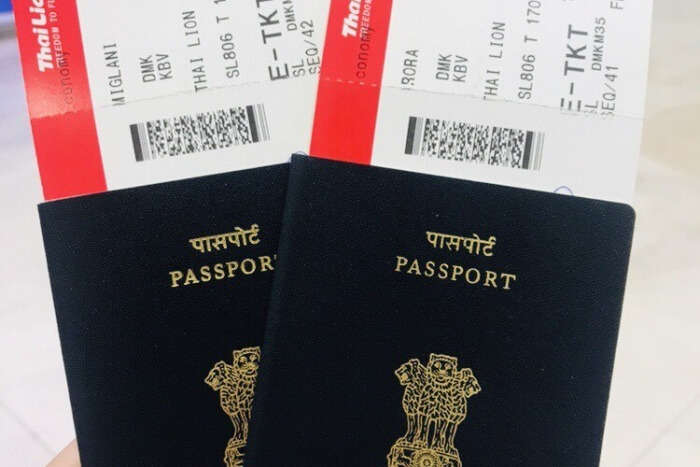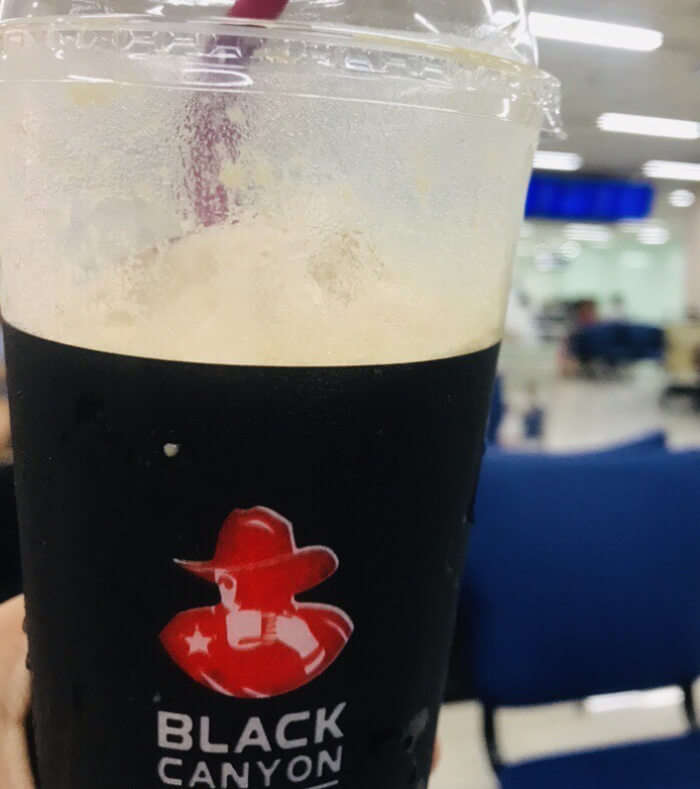 Things To Keep In Mind For Getting Visa-On-Arrival In Thailand
Collect the visa form available at the Visa On Arrival counter and fill it carefully as directed.
Carry a pen and a glue stick of your own.
Make sure you fill the form as quickly as possible as the queue for visa will be quite long.
You need to show your original passport and Immigration Form, as well as photocopies of the arrival & departure tickets, accommodation vouchers, and ID proof.
Keep the visa fee (TBH 2000) handy.
 Kui Buri National Park: A Mini Guide To This Nature's Paradise In Thailand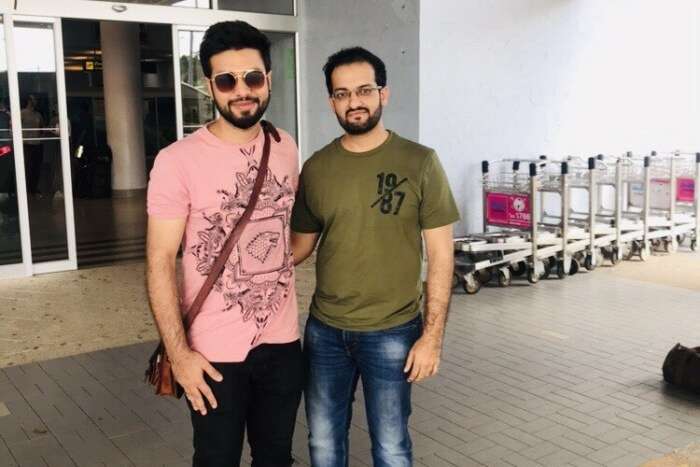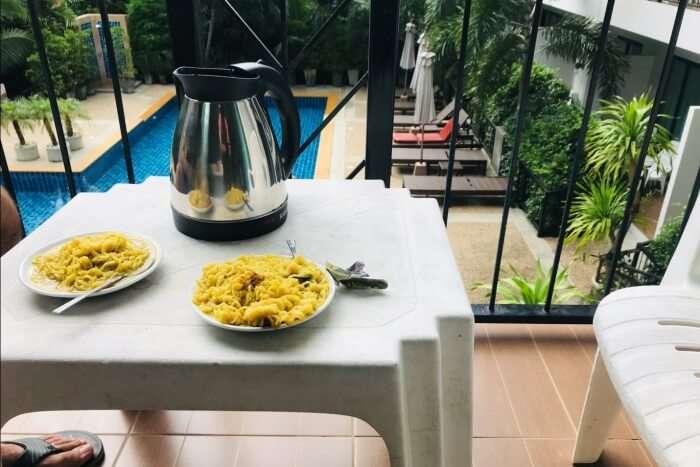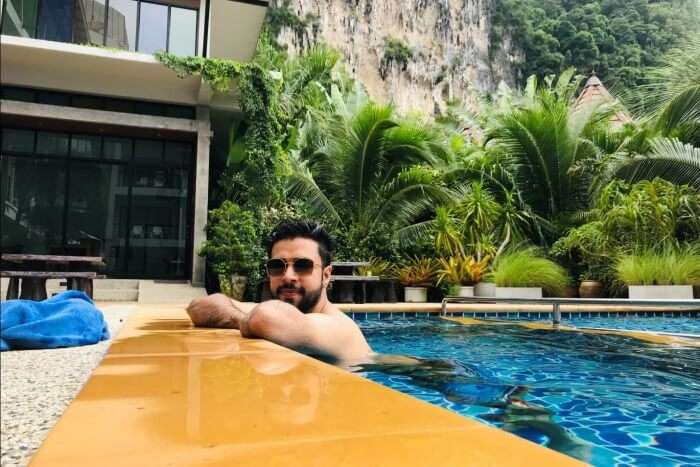 Finally, our Thailand bachelor trip kick-started! After getting our visa, we boarded our connecting flight to Krabi which got us there before we had even settled down in our seats! Once outside the airport, we were greeted by our guide-cum-driver who took us to our resort in a spacious private van. At our resort, we were welcomed with some thirst-quenching cranberry juice before being ushered in a lavish room facing the fancy swimming pool and stunning limestone cliffs in the distance.
Flight cost for 2 (Bangkok to Krabi): INR 7600
Hotel in Krabi: Andaman Pearl Resort | 3-star
Hotel USP: A convenient shuttle service to Ao Nang Beach in every 2 hours
Places to visit nearby:
Ao Nang Beach | 1.1 km from hotel
Railay Beach | 2.2 km from hotel
Night Market
NOTE: Buy souvenirs in Bangkok rather than Krabi as they are way cheaper in Bangkok.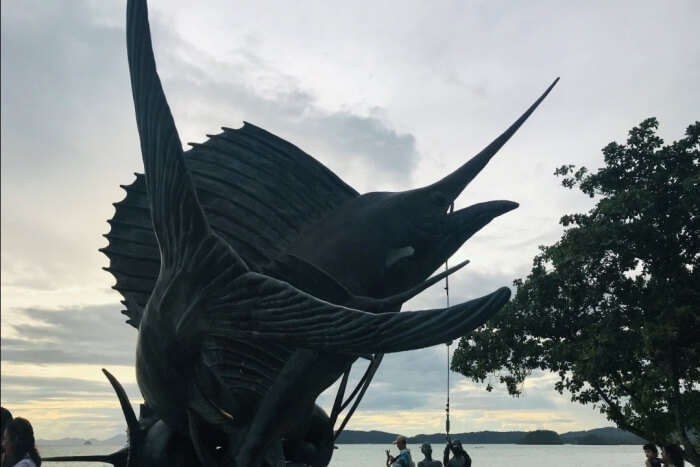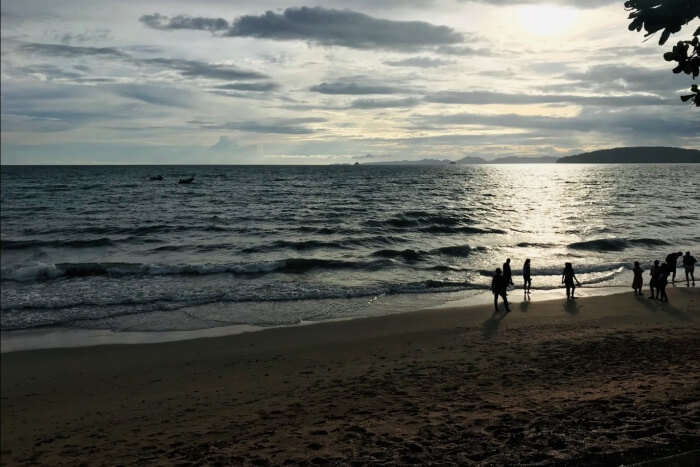 Post a refreshing swim in the resort's pool, we took a short nap in our room before heading out to the Ao Nang Beach with the help of the shuttle service provided by the resort. The beach looked absolutely stunning in the evening, with the water turning emerald green under the setting sun.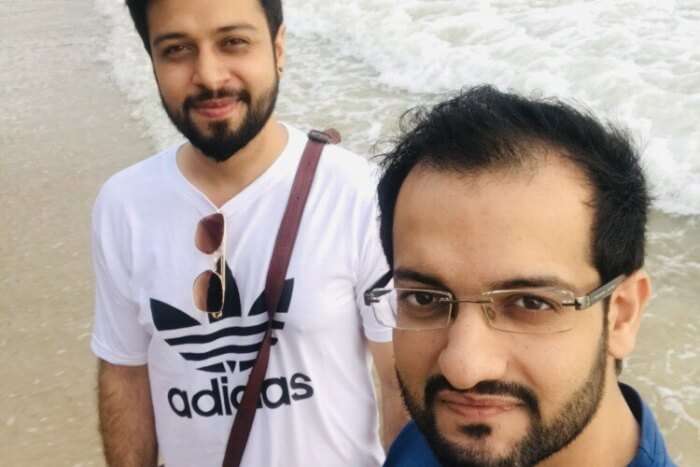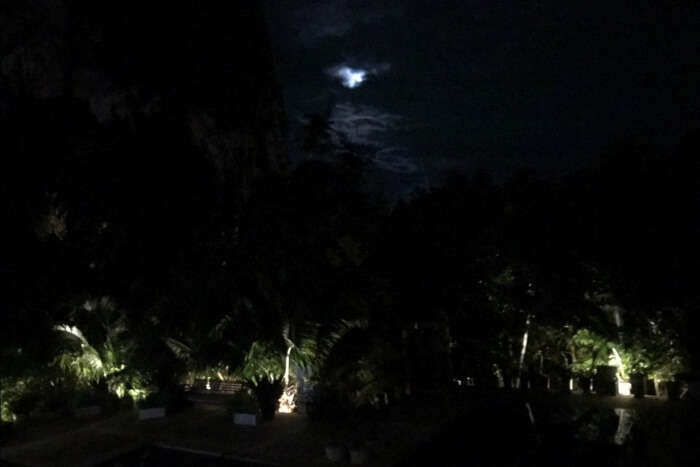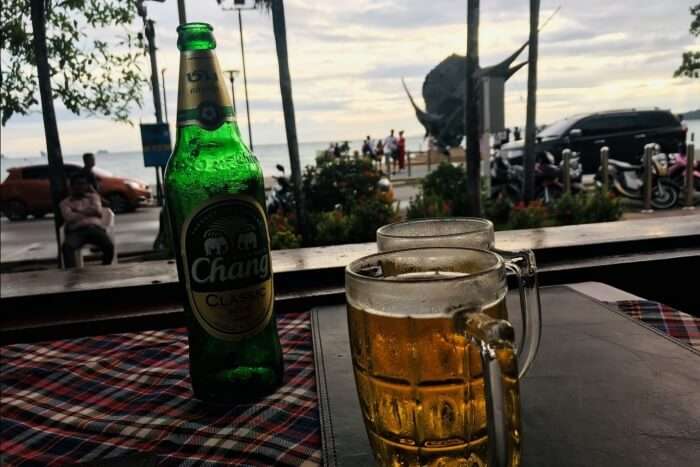 For dinner, we went to the best Indian restaurant in the vicinity – Noori India, where we treated ourselves to some delicious Kadai Paneer and Tandoori Roti. After a delicious meal at this awesome restaurant, we landed at the Chang Bar near the Ao Nang Beach for a few shots of Tequila and then decided to explore the Night Market before heading back to our resort.
 Here's Why Bangkok In December Is Better Than Any Other Trip To Thailand You Can Dream Of
DAY 2 | Krabi: Exploring the islands near Krabi
After a delicious buffet breakfast, we boarded the shuttle at 8 AM for our Four Island Tour. After making the due payment of THB 400 to the operator, we got into our speed boat and set out to explore these charming islands in the company of many other travelers from other parts of the world. Etched into our memories for life, the views were absolutely breathtaking!
Railay Beach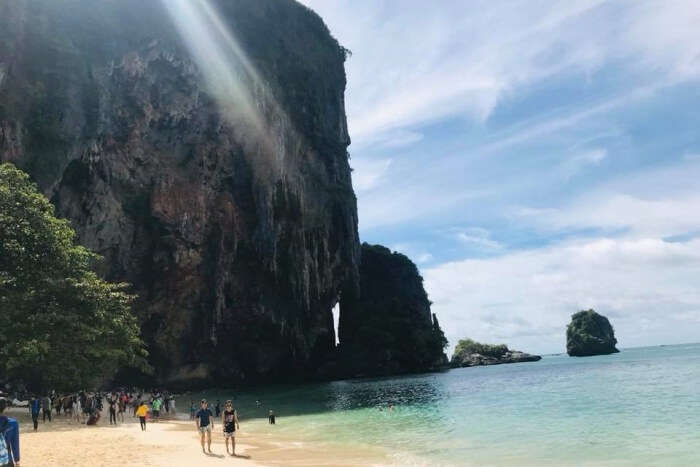 The highlight of this beach is the limestone cliffs that make it one of the most beautiful beaches in Thailand. This place was one of the highlights of our Thailand bachelor trip. Travelers love to go swimming in the turquoise blue water under these very caves and watch the magnificent sunset and sunrise. We also visited the Phra Nang Cave famous for its eccentric legend, before heading back to the boat.
Chicken Island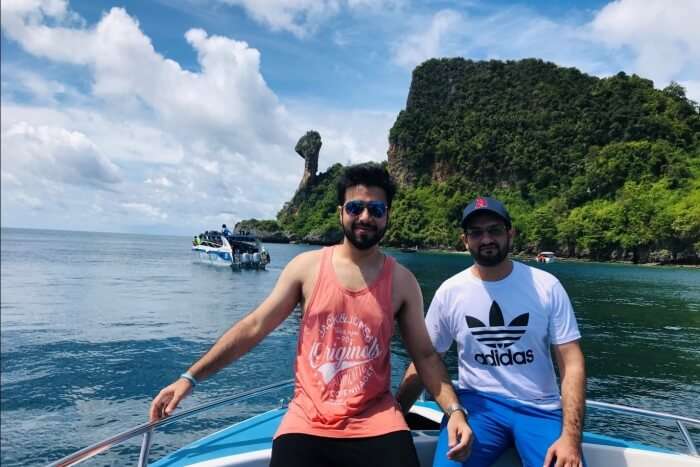 Chicken Island is a mere collection of some oddly shaped cliffs sitting in the middle of the ocean that can easily be seen from the speed boat itself. It is the perfect place for snorkeling near Krabi, and we were enthralled to see beings like zebrafish, sea urchins, octopus, plenty of colorful corals. The peace and serenity of this part of the world left us stunned!
Tup Island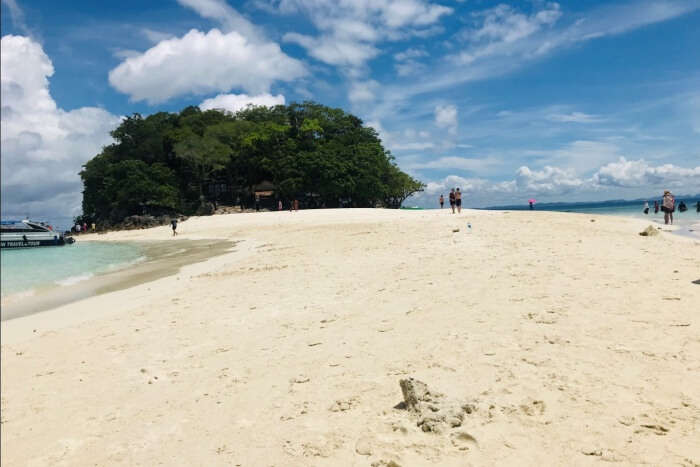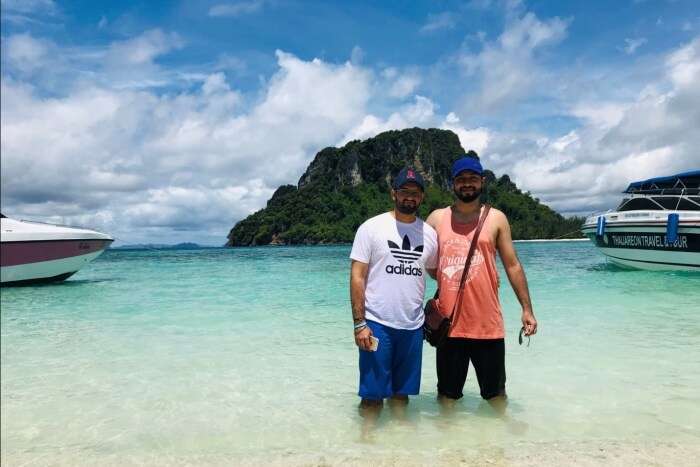 The Tup Island beach is famous for its transparent turquoise water (up to 20 meters), that makes it excellent for snorkeling. The different colours of the sea here are a sight to behold! We could easily see so many fish from the boat itself!
Poda Island
It is the kind of paradise that we usually only see on postcards or desktop wallpapers. It left us speechless! After an average Thai lunch provided by our boat operators, we went for snorkeling which again turned out to be an unusual experience owing to the vast array of marine creatures we got to see! Back on the boat, the operator treated us to some fresh pineapples and watermelons before escorting us back to the jetty.
After taking some rest at the hotel, we went out to explore the nightlife in Krabi and landed again at Chang Bar for some tequila, Leo Beer, and live music. It was at this moment that we realized that about THB 3000 and $100 were missing from our bag that we had left on the boat while we were busy snorkeling. Though we returned to the hotel with a bad mood, we were thankful that we had split our money into two bags and still had enough to enjoy the rest of the trip without any hassles!
Tips For Taking The Four Island Tour In Krabi
Don't opt for the Thavanoor Boat service.
Don't carry more than THB 400, which is the amount you need to pay to the boat operator. There are huge chances of theft on these tours.
Don't carry your passport or any other travel documents on this tour.
Carry only a small bag that will have your swimming gear, sunscreen, towel, and dry clothes.
Snorkeling is included in the 400 Baht that you will pay to your boat operator initially. You don't have to pay extra for it.
The snorkeling gear will also be provided by the boat operator at no additional charge.
Thailand vs Maldives: It's Time For A Face-Off Between The Two Paradises
DAY 3: Krabi to Phi Phi Island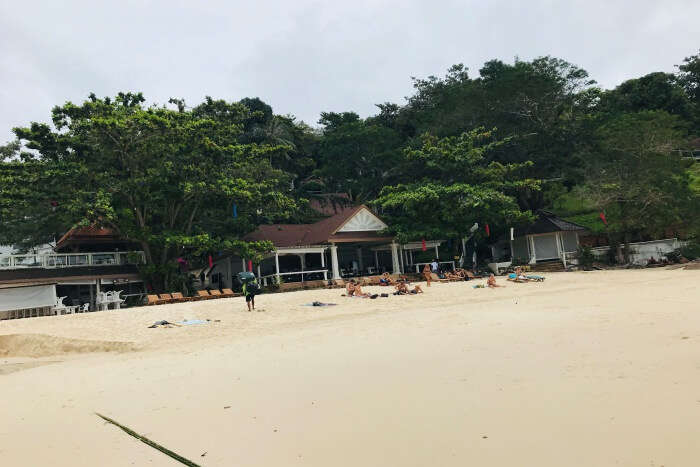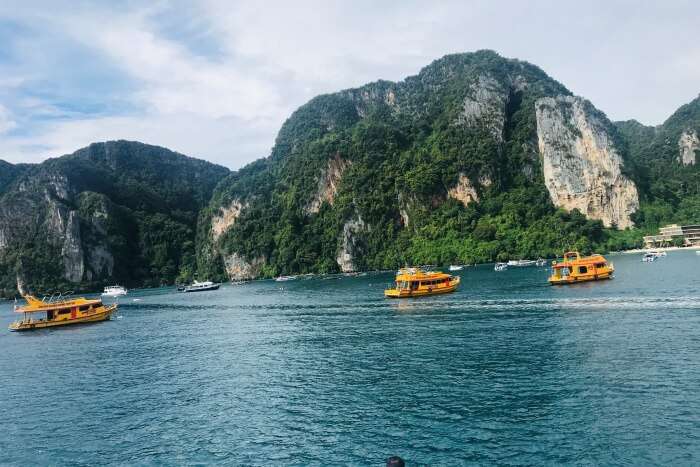 We packed our bags and proceeded to check out so that we could head to our next destination – Phi Phi Islands. After watching the hotel staff hilariously trying to retrieve my glares from the swimming pool, we finally managed to complete our check-out procedure and board our shuttle at 8:30 AM. We boarded our ferry well in time and it got us to our destination in a mere 1.5 hours, where the weather was much more pleasant than that of Krabi and a longtail boat sent by the Bay View Resort was waiting for us.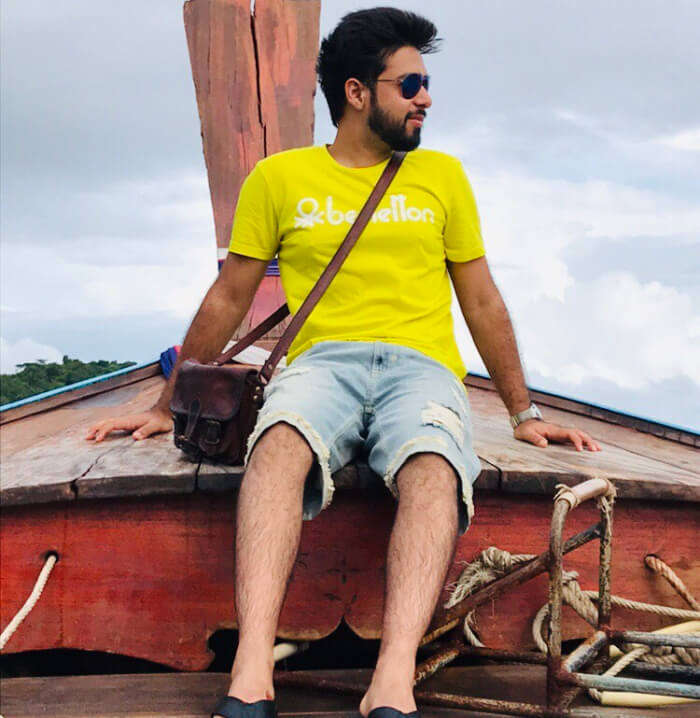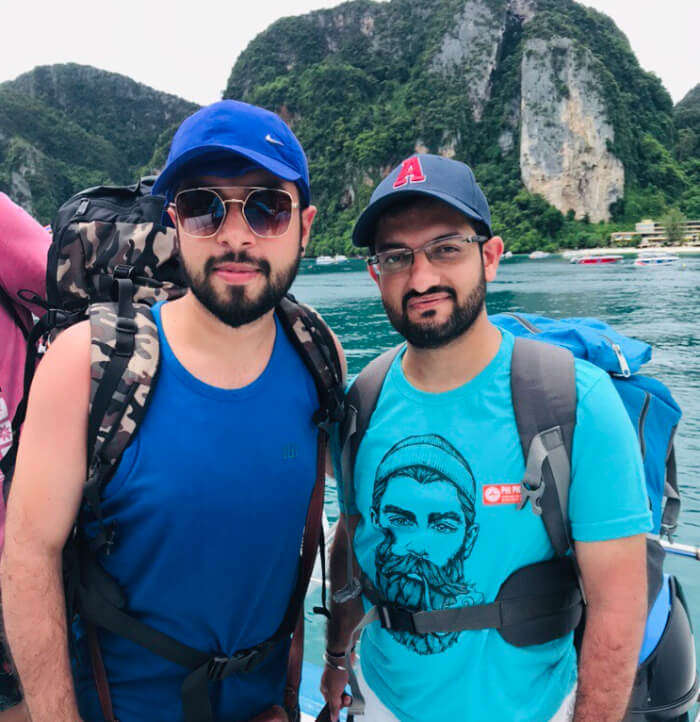 After a smooth check-in, we had a bowl of Maggi in our room while enjoying the splendid views of the bay and the crystal clear sea from our verandah. Later, we went sunbathing in the resort's private beach, had Chang Beer, and tried another round of snorkeling. Then, we went to a new beach – the Loh Dalum Bay, which turned out to be a great choice. In the evening, we headed to Carlito's Bar to witness a mind-blowing Fire Show before returning to our hotel to rest.
Hotel in Phi Phi Islands: Bay View Resort | 3-star
Hotel USP: Private beach
Places to visit nearby:
Long Beach | 200 meters
Loh Dalum Bay | 1.6 km
Ton Sai Bay | 1.4 km
Monkey Beach | 1.8 km
Bamboo Island | 9.3 km
DAY 4: Phi Phi Islands to Phuket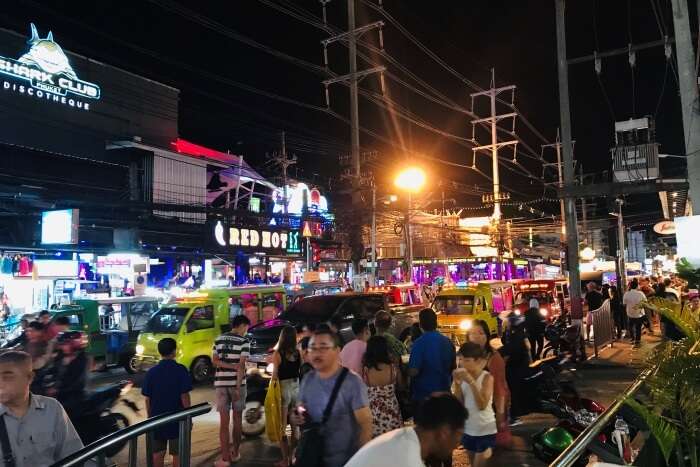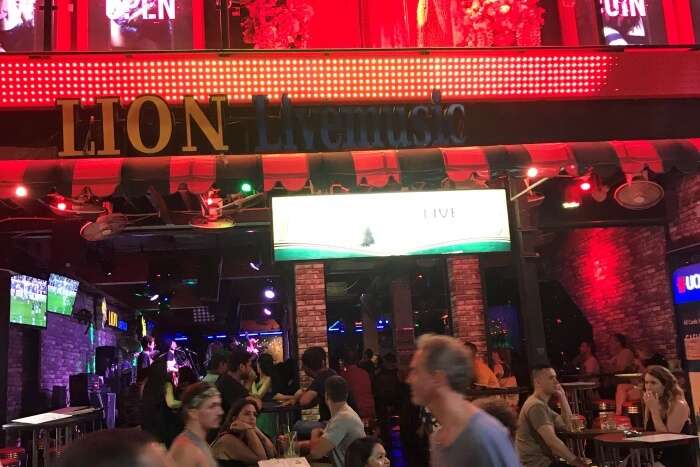 We gorged on some fresh breakfast, bid farewell to the cocooned boundaries of the Bay View Resort in Phi Phi, and returned to the Tonsai Pier to catch a ferry for our next destination – Phuket. After battling a scary storm, our ferry finally reached the Rassada Pier in Phuket where our driver was waiting to escort us to our hotel – The Ashlee Plaza Patong. When we had finally managed to convince the hotel staff to let us check-in an hour earlier than the normal check-in time of 2 PM, we moved to our room and took a nice long rest.
Later in the day, we proceeded towards the Patong Beach where we just sat on the beach to bask in the sun and enjoy the spectacular views before us. Then we took off to the Tantra Patong Indian Restaurant, the best Indian restaurant in Phuket, and had a delicious lunch of Kadai Paneer & Tandoori Roti.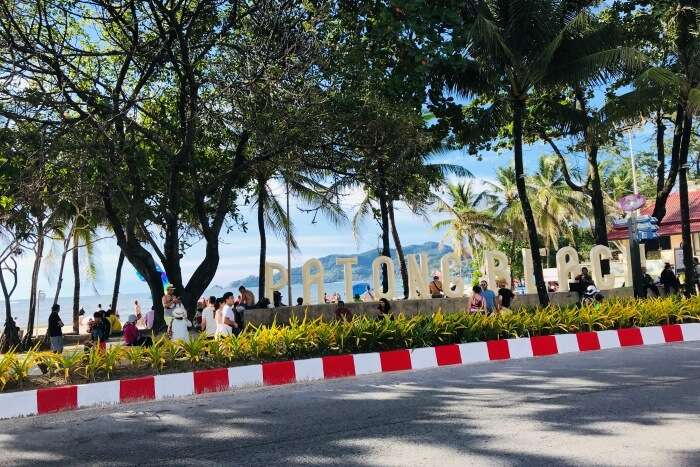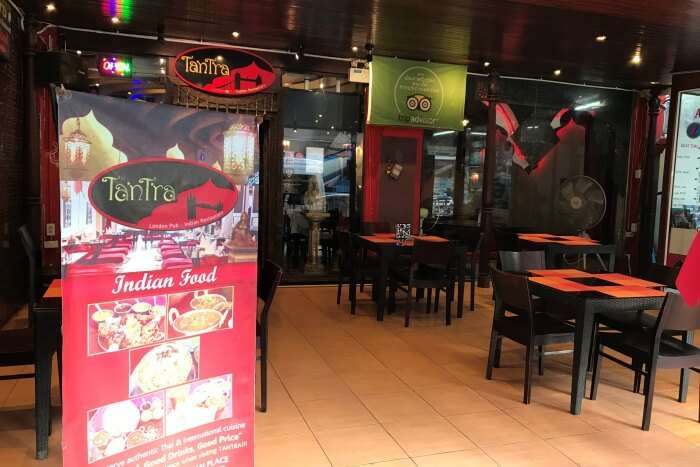 Our search for an authentic Thai massage finally ended at Healthland Massage Patong. We had to wait in the queue for around 30 minutes, but the experience was totally worth it. For a price of THB 250, we got an oil massage that helped us get rid of the pain from sunburns and their acupressure therapy gave us a level of relaxation like never before. After a rejuvenating massage, we went to the streets of Bangla that is famous for its numerous bars, massage parlors, and go-go bars that open at 8:30 PM and close at 4 AM. We simply bought some chocolates, lime vodka, Chang Beer from the Family Mart, we headed back to the hotel.
In the evening, we went back to Bangla Street to experience its jazzy nightlife. Could our Thailand bachelor trip be any better? We decided to explore the Jungceylon Shopping Center to do a bit of shopping but came out disappointed since we couldn't find anything worth buying. We simply roamed about the market area enjoying a magic show, watching some street dance, and observing the local life as we went by. At 1 AM, we headed to another Indian restaurant to ease our hunger pangs, before returning to the hotel to sleep.
Hotel in Phuket: The Ashlee Plaza Patong | 3-star
Places to visit nearby:
Patong Beach | 1.4 km
Bangla Street | 1.4 km
Karon Beach | 4.2 km
Kata Beach | 6.8 km
 Top Experiences In Thailand That You Absolutely Cannot Miss On Your Exotic Vacation
DAY 5 | Phuket: Heading home!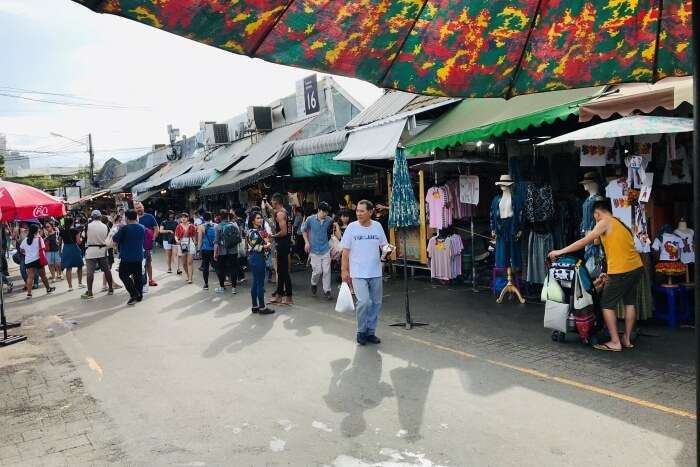 We forced ourselves to wake up at 5 AM so that we could catch our flight on time. We boarded the hotel shuttle (at a cost of THB 60 per person) to get to the airport. Thanks to the kind hotel staff and the excellent arrangements by Kavita from Classic Trips, we had ourselves a big fat bag of breakfast to enjoy on the way!
Once our flight had landed at the airport in Bangkok, we went put our bags in the clock room, exited the premises, and took a shuttle to the Chatuchak Market. The market is spread over an area of 5 km and you can take a map before entering so that you know where you need to go. From fashion wear, street food, gadgets, to handicrafts, you can get all sorts of things from the Chatuchak Market. And that too at very reasonable prices if you buy in bulk and know how to bargain smartly!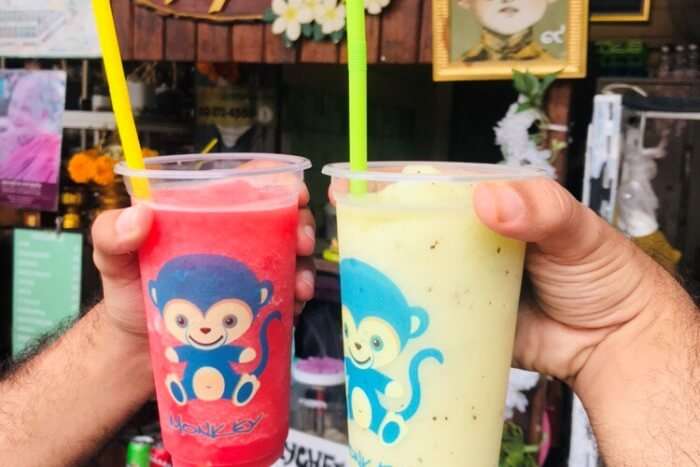 We bought dresses for the ladies back home, some casual wear for ourselves, and a unique rechargeable Korean fan. We had some fresh kiwis and shakes before taking a shuttle back to the airport at 4 from outside the market itself. After buying some whiskey and vodka from the duty-free shops at the airport, we bid this wonderful country goodbye and boarded our flight with a heavy heart.
Experience With TravelTriangle: We are thankful to Kavita from Classic Trips and Vaishali Thakur from TravelTriangle for their constant support and guidance throughout the trip. I will always recommend TravelTriangle to all those who wish to take a trip to Thailand and want it to be a totally fun and hassle-free affair.
WOW Moments During The Trip: The Four Island Tour | The Fire Show | Snorkeling in Phi Phi Islands | Thai Massage at Healthland Massage Patong | Exploring the Chatuchak Market
Out Not-So-WOW Moments During The Trip: The theft during the Four Island tour is the only sour memory of our trip.
 New Year Party In Thailand (2022): 17 Top Venues & Events
We hope we have given you enough reasons to plan your own escapade to Thailand soon! Why wait? Browse our range of customized tour packages and book your holiday in Thailand before all the great deals are gone!
Frequently Asked Questions About Trip To Thailand
Which is the best place for nightlife in Thailand?
Chiang Mai, Bangkok, and Phuket are the best islands to enjoy a spectacular nightlife in Thailand. You will find a variety of bars, nightclubs, and go-go bars in Bangkok and Phuket. Route 66 Club is one of the famous places in Bangkok that you should visit with your friends.
Is Phuket or Pattaya better?
If you hate crowds, then you should head to Phuket. Both are similar, the only difference is that Pattaya is more crowded. You will also observe that the beaches in Phuket are cleaner than Pattaya. If you don't mind blending in the touristy crowd, you can even visit Pattaya.
What should one avoid in Pattaya?
Don't take the Khao San Road when in Pattaya. Avoid Ping Pong shows instead revel in tasteful performances by SOI Cowboy. There are other seedy areas in Pattaya that are best avoided. You can head to other popular tourist attractions.
People Also Read: