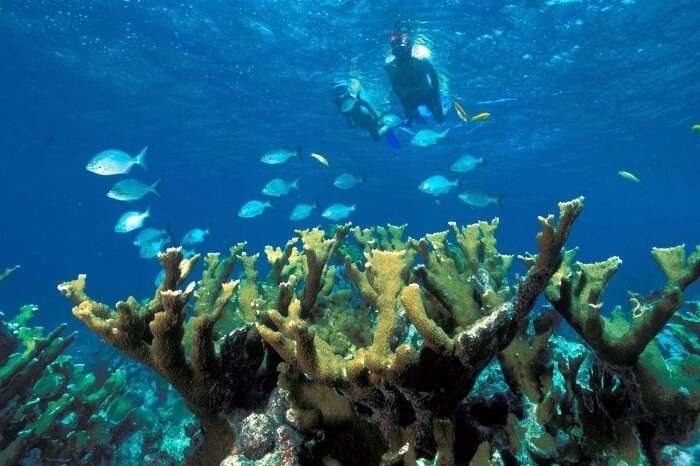 Pondicherry is a must-visit place for scuba diving in India. It is one of the only East Coast Diving Center in India. Pondicherry is known also known for its combination of Indian and French culture, Aurobindo Ashram and attractive beaches. Scuba diving in Pondicherry creates a memorable experience due to the vast marine life and weather and visibility conditions of the Bay of Bengal suburbs with great underwater memories.
Scuba Diving is a fabulous water sport that can be experienced during your trip to the city of Pondicherry. It is a unique attraction among the vacationists and can garner all the adventurous skills that will personify you with a unique experience. As a traveller, will get a lot of scuba diving sites in the city, and as per your knowledge, you can have fun. Here is a handy guide to know about the best places for Scuba diving in Pondicherry.
Quick Links To Navigate Scuba Diving In Pondicherry
About Scuba Diving In Pondicherry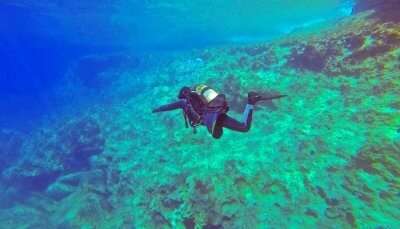 Image Credits: publicdomainpictures
Scuba Diving in Pondicherry is one of the most thrilling water sports that you can try out. This watersport gives you a chance to witness the enigmatic underwater life and lose the beauty of these creatures, scuba diving is one of the best things to do in Pondicherry. Here are a few pointers and details about scuba diving that you should keep in mind.
Difficulty Level: Easy to Moderate
Cost Per Dive: Starts from INR 5,000
Depth Of Dive: Up to 30 mt
Water Body: Bay Of Bengal
Transportation: Nearest airport/railway station/bus stand is Pondicherry
Ideal Duration: 2 to 4 days
Water Visibility: 20 m to 30 m (depends on the weather condition)
Shopping In Pondicherry: 20 Updated Places To Buy Souvenirs In 2022!
7 Best Places For Scuba Diving In Pondicherry
A dive into the sea will give you the opportunity to explore the vivid life comprising of beautiful natural coral reefs and other fascinating creatures such as manta rays, kingfish, sea snakes, lionfish, butterflies, lobsters, moray eels and so many more. Other than that if it is your lucky day, you may see a spot on whale sharks, dolphins and turtles. You can also enjoy diving at an artificial reef, which is what makes scuba diving in Pondicherry irresistible.
4 Corners
Temple Reef
Coral Shark Reef
Aravind's Wall
Ravines
The Hole
PADI Dive Center
1. 4 Corners

One of the traditional reef areas, the four corners is a fantastic place for the open water divers. It has abundant marine life and is around the structure of the palm leaves as well as rocks and plantains. you will also see beautiful dolphins, lionfishes, butterflies, torpedoes etc. This is one of the ideal places for Scuba diving at Pondicherry which gives a chance to explore underwater life. 
Shopping In Pondicherry: 20 Places To Find The Best Handicrafts In 2022
2. Temple Reef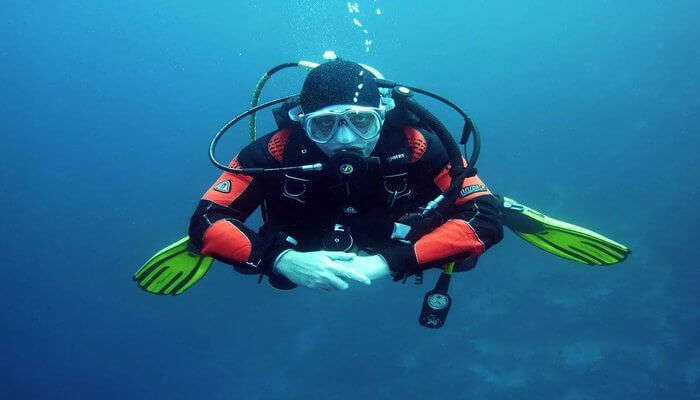 The Temple Adventures created the Temple Reef. It is an old and artificial reef which is designed using all the recycled materials and it is simply terrific. This reef was named after Temple adventures which is its creator. 100 species of the aquatic animals are living on that site.  One can get a sight of the corals and fishes like Lionfish, angelfish, bannerfish, manta rays and moray eels. You can even enjoy the scooter ride within that place. The maximum depth of the area is around 18 m.
3. Coral Shark Reef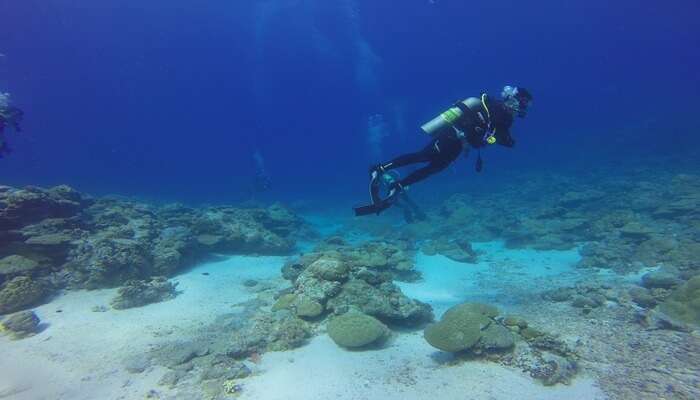 This site is for all kinds of divers owing to its high flexibility in the which is into 5 metres. Divers can also go after 23 metres. The divers can see the beauties at this place as it is a natural reef with a sandy bottom. Divers can also find many beautiful trees as well as towers that are associated with the site.
42 Amazing Places To Visit In Pondicherry In 2022: India's French Colony
4. Aravind's Wall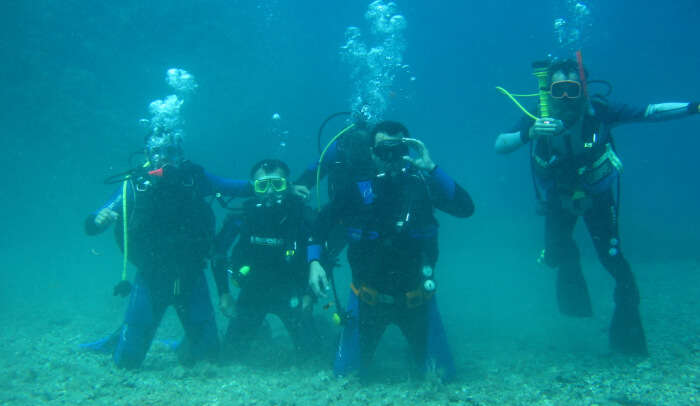 It is becoming the most popular scuba diving site all over India, It is one of the best drift dive sites. The area of the place is extensive which can accompany a lot of divers and can also give out a natural progression. For the people who are enthusiastic about exploring the scuba diving activity, this is one of the best places. 
5. Ravines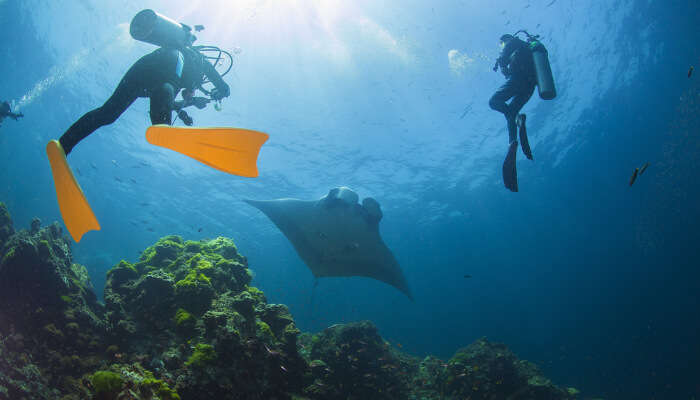 This site is also named after the flowing rocky reed bed at the same place it is located. Divers can find the various farm plants growing at this diving site. This site is also known to be legendary as the Manta Ray is seen here . The average depth here is 12 meters and this is an ideal place for the scuba diving beginners. 
Nightlife In Pondicherry: 5 Underrated Yet Super Cool Experiences To Try In 2022
---
Planning your holiday but confused about where to go? These travel stories help you find your best trip ever!
---
6. The Hole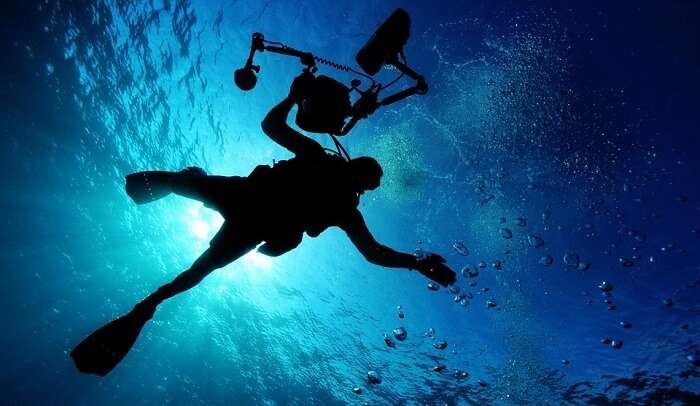 The hole was also Found in 2011 with a scuba diving site for the pro level of scuba divers. The depths of the place is nearly 30 metres. The middle area of the site is the whole area which is famous for adventurous experience for the scuba divers. It's surrounding and also the crystal clear water makes a great place to enjoy a great time underwater. 
7. PADI Dive Center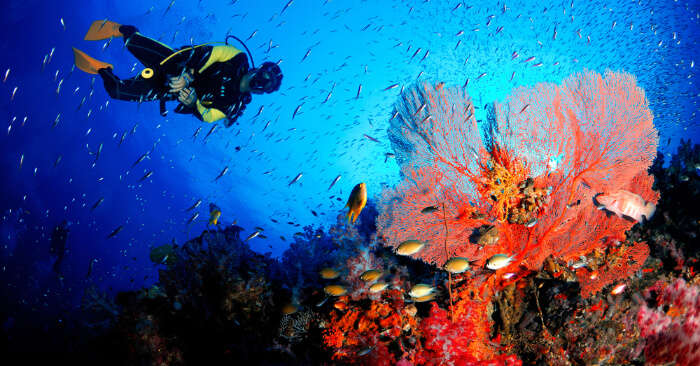 This place is a fantastic centre that will give the experience of scuba divers. This magnificent place is also a perfect location for all the best-experienced divers. It gives coaching to amateur scuba divers. you will also get the help of the coaches and can get better by yourself. So if you're an enthusiastic scuba diver, this is one of the places to visit in Pondicherry. 
Best Time For Scuba Diving In Pondicherry: February – April and September – November
Cost: INR 6500-8000 per person
11 Top Homestays In Pondicherry For An Unforgettable Holiday
Tips For Scuba Diving In Pondicherry

Diving Mask- Human eyes were not designed to work well underwater—particularly salty water. Therefore, one of the essential things divers need is a diving mask. what is the point of scuba diving if you can not even see the breathtaking surroundings
Drysuit or Wetsuit- It is important for us to protect the skin and keeps the divers warm. It is made of neoprene rubber, which acts as padding by locking in a thin layer of water alongside the skin.
Fins- Fins are an essential component in your diving kit. They give divers control over their movement and allow them to propel through the water with speed and agility.
Scuba Gloves- Scuba gloves are made using materials that serve the purpose of protecting your skin from skin abrasions.
Scuba Tank- A scuba tank or we can use diving cylinder is another equipment that divers need when they go for diving. It is a component of breathing apparatus and serves the purpose of storing and transporting large volumes of pure compressed air or specialized gas mixtures such as Nitrox.
Regulator- The regulator makes it possible for you to breathe the air from the tank convert the high-pressure air into ambient pressure.
Depth Gauge, Submersible Pressure Gauge, & Compass- A depth gauge is used for recording the maximum depth reached while diving. A Submersible Pressure gauge keeps a watch on the amount of gas remaining in the cylinder.
Dive Computer- This gear is used as how long a diver can be under the water, how deep diver currently is, and how long a diver can also stay at the depth when they are in. A dive computer could also be used to ensure that the other person is safe and have a smooth dive.
Buoyancy Compensator- The buoyancy compensator or buoyancy control device helps keep the diver from floating up to the surface or sinking down to the bottom of the sea. This is a jacket to help manage your buoyancy.
Tank Bangers- Tank bangers are materials on elastic bands which are hard and that can be wrapped around your cylinder. They're also used to make noise (by snapping the hard metal against your tank) to get your dive buddy's attention quickly Defogger- Having a fogged-up mask can prevent you from having a fun and safe dive, so it's essential to treat it with a defogger before every dive.
15 Fabulous Pondicherry Resorts Near Beach Where One Can Experience A Lavish Stay In 2022!
What Not To Do After Scuba Diving In Pondicherry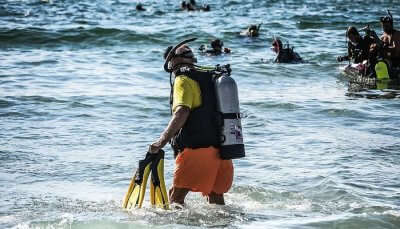 Fly- Things to be avoided after Scuba Diving Fly- Flying in an aeroplane is probably one of the well-known things to avoid post-dive. Travelling in a plane or even to the low altitudes that can cause a further reduction in ambient pressure which is compared at sea level. It, therefore that can be associated with causing problems with off-gassing after a dive.
Travel to Altitude- For the same reason that you should wait 24 hours before flying, you should also wait before travelling to altitude
Exercise- According to DAN, strenuous physical activity, muscle movements, and applying forces to joints can cause bubble formation into the joints after a dive. The best advice is to reschedule your workout after a few hours.
Get a Massage- The general suggestion is to wait for a few hours after your diving session before having a massage. Because the effect of tissue manipulation can affect the decompression and off-gassing, therefore potentially increasing the risk of DCS.
Take a hot shower- If you are putting your body in a warm environment which is as a hot bath, hot tub, sauna or scorching shower, you run the risk of forcing out inert gas that was dissolved in the tissues. This may cause potentially symptomatic bubbles in the muscles.
Drink Alcohol- For many people, cracking open an ice-cold beer and watching the sunset is the best way to finish the diving day. However, do make sure you are already adequately hydrated from your dives before you reach for the beer.
10 Churches In Pondicherry That Are Architectural Wonders!
How To Reach Pondicherry

Pondicherry is well connected with the other parts of India via a vast network of National Highways, a railway terminal and also a Domestic airport. This place is also in close proximity to international airports.
By Air: Pondicherry has a domestic airport which is connected to Bangalore via daily flight. Alongside that the travelers can also deboard at Chennai and Trichy which are also located at a few hours distance from Pondicherry. 
By Rail: There is direct connectivity to Villupuram, Chennai and Tirupathi. Alongside that, there are tri-weekly trains that connect Pondicherry with Bangalore, Kolkata, Mumbai and Bhubaneshwar. 
By Road: The best way to reach Pondicherry is by road which is well connected by National Highways. There are many buses that run from Chennai and Bangalore. 
20 Spectacular Places Near Pondicherry You Should Definitely Visit In 2022!
Scuba diving in Pondicherry is an entertaining activity, especially so because it's not usually associated with the typical attractions there: the beautiful French colony and serene Auroville. The marine life here is so beautiful and one can also spot sharks during the right season. So now when you plan a vacation in Pondicherry, make sure to not miss out on this extravagant experience.
For our editorial codes of conduct and copyright disclaimer, please click here
Frequently Asked Questions About Scuba Diving In Pondicherry
What is the most crucial rule in scuba diving?
The most important thing during Scuba diving is not to hold your breath and keep on breathing continuously.
Is it very dangerous to Scuba Dive?
To scare you, but does have some risks and these risks include decompression sickness or DCS, arterial air embolism, and also drowning. There are also some effects of diving, such as nitrogen narcosis, that can add to the cause of these problems.
What can we eat before Scuba Diving?
It depends on the intensity of your diving.If you are doing a week full of repetitive dives then stay closer to the two-thirds calories from which each carbs and eat plenty of calories.
Is it not safe to Scuba Dive with Cold?
A blocked-up from head is very unsafe for scuba diving. You will not be able to clear your ears and sinuses while going down. It may also make it difficult for you to go back up. A little scratchiness is fine, but if you're struggling to swallow, cancel the dive.
Can a non-swimmer Scuba Dive?
The answer is yes. But the only limitation for a non-swimmer is that they couldn't go without an instructor.
---
Looking To Book An International Holiday?
---
Scuba Diving in India Scuba Diving in Mexico Scuba Diving in Austin