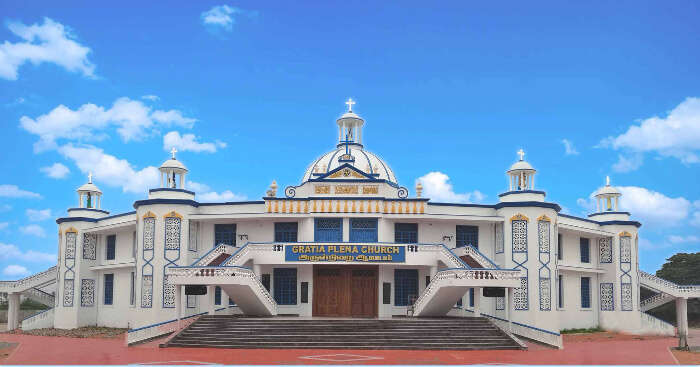 Formerly a French colony, Pondicherry is the capital of Puducherry, one of the seven Union Territories of India. It still houses a slew of colonial buildings, churches and statues, among others. Its systematic town planning makes it popular by the name of 'Europe of India'. Although a small town, Pondicherry is famously known for its interesting mix of things including a superb list of churches in Pondicherry.
Churches That Are Divine And Beautiful
Pondicherry is a destination that offers you numerous opportunities for enjoyment and delight. Here is a list of some of the most-visited churches in Pondicherry where you can spend some soulful time amidst sheer tranquillity:
1. Church of the Sacred Heart of Jesus

Image Source
The south boulevard at Subbayah Salai houses this famous church in Pondicherry, which was constructed by French missionaries during the 1700s. It's a classic example of Gothic splendour and one must visit this to experience its inner beauty and peace. The church beautifully depicts the events from the life of Christ through its stunning glass panels. It also contains spectacular glass pictures of twenty-eight saints, the great devotees Jesus Christ.
Location: Door No, 132, South Boulevard, Near Railway Station, MG Road Area, Puducherry, 605001
Timings: 5:00 pm to 9:00 pm
40 Things To Do In Pondicherry In 2022 For A Fulfilling Retreat
2. Immaculate Conception Cathedral

Image Source
You will see this amazing architecture right beside the Archbishop's House. Constructed in 1791, it is regarded as the main mother church of Roman Catholic Archidiocese of Pondicherry and Cuddalore. To one's surprise, this famous church in Pondicherry is the fourth church built on this location, earlier gone through a lot of renovations. You will see a lovely statue of Virgin Mary right outside the church, but it is said that the interiors are something you must not miss out.

Location: 204, Mission St, MG Road Area, Puducherry, 605001
Timings: 7:00 am to 8:00 pm
3. Our Lady of Assumption Church

Image Source
Photo Credit: Ram Sadeesh
Locals call it Punidha Vinnearpu Annai Aalayam. The church believes in bringing more and more people together to love and is committed to providing an array of religious services. So, if you really want to feel blessed, you must experience visiting this terrific church at least once in your lifetime. One hundred and sixty years old, the church houses an outstanding collection of statues enveloped by French architectural patterns.
Location: The Parish Priest Assumption Church Street, Nellithope, Puducherry, 605005
Timings: 6:00 am to 5.30 pm
15 Fabulous Pondicherry Resorts Near Beach Where One Can Experience A Lavish Stay In 2022!
4. The Church of Lady of Lourdes

Image Source
One of the most famous Pondicherry churches, The Church of Lady of Lourdes is situated in Villianur and is famously known as Villianoor Thuya Loordhu Annai Thiruthalam. Built in 1876, the church gives a true feeling of the original Our Lady of Lourdes Church in France. While visiting this beautiful architecture, you will also witness the breathtaking statue of Notre Dame, which was a gift to the church from the French Government. It is one of the most beautiful catholic churches in Pondicherry, which is visited by many, every year.
Location: Madha Koil St, Villianur, Puducherry 605110
Timings: 6:00 am to 6:00 pm
5. Church of Our Lady of Good Health

Image Source
Placed in a busy street in Ariyankuppam, this church has been refurbished many times, to date. Also known as one of the oldest churches in the area, the Church of Our Lady of Good Health enjoys a majestic look with unmatchable interiors surrounded by curved archways. At the time of your visit, don't miss watching the cross in the church that showcases the death of Jesus on the Lord's Table. Without a shred of doubt, this is one of the best places to visit in Pondicherry.
Location: Near Mahatma Gandhi Medical College, NH 45A, Pillayarkuppam, Puducherry, 605402
Timings: 6:00 am to 7:30 pm
Shopping In Pondicherry: 20 Updated Places To Buy Souvenirs In 2022!
6. Hallelujah Assembly of God Church

Image Source
Regarded as the mother church for thirty Assemblies of God churches in the Pondicherry region. This church has the capacity of housing around three thousand people at a time. Known as the best church in Pondicherry, it follows a vision of assisting and supporting a large number of missionaries across India. You can't miss the serenity this church offers, during your visit to Pondicherry. Just one word, amazing!
Location: 51, Thennanjalai Road, Pudupalaiyam, Puducherry, 605013
Timings: NA
7. Emmanuel Methodist Church

Image Source
It's a wonderful church in Pondicherry and is believed to be a blessing to other churches in the area. The kind of sacrifice and devotion made by people for this beautiful architecture truly expresses its rich history. It is also one of those churches in the Pondicherry area that has undergone numerous renovations. The church is popularly known for its prayers; when in Pondicherry, do visit this phenomenal church and you will remember it for a lifetime.
Location: Patanur, near KFC, Puducherry, Tamil Nadu 605009
Timings: 9:00 am to 12:30 pm
14 Adventure Sports In Pondicherry That Are Perfect For A Fun 2022 Getaway!
8. Eglise de Notre Dame des Anges

Image Source
You can also call it the church of Our Lady of Angels; the church is beautifully sited at the peaceful corner of two famous streets – Surcoof and Dumas Street. The marvellous architecture is a must-watch; this is what makes it one of the old-world charms. Pray to the Mother Mary holding young Jesus in her arms before you step into this awe-inspiring architecture. You will also see numerous relics in the church premises and each one of them is worth watching.
Location: WRHM+XQX, White Town, Puducherry, 605001
Timings: 07:00 am to 06:30 pm
9. St. Andrew's Church

Image Source
Hey, history lovers, here's a religious pinch Gothic architecture you must visit in Pondicherry. Situated in the Reddiarpalayam Area, this church is one of the oldest churches built-in 1745. The church is also well-known for hosting special events and gatherings. When you plan to visit Pondicherry, remember the name of this church as it's a popular landmark that will help you return to your location in case you are lost. Although Google in handy is the biggest solution in today's digital age, what if there is a bad internet connection in the area. When you wish to visit churches and temples in Pondicherry, make sure to visit here. 
Location: Near School, Reddiarpalayam, Puducherry, 605010
Timings: 5:00 am to 6:00 pm
10 Pondicherry Beach Hotels For A Peaceful Stay
10. St John's Church

Image Source
Photo Credit: Raghu
Built-in the eighteenth century, this church is a two-hundred-year-old Anglican property with an overwhelming history. Although the church has lost its charm over the years, you must not miss any chance to visit and experience its inner beauty backed by rich history. Even at present, it has the capacity to house 300 people anytime. Churches in Pondicherry are something that can freshen you up from the chaos of cities. People of any religion must experience the beauty of any architecture; be it temples, churches or mosques.
Location: 16, Victor Simonel St, White Town, Puducherry, 605001
Timings: 7:00 am to 4:30 pm
Isn't the list of Pondicherry churches Impressive? Well, you can see all of them with a customizable Pondicherry tour package. All these churches boast intriguing history making them the most famous ones in Pondicherry. Offering you immense peace and relaxation, these churches will surely treat your body, mind, and soul. So, make sure to visit these soulful spots in your next vacay to Pondicherry. 
For our editorial codes of conduct and copyright disclaimer please click here. 
Frequently Asked Questions About Churches In Pondicherry
What is Pondicherry famous for?
Formerly a French town, Pondicherry is one of the most visited Indian tourist destinations. It is famous for its exotic beaches to historical monuments and from its temples to churches to amazing shopping places.
What should I buy in Pondicherry?
You will be spoilt for choice while shopping in Pondicherry. From handicrafts to food items, fabrics to home decor, fragrances, jewellery there are tons of things in store for all the shopaholics.
What is there to do in Pondicherry in the evening?
During the evening time, you can enjoy surfing at the serenity beach or take boat rides to paradise island. Once the evening starts setting in, you can visit various pubs and have a relaxing and fun evening.
Is alcohol cheap in Pondicherry?
Yes, alcohol is a lot cheaper in Pondicherry than any other state as there are no state speicifc taxes. Pondicherry is a union territory and the economy is under the indirect control of Central Government.
Is Auroville worth visiting?
Auroville is a popular place and is definitely a must-visit especially for the first time visitors. The place is famous for it's architecture and energy-saving construction materials.
How many days is enough for Pondicherry?
2 to 3 days are enough for Pondicherry. You can easily visit all the beaches, some shopping, churches, Auroville in 2, 3 days. If you plan on visiting nearby areas, then plan a 4 day trip to Pondicherry.
Can we drink alcohol in Pondicherry beach?
No, alcohol is not allowed in public places in Pondicherry including beaches.
What is the best time to visit Pondicherry?
October to March is a good time to visit Pondicherry to explore the city in cool weather. Summers are really hot with temperature touching 40-degree celsius.
---
People Also Read:
Churches In Pune Churches In Trivandrum Churches In Nainital