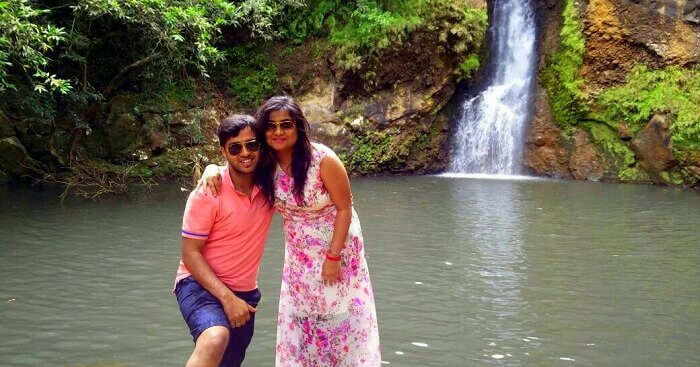 "Mauritius was an excellent anniversary destination for us. We were mesmerized by its beauty and were totally awestruck by the many flavors the island nations had on offer! A perfect trip!"
Trip type: 1 year anniversary
Cost: INR 173000
Inclusions: Flights, transfers, hotel (Le Meridian), breakfast & dinner, and sightseeing
Exclusions: Private cabs, water activities at Ile aux Cerfs, personal sightseeing, submarine ride
Weather in Mauritius: 20 – 25 degrees (December)

Mauritius Honeymoon Guide: Here's All You Need To Plan The Romantic Vacation
Why Mauritius?
It was our first anniversary and both my wife and I wanted to make it special. Wanting a summer destination to beat the winter chill, we contemplated between three – Maldives, Mauritius, & Bali. Since we had already been to Bali on our honeymoon and staying at Maldives would have been boring (we wanted a 1 week holiday), we finally chose a romantic trip to Mauritius for it would offer us a complete package – nature, beauty, water activities, and sightseeing.
Finding the perfect Mauritius tour package
We booked our Mauritius tour package via TravelTriangle which we had found on the internet (Google search). I really liked their concept of customization and the option of getting multiple quotes from various travel agents connected to them and decided to give them a try. Everything after posting the trip request was a breezy affair. We were guided well about our destination and connected to various travel agents who sent us quotes and itineraries based on our requirements. Soon we finalized a package from Insane Travelers Pvt Ltd.
Our itinerary
Day 1: Arrival in Mauritius – relax at the hotel followed by dinner
Day 2: Mauritius south island tour (covers Trou aux Cerfs, Shiva Temple, 23 colored earth, Chamarel waterfall, ship building factory, & diamond factory)
Day 3: Leisure day – we visited Flic & Flack beach and a couple of other famous beaches on our own
Day 4: North island tour – Church – Port Louis city tour – Le Caudan Waterfront
Day 5: Ile aux Cerfs island with optional water activities
Day 6: Blue Safari Submarine ride
Pro Tip: Always research well about the destination that you are going to for you can do so much more than what the itinerary offers and can make proper use of your leisure days – like we did!
The Mauritius story begins
We boarded our flight from Bangalore at 5:20 am in the morning and reached Mauritius at 12:20 with a delay of approx 45 mins. Mauritius was vibrant and sunny and we fell in love with it at the first glance only.
At the airport, we were greeted by our agents representative who helped us with our transfer to our hotel in Mauritius – Le Meridian. This was a beautiful ocean facing 5 star property that offered all kinds of modern luxury and services. Post our check in, we were shown our ocean facing rooms. In the evening, after we had rested, we took a stroll in the hotel beach which was followed by a sumptuous dinner.
My tip: A good hotel can really elevate your holiday experience. Spending a little more on it is totally worth it.
Lots of fun on the Mauritius south island tour
9 Most Romantic Mauritius Honeymoon Beach Resorts
Our second day in Mauritius was planned for a south island tour and after breakfast, we proceeded for the same. Our eventful tour started with a visit to the dormant volcano – Trou aux cerfs (interesting!) and was followed by the Shiva Temple (Ganga Talao Temple) and 23 colored earth at the La Vallée des Couleurs Nature Park. We had great fun here since apart from watching a nature's marvel, we could also indulge in quad biking, buggy ride, and ziplining. Finally, we also visited a ship building factory (bought 2 miniature ships as souvenirs), and a diamond factory.
The day was well planned and full of activities and upon reaching back to our hotel, we chilled for a while and then had our dinner at a European restaurant in the hotel (we could choose anyone of the 3 restaurants in the hotel).
My tip: South island tour offers some serious sightseeing. It is recommended to mix it up with 23 coloured earth park where you can do some fun activities and break the monotony.
Visiting iconic beaches of Mauritius on a leisure day
This was our anniversary day and we had planned it our self. Being a leisure day too, we started our morning with a visit to some of the most famous beaches of the country including Blue Bay and Flic & Flac. So we hired our own private cab and went for the same. Our whole day was spent chilling at these clean well maintained beaches and we loved it.


In the evening, there was a special complimentary anniversary dinner organized for us by the hotel at the beach. We loved the dinner and the whole romantic vibe surrounding it.
My tip: Booking a private cab is better than renting a vehicle on your own since the driver not only will take you places but will also be a good guide.
Reveling in the modern charm of Port Louis – a modern city tour
Honeymoon In Mauritius: A Toast To The Best Trip Of Our Life
We went for a Mauritius North Island tour today and it was amazing. Our first stop was a beautiful church and it was followed by the Citadel Fort. Next in the main city, we visited two malls and including the famous one called – Le Caudan Waterfront. We had our lunch here and post this visited a beautiful umbrella market. We also saw the iconic Champ de Mars racecourse and the french colonial buildings but only from outside.
Water activities and sunbathing at Ile aux Cerfs tour
In the morning post breakfast, this day, we proceeded to the docking station for our speed boat ride to the Ile aux Cerfs island – a beautiful island that offers water sports and an amazing beach experience. Upon reaching the island, we could have chosen to do water sports like parasailing, tube ride, banana boat, but instead chose to only take a speedboat ride till the nearby waterfalls since we had already done those things previously.
The speed boat ride was enjoyable after which we relaxed for a while at the beach and then proceeded back to the mainland.
Saving the best for the last – Blue Safari Submarine
Once again a leisure day for us – we decided to do the Blue Safari Submarine ride and tour. We booked a private cab and the driver took us the to the place. We were given basic training and information about the ride here post which we were taken to the ocean for the submarine tour.
I have to say, the submarine tour was an amazing experience and we nearly touched the ocean bed. Watching the marine life so closely was a mesmerizing experience and by the time it was over, we were more than happy with our decision.
My tip: Try including Blue Safari Submarine in at least one of your days because frankly, it is worth it.
Leaving Mauritius with fond memories
Adventure, Romance, & Luxury: An All In One Exciting Trip To Mauritius
Our last day had arrived and we were really sad to leave this beautiful country. Post our checkout at 12, we headed for some free activities at the resort like paddle boat and glass bottom boat, equipment for which was provided for free. It was fun. After our lunch, our driver came to pick us up and we reached airport by 6:30 for our flight at 9.
Note: Only the equipment for the above mentioned activities are provided, we have to do the activities our self.
About the trip
A romantic trip to Mauritius was the best decision we could have taken to celebrate our anniversary and I am glad that we did. This gorgeous place provided us everything that we had hoped for in a beach holiday and in the end, except for a few hiccups – exceeded our expectations! From the beaches to sightseeing to shopping to submarine ride to adventure activities – we loved it all.

Things we loved about the trip:
Adventure activities at the 23 coloured earth park
Modern experience at the Le Caudan Waterfront
Flic & Flac and Blue Bay beach  – infact all the beaches of Mauritius in general
Blue Safari Submarine ride
Things I believe could have been better:
During all our sightseeing, there was a stipulated time limit to reach the resort by 5 pm due to the trnasfer constraints. I believe this can be improved upon since a person has to cover a lot of things during a day and sometimes time isn't enough to enjoy.
Tips for travelers: Mauritius is perfect for couples! Just go and have the time of your lives!
Going on a romantic trip to Mauritius was the best decision they ever took! Everything from the beaches to the nature to the activities was a delightful and you too can witness the same with your partner. Book a Mauritius honeymoon package NOW
---
Looking To Book An International Holiday?
Book memorable holidays on TravelTriangle with 650+ verified travel agents for 65+ domestic and international destinations.
---