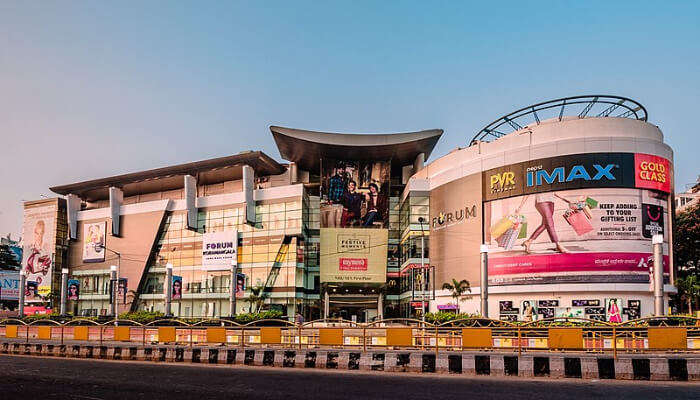 Indians take great credit as the best consumers in the world. Therefore, it is no secret that they love to shop. Every other city in India has something or the other unique things to offer that you can not resist taking home with you. And the Silicon Valley of India is no different. Offering you one of the most exceptional shopping experiences, Bangalore is a city for shopaholics. That's why we have made your work easier and prepared this fantastic list of the best places for shopping in Bangalore.
Shopping In Bangalore
Bangalore is one of the places where shopaholics should stay away from. Buckle up and hit the streets for a unique experience of shopping in Bangalore.
1. Commercial Street

It would almost be a sin to discuss shopping in Bangalore without first mentioning the Commercial Street. To experience cheap shopping in Bangalore, this is the place for all shopaholics. It offers you everything from clothes, shoes, jewelry, to spices, antiques, and home decor. It is also famous for saree shopping in Bangalore. And when you are tired from shopping, head down to the food stalls and have your share of delicious biryani or indulge in a Sulaiman Chai.
Location: Tasker Town, Shivaji Nagar, Bengaluru
Timings: 10:30 AM – 8 PM
Best Experience: It dedicates an entire street to silver jewelry, of which Sri Suryanarayana Art Jewellers is a must-visit.
10 Best Illuminating Museums In Bangalore Not To Be Missed Out In 2022
2. Phoenix Marketcity

If you want to experience the best shopping in Bangalore, complete with fancy food, then Phoenix Marketcity is your destination. Perfect for spending a splurge-on-yourself weekend, this place is one of the largest malls in India. You will find the extremes here, starting from Big Bazaar to branded names like Zara, making it one of the ultimate destinations of shopping in Bangalore for clothes. You will also find some grand food joints here, including an open food court and lounges and cafes, a theatre, and an entertainment zone for kids. Talk about getting everything in one place!
Location: Whitefield Main Rd, Devasandra Industrial Estate, Mahadevapura, Bangalore
Timings: Mon-Fri: 10:30 AM – 10 PM, Sat-Sun: 10:30 AM – 11 PM
Best Experience: Phoenix Marketcity is famous for its high-end shopping experience.
17 Most Popular Temples In Bangalore To Visit For A Spiritual Retreat In 2022
3. Chickpet

Now, this is a place with a rich history that goes back at least 400 years! Yes, the Chickpet market has been operational for a good 400 years (the oldest), and there is a good reason why. This place offers you the best saree shopping in Bangalore. No matter what color, print, type, or budget you have, you will not walk out of here without finding the right kind of saree. One of the best places for silk saree shopping in Bangalore, Chickpet market, promises quality and quantity both.
Location: Chickpet Main road, Bangalore
Timings: 10 AM to 9 PM
Best Experience: Along with sarees, the Chickpet market also offers various other things. But it is mainly known for its musical instruments stores where you will find all kinds of wooden musical instruments.
35 Exotic Places To Visit In December In India 2022 To Enjoy A Surreal Vacation!
4. Malleswaram

Come and indulge yourself in the traditional market of Malleswaram, where the aroma of various fresh flowers will fill your senses. Famous for its flower market, the Malleswaram market will take you back to its traditional and cultural roots, with its wide variety of natural goods. From flowers, spices, herbs to utensils and handicrafts, this market will charm you with its age-old charms. For a unique experience of one of the best places to visit in Bangalore, come visit the Malleswaram market.
Location: 13th A Cross Road, Vyalikaval, Kodandarampura, Malleshwaram, Bengaluru, Karnataka 560003, India
Timings: 9 AM to 9 PM
Best Experience: It got its name from the Kadu Malleshwara Temple located nearby. It further adds a touch to the historical essence of the market and is worth a visit.
Street Food In Bangalore: 20 Delicacies You Can't Miss In 2022
5. Orion Mall

Believe it or not, but the Orion Mall has over 150 outlets for clothing! If this is not a paradise for all the fashionistas out there, then nothing can ever be. Efficiently making it to the best mall for shopping in Bangalore for clothes, Orion Mall is not to be missed out. Add in the lines of stores offering you food, goods, and movie, and you have yourself the best place to hang out with your friends. 
Location: Brigade Gateway, 26/1, Dr. Rajkumar Road Rajaji Nagar, Bangalore
Timings: 11 AM to 10 PM
Best Experience: The mall overlooks a lake, which further adds to the beauty of the place, giving its visitors a rich experience when it comes to shopping in Bangalore.
20 Monsoon Getaways Near Bangalore One Must Visit For A Scenic Escape In 2022!
6. Avenue Road

Calling out to all the book-lovers out there, Avenue Road is the place of your dreams. From old classics to books on various genres and language, anything could be found here, if you look hard enough. And all these books come in excellent condition. Your paradise of second-hand books, Avenue Road, is one of the best places for shopping in Bangalore.
Location: Bengaluru, Karnataka-560002
Timings: 9 AM – 8 PM
Best Experience: Keep an eye out for rare editions and classics. Among the ocean of books, you may come across a rare antique that you would not like to let go of.
29 Enthralling Spots For Camping Near Bangalore That Are Worth A Visit In 2022!
7. Forum Mall

For experiencing the best shopping in Bangalore, head down to the Forum mall, located right in the heart of the city. Easily accessible, it is the water hole for people of all age groups. Along with a line of retail stores of all ranges, it offers you budget-friendly and cheap shopping in Bangalore. So, in case you are looking for an excellent place to shop and chill, you know exactly where to go.
Location: No. 21, Hosur Road, Koramangala, Bangalore
Timings: 9 AM – 10 PM
Best Experience: Do try the special coffee served here at the Kalmane Koffees, known as the Kappi BlueGrass.
12 Amusement And Water Parks In Bangalore That Are Ideal For 2022 Summer Vacay!
8. VR Mall

If you are looking for a destination of luxury, then it is called the VR mall. With its trade-mark look of a black box, the VR mall is a class at its best. Housing one of the top high-end retail stores of the country, the VR mall offers you the most exquisite experience of shopping in Bangalore. So, allow yourself a little splurge or during the popular festivals in Bangalore, and go visit the VR mall today.
Location: Whitefield Main Rd, Devasandra Industrial Estate, Mahadevapura, Bangalore
Timings: 10:30 AM to 10 PM
Best Experience: If you are a movie buff, then the VR mall houses one of the largest Gold Class Multiplex for you to enjoy your movies on another level altogether.
An Off The Charts Honeymoon To Bangalore, Mysore, And Coorg
9. SP Road Electronics Market

For all the techies out there, get your hands on the best gadgets in this famous market for electronic goods, which are one of the top things to shop in Bangalore. Located in a narrow lane in the SP road, the Electronic market offers you everything from mobile accessories, spare parts to new and cool gadgets. Don't hesitate to bargain before striking a deal with the shopkeepers, and get amazing discounts.
Location: SP Road, Nagarathpete, Bengaluru
Timings: 10 AM – 9 PM
Best Experience: You will get amazing deals on amazing gadgets
A Family Road Trip From Bangalore To Paris: A Drive To Remember!
10. MG Road

For the best silk saree shopping in Bangalore, head down to this wonderful place without any hesitation. Not only that, this place is a hub that the Bangaloreans adore. Clothes, food, handicrafts, you name it, everything is here at this commercial centre of Bangalore. It is especially famous for certain products, such as rosewood and sandalwood and is one of the best shopping places in Bangalore.
Location: Bangalore, Karnataka
Timings: 9 AM – 11 PM
Best Experience: Along with fantastic cafes and restaurants, MG Road houses the oldest bookstore in the city.
Bangalore's Heli Taxis Will Fly You To & Fro The Airport From This Week
Tips For Shopping In Bangalore
Haggling is a unique feature while shopping in the streets of Bangalore. Therefore, do not give in right away to whatever the shopkeeper asks. Try bargaining and see the magical change in the price.
Street shopping in Bangalore can be pretty hectic. With so many shops, come a large crowd, where it is easier to get lost. Therefore, we advise you to keep marking landmarks as you go and to stick to the main street.
When you purchase from the street market, make sure you check the product for any defects. Keep the receipts, in case you find a fault later. Most shops will replace the product with a new one.
While shopping around the city, do not forget to try the street food, as Bangalore offers you a range of scrumptious yet healthy food for you to enjoy!
Traffic can be a headache while traveling in the city, especially on the weekends. Therefore, try and dodge the car and hop on public transports such as auto-rickshaws and metros. It is cheap, eco-friendly, and fast!
15 Picture-Perfect Pre-Wedding Photoshoot Locations In Bangalore For 2022!
Shopping is a way to relax and spoil yourself a bit. And when in a city like Bangalore, you can not help but indulge in this pleasure a bit. Therefore, trust our list of different places for shopping in Bangalore and go and have fun in the city. After all, if you haven't shopped on your trip to Bangalore, then what's the point?
For our editorial codes of conduct and copyright disclaimer, please click here.
Frequently Asked Questions About Shopping In Bangalore
Which market is best for a budget-friendly shopping experience in Bangalore?
Many street markets in Bangalore are good for budget-friendly shopping. Among our list, we advise you to visit Commercial Street, the Chickpet Market, or MG Road for a pleasant shopping haul.
What is famous in Bangalore for shopping?
Bangalore silk sarees, jute crafts, antiques, cheap gadgets, and books are some of the things to buy in Bangalore.
Which place is best for shopping in Bangalore?
Brigade Road, Chikpet, Malleshwarm, and Commercial Street are some of the places for shopping in Bangalore.
Which is Bangalore's biggest mall?
Mantri Square Mall in Malleswaram is considered to be the biggest mall in Bangalore and also one of the largest in the country.
What is the best form of transportation while shopping?
If you have planned to hit one of the many street markets of Bangalore, then we advise you to take public transport as parking your vehicles could be problematic. If your destination is a mall, then bringing your car won't be a problem as the malls provide parking space. However, keep in mind the traffic!
What is the best time to go out shopping in Bangalore?
We advise you head down to the markets in the evening time, around 4 pm to 6 pm. You may go in the morning as well, but some people prefer not to shop in the sun. However, the crowds start getting thicker after evening, so try and avoid that.
People Also Read