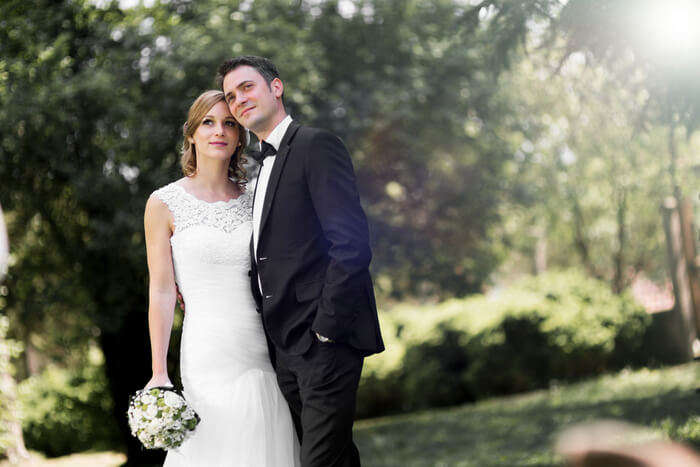 No matter how much we hate fads, pre-wedding photo albums look absolutely mindblowing. Sure a lot of dressing up and weird posing in public places goes into it but with captivating backdrops – courtesy the vibrant pre-wedding photoshoot locations in Bangalore – the final results are totally worth framing.

The options for such venues for couple photoshoot are plenty in Bangalore. To make the right pick, just sit down together with your better half to see what kind of backgrounds work for you. Here are the top 15 pre-wedding photoshoot locations in Bangalore that you must consider, given the fact that well-known prewedding photographers are already doing wonders with their clicks here!
15 Best Pre-Wedding Photoshoot Locations In Bangalore
Bangalore is an amazing city with perfect venues and locations for every occassion. Here are some of the most charming venues in Bangalore to conduct your pre-wedding shoots:
Lovely Lalbagh
Charming Cubbon Park
Incredible Nandi Hills
Awesome Bangalore-Kanakapura Road
Beautiful JP Nagar Outskirts
Striking Satori
Scintillating Sommer House
Exquisite Elements Resort
Fascinating Bricklane Grill
Inspiring ITC Windsor Manor
Remarkable The Courtyard House
Astonishing Jade 735
Terrific Tamarind Tree
Astounding Grover Vineyards
Awe-Inspiring Innovative Film City
1. Lalbagh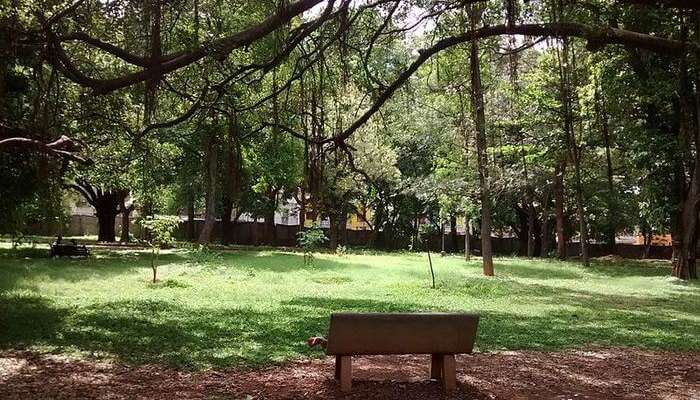 For a utopian pre-wedding photoshoot places in Bangalore, Lalbagh is a dream venue and one of the best photoshoot places in Bangalore! Vibrant flowers, expansive greenery with a tinge of ruggedness, and a lake are perfect backdrops for that dreamy prewedding album. Head here during the early morning, you'll have easy weather and lesser crowd for the shoot. Surely, this would be a great choice if you're looking for magnificent outdoor photoshoot locations in Bangalore.
Location: Mavalli
Entry fee: Free
Suggested Read: 20 Enthralling Spots For Camping Near Bangalore That Are Worth A Visit In 2020
2. Cubbon Park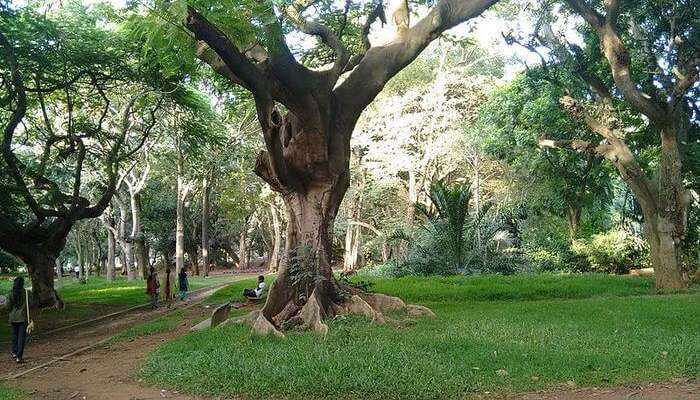 Located near Lalbagh, Cubbon Park also is among the superhit pre-wedding photoshoot locations in Bangalore. This is meant for the couples wanting a background with affluent greenery. The gardens are well-maintained, and there are sculptures to add a little fun to the snap. Go for an early morning pre-wedding shoot for lesser crowd and pleasing weather. Evenings are great too if you wish to experiment with lighting at one of the beautiful photoshoot places in Bangalore.
Location: Behind High Court of Karnataka, Ambedkar Veedhi, Sampangi Rama Nagar
Entry fee: Free
Must Read: 25 Most Romantic Places In & Around Bangalore To Explore With Your Soulmate
3. Nandi Hills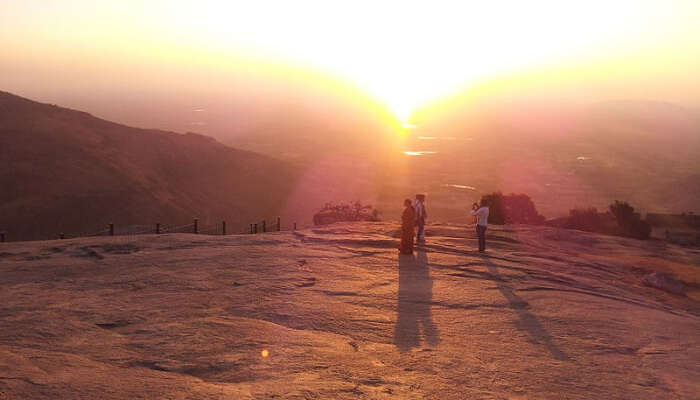 You cannot go wrong with Nandi Hills as your pick among the popular pre-wedding photoshoot places in Bangalore. The variety of backgrounds you have here is incomparable. Lush greenery, Nandi Hills Caves, enchanting Tipu's Fort, and ancient temples like the Bhoga Nandeeshwara Temple add a South Indian touch to one's pre-wedding photoshoot in Bangalore. Opt for an early morning shoot to avoid crowd as it is one of the famous hill stations in Karnataka, which sees quite a number of tourists.
Entry fee: Free
4. Bangalore-Kanakapura Road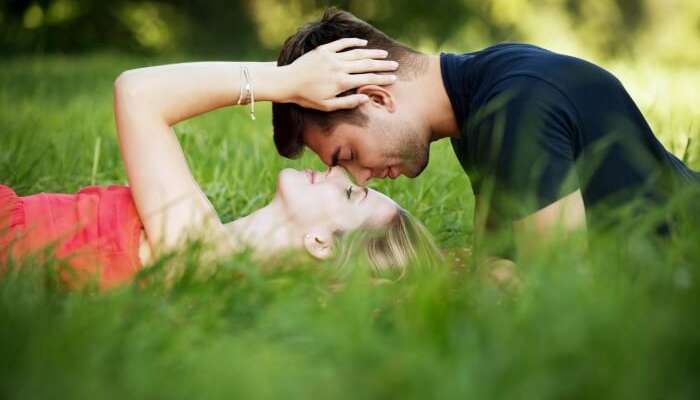 Looking for to some street photography locations in Bangalore? A road corridor fringed with abundance of greenery, this is one of the most romantic places for pre wedding photoshoot in Bangalore during early morning. You have a tranquil ambiance that'll imbibe in your frame. Alongside expansive greenery, you have Talaghattapura Lake, gardens and Turahalli Forest to get clicked around.
Entry fee: Free
Suggested Read: 10 Romantic Resorts Around Bangalore For The Super Busy Love Birds
5. JP Nagar Outskirts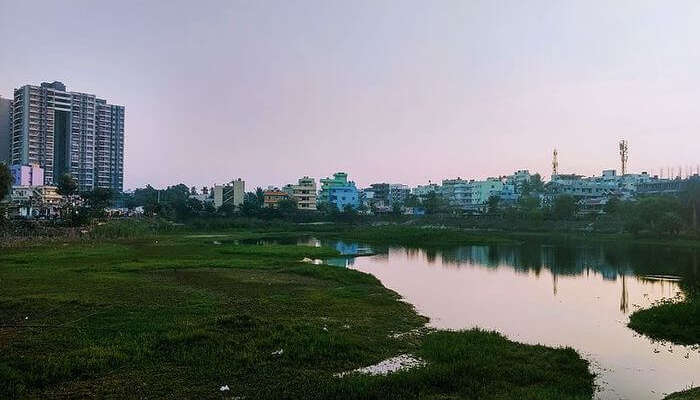 Stealing the show with a lake surrounded by verdant greenery, JP Nagar Outskirts is one of the serene places for photoshoot in Bangalore for your special photographs to come to life. Since this is among less-visited places in Bangalore for photoshoot, you can enjoy complete privacy, especially for early morning shoots.
Entry fee: Free
Suggested Read: New Year Parties In Bangalore (2020): 28 Top Venues
6. Satori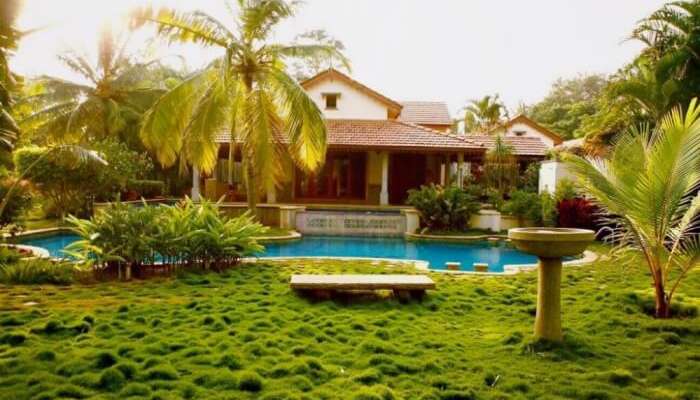 Image Credit: Satori Official Website
This is one of the top photoshoot places in Bangalore. An expansive farmhouse for relaxed shoots, Satori flaunts manicured gardens and a sprawling space closer to nature. Being one of the best places for photoshoot in Bangalore, this huge area also gives you the opportunity to go creative and play with the background. Since this is a farmhouse, anytime would be a good time for photoshoot here. Mornings, as well as evening, are good for a play with lighting.
Location: 100/1, HAL Varthur Main Road, Siddapura, Whitefield
Entry fee: Contact authorities for permission and cost if applicable
Suggested Read: These Best Resorts In Bangalore For Couples Offer Love, Luxury, And Old World Nostalgia
7. Sommer House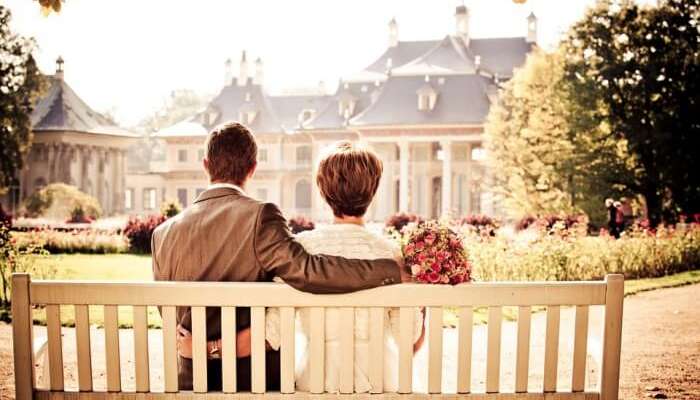 The German vibe swirls in the air in Sommer House, which is among the best places for pre-wedding shoot in Bangalore. With its history dating back to 1950, this cottage also has its own collection of vintage cars. You can get the shoot done anytime of the day; the weather is pleasing throughout.
Location: Opp Forum Value Mall, Whitefield Main Rd, Palm Meadows, Narayanappa Garden, Whitefield
Entry fee: Contact authorities for permission and cost if applicable
Suggested Read: 10 Exciting Festivals In Bangalore To Be A Part Of In 2020
8. Elements Resort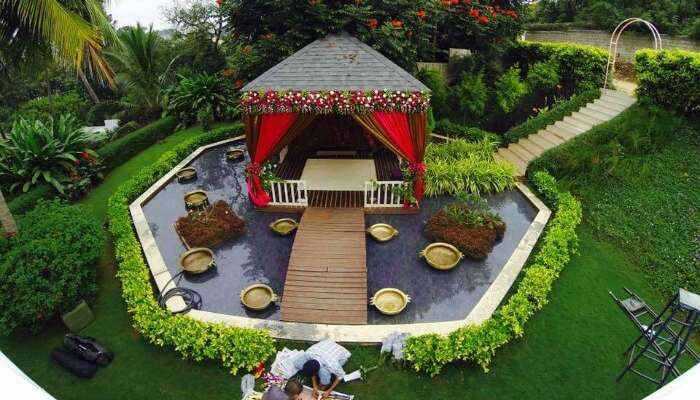 If your have a fairytale location on your mind, you must consider Elements Resort for pre-wedding shoot. Decor that you love, a location away from the hustle and bustle of the city, opulent halls, and brimming luxury; that's Elements Resort for you! If you fancy one of the immaculate places for pre-wedding shoot in Bangalore, this is your steal. Plus, you can shoot anytime during the day, and photographs will come out beautifully.
Location: 21st Kilometre Kanakapura Road, Opposite Art of Living International Centre
Entry fee: Contact authorities for permission and cost if applicable
Suggested Read: Guhantara Resort Bangalore: Witness India's First Underground Cave Resort
9. Bricklane Grill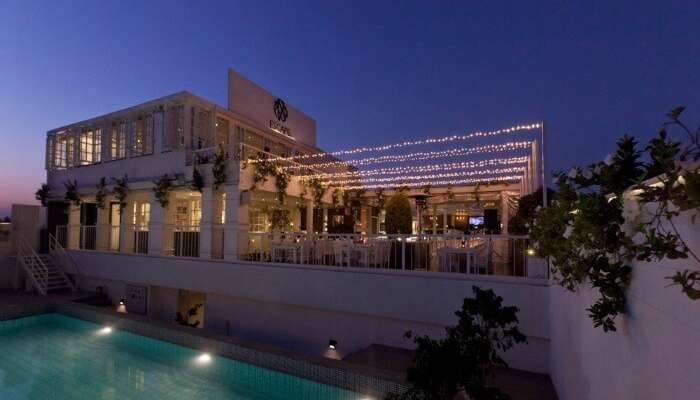 One of the chicest and best wedding photoshoot locations in Bangalore, Bricklane Grill is a plush white-themed hotel restaurant. Being one of the best places for photoshoot in Bangalore, it features a swimming pool where you can find many frames for your picture. Time is no constraint here, come anytime of the day for lovely couple pictures.
Location: #770, Escape Hotel, 100 Feet Road, Indira Nagar
Entry fee: Contact authorities for permission and cost if applicable
Suggested Read: 25 Romantic Restaurants In Bangalore 2020: Pick Your Favorite From This A to Z List!
10. ITC Windsor Manor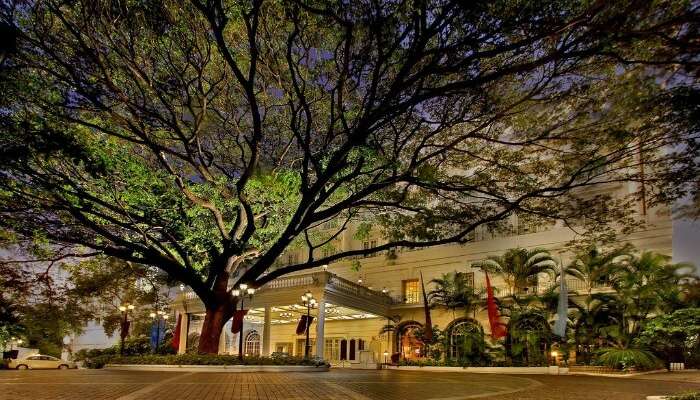 One of the luxurious hotels in Bangalore and also one of the photoshoot places is ITC Windsor Manor. The stunning white neo-classical structure dating back to the 19th century adds a lot of vintage charm to your frames. The property looks prepossessing throughout the day, so you can shoot anytime you want.
Location: 25, Windsor Square, Golf Course Road
Entry fee: Contact authorities for permission and cost if applicable
Suggested Read: 10 Best Night Clubs In Bangalore To Explore In 2020
11. The Courtyard House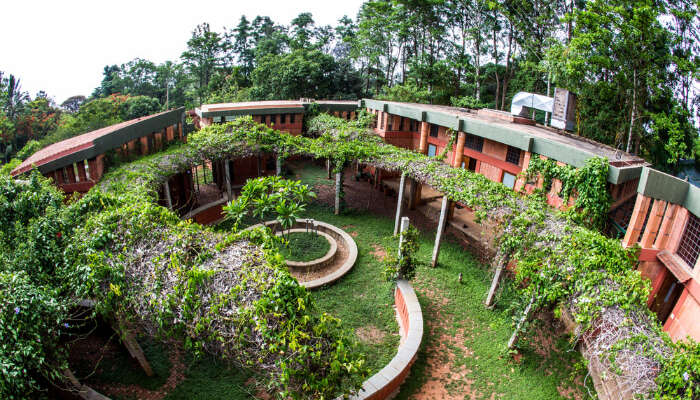 The Courtyard House is a popular venue for wedding and pre-wedding shoots. The location has high-roofed rooms arranged in a circular manner that form a wide central courtyard. The cortyard is open-air and comes across as an ideal spot for pictures with classic backdrop formed by the buidings and great natural light. The exteriors of the rooms are done in earthy colours giving a calm and fresh look to the pictures. The green lawns and the pond add more element to the whole setting.
Location: Janatha Colony, Gunjur Palya, Bengaluru, Karnataka 560087
Suggested Read: 8 National Parks Near Bangalore: Plan Their Exploration For A Date With Nature
12. Jade 735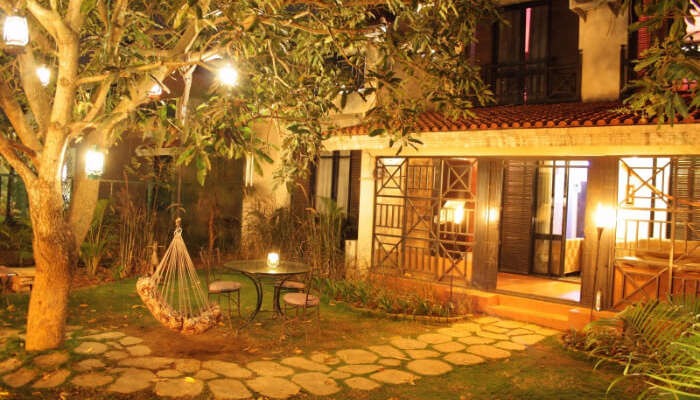 Jade 735 is a fabulous party venue and retreat in Bangalore. The place has many beautifully designed accommodations with lawn and pool that can be a stylish and romantic backdrop to your pictures. If your are looking for a sophesticated setting for your pre-wedding shoot then Jade 735 will surely impress you. You can combine your shoot with a cocktail night to make the best of the time your spend at this venue. A night photoshoot will add more essence to your pictures as the lighting of the venue is simply gorgeous.
Location: 735, Jade Garden Phase II, Sadahalli Post, Opp. Club Cabana International Airport, Bengaluru, Karnataka 562110
Suggested Read: 11 Best Trekking Places Near Bangalore For Thrill Seekers To Visit In 2020
13. Tamarind Tree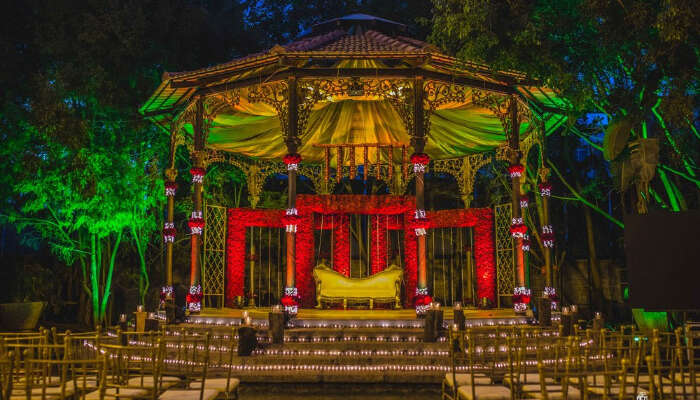 Tamarind Tree is a venue that brings together the old and the new. The open-amphitheatre brings draws all the positive attention to its centre, making it a beautiful spot for pre-wedding shoots. The place has a traditional and elegant vibe, with antique doorways, courtyards, cobble-stoned pathways, pavilions. The venue is spread across 5 acre garden with charming trees including the tamarind tree. There's a pond too, that adds an interesting earthy touch to the whole settup.
Location: 88, Kanakapura Road, Avalahalli, Royal Park Residency Layout 2, JP Nagar 9th Phase, Bengaluru, Karnataka 560062
Suggested Read: Guest Houses In Bangalore: 10 Perfect Accommodation Options For A Peaceful Stay
14. Grover Vineyards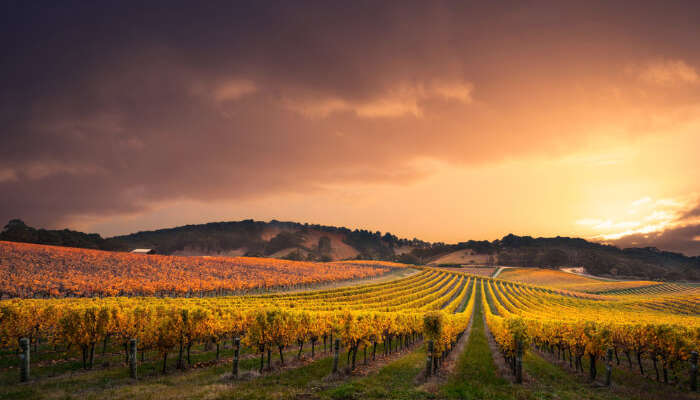 Marriages are like wine, they get better with time! So why not kickstart your journey by going for a pre-wedding photography in a gorgeous vineyard? The Gorver Vineyard in the foot of Nandi Hills can be a perfect location for your photoshoot. The green vegetation and the hills in the backdrop with sunlight smudging in, can surely add a lot of earthty element to the frame. And if your are a couple who love wine, you can go ahead and sip some of the best one from the in-house winery located here.
Location: Raghunathapur, Karnataka 561205
Suggested Read: From Royal To Offbeat, Here Are 23 Best Wedding Destinations In India To Tie The Knot In 2020!
15. Innovative Film City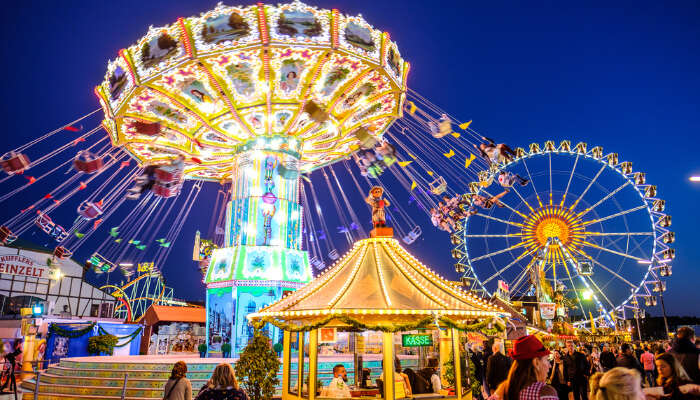 Conducting your pre-weddinng photoshoots in the Innovative Film City in Bangalore's will open up an infinite options to you. This is a movie studio and amusement park with a variety of sets and locations including the set of Kannada TV reality show Big Boss. You have a plenty of backdrops with beautifully designed streets, buildings, beach area, and more. The place is so attractive that you would surely want to take a tour after the shoot. So, if you are a curious couple, this is a perfect place for your best pre-wedding snapshots.
Location: 24 & 26, Kiadb Estates,birmangla cross, Bidali, Bengaluru, Karnataka 562109
Further Read: 27 Fabulous Places To See In A Day Around Bangalore
Are the wedding bells ringing soon for you? Plan your quick vacation to Bangalore before getting hitched and capture your romantic moments in a picture at these exotic pre-wedding shoot locations. It is suggested that before you go out for the final shoot, make sure you've called up the authorities for permission. Some pre-wedding photoshoot locations in Bangalore only allow guest to click in the premises.
Frequently Asked Questions About Pre-Wedding Shoot Locations In Bangalore
Q. What is the average cost of a pre-wedding photoshoot in Bangalore?
A. The cost of pre-wedding shoot differs from photographer to photographer. Many photographers offer packages that also cover photography of different wedding functions as well. However, if you're looking for paying just for the pre-wedding shoot, expect to pay around INR 25,000 per day.
Q. Suggest some resorts for pre-wedding shoot in Bangalore?
A. Usually, the resorts in Bangalore require room/event booking, to allow photoshoot permissions on their premises. Some of the most beautiful resorts to go for a pre-wedding shoot are ITC Windsor Manor, Elements Resort, and Guhantara Resort.
Q. What are the best places for a couple photoshoot around Bangalore?
A. Hebbal Lake, Nandi Hills, and Thottikallu Falls are among the best places around Bangalore for couples to get their pre-wedding shoot done.
Q. What is the best time to visit Bangalore?
A. The winter season that prevails from the month of October to February happens to be the best time to visit Bangalore.
Q. What are some of the best hill stations near Bangalore for a pre-wedding shoot?
A. Coorg, Chikmagalur, Ooty, Coonoor, Yercaud, Sakleshpur, etc., are some of the best hill stations near Bangalore for a pre-wedding shoot.
Q. Is photography allowed in Cubbon Park?
A. Professional cameras, flashlights, and reflectors have been banned in Cubbon Park to avoid inconvenience to visitors.
People Also Read
Pre-Wedding Photoshoot In Mumbai Pre wedding shoot in Jaipur Pre wedding shoot in Pune
Comments
comments