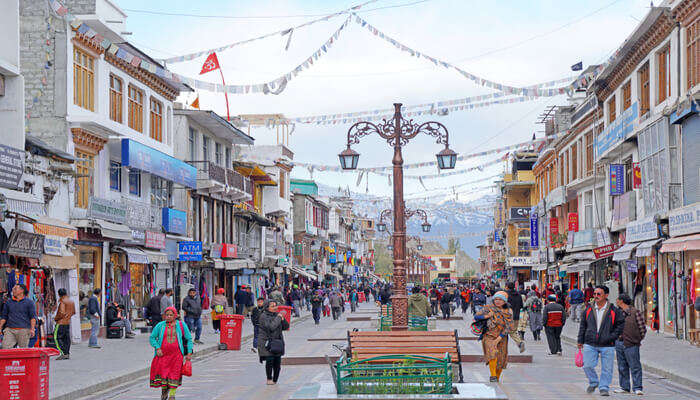 Ladakh is the newly formed Union territory in India that not only has locations with magnificent views of the trans-Himalayas but is also quite culturally and traditionally different from the rest of India. The perspective offered in Ladakh is unmatched by anywhere else in the world. Even though most people while visiting Ladakh do not consider it as a destination for shopping, but there are quite a few places for shopping in Ladakh. You will find articles in Ladakh that are inspired by Tibetan culture since the area is located quite close to Tibet, and most people living out there are Buddhists. Tourists usually shop for items like Tibetan Handicrafts, Jams made of Apricots, Pashmina Shawls, Jewelry made of silver, and many more. All these items are available at these terrific spots that are mentioned in this handcrafted list of places for shopping in Ladakh. Pick up the ones you like and head on a shopping spree right away!
8 Best Spots For Shopping In Ladakh
If you are planning to visit Ladakh, you must visit some of the most world-famous places located out there, including Pangong Lake, Nubra Valley, Tso-Moriri lake, The Hemis Monastery, Padum Valley and many more. It is quite evident that all the places are located in mesmerizingly beautiful natural beauty. And after exploring these you can head to the places for shopping in Ladakh listed below for satiating the inner shopping addict in you!
1. Moti Market

Image Courtesy: asiatravelbook
Ladakh might be situated far away from civilization, but that does not stop the people living out there to be fashionable. In the Moti Market, you will not only find traditional Tibetan garments, but you will also find other woolen clothes and clothes as well. This market is located in Leh is known to be one of the oldest markets situated out there. Not only does the market has shops that sell garments, but you will find a myriad of Tibetan artifacts there.
You can buy Tibetan handicrafts that are made with the utmost care by the talented artisans out there. All the items are gorgeous and are of high quality. If you do not want to splurge a large amount of money you can buy a woolen shawl for you or your parents or you can buy small trinkets for your friends.
Location: Leh, Jammu and Kashmir 194101.
Must Read: 40 Best Things To Do In Ladakh That You Can't Afford To Miss In 2022!
2. Women's Alliance Of Ladakh Shopping Hub

Ladakh is one of the fewer places in India that has a market wholly run and managed by women. The women's association of Ladakh is not just a small market, but it is a proclamation of the financial independence of women. In this market, you will find shops that are set up by the women of more than the hundred neighboring villages. Not only do the shops sell Pashmina Shawls, but they also sell regular items that are essential for survival.
From stationery items to the woolen garment, from pieces of silver jewelry to spices and vegetables, this market has every category of shops that can be imagined by you. The market was formed in 1991, and since then, it has been going strong. Even if you are not that interested in Shopping, you must visit this market to witness the extraordinary feature in their lives. Moreover, the market is located in gorgeous natural beauty as well and is surrounded by the majestic mountains.
Location: Shankar Road, Chubi, Leh-Ladakh, Jammu and Kashmir 194101.
Suggested Read: Losar Festival Ladakh: A Cultural Sojourn In The Land Of Mystic Lamas!
3. Zanskar Arts

Though Zanskar Arts is a quaint little shop located in the primary market area of Leh, the fact that it is getting a special mention is that it sells not only high-quality woolen garments but souvenirs and little figurines as well. The shop is not only quite popular among the locals but the tourists as well due to the softness of the Shawls and the sweaters that are made of pure Pashmina wool. If you visit there, you can also buy Kashmiri bedsheets, dress materials, shawls, and others that are extremely popular in India.
You can also buy leather goods in this shop because the quality is quite good and you will make a good investment. The figurines are quite colorful and gorgeous and made of metal. Apart from all the fantastic items mentioned above, the shop also sells silver jewelry that is quite famous in Ladakh. The intricate design of the things will quite surely catch your eye.
Location: Main Bazaar, Near Sua Market, Leh, Jammu and Kashmir 194101
Suggested Read: Explore The Hemis National Park In Ladakh to Witness Wildlife In High Altitudes
4. Main Bazaar

If you visit Ladakh, you will have to go to the Main Bazaar located in Leh to experience the authentic ambiance of Ladakh. Not only is the market popular among tourists, but almost all of the local people visit this market regularly to buy regular items as well. Most of the items sold in the market are quite affordable yet high-quality. The area will not only offer you affordable items but also provides you a glimpse into the life of the local people living in Ladakh.
You will get to buy artifacts made by the shopkeepers in the market life, and the intricacy of the process will quite surprise you. Also, the market has shops that sell the world-famous silver jewelry of Ladakh that are quite beautiful and surprisingly cheap. Even though all the items in the market are quite affordable, you can lower the price more by using your bargaining skills. If you are looking for some pocket-friendly shopping, the main bazaar in Leh is the place for you.
Location: Leh, Jammu and Kashmir 194101.
Suggested Read: 50 Places To Visit In Leh Ladakh For A Spell Binding Vacation In The Year 2022
5. Himalayan Pashmina Shawls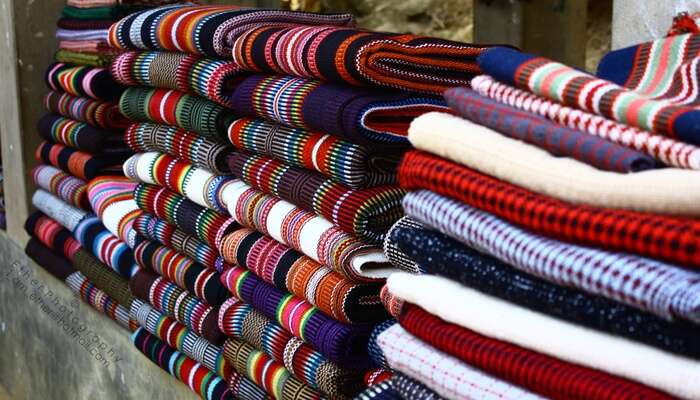 Kashmiri handicrafts are quite famous not only in India but all around the world as well. In the Himalayan Pashmina Shawls store, you will get to buy handicraft items from Kashmir in Ladakh. The shawls are incredibly soft and is made from pure Pashmina wool. As you know, getting pure Pashmina wool is quite severe since they are so rare. But this shop is quite famous among Indian and international tourists because it sells woolen garments made of Pashmina.
The shop was founded in 1975 and ever since it has been quite well-known in the world for the high-quality products it sells. Even though the outcomes might be a bit pricey, but those are worth the price.
Location: Balkang Chowk, Near Airtel Office, main bazaar road, Leh, Jammu and Kashmir 194101.
Suggested Read: 6 Best Things To Do In Ladakh In June For A Soul-Satisfying Vacation
6. Ladag Apricot Store

Image Credits: RitaE for Pixabay
Disclaimer: The image is for representation purposes only.
Ladakh is a destination that is famed for harvesting dried or fresh apricots. These locally grown wonders are truly something that one should indulge in. The freshness, the taste, and the aroma that the apricots exude here is something that one cannot find anywhere else.
If you are looking for some souvenirs to carry back home for yourself or for your friends and family back home, it is the apricots or its products that you should go for. There is a Ladag Apricot Store that you can visit to find all the products made of apricots! From dried to fresh apricots, from oils to jams, you can find anything and everything apricot-related at this spot when shopping in Leh Ladakh.
Location: LBA Shopping Complex, Zangsti
Suggested Read: 50 Places To Visit In Leh Ladakh For A Spell Binding Vacation In The Year 2022
7. Tibetan Handicraft Emporium

Disclaimer: The image is for representation purposes only.
Another one of the stores to visit during your shopping in Leh Ladakh is the Tibetan Handicraft Emporium. This store is run by the Tibetan refugees and is visited by several tourists all year long. The highlight of the store are the brilliant handicrafts and antiques that showcase the craftsmanship that too at an affordable price.
There are plenty of things that one can buy from this store. Ladakhi jewelry in both silver and stone, various house wares, exquisite gift items, and much more. However, this store is perhaps among the more expensive ones than the shops lining Main Bazar road, but the variety of products that this store has can get overwhelming. So, let your inner shopaholic run free amidst the snow-capped Himalayas!
Location: Main Bazaar Road, Leh
Suggested Read: Visit These 19 Monasteries In Ladakh For A Purifying Experience In 2022
8. Dalai Lama Charitable Trust Handicraft Emporium

Disclaimer: The image is for representation purposes only.
Ladakh is a destination that is home to plenty of Dalai Lama followers. Dalai Lama Charitable Trust Handicraft Emporium is another gem of a location that you can visit while shopping in Leh Ladakh. Since it is a charitable organization, the proceeds from the sale of items at this outlet are distributed among the local artisans.
This encourages them and helps them promote their craft while providing them sustenance. There are plenty of local artworks and handicrafts that you can find at his store. From shawls to paintings, from woollens to artefacts, there is a lot to buy from this store. So, if you wish to encourage and support the local artisans, you should definitely pay the emporium a visit!
Location: Leh
Suggested Read: 9 Pristine Ladakh Lakes You Ought To Visit For A Tranquil Vacation In 2022!
Top 5 Things To Buy In Ladakh
The list of shopping items in Ladakh is simply never ending. From apricot products to local handicrafts, there is a lot that one can spend some money on when shopping in this beautiful destination. Here is a consolidated list of all the famous things to buy in Ladakh. You don't want to miss out on any of these!
1. Leather Jackets

Image Credits: Hans for Pixabay
When one thinks of Ladakh, it is the bike ride in a leather jacket that is the first thing that pops in the head. Hence, without any doubt, the leather jackets are certainly one of the famous things to buy in Ladakh. From wholesalers to retailers, you can find jackets being sold in Ladakh at every corner. There is an extensive variety of colors that one can find here in Ladakh for the leather jackets. So, in case you forget about the most important piece of your attire, don't worry, Ladakh has got your back!
Suggested Read: 8 Tourist Circuits Of Ladakh To Cover The Best In 2022
2. Ladakhi Ornaments

Another thing that Ladakh is famous for are the ornaments made of stone and silver. Many of you will notice the local women in Ladakh wearing jewelry made out of turquoise stone and silver. The designs that these ornaments adorn are what acts as a magnet for several hundred of travelers. From bracelets to earrings, from rings to anklets, there is plenty of variety that one can buy in this destination. So, if you have a special woman waiting at home for you, you really want to surprise her with this quirky piece of souvenir!
Suggested Read: Magnetic Hill In Ladakh: A Handy Guide To Unravel This Mystery In 2022!
3. Tibetan Handicrafts And Wares

Image Credits: allanlau2000 for Pixabay
We have already talked about how Tibetans in Leh and Ladakh are famous for their craftsmanship and handicrafts. It is only obvious that one should definitely spend money on something that one town is known for. The best thing about these handicrafts is that it's Tibetans' way of spreading their love and culture around. From the eye-catching Thangka paintings to the Buddha statues of all shapes, from colorful masks to copper chhang pots, there are several items associated with the culture of Tibetans that one should buy!
Suggested Read: 11 Experiences That Make Ladakh In May 2022 A Heartwarming Trip
4. Pashmina Shawls And Woollens

Image Credits: JamesDeMers for NeedPix
Another thing that Ladakh is famous for are the shawls made of Pashmina and the soft as ever woollens. There was a time in Ladakh when it was only the rich merchants who could afford Pashmina and it was a mark of the owner's status. The best thing about Pashmina is that while the cloth is extremely light in weight, it still offers tremendous warmth to those who wear it. It is simply perfect for the bone-chilling temperatures that Ladakh faces. In the present times, there are plenty of stores that offer Pashmina wool in the form of stoles, gloves, sweaters, blankets, caps, shawls, and even socks.
Suggested Read: 7 Valleys In Ladakh That Prove It Is Indeed A Paradise On Earth!
5. Rugs And Kashmiri Carpets

Image Credits: pashminu for Pixabay
What better than the intricate patterns on a rug or a carpet to add that touch of splendor to your home? Ladakh is the destination that offers an extensive variety, colors, and patterns of rugs and carpets to travelers. The carpets tend to simply lighten up the room in an instant. The quality that the carpets offer is truly unmatchable. You can also go for Ladakhi rugs that are thick and sturdy and just perfect for your walls at home. That touch of beauty is something you don't want to miss out on!
Suggested Read: 8 Temples In Ladakh To Visit For A Spiritual Sojourn
6. Prayer Wheels And Flags

Another interesting thing to buy in Ladakh is actually something that is fun and calming both. It is the prayer wheel that is an important element of Buddhism. These prayer wheels are cylindrical spheres that you might have revolved once while walking into a monastery. They can either be made of wood or metal. Another important thing to buy from here are the prayer flags. There is no complete photo of Ladakh where these flags are missing. The colorful flags make an excellent gift option and are available in all sizes!
Further Read: River Rafting In Ladakh 2022: Here's A Handy Guide To Help You Do It Right
All excited to shop at these places included in the list of shopping in Ladakh? Why wont you be? Get ready to buy warm shawls and souvenirs to take back home for your family and friends. So, leave some space for these souvenirs in your suitcase and get packed, plan your vacation in Ladakh and get ready to splurge all that you got!
Disclaimer: TravelTriangle claims no credit for images featured on our blog site unless otherwise noted. All visual content is copyrighted to its respectful owners. We try to link back to original sources whenever possible. If you own rights to any of the images, and do not wish them to appear on TravelTriangle, please contact us and they will be promptly removed. We believe in providing proper attribution to the original author, artist or photographer.
Frequently Asked Questions About Shopping In Ladakh
Which are the main shopping places located in Ladakh?
Ladakh has quite a lot of shops located out there that many people do not realize. These stores might not be luxurious or high-end, but they sell authentic Tibetan items, including Moti, market, Zanskar Arts, Main bazaar, Himalayan Pashmina Shawls, and many more.
What are the must-buy items in Ladakh?
In case you visit Ladakh, you must buy some of the items out there that are quite famous in Ladakh, including Tibetan Handicrafts, Apricot Jam, Kashmiri rugs and carpets, and many more.
Which is the most popular vegetable market in Ladakh?
Even though Ladakh is a dry area, you will find fresh vegetables out there in Leh. The Library road vegetable market is one such place that sells fresh vegetables, fruits, and exotic spices.
What is the most popular food in Ladakh?
Most of the market areas of Ladakh sell Thupkas that is the most popular food out there. It is a Tibetan delicacy that is supremely healthy and can be eaten at any time.
What is the apt time to visit Ladakh?
Nowadays, Ladakh is one of the most popular trips among travelers all over the world. But to explore the place comfortably, you should visit between September to October and April to May.
How many days are enough to explore Ladakh?
You will require a minimum of eight days to explore the most of Ladakh. It is better to keep ten days in hand.
Which fruit is Ladakh famous for?
Ladakh is famous for the juicy apricots and Leh berry (Seabuckthorn). Apricots are one of the commercially important fruit crops of Ladakh.
People Also Read
Shopping Places In Jaipur Shopping In Udaipur Shopping In Pune