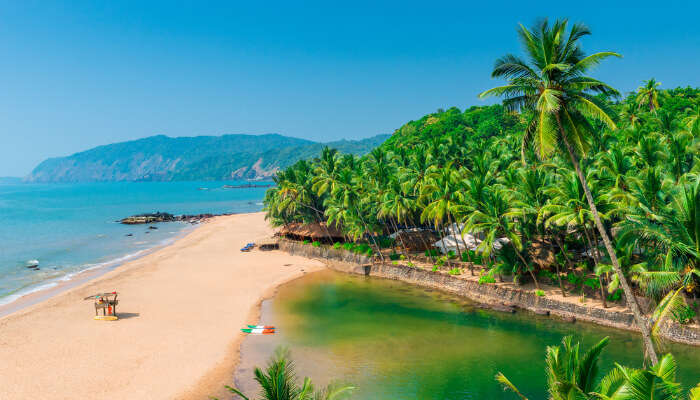 With an amazing kaleidoscopic blend of Indian and Portuguese cultures, the Indian State of Goa has been luring travellers from far and wide with its spectacular beaches, heart-thumping water sports, lip-smacking Goan food, and abundant sunshine. This pocket-sized state has a great inclination towards spirituality and is home to several reputed yoga training centres. While the palm-fringed beaches of this tropical province can be visited all through the year, many people are skeptical about planning a holiday trip to summer in Goa. If you are one among them, this guide is you as it has all the information on why it is still a sensible decision to book a Goa trip in summer.
Summer Season In Goa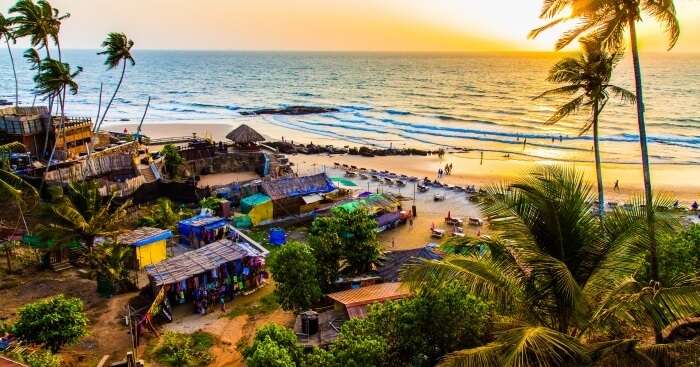 Summer months in Goa are March, April, and May. March and April are relatively less hot than May. The day temperatures during March and April range around 33 degrees Celsius and the night temperatures hover around 23 degrees Celsius. The sky looks blue during March and April and chances of rain are little. May is the hottest month in Goa and the temperatures can go until 38 degrees Celsius and chances of rain are fair.
Reasons To Visit Goa In Summer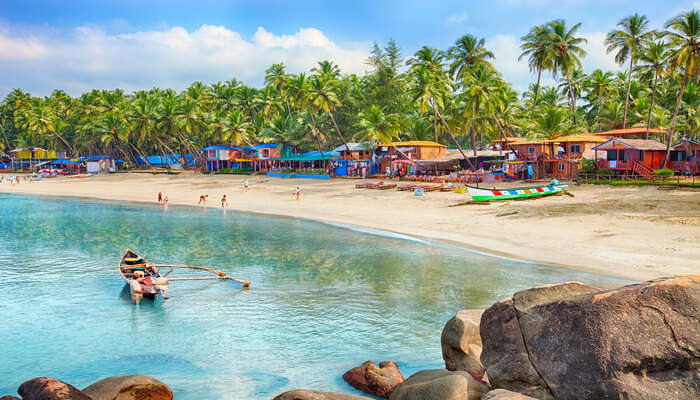 Summer in Goa lasts from April to June and the climate is scorchingly hot with temperatures hovering around 40 degrees Celsius. While it is a common notion that people shun off Goa during summer, there are two worthwhile points on why you should actually plan your Goa trip during the summer months. تعلم لعبة الدومينو
Summer, being an offbeat season in Goa means, you get slashed prices in the airlines and luxury accommodations at a fraction of the price that could cost you during the high season. So, a trip to Goa in summer is definitely going to save you a lot of bucks
Summers in Goa is a great time to enjoy a serene holiday away from the clattering tourist crowds. During this season of the year, most of the beaches in both North and South are sparingly crowded letting you enjoy the beach in solitude.
Top 8 Things To Do In Summer In Goa
Here is the list of best things to do in summer in Goa to make the most of the sunshine. Check out the list and choose what are you going to do this summer.
Parasailing
Dolphin Watching
Scuba Diving
Yoga Class
Shopping
Hidden Treasures
Goan Cuisine
Summer Festivals
1. Parasailing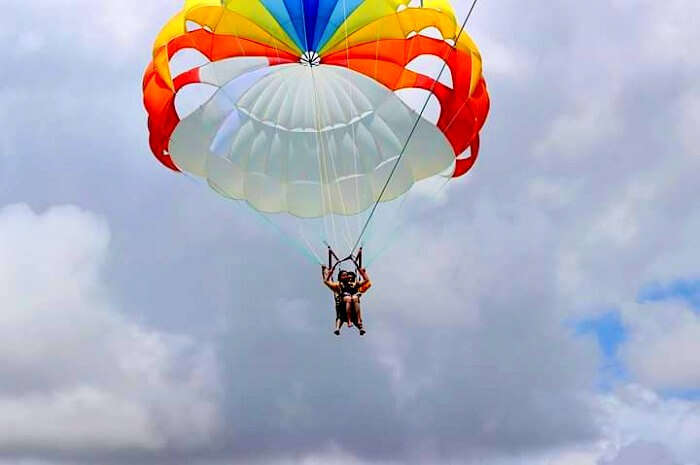 Parasailing is one of the most sought after adventure sports in Goa. As the speedboat takes one on a bird-like flight over the waters of the Arabian Sea, it such a thrilling experience to bask in the beauty of the ocean around. This sport is definitely for those with guts and most of the adventure sports centers in Goa let you experience parasailing until May, the end of the summer season.
Beaches ideal for parasailing: Anjuna beach, Calangute beach, Baga beach, Candolim beach, Majorda beach, Dona Paula beach
Pro Tip: Ensure you wear all the safety gear and check if they are harnessed properly.
Must Read: 20 Exciting Things To Do In Goa On A Trip
2. Dolphin Watching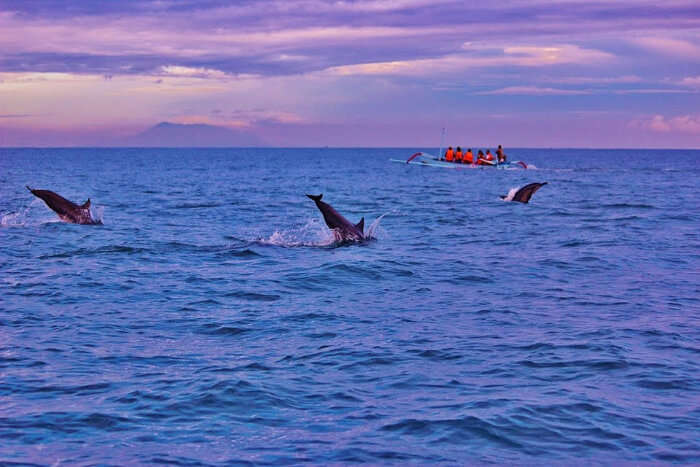 The Goan coast is rich in aquatic life including the friendly dolphins, sea urchins, and finless porpoises. Board a jetty on a summer day, head into the sea early in the morning around sunrise time to watch the dolphins swim past you. Lucky enough, you can even capture them jumping out of water.
Best beaches to spot dolphins: Palolem Beach, Coco Beach, Cavelossim Beach, Sinquerim Beach, and Morjim Beach
Suggested Read: Shopping In Goa: 18 Things You Must Buy When Exploring The Tourist Paradise
3. Scuba Diving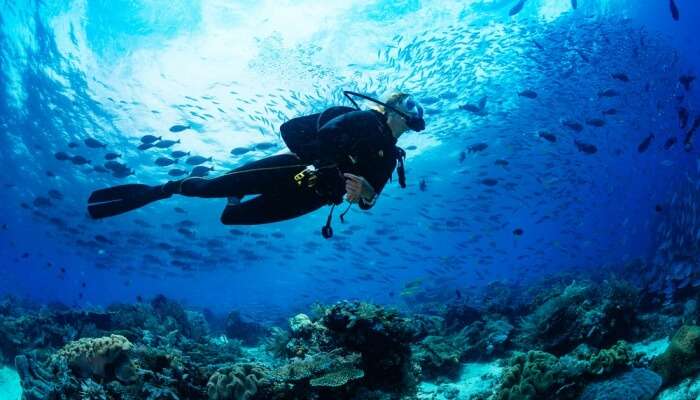 Beneath the blue waters of Goan beaches lies a rich and diverse marine life. For all those adrenaline rushing junkies and marine life enthusiasts, scuba diving is one of the most exciting water sports to indulge during their summer vacation in Goa. Scuba diving in Goa can be done from October until late May. From June, most of the scuba diving centers remain shut due to monsoon rains.
Best beaches in Goa for scuba diving in summer: Pigeon Island, Malvan, Sao Gorge Island, and Nagoa
Suggested Read: 15 Best Casinos In Goa Where One Can Enjoy The Goan Vibe And Also Try Their Luck On Board!
4. Yoga Class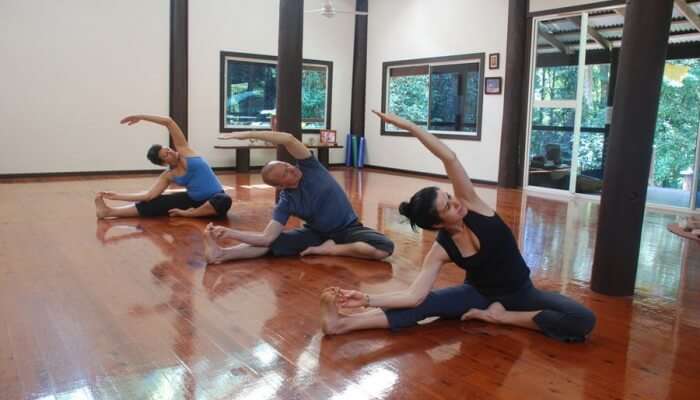 Yoga, beach, and the sun is the perfect combination to get your thoughts diverted within yourself. Goa is home to many world-class yoga classes and most of them are open from October to May. Book a slot that matches your schedule and enjoy a blissful training session at these centres meditating, learning yoga postures, savoring delicious sattvic food, and attending the satsang. The summer season in Goa is just so perfect for yoga retreats.
Best places for yoga in Goa that are open in summer: SWAN Yoga Retreat, Sampoorna Yoga, and Ashiyana Yoga
Suggested Read: 13 Essential Goa Travel Tips You Must Abide By To Make Your Vacation Happening And Memorable
5. Shopping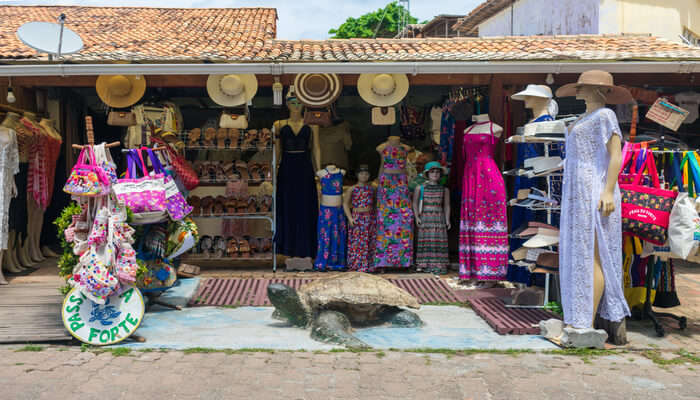 Goa has some of the best local markets and bazaars in the world that are sure to spoil you with choices. Almost all the prominent beaches in North and South Goa have amazing shopping markets where you can buy trending swimwear, handicrafts made from seashells, trinkets, pieces of jewelry, and several other knick-knacks. Check out these flea markets during evenings to escape from the scorching sun and as the sun sets, relish on the amazing Goan seafood at stalls within these markets.
Famous shopping markets in Goa: Anjuna Flea Market, Mapusa Market, Panjim Market, Calangute Market Square, Baga Market, Saturday Night Bazaar at Arpora, and Mackie's Night Bazaar.
Pro Tips:
Bargain to strike a deal.
Beware of pickpockets.
Suggested Read: 7 Unexplored Beaches Near Vasco Da Gama That You Must Check Out On Your Next Trip To Goa
6. Hidden Treasures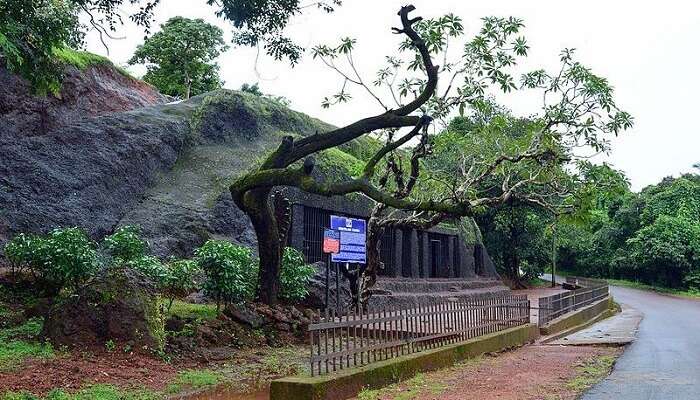 What could be more fun than exploring hidden gems in Goa? To get a respite from the heat of the sun, Goa gives a chance to visit its waterfalls where you can witness the natural beauty. To reach Dudhsagar Falls, you will first have to go through the trails of Mahavir Forest Reserve. At the end of the trail, you will be facing the beautiful falls cascading down through rocky mountains like milk pouring down. Apart from this, you can get to witness the Portuguese influence in the forts like Sinquerim Fort or you can explore Arvalem Caves, Rivona Caves, and Lamhau Caves. 
Suggested Read: Explore Goa In March By Visiting These 15 Breathtaking Places!
7. Goan Cuisine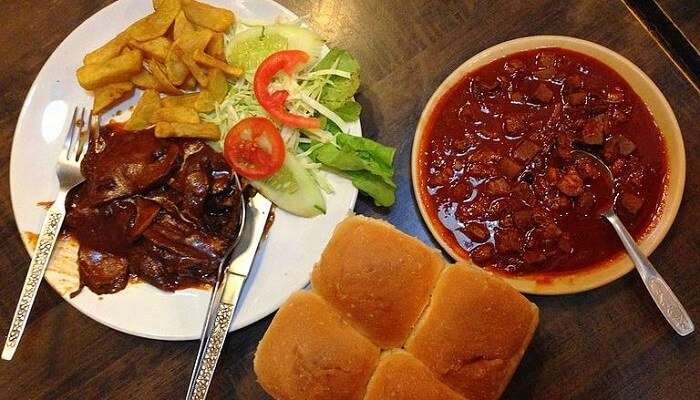 How can a trip to Goa be complete without trying the lip-smacking Goan cuisine? So, here are some of the best dishes that you must try in Goa. The first one that comes in the list is Goan fish curry followed by sorpotel, and prawn balchao. Another must-try thing that you will find here is the local liquor that is popular as Goan feni. Are you already drooling? Well, there is more that you can only experience by visiting this place soon. 
Suggested Read: 13 Jaw-Dropping Places To Visit In Goa In June With Your Fam Or Gang!
8. Summer Festivals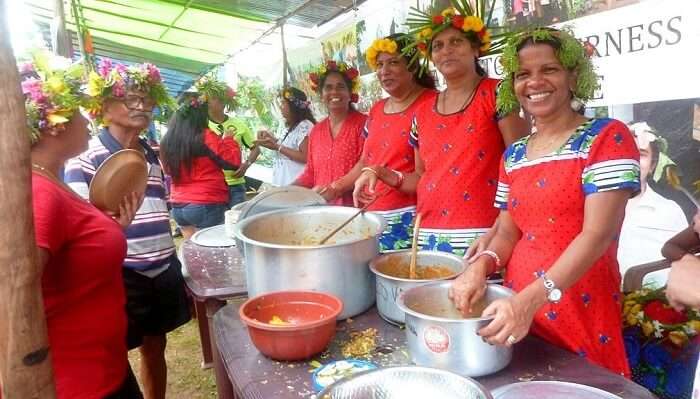 Goa is a lively state and what makes it more lively is its festivals that intensify the bond among people. Goa hosts a few festivals in the months of summer that are worth witnessing once. On the top is the Goa Mango Festival wherein a variety of mangoes are displayed and competitions are organized. Next is the Goa Cashew & Coconut Festival which is held in the month of May and the last one is the Sao Joao Festival. In this festival, you get to wear crowns, feather dresses, and enjoy folk dances. With so many festivals in Goa to attend, you would not want to go in summer in Goa?
Suggested Read: 16 Awesome Places To Visit In Goa In May For Those Who Can't Get Enough Of The Town!
Top Places To Visit In Goa In Summer
Here is a list of the top places to visit in Goa in the month of summer. Check them out here.
Dudhsagar Falls
North Goa Beaches
Amusement Parks
1. Dudhsagar Falls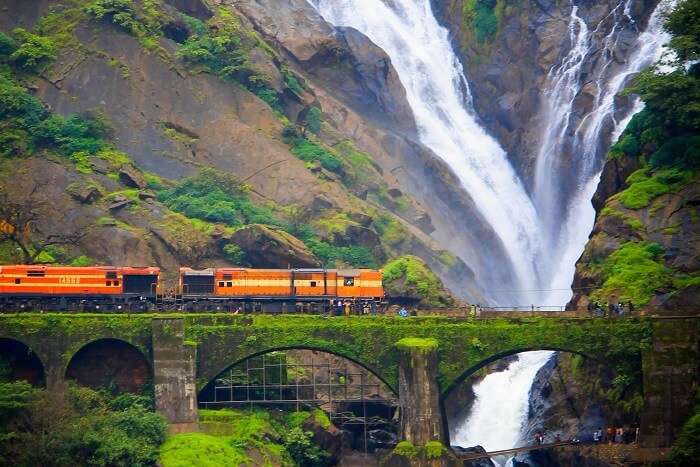 One of the pristine beaches in Goa, the sight of the milky waters gushing from a daunting height of more than 1000 ft is just so outlandish. To reach the waterfalls, one needs to trek through the dense woods or hire a jeep. The waterfall forms a pool beneath which is ideal for swimming and bathing.
Best time to visit: October – May
Suggested Read: 5 Best Spots For Snorkeling In Goa To Experience Its Thrill First-hand!
2. North Goa Beaches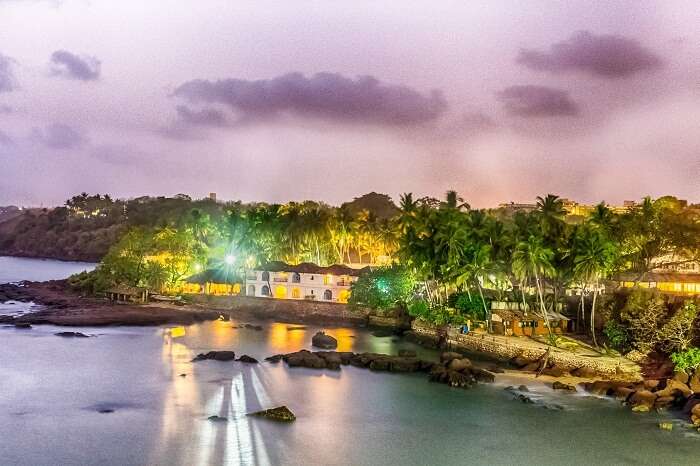 One can visit the major beaches in North Goa like Baga, Candolim, Calangute, and Anjuna during the months of March and April when the climate is still bearable and warm. And during these months, the beaches look stunning during sunrise and sunsets with lesser crowds; perfect for a tranquil beach holiday. However, May in intolerably hot and lazing around the beaches in May is seemingly impossible.
Suggested Read: 7 Best Places For Camping In Goa For An Enchanting And Rejuvenating Experience
3. Amusement Parks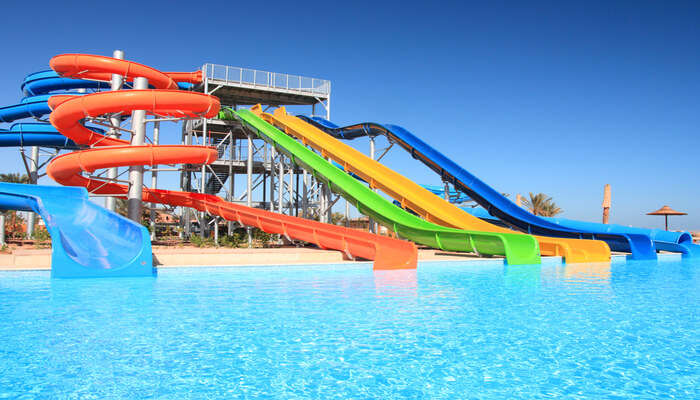 Goa has many fun-filled and thrilling water parks provide a perfect respite to tourists during the summer months. Head to one of these amusement parks to beat the heat and to enjoy a day out with friends and family. The most popular water parks in Goa that are a must-visit in Goa during summer are Chimbel Waterfall, Shavraj Eco Farm Goa, Nagesh Water World, Blue Whale Water Park, and Froggyland.
Further Read: Scuba Diving In Goa Is An Experience That Goes Beyond An Adventurer's Imagination
Goa is an emotion – be it the beaches or the soul-stirring sunset views or the nerve wracking water sports that needs to be experienced. So, are you all set to explore the beauty of Goa in the upcoming summer vacation? Plan your Goa trip with TravelTriangle and we ascertain you the best of Goa at the most affordable prices. Summer in Goa has several surprises for you!
Frequently Asked Questions About Summer In Goa
What is the temperature of Goa in the summer?
The day temperature during the months from March to May hovers around 35 degrees Celsius and can sometimes spike up to 40 degrees Celsius.
Do all the hotels in Goa have air conditioning facilities?
Most of the upscale hotels and resorts in Goa have both AC and Non AC rooms.
Is there nightlife in Goa during the summers? عمر روني
Yes, occasionally. A few beachside clubs and shacks have live bands performing late at night.
Do the water activities happen in the month of May in Goa?
Yes, most of the centers that offer adventurous water sports remain open until May. These centers are shut only during the monsoon season from June to September due to incessant rains.
What is the language spoken in Goa?
Konkani is the official language of Goa. However, most of the people in Goa can speak English, Portuguese, Konkani, Hindi, and Marathi.
Which is the hottest month in Goa?
May is the hottest month in Goa.
What should I pack for a summer vacation in Goa?
Carry lots of light-colored cotton clothes, sunscreen lotions with good sun protection formula, sunglasses and moisturizers to protect yourself from the sun. Keep yourself hydrated to prevent heat strokes.
What is the best time to visit Goa?
The months from October to March are the on-season months in Goa. But, during this period, the fares of the airlines and the tariffs of the hotels and restaurants surge up exponentially.
{
"@context": "https://schema.org",
"@type": "FAQPage",
"mainEntity": [
{
"@type": "Question",
"name": "What is the temperature of Goa in the summer?",
"acceptedAnswer": {
"@type": "Answer",
"text": "The day temperature during the months from March to May hovers around 35 degrees Celsius and can sometimes spike up to 40 degrees Celsius."
}
}
, {
"@type": "Question",
"name": "Do all the hotels in Goa have air conditioning facilities?",
"acceptedAnswer": {
"@type": "Answer",
"text": "Most of the upscale hotels and resorts in Goa have both AC and Non AC rooms."
}
}
, {
"@type": "Question",
"name": "Is there nightlife in Goa during the summers?",
"acceptedAnswer": {
"@type": "Answer",
"text": "Yes, occasionally. A few beachside clubs and shacks have live bands performing late at night."
}
}
, {
"@type": "Question",
"name": "Do the water activities happen in the month of May in Goa?",
"acceptedAnswer": {
"@type": "Answer",
"text": "Yes, most of the centers that offer adventurous water sports remain open until May. These centers are shut only during the monsoon season from June to September due to incessant rains."
}
}
, {
"@type": "Question",
"name": "What is the language spoken in Goa?",
"acceptedAnswer": {
"@type": "Answer",
"text": "Konkani is the official language of Goa. However, most of the people in Goa can speak English, Portuguese, Konkani, Hindi, and Marathi."
}
}
, {
"@type": "Question",
"name": "Which is the hottest month in Goa?",
"acceptedAnswer": {
"@type": "Answer",
"text": "May is the hottest month in Goa."
}
}
, {
"@type": "Question",
"name": "What should I pack for a summer vacation in Goa?",
"acceptedAnswer": {
"@type": "Answer",
"text": "Carry lots of light-colored cotton clothes, sunscreen lotions with good sun protection formula, sunglasses and moisturizers to protect yourself from the sun. Keep yourself hydrated to prevent heat strokes."
}
}
, {
"@type": "Question",
"name": "What is the best time to visit Goa?",
"acceptedAnswer": {
"@type": "Answer",
"text": "The months from October to March are the on-season months in Goa. But, during this period, the fares of the airlines and the tariffs of the hotels and restaurants surge up exponentially."
}
}
]
}
People Also Read: