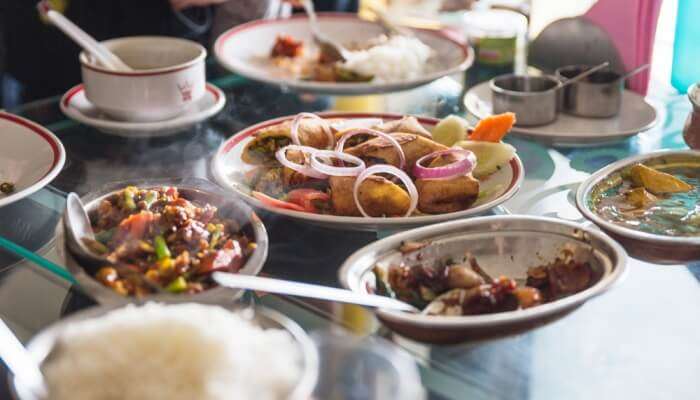 Home to glimmering glaciers, beautiful meadows and thousands of varieties of flowers, Sikkim is one destination in India that is on the list of many travelers. The place is famous not only for its beauty, but also its culinary delights. Try the delectable Sikkim food options to understand the place and its culture better. The use of the locally-sourced ingredients and the many different flavors that wouldn't otherwise be used in the dishes across India makes the Sikkimese food options a delight to savor. Try out the many local cafes, restaurants, and street kiosks to make the best of the many culinary delights offered in this beautiful state.
Top 8 Sikkim Food Options
Sikkim is an Indian state located in its North Eastern part. It is bordered by three countries, namely Bhutan, Tibet, and Nepal. Combining the local influences and the ones from the countries around, the Sikkim food items are varied and made of a plethora of layers of flavors. The Sikkimese cuisine has major influences from Nepal and Tibet. The majority of the state has an ethnic Nepalese and Tibetan majority with the former overpowering the latter. Due to this reason, most of the people in the state are rice eaters. There are soups, dumplings, stews, meats, and a whole lot of vegetables in this amazing intermix of Sikkimese flavors. The state has plenty to offer for one to relish. Check out the best food in Sikkim as you read on below.
1. Momos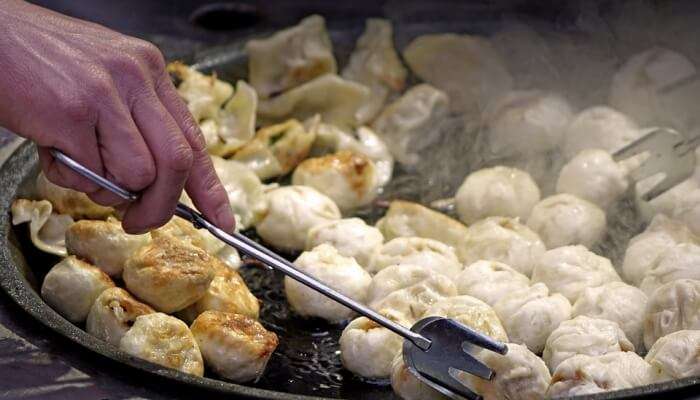 Momos is the ultimate favorite Tibetan delicacy amongst the people of this state. Not just Sikkim, Momos have expanded its base in the entire country as a scrumptious snack served in restaurants as well as street kiosks. For the ones who don't know what a Momo is – It is a dumpling made out of flour dough with a filling inside. It is steamed to perfection and served with a spicy mix of sauces and herbs. There are fried and sauteed versions of this dish as well. The fillings usually include ingredients like meat, cheese, and vegetables. The utensil apparatus that is used to steam the momos have three layers, with usually tomato soup in the lower compartment to let the flavor of the juices absorb into the dumplings. No wonder, Momos is a famous food in Sikkim . While you are here in Sikkim, relish on these flavorful wonders.
Must Read: 15 Top Things To Do In Sikkim For Unbeatable Adventures In Breathtaking Landscapes
---
Sikkim-Gangtok-Darjeeling Holiday Packages On TravelTriangle
Visit Sikkim and explore Yumthang valley, Tsomgo Lake, Gangtok, Nathula Pass, and Pelling. Experience peace and tranquility while exploring Buddhist monasteries, snow-capped mountains, and wildlife sanctuaries. Book packages inclusive of airport transfers, cab, resort, sightseeing, and meals.
---
2. Thukpa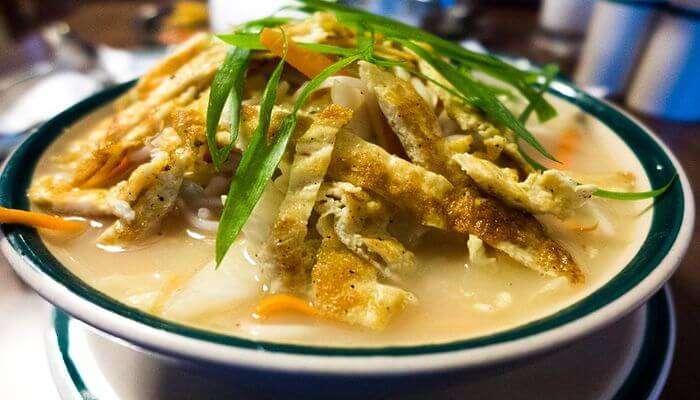 Another delicacy that can be tried while in the Indian state of Sikkim is the Thukpa. The dish is a flavorful noodle soup that has its origins in the eastern parts of Tibet. The street food in Sikkim is quite rich with Thukpa leading this culinary bandwagon. Not just the street kiosks, but almost every restaurant in the state serves this amazing dish. The noodle soup has garlic, chopped onions, and green chillies to add a flavor of spice and a dash of tang. There are both vegetarian and non-vegetarian versions of this dish. While the former would have shredded and chopped vegetables in its mix, the latter would combine the likes of red meat and boiled or poached eggs. Savor this amazing dish while you are in Sikkim.
Suggested Read: A-Z Guide To Make Your Honeymoon In Sikkim An Affair To Remember In 2019
3. Dal Bhaat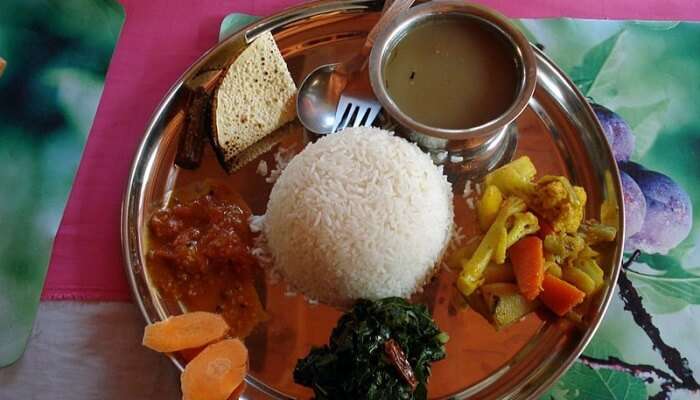 Dal Bhaat is a traditional Napalese dish that is quite a craze in many parts of Nepal, Bangladesh, and India. The combination is that of boiled rice and lentil soup. Many parts of India call this dish as Dal Chaawal. The Sikkimese population love their share of Dal Bhaat as their everyday meal. The lentil soup can differentiate in flavors from places to places with a certain ingredients remaining static everywhere, like salt, turmeric, and a little spice. The mixture of boiled rice and lentil soup is a comfort meal for many that is considered to satiate their taste palette to the core. If you want to keep things simple and have light meals, Daal Bhaat could be your ultimate choice of food item to relish.
Suggested Read: 9 Cosy Homestays In Sikkim That Are As Good As Home
4. Dhindo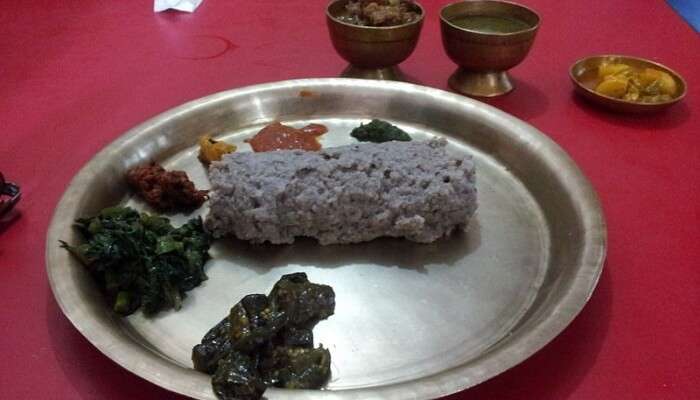 Dhindo is a Sikkim food speciality that is quite popular amongst the locals and tourists. The dish originates from Nepal, but is quite a rage in many parts of Sikkim and Darjeeling as well. The preparation is that of flour mix added to boiling water while continuously stirring it with a ladle. Clarified butter or normal butter is optional. The flour is traditionally prepared from buckwheat or millet. Grains like wheat and corn flour are common as well. One can use almost any grain provided that it is grinded into flour. The utensils used for its preparation is usually an iron pan called Palame Tapke and an iron spatula or ladle called the Dabilo. The latter helps stir the mixture and bring to creation a tasty comfort meal that almost all Sikkimese population love.
5. Phagshapa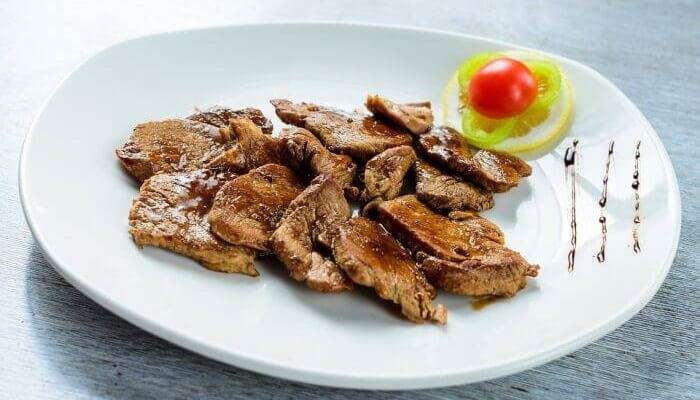 A culinary delight for the non-vegetarians, Phagshapa is a much-loved food item in Sikkimese cuisine. The main ingredient for this dish is the pork fat that is accompanied by radishes and red chillies. The pork fat strips are cooked first and kept separate. While preparing the stew with radishes and spices, the pork is added along with the red chillies to provide a hot and spicy tinge to the dish. The entire preparation has no oil and combines just the vegetables and protein, making it a healthy food choice. Because of its burst of flavors and being a healthy option, it is considered by many the best food in Sikkim that one can relish.
Suggested Read: Sikkim In June: A Complete Guide On How To Experience It Best
6. Sha Phaley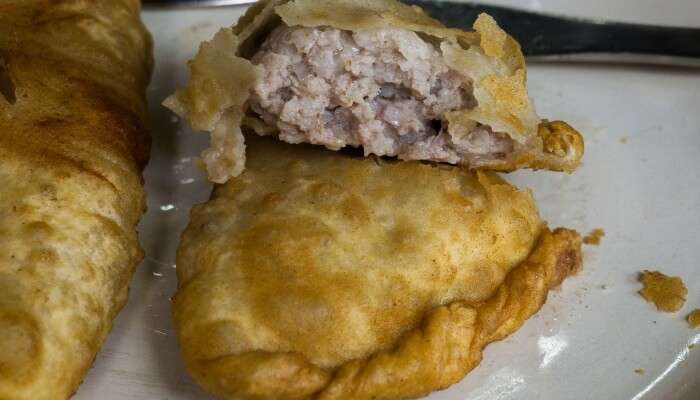 Sha Phaley is a combination of the deep fried flavors, bread, and a whole lot of minced meat. Originally a Tibetan dish, it is quite famous in Sikkim as well. The bread or the pastry is stuffed with a mixture of ground beef, cabbage, and spices. It is then folded into semi circles and finally deep fried to perfection. The outcome is a crispy pastry with soft flavorful filling inside. With modern variations, ingredients like Tofu and Cheese have also been imbibed into the recipe. Vegetarians and vegans can relish the Tofu version and enjoy their food.
7. Gundruk and Sinki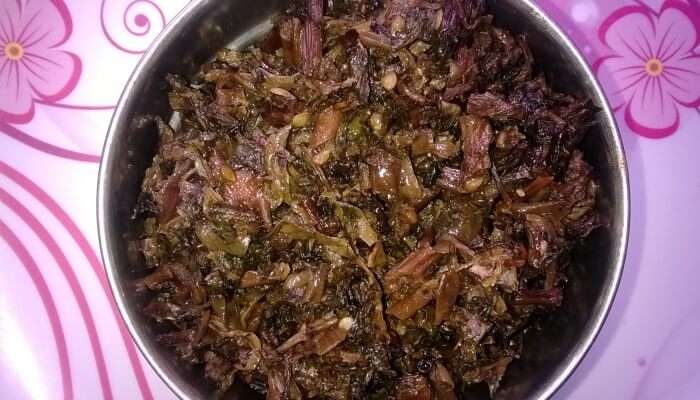 Gundruk and Sinki are dishes of Nepalese origin. The former is made of a combination of radish leaves and cauliflower. The mixture is then cooked with spices and tomato sauce. For the latter, tap roots are utilised as the main ingredient. The further process is that of fermentation to lend it a sour taste. Mustard leaves and oil are added to Gundruk to lend it a nice taste. The dish is rich in roughage and helps one maintain their metabolism. Traditionally, this dish is made in an earthen pot. With modernisation, other utensils are now used for its preparation. Out of the many Sikkim food items, both these dishes are quite popular for their taste and health benefits.
Suggested Read: 10 Best Resorts In Sikkim You'll Never Want To Leave
8. Sael Roti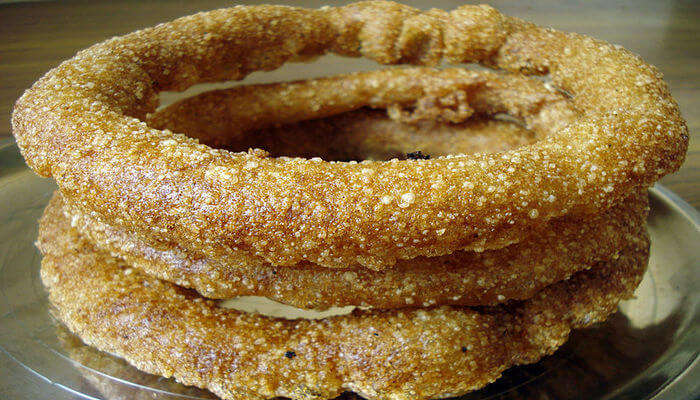 Sael Roti is a fried bread that is usually served along with Potato Curry. For its preparation, water and rice are mixed together to form a paste. This is then deep fried to perfection in boiling hot oil. Even though the dish has its origins in Nepal and Tibet, it is quite popular in Sikkim as well due to the Nepalese and Tobetan influences in this Indian state. Satiate your taste palettes with this flavorful and amazing dish while you are holidaying in Sikkim.
Further Read: Sikkim In December: Find Exciting Experiences In The Winter Wonderland Of North-East
Go on and check out the many flavorful and tasty Sikkim food items while you are holidaying at this amazing destination in India. The list of the Sikkimese culinary delights keep on increasing with many variations that can be savored while in different parts of the state. So, go ahead and book your vacation to Sikkim with TravelTriangle and savor the many local delightful flavors.
People Also Read
Food Of Rajasthan Food In Amritsar Kashmir Food
---
Looking To Book A Holiday Package?
Book memorable holidays on TravelTriangle with 650+ verified travel agents for 65+ domestic and international destinations.
---
Comments
comments