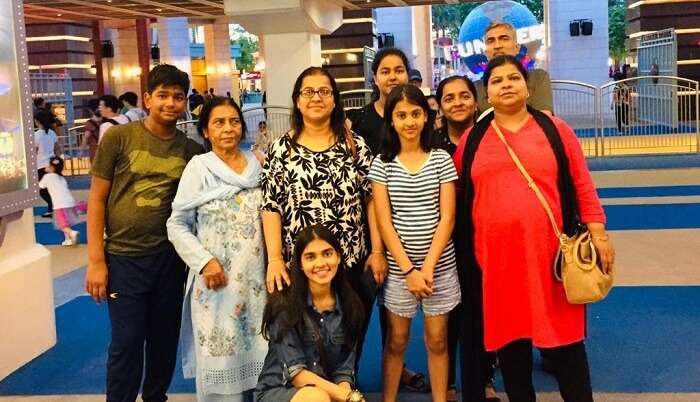 If emerging travel trends are to be believed, a majority of Indians are opening up to the idea of an overseas family trip. In 2018, 30% of the Indian population took short but frequent family international trips. Not one to be left behind, Lata Gupta decided to set off to Singapore with family in the first week of June. Read her travel account to find out if Singapore is as kid-friendly as it claims to be.
You're probably living under a rock if you haven't heard of the world-famous S.E.A. Aquarium and Sentosa Island in Singapore. I came across these attractions when I was surfing the net for top vacation destinations. When I came across the marine wonderland, I was instinctively attracted to the serene ambience. Without further ado, I discussed the vacation plan with my family and, like I guessed, they fell in love with the place. That's when I approached TravelTriangle to discuss the trip in detail. They made all the necessary arrangements to make my family's travel dreams come true.
Details Of Our Trip To Singapore With Family
Trip Cost: INR 6,51,000
No. Of People: 9 adults and 1 child of 11 years
Trip Duration: 6 days and 5 nights
Inclusions: Breakfast, dinner, airport transfers, airfare, Singapore visa, sightseeing, cab, travel insurance, night safari, entry fees of attractions
Exclusions: Lunch, early check in
Itinerary For Singapore With Family
Day 1: Arrival in Singapore and Night Safari
Day 2: Local Sightseeing And River Safari
Day 3: Sentosa Island Tour
Day 4: Trip To Universal Studios Singapore
Day 5: Shopping in Singapore and light and sound show
Day 6: Jurong Bird Park tour and departure
Singapore In December 2022: Guide To Weather, Places To Visit And Events
Singapore Weather In June
Singapore weather in June is not drastically different from the rest of the year. The weather in Singapore, in general, is warm all year round. If you want to make the most of your trip, you should visit Singapore in the dry season. The dry season extends from March to August. I made sure I packed lots of light clothes for our trip because it is sunny in the day and polyester can make you perspire more.
Our 4 Experiences During Our Trip To Singapore With Family
I have rounded up 4 experiences from our Singapore with family trip that left a lasting impression on me and my family members. Read on to find out what I am talking about:
1. Sentosa Island – Visit The Sea Aquarium




Sentosa is a resort island based off the coast of Singapore situated just half a kilometer away from the southern coast of the main island of Singapore. Sentosa island has a rich variety of flora and fauna native to the island and the resort was built with minimum environmental impact. Make sure you visit the aquarium on your trip to the island. It is listed as one of the top things to do on your Singapore with family trip.
2. Universal Studios Singapore – 4D Rides



With a Universal Studios Singapore map in our hands, we enjoyed various events and unique places that the theme constitutes. The Universal Studio Singapore attractions include 'The Lost World,' 'Ancient Egypt,' 'Far Far Away,' 'Madagascar,' 'Hollywood,' 'New York', and 'Sci-fi City.' All these places have different types of events and shows that one can enjoy.
Snorkelling In Singapore: Top 4 Spots For A Rejuvenating Holiday In 2022
3. Jurong Bird Park – Bird Watching



We took a walk along the suspended bridge in the zone to get the most spectacular panoramic views of the surrounding surreal landscape. As we walked along the aviary, we encountered some of the most eccentric birds like starlings, crowned pigeons, rollers, crested guineafowl, and terrific turacos. The entire aura of this place made us feel like we had stepped inside a tropical rainforest.
4. Night Safari – For Adventurous Souls



The entire experience of Night Safari in Clementi is a whole lot of fun for different kinds of travelers, whether its families, groups of friends, or even solo travelers. The kids loved this place a lot. There were a bevy of animals that we came across on this safari. It was a one-of-a-kind experience, to be frank. We had not experienced anything like this ever before.
Camping In Singapore: Most Popular Spots In The Country For Pitching Your Tent
Hotels In Singapore
TravelTriangle arranged to put us up at J8 Hotel on our trip to Singapore with family. It is located in Little India. The property is surrounded by plenty of Indian restaurants in Singapore and Mustafa mall is only a stone's throw away. Though the rooms were a tad small, they were well-maintained and equipped with a bevy of amenities, including 24*7 room service. The vegetarian options served for breakfast in the hotel were limited, but nevertheless, the food was delicious.
Indian Restaurants In Singapore
We dined at several Indian restaurants in Singapore, but Sitara truly blew our minds away. The place serves authentic Indian cuisine and is full of the Indian diasporic crowd no matter what time of the day you visit it. We discovered their buffets by accident, and we're so lucky that we did. Their masaledar paneer tikkas will take you by surprise. The staff was cordial and was willing to lower the spice level according to our taste.
Shopping In Singapore
We reserved a day in our itinerary for shopping in Singapore, and boy are we glad we took that decision! We mostly shopped for chocolates and fragrances from Mustafa Mall. We also bought gold from the mall because gold is cheap in Singapore as compared to India. The rest of the items sold at high end stores in Singapore are available at any store in India, so don't worry, you won't miss out on anything.
Airports In Singapore: 4 Popular Airports In The Country That You Must Know About
Singapore Travel Tips
We have made a list of crucial Singapore travel tips that you must keep in mind if you plan to embark on a trip to Singapore with family. Take a look:
1. On the first day of your trip, make sure to purchase water cans from Mustafa Mall and keep it in your vehicle. You will save a lot of money
2. Buy a priority pass at Universal Studios Singapore.
3. Make sure you recharge your mobile for international calls. If you're traveling with children, make sure they have a mobile so that there is some way they can contact you in case they lose their way inside an amusement park.
4. Check the weather in Singapore online before you plan your trip.
5. Read the dos and donts in Singapore with respect to laws beforehand.
Our Experience With TravelTriangle
We had a pleasant experience with TravelTriangle. The travel agent helped us in customising the trip according to our requirement and assisted us at every step of the way. We did not face any issues during the course of our vacation in Singapore with family. The trip went smoothly, thanks to TravelTriangle's efficiency.
Singapore In May: Rohan Suggests 5 Best Attractions To Visit On Your Honeymoon
Our trip to Singapore with family was packed with an assortment of intriguing and fun activities. Thanks to TravelTriangle, our dream of taking a foreign trip came true. The experience of traveling abroad was nothing short of spectacular. I would recommend everyone to visit Singapore with TravelTriangle. They also offer amazing deals and discounts. Hurry!
Common Queries You May Have About Singapore
Here's a compilation of all the travel queries you may have vis-a-vis our trip to Singapore with family. I am pretty sure the answer to your question will be here:
Is Singapore family friendly?
Yes, Singapore caters to families traveling from around the world. The locals are friendly and will help you with directions if the need arises.
What can families do in Singapore?
There are a bevy of things families can do in Singapore, like visit Sentosa island and take 4D rides at Universal Studios Singapore, to name a few.
Where can I go for school holidays in Singapore?
You can go to Jurong for school holidays in Singapore. Jurong Bird Park is a prime attraction of Singapore that you must visit.
Where can I take my kids for free in Singapore?
There are many free nature trails and city tours that the country organises which your kids can participate in at no cost.
What can we do in Singapore early morning?
You can go to Jurong Bird Park early in the morning to go birdwatching and see exotic animals in their natural habitat.